Today online shoppers expect quick, convenient, and personalized assistance as they navigate your online store. With 42% of customers favoring live chat, as their most preferred means of customer support, over email and other channel, it is evident that adding a live chat support is a must for your BigCommerce online store..
Fortunately, being a BigCommerce store owner, you have plenty of live chat apps that you can consider for your store. And, to help you pick the right one, we tried some of the popular live chat apps available in the App Store and reviewed them.
So, keep reading till the end to find the most suitable live chat app for your BigCommerce store. Before that, let's look into some of the key features that you must have in your live chat app.
What to look for in a BigCommerce Live Chat App?
There are a hundreds of live chat software and platforms in the market, but not all are ideal for a BigCommerce online store. So, while exploring your options, you must ensure that it has all the essential features you need for your store.
Here are some of the key features you should look for in a BigCommerce live chat app –
Integration with BigCommerce: Ensure the live chat app seamlessly integrates with your BigCommerce store. This integration should allow for real-time synchronization of customer data, order information, and other relevant details.
Customization and Branding: Look for a live chat app that allows you to customize the chat widget's appearance to match your website's branding. This includes the ability to change colors, fonts, and chat window design.
Agent Features: Consider the features available to chat agents, such as the ability to transfer chats, view customer history, and access canned responses to streamline the support process.
Proactive Chat: Proactive chat allows you to initiate conversations with website visitors based on their behavior. For example, you can set triggers to engage customers who spend a certain amount of time on specific product pages.
Chatbot Integration: If you want to provide 24/7 support, consider a live chat app that offers chatbot integration for handling basic customer inquiries and routing more complex issues to human agents.
Multilingual Support: If you have an international customer base, a live chat app with multilingual support is crucial for effectively communicating with a diverse audience.
Reporting and Analytics: Robust reporting and analytics tools help you measure the effectiveness of your live chat support. Look for features that track chat volume, response times, customer satisfaction, and other relevant metrics.
Additionally, you have to make sure that the app is compatible with your existing tech stacks, such as CRM software, email marketing, order tracking and other apps so that you can provide all the required information to customers during live chat.
Top 5 Live Chat Apps for BigCommerce Stores
Now, based on the above-listed features, we have ranked some of the best BigCommerce live chat apps that you can consider for your online store. We have highlighted their key features and pricing plans to help you choose the right app per your needs and budget.
Ready? Let's get started.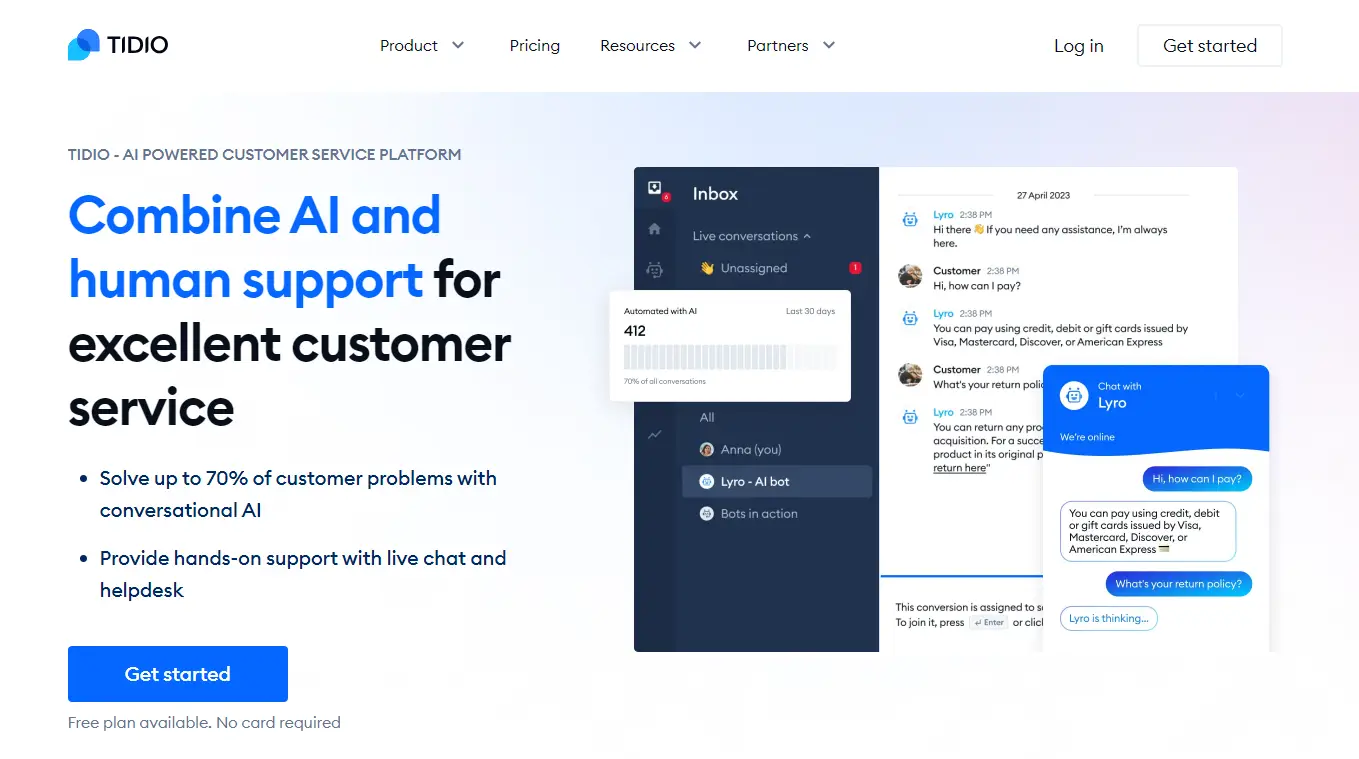 When it comes to enhancing customer satisfaction through live chat, Tidio reigns supreme. This SaaS-based live chat solution takes customer support and sales engagement to a whole new level. Tidio empowers BigCommerce stores with the capability to provide round-the-clock customer support and deliver an exceptional shopping experience.
What sets Tidio apart is its seamless integration with a plethora of conversational tools, making it a versatile multichannel communication platform that requires no coding expertise. Tidio goes the extra mile by harnessing the power of artificial intelligence (AI) with the introduction of Lyro, an AI-powered response bot.
Lyro can swiftly address common customer queries based on FAQs and knowledge base content, offering personalized assistance without human intervention.
But that's not all; Tidio allows you to create custom chatbots tailored to different stages of the customer journey, whether it's recovering abandoned carts or upselling after a purchase. You can read our detailed Tidio review to learn more about its features and functionalities.
Key Features –
Real-time visibility of store visitors
Personalized greetings with incentives
Visitor behavior insights for tailored communication
Abundance of customizable automation and bot templates
Comprehensive team performance analytics
Robust desktop and mobile apps for on-the-go support
Seamless integration with over 20 major BigCommerce apps
Pricing Plans – Tidio has a free plan that allows up to 50 monthly live chat conversations and paid plans start at just $29/month, giving you access more live chat conversations and other advanced features.
LiveChat goes beyond conventional customer service platforms. It's the key to delighting your customers and driving sales to new heights. This comprehensive solution redefines how eCommerce businesses on BigCommerce engage with their audience.
LiveChat isn't just about answering customer queries; it's about strategically promoting products. With LiveChat, you can offer relevant product recommendations during conversations, creating more opportunities for conversions. By integrating LiveChat with your BigCommerce store, you gain insights into visitor intent and can proactively engage with potential customers to reduce cart abandonment.
Discover LiveChat's array of features, from accessing order histories during chats to delivering discounts and product recommendations. It's the ultimate tool for businesses looking to provide exceptional customer support and drive sales simultaneously.
Key Features:
Access to customers' order history during chats
Dispense coupons, deals, and announcements via chat prompts
Offer product recommendations via chat
Embed a knowledge base within your chat widget
Create tickets for complex issues
Pricing Plans – LiveChat offers a 14-day free trial on all its paid plans, which are as follows –
Starter: $20/month with access to 60-day chat history and basic widget customization
Team: $41/month with access to unlimited chat history and full widget customization
Business: $59/month with access to all its advanced features.
Chatra stands out as a robust live chat solution, thoughtfully designed to empower small businesses to enhance their customer support without the need for technical expertise. This application offers a wealth of exceptional features that are instrumental in elevating your store's conversion rates by facilitating proactive interactions with customers, particularly during the crucial checkout process.
A standout feature that truly caught our eye is the offline chatbot, even available in the free plan. What distinguishes Chatra is its intelligent chatbot, purpose-built to efficiently address routine queries, including order details and delivery updates, thereby elevating the overall shopping experience for your valued customers. Furthermore, Chatra provides a mobile app for convenient on-the-go support, ensuring that you're always there to assist visitors, regardless of your location.
With Chatra, you have control over the number of simultaneous chats you can manage. This empowers you to boost sales by delivering prompt answers, engaging in real-time conversations to address customer concerns, proactively cross-sell and upselling products, and even collecting valuable customer reviews, among a host of other functionalities.
Key Features –
In-depth visitor information capture
Visibility into shopping cart contents
Chatbots for instant support
Mobile app support for iOS and Android
Saved reply functionality
Pricing Plans – Chatra offers a free plan and two premium plans. The Essential plan starts at $17/month, while the Pro plan is priced at $23/month, unlocking advanced features to enhance your BigCommerce store.
JivoChat is more than just a live chat solution; it's a comprehensive business messenger designed to provide an omnichannel experience for BigCommerce business owners. Unlike other live chat apps in the BigCommerce market, JivoChat offers seamless integration with multiple communication platforms, including WhatsApp, Telegram, Instagram, Viber, and Facebook.
JivoChat stands as an all-inclusive customer service platform, connecting you with customers across various channels, be it mobile, phone, email, or social media. With JivoChat, you can engage in simultaneous interactions with multiple customers, enhancing reliability and performance.
Take advantage of JivoChat's diverse features, such as syncing omnichannel messaging with popular CRMs, instant callback options, multi-agent chats for seamless chat transfers, automatic translation to break down language barriers, and much more. It's the ultimate tool for businesses looking to provide exceptional omnichannel support.
Key Features –
Omnichannel messaging synchronization with popular CRMs
Instant callback option for visitors
Multi-agent chat for seamless chat transfer between colleagues
Automatic translator to break language barriers
Optimized loading for uninterrupted site performance
Pointer functionality for highlighting site sections
Non-intrusive design to enhance user experience
Smart triggers for chat activation based on key events like cart additions
Seamless integrations via API, webhooks, and mobile SDK
Pricing Plans – JivoChat offers a free basic plan for live chat and messenger support. Paid plans start at $19 per agent per month, with a 14-day free trial.
Gorgias isn't just a help desk; it's a powerful live chat tool designed to centralize support requests and turn support into a profit center for online stores. With its seamless integration with BigCommerce, Gorgias empowers you to connect your store to the helpdesk within seconds.
What sets Gorgias apart is its ability to provide a holistic view of your customers and visitors' profiles, enabling you to establish personalized communication with them. With Gorgias, you can prompt live chat to specific visitors, helping them with their searches and ultimately converting them into loyal customers.
Explore Gorgias' array of features, including the customization of live chat widgets, multilingual chat support, chat campaigns for targeted widget display, chat quick replies for handling repetitive questions, and advanced chat customization options.
Overalll, Gorgias is the go-to customer service solution for eCommerce businesses seeking to elevate their support and sales game. Make sure to read our in-depth Gorgias review to learn more about its features and functionalities.
Key Features –
Customize the live chat widget with chat title, introduction text, avatar, and color
Multilingual chat support
Chat campaigns for targeted widget display on specific pages
Chat quick replies for handling repetitive questions
Advanced chat customization options, including branding, widget positioning, mobile visibility, and more
Pricing Plans – Gorgias offers a 7-day free trial for all paid plans, starting at just $10/month and scaling up to $900/month, depending on the number of agents and support tickets required.
Wrapping Up
In the fast-paced world of eCommerce, meeting customer expectations is paramount. Shoppers today seek instant answers to their inquiries, and the days of waiting hours for an email or phone call response are a relic of the past. That's where live chat comes into play, offering a streamlined support system that allows customers to ask questions and receive immediate responses.
Your choice of a live chat app is not merely a matter of preference; it's a pivotal element in crafting an exceptional customer experience. So, as you contemplate the right live chat app for your BigCommerce store, carefully evaluate your business needs and prioritize the app that align with your overall business objectives and customer support strategy. It's also a good practice to test a few different options to see which one works best for your store and customers.
Rest assured, each of the BigCommerce live chat apps we've explored here offers a unique set of features and capabilities, tailored to suit various needs. Whether you're seeking intelligent chatbots, omnichannel engagement, or personalized communication, there's an app to cater to your needs.
Now, it's your turn to pick the right live chat app and elevate your BigCommerce store's customer service. If you are looking for more apps or guide to help you grow further, here are few hand-picked articles that you might want to read next –