In today's digital world, there's no place for brick-and-mortar banks for businesses – you don't want to visit your bank to process every payment or finance your small business.
Instead, you need an online business banking solution to manage all your banking needs right from the comfort of your home, office, or anywhere else in the world.
An online business banking account is solely used for managing all the financial operations related to your business. You can have a business checking account for day-to-day transactions & a business saving account.
It might sound easier to use your personal account instead of a business account. But having a separate online business bank account has some benefits, such as –
Limit your personal liability
Track & organize all daily transactions
Simplify tax operations
Builds trust & credibility for your business
Qualify for small business loans.
There are several online business banks available in the market for US-based small businesses, and to help you find the suitable one for your business, I have ranked and reviewed some of the best online banks in the USA.
So, if you are ready, let's get started.
1. Novo – Best for freelancers & Small Businesses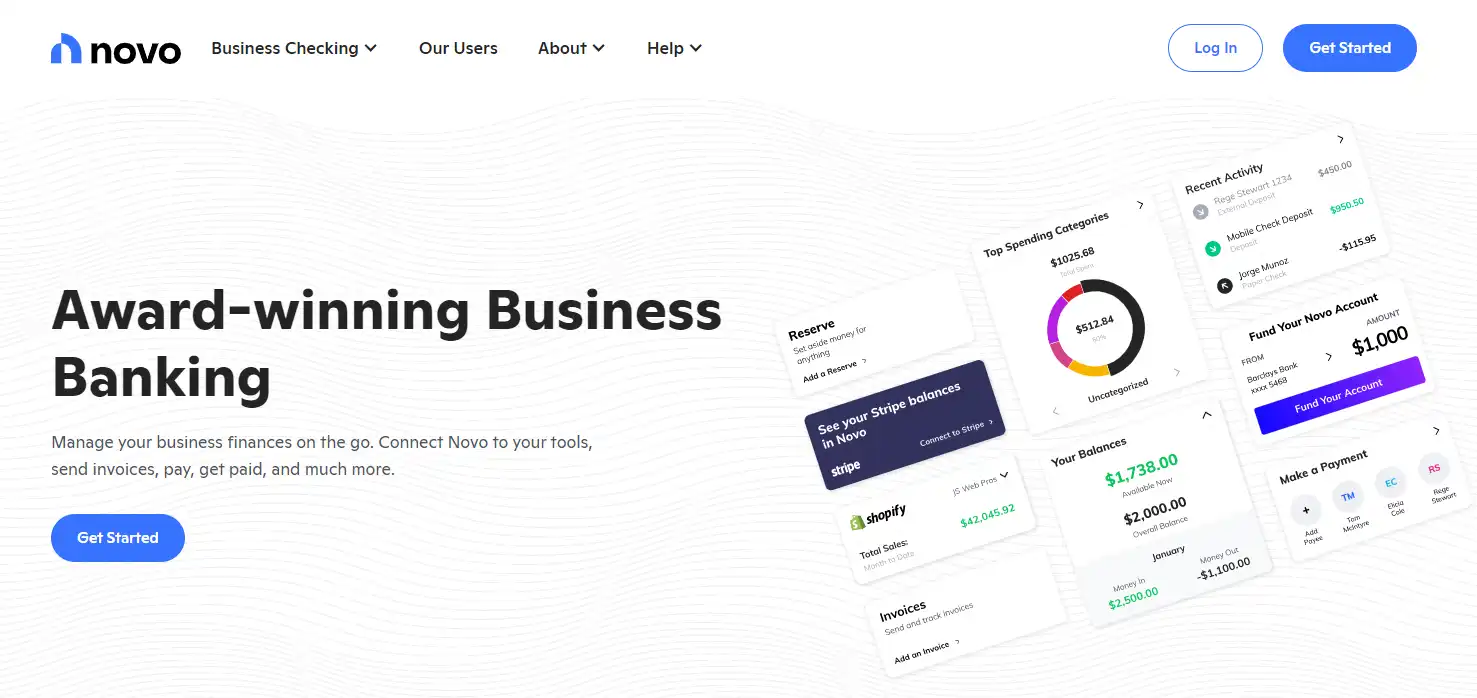 Having been trusted by 150k businesses, Novo is a US-based online business banking platform powered by Middlesex Federal Savings, F.A. It is best suited for creating & managing business checking accounts. Getting started is quite easy – you fill out the form and signup for a free business checking account within 10 minutes.
With Novo, you can manage everything from the mobile app – you can easily transfer funds, make payments, and send personalized invoices. It also lets you reserve funds for taxes, payroll, or anything you need to save for.
You will also have access to Novo perks which include discounts on leading business software like Stripe, HubSpot, Booking.com, Quickbooks, Homebase, and more. So, being a Novo user, you will not only save on banking services but on essential business software subscriptions as well.
Overall, if you're a small business owner, entrepreneur, or freelancer, Novo offers everything you need to manage banking services from the comfort of your home or office.
Key Features –
No hidden fees
Zero minimum balance requirements
Award-winning customer service
Refunds all ATM fees
Unlimited free transactions within the US
Accept ACH & check payments
Unlimited check deposits
Integration with Stripe, Quickbooks, and eCommerce platforms like Shopify, WooCommerce, Amazon, Etsy, and more.
Pricing & Plans – You can get started for free with Novo. It strives to offer a fee-free online business banking service.
2. NorthOne – Best for Small Businesses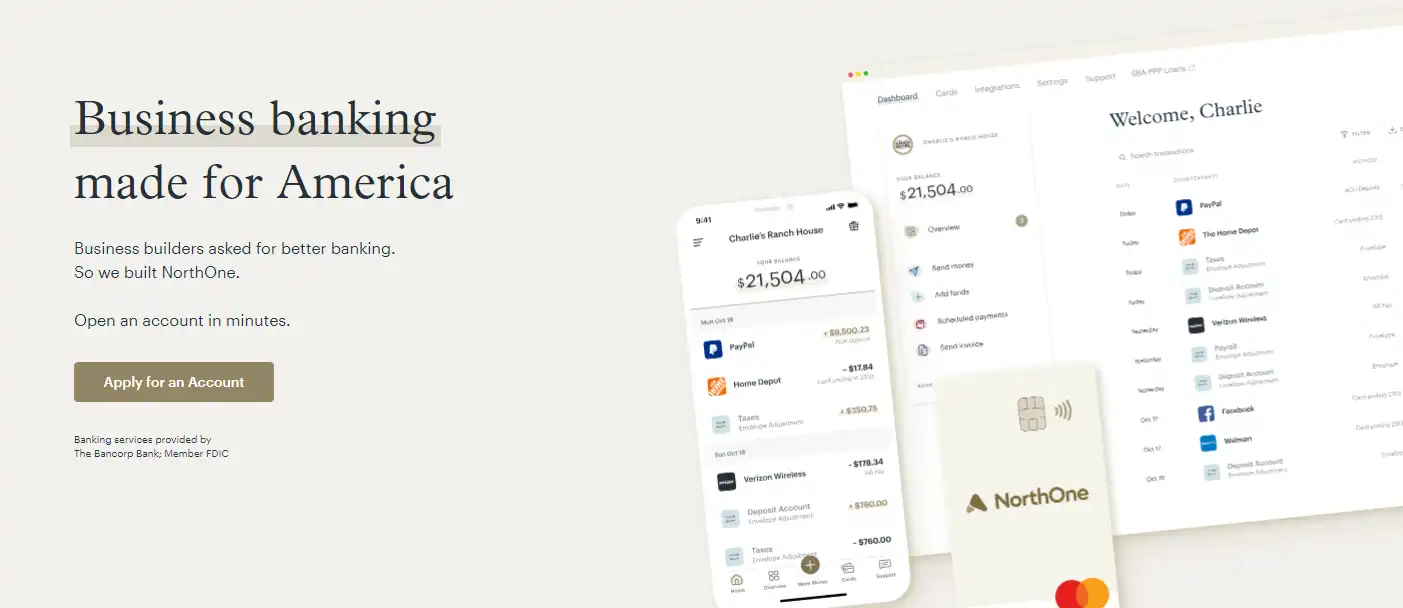 NorthOne is another popular online business bank that offers smart digital banking tools for paperless transactions with 24/7 accessibility. You can track your money & payments irrespective of where you're working from. Besides, it enables you to deposit checks via your mobile camera, send ACH/wire payments and invoices quickly via the NorthOne app.
Managing budgets for taxes or any major expense is easy with the NorthOne envelope. It lets you set up custom rules to save your money automatically. To stay on track, you can view this designated portion of your balance on the mobile app or website.
So if you wish to opt for full-fledged online business banking for your small business, NorthOne is my ideal recommendation.
Key Features –
Pay bills from your phone/laptop 
Send a check by mail to anyone nationwide
Deposit cash at thousands of ATMs
Issue business debit cards to everyone on your team
Excellent customer support via live chat, phone, and email
Supports integration with accounting software like Quickbooks, Freshbooks, and other business software
Pricing & Plans – You can open a NorthOne account for a lower $10/month fee. There are no additional fees for ACH payments, deposits, transfers, purchases, envelopes, and app integrations. However, there's one thing you should know is the $15 charge on sending & receiving a domestic wire transfer.
3. Mercury – Best for Startups & eCommerce
If you run a startup or an eCommerce business and want access to a powerful banking stack to outgrow your financial performance, Mercury is the best online business banking solution that you can consider.
You'll get access to a checking account, savings account, and domestic & international wire transfers. You can also issue & manage both physical and virtual cards and grow your finance with capital and venture debt.
You can also enjoy open API access, user permissions, and integrations for high financial scalability. Besides, you'll get access to automatic cash management in which you can put your extra cash into US government securities & money market funds for gaining huge profits. This is best suited for growth-focused startups.
Mercury's online banking leverages the power of modern tech to simplify & grow your business's finances to the next level.
Key Features –
Create custom user permissions
Enable recurring payments
Get a complete picture of your entire business transactions
Set up auto transfers to control account balances
Integration with Zapier, PayPal, Stripe, Quickbooks, Shopify
Pricing & Plans – You can open an account on Mercury for $0. You can enjoy free bank accounts, free domestic wires, free USD international wires, and no minimum balances. However, it charges a fee of 1% for currency exchange.
4. BlueVine – Best for business checking & lending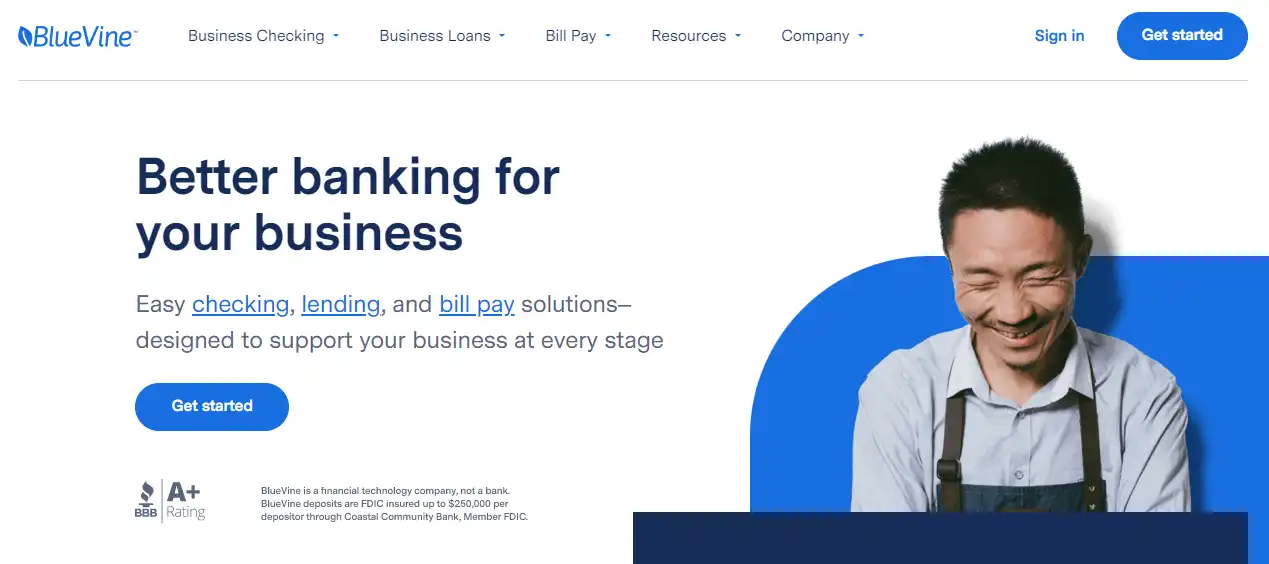 BlueVine is best known for its excellent business checking and lending solutions. You don't have to pay any monthly or overdraft fees and enjoy free ACH transfers.
The best part is that you can draw funds on-demand via Lines Of Credit. As you pay back each draw, your available credit gets replenished automatically.
Whether you manage your cash flow, bill payments, or loans, its centralized dashboard puts everything together. You can also connect to Quickbooks Online to sync bills, bill transactions, and payee information automatically.
On top of all, BlueVine has partnered with MoneyPass to provide a surcharge-free ATM for its business checking account users. You can access around 30,000 ATMs nationwide to get instant access to your funds.
In a nutshell, BlueVine is a versatile digital banking solution for businesses that lets you manage finances, borrow loans and make bill payments smoothly from one dashboard.
Key Features –
Manage budget, cash flow, and expenses with sub-accounts
Choose from over 40,000 registered payees or add your own
Get two free checkbooks every year
Mobile check deposit
Access to LOC funds within a maximum of 24 hours
1.2% interest for eligible customers
Pricing & Plans – BlueVine does not require any minimum opening deposit. But it charges 2.9% credit card transaction fees for bill payments and $15 for outgoing wire fee per transaction. You can find the detailed fee schedule here.
5. LendingClub – Best for all-in-one business banking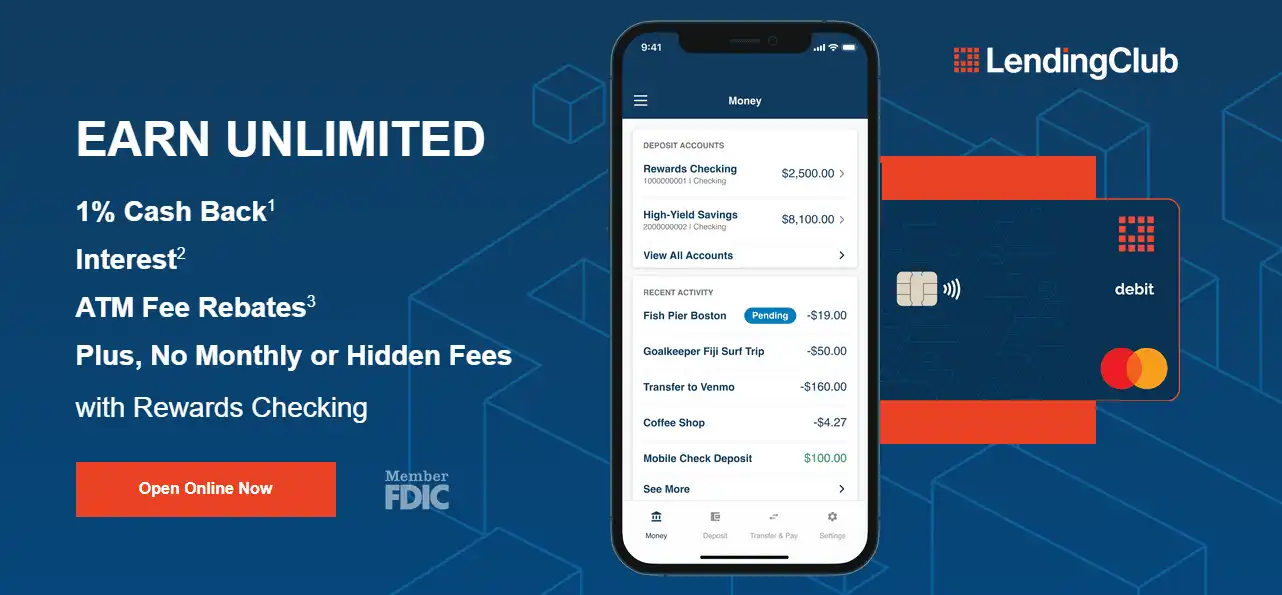 LendingClub offers a wide range of banking solutions to grow your business's savings and profits. Right from operating accounts to lending & financing, everything is available at your fingertips to make your job hassle-free and convenient.
It lets you open a tailored checking account in less than 10 minutes. Alongside, you can reap eye-catchy benefits like industry-leading interest rate, 1.00% cashback on debit card purchases, and zero charges on ATM deposits. You can also sync your lending club deposit accounts to Mint, Quickbooks, and Quicken.
If eligible, you can also apply for loans upto $500k, for which a dedicated advisor will work with you to help you complete the entire process.
Key Features –
Extensive cash management services
Partnership with AutoBooks to send professional invoices
LendingClub Commercial App for Tailored Checking Customers with additional banking services
Accept card, ACH, and lockbox payments
Generate reports and reconcile transactions for accounting
Access to real-time transaction history
Pricing & Plans – LendingClub incurs a monthly maintenance fee of $10 for tailored checking accounts with a balance of less than $5000. You can view the complete details by clicking here.
6. Oxygen – Best for Mobile Business Banking
Whether you're an entrepreneur, freelancer, or own an LLC, Oxygen's powerful mobile business banking elevates your financial potential. It is an award-winning and modern digital banking platform designed for the 21st-century economy.
You can earn up to 6% cashback on everyday purchases at approved merchants. It ensures that you get paid early for upto 2 days with direct deposits. Furthermore, it allows you to create upto 3 saving goals and earn 0.50% annual percentage yields on balances of $20,000 or less.
On the whole, Oxygen provides high-end mobile banking solutions for business. It operates at a lightning speed rate so you can stay updated, streamline processes and grow your overall profits.
Key Features –
No monthly fees or minimum balance requirements
Create single-use or merchant locked cards that hide your card details
Access to cell phone insurance and extended warranty protection
Make bill payments to third parties easily
Embedded metal card
Pricing & Plans – Oxygen has four loyalty levels – Earth, Water, Air, and Fire, with different benefits and qualification criteria. The Earth Plan is free for anyone to get started. You can view and compare the other elements' pricing and perks here.
Which is the best online business bank for you?
One of the many advantages of starting a business in the United States is you don't have to rely on expensive and tiring traditional banks with loads of paperwork before every transaction or financing proposition.
Today, with these new-age digital business banks, you can access all kinds of banking solutions from your devices from anywhere in the world. Most importantly, it saves you a lot of time and gives you mental space to focus on other vital tasks from the business.
Finally, let's wrap up with my top 3 picks for online business banks –
Novo – best digital bank for freelancers & small businesses
NorthOne – best online business account for small businesses
Mercury – best for business checking and saving account
I hope this guide helped you find the best digital bank solution for your business. If you are looking for other software solutions to help you with business accounting, here are a few articles you should read next –