Are you looking for the best Shopify Product Bundle app for your store? This article is for you.
Product bundling is one of the most effective marketing strategies for eCommerce brands to increase average order value by encouraging customers to spend more.
In this strategy, you can bundle the related product together with a discount. This way, customers get more products at a better price, and you will have more revenue at the end of the day. Win-win strategy, right?
In this article, I have selected some of the best Shopify product bundle apps that can automate the bundling process and enables you to display the bundled products on the store pages.
Ready to dive in? Let's get started.

PickyStory is an AI-powered Shopify product bundle app that enables you to either create pre-defined bundles or automated product bundle offers based on customer behavior. Using this app, you can also allow your customers to build product bundles of their choice with volume discounts
The app allows you to display bundled products as a single product and also display them as frequently bought together on your product pages. PickyStory also allows you to offer BOGO, tiered discounts, popups, slide cart deals, and more to boost your store's conversion rate.
Key Features –
You can automate the bundling based on product sales performance.
It gives you complete control over selecting product variants.
It lets customers create custom product bundles.
It offers pre-defined packs with tiered pricing.
It provides performance analytics for each bundled deal.
It allows you to offer multiple kit sizes with volume discounts.
It is optimized for mobile devices.
Pricing Plans – PickyStory has a pay-per-value based plan based on the monthly revenue generated through it. It has a free plan for stores generating less than $100/month using this app. Beyond that the pricing is as follows –
Starter Tier 1 – $9.50/month, $100-$200 of revenue generated
Starter Tier 2 – $24.50/month, $200-$500 of revenue
Starter Tier 3 – $49.50/month, $500-$1,000 of revenue

Bundle Bear is a powerful Shopify bundling app that lets you create attractive product bundles and tiered discounts. The best part is that you can also offer bulk discounts when your customers buy more from your store.
It guarantees the highest level of flexibility as you can apply tiered pricing and discounts to specific products, collections, or bulk. Interestingly, it also enables you to display bundles by targeting particular countries that let you boost profits by concentrating on a specific set of audiences.
Key Features –
You can allow customers to claim multiple bundle discounts.
You can combine bundle discounts and discount codes.
It enables you to offer X+Y bundles, free gifts, and free shipping.
You can set start and end dates for limited-time bundle offers.
It provides a built-in analytics dashboard to track revenue and engagement with your bundles.
Pricing Plans – It offers a 14-day free trial, and the paid plans start at $24.99/month. You can sign up using the button below to get a 30-day extended free trial.

Bundler is an excellent Shopify product bundle app that readily boosts your overall profit margin by applying discounts on product bundles. You can configure the way you want by taking complete control over the bundle widget and the texts displayed in it.
It is one of those fewer Shopify apps that apply bundle discounts even on auto-charging subscription products. An added advantage is that you can promote bundles with funnel popups where a popup with the promoted bundle will be displayed when a customer adds at least one product from that bundle to their cart.
Key Features –
It provides an HTML snippet that allows you to display product bundles on any page you want.
It enables you to create a bundle with a fixed price, and the app will calculate the fixed price.
You can hide product images and display a custom bundle image for the variant-level bundles.
You can display a popup with total bundle savings for your current customer's cart.
You can offer free shipping when a customer buys a bundle.
You get a dedicated landing page for each bundle.
It allows Integration with Shopify POS for your physical stores.
Pricing Plans – Bundler has a free plan with unlimited bundles, customizable widgets, bundle widgets, and custom product images. The Premium plan starts at $6.99/month with more advanced features like plus mix and match bundle, variant level bundles, landing page, and more.
Bundle Builder is another powerful Shopify bundle app that helps you increase revenue by enabling you and your customers to create product bundles.
With Bundle Builder, you can create bundles with optional products, choose required products to fix your bundle or predefine a group of products yourself. And the best part is that it provides dedicated bundle pages that you can use for marketing and advertisements. 
Key Features –
You can set minimum and maximum limits according to a product's bundle price or the number of products.
It allows you to set up tiered discount bundles like BOGO or 3-in-1 offers
You can enable customers to write gift notes or instructions to personalize their bundles.
It readily syncs with your inventory, updates product details, and tracks sales with in-depth analytics.
It provides detailed analytics of all your bundle order data, including your revenue, number of bundles sold, and best-sellers.
Pricing Plans – It offers a 30-day free trial and has three pricing plans:
Free plan – Available only for Shopify development stores.
Standard plan – $25/mo, available for Shopify stores
Shopify Plus Plan – $75/mo, available only for Shopify Plus stores.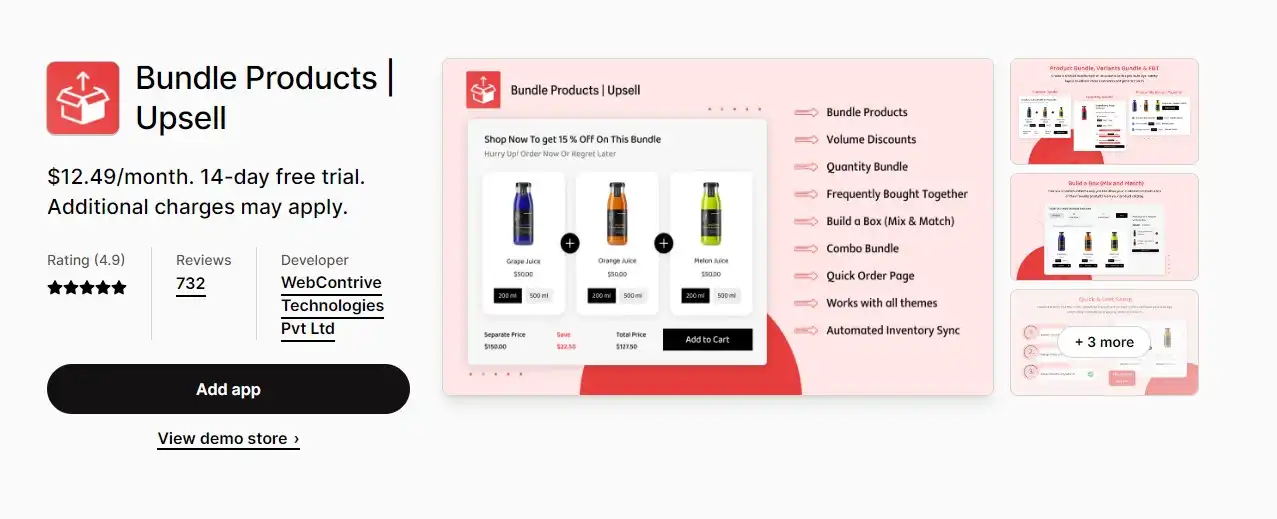 This popular Shopify product bundle app soars your sales rate by selling many products in one combo. You can also create a dedicated page to display all your custom bundles, from where users can add the item to their cart directly.
It enables you to replenish your inventory by selling less popular products with best-selling ones. Also, customization is easy and effective as it offers different layout options to showcase product bundles attractively.
Key Features –
It enables you to display product bundles in any language with a short description.
It facilitates creating a bundle with a single product and all its variants.
You can display bundles on the cart page to encourage customers to buy more.
You can create quantity bundles. For example – Get 5% off on three products.
You can display bundles anywhere in your store by just adding an HTML code.
Pricing Plans – It offers a 14-day free trial, and paid plans start at $7.49/month.

This Shopify bundle app enables you to add Amazon-like product bundle recommendations in the related products sections of the product pages. You can either create recommendations for each product or allow its AI to create personalized product recommendations for each customer.
Using this app, you can boost your conversion rate and increase the average order value for your store by providing the most relevant product recommendations in a bundle, which customers are likely to purchase.
Key Features –
It comes with an AI-powered product bundle builder
It also allows you to create your own bundles for each product
You can create four different types of bundle discounts
Supports integration with popular product review apps
Pricing Plans – The app offers a 14-day free trial for its only paid plan, costing $9.99/month with no commission charges.
Wrapping Up
eCommerce giants like Amazon, Flipkart, and successful online stores are using product bundles to increase sales. Now, it is your turn to leverage this proven tactic to grow your eCommerce business and achieve your revenue goals.
As a Shopify merchant, you have plenty of product bundle apps to choose from to add this feature to your store. In this article, I have shortlisted some of the best bundling apps to help you pick the best one for your store that meets your business requirements.
Looking for more apps to increase your store sales? Check these hand-picked articles –