Do you want to add wishlist feature in your Shopify store? Looking for the best Shopify wishlist app? Well, your search ends here.
Nowadays, consumers tend to window shop before making purchases, and by adding a wishlist feature, you can allow them to save the products they like and access them whenever they want to buy without searching for the products all over again.
Wishlists have proven to be an effective tool for online stores to boost conversion rate & customer engagement. And if you don't have this feature yet in your Shopify store, I highly recommend adding it immediately using one of the Shopify Wishlist app.
In this article, I have compiled a list of of the best Shopify wishlist apps you can consider using for your store.
Ready? Let's get started.
Growave is an all-in-one Shopify marketing app that comes with an amazing wishlist feature. It enables you to add a wishlist button and lets shoppers save items right from product pages, collections, and homepage, as shown below.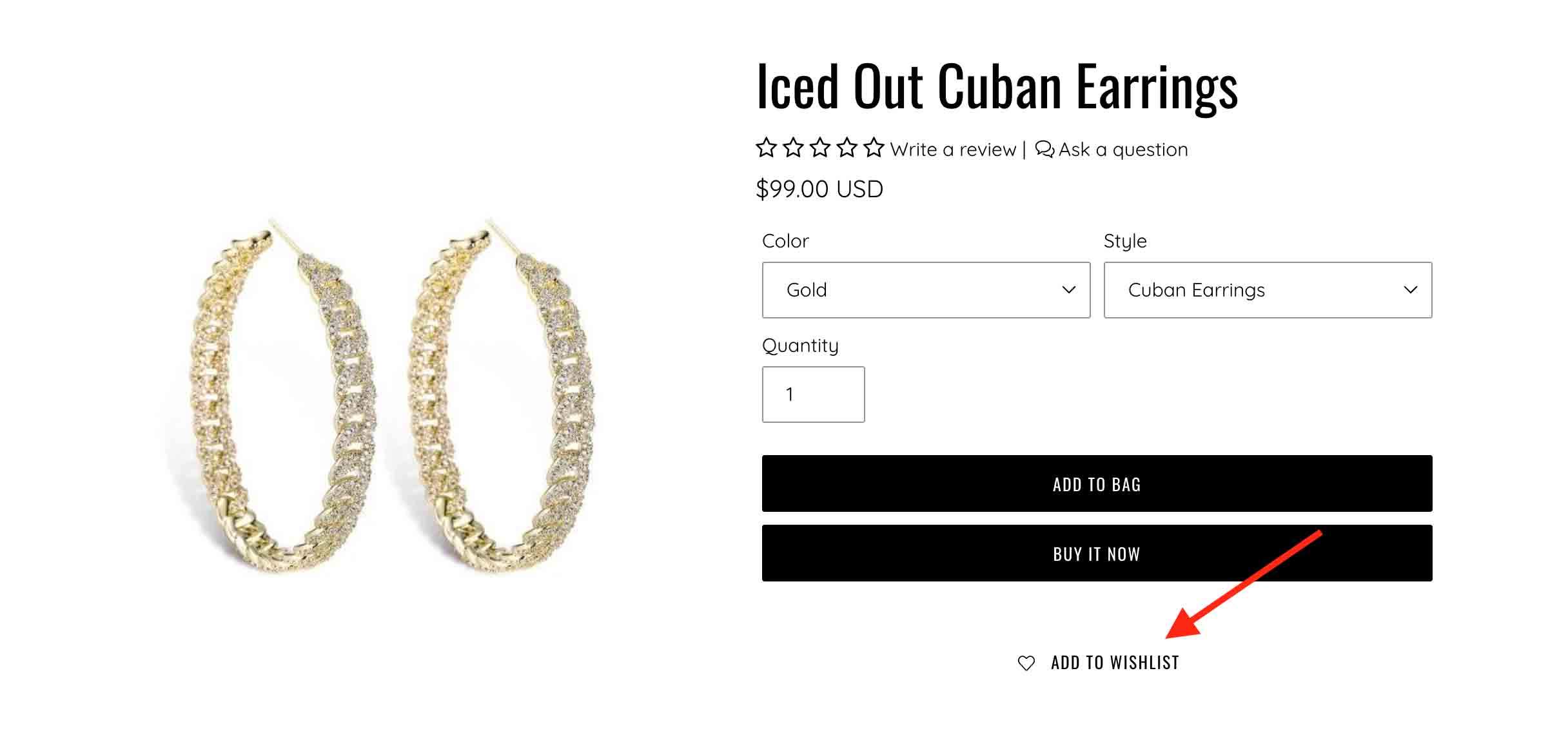 It also allows you to automatically send targeted and personalized emails based on the product added to the wishlist. For example, you can send emails when the wished items are, saved in wishlists, on sale, back in stock, or running out of stock. This helps you convert the wishlists into sales.
Moreover, Growave is not just a wishlist app, it comes with additional features like a loyalty program, referral program, and Instagram shoppable gallery. With these features, you can make your store conversion-friendly and generate more sales.
Key Features –
It allows you to customize the "Add to Wishlist" button and offer different button designs.
You can allow customers to create wishlists without registration or login.
You can display how many people added each item to wishlists to create social proof.
Customers can create wishlist boards for different occasions like, wedding, birthday, etc.
You can reward your customers with loyalty points, discounts, cash, and free shipping for sharing their wishlist via email or social media.
Pricing Plans – Growave offers a 14-day free trial and the basic plan starts at just $19/month. If you want to explore this app for your store, you can use our Growave Coupon to get a 30-day extended free trial.

Wishlist King is specialized Shopify Wishlist apps that enable customers to add their favorite products instantly from the homepage, collections, & product pages to their wishlist. Wishlist King offers you complete freedom to customize the button as per your store branding.
It provides detailed analytics by allowing you to view your customer's wishlists, the most liked products in your store, and also specify the likeliness of a particular product by the customers in your Shopify store. Using such insights you can determine which product is in demand and optimize accordingly.
Key Features –
It offers meaningful wishlist reporting, which can be exported in a CSV format. With this feature, you can analyze which products in your Shopify store are fast-moving and are highly popular.
Wishlist king can import data from your old wishlist data and add them to the current list so that you will not lose track of your existing customers.
It is translatable to different languages, and customers can share their favorite products on social media, which boosts your Shopify store visibility.
Pricing Plans – It offers a 14-day free trial, and the basic plan starts at $4.95/month.

This is another excellent Shopify Wishlist app that allows customers to save their favorites to the wishlist and access it later for viewing and purchasing.
It lets your customers share their wishlist with others which can be a great advantage for acquiring new customers and boosting traffic through word-of-mouth. You can also send email reminders to the customers with updates related to their wishlist products and encourage them to place the order asap.
Key Features –
It allows you to send proactive emails using custom templates to remind your customers to purchase the products added to their wishlist.
It enables your customers to share their wishlist via email as well as social platforms.
It is customizable according to your store requirements, which provides an enriching shopping experience.
There is an exception that this app does not work on collection pages that have an infinite scroll or on lazy-loading pages.
Pricing Plans – The Free Plan allows up to 100 wishlist items/month. To exceed this limit, you must upgrade to the pro plan, which starts at $5.99/month.

Wishlist Plus offers an intuitive wishlist module that enables your customers to seamlessly add their favorite products without the need to log in. It also psychologically activates their buying intent as it displays the number of times a particular product has been added to favorites by other users.
It helps build your sales pipeline as you can create targeted campaigns by keenly analyzing your customer's wishlist activity.
Key Features –
It offers a wide variety of customization options such as Javascript and REST API's to enrich the wishlist capabilities.
It provides a unique dashboard where you can view the metrics and track your Shopify store's other essential activities.
It allows you to send email notifications to customers with reminders about their 'added to favorite' products whenever price declines or when those products run out of stock.
It also provides tons of integrations with marketing, CRM, social media, and third-party applications, which ultimately skyrockets your store sales.
Sync your customer's wishlist activity across multiple devices so that they can access it from anywhere at any time.
Pricing Plans – It offers a 30-day free trial. There is also a free plan available; however, the starter plan starts at $14.99/month, which allows up to 1,000 wishlist items/month. 

Wishlist Hero goes a step ahead by allowing your customers to add product variants to their wishlists. It also enables you to send browser notifications when a customer adds a product to their wishlist.
As an admin, you can view your customer's wishlist items and also export wishlist data. It also allows you to add Facebook Pixel and retarget the wishlist creators on Facebook and Instagram to remind them about their liked products.
Key Features –
You can display the wishlist either as a popup or as a separate page, which gives a clear-cut view for your customers while shopping.
It lets you create beautiful animation effects after the product has been added to the wishlist, which will delight your customers.
The wishlist icon can be set up in product pages, collections, and quick view pages.
It allows you to quickly customize your Shopify store with attractive wishlist icons so that it can be made as a floating button or menu item.
It delivers an incredible experience when integrated with popular Shopify themes and offers powerful admin options.
Pricing Plans – It offers a 14-day trial. There is a free plan available that allows up to 500 wishlists products/month, and the Silver plan starts at $4/month, which allows to add up to 1000 wishlist products/month. 

Smart Wishlist allows you to add unlimited wishlists to your Shopify store and integrates with the customer's account that eliminates the need to log in again. This app also provides an API to readily fetch the wishlist data of your customers.
Your store customers can also add their products to the wishlist even in the quick view mode. It also extends support for different languages and offers in-depth wishlist reporting for boosting more conversions.
Key Features –
Customers can easily add their products to wish lists directly from search results, collection pages, cart pages, and product pages.
It is powered by Ajax, which means all the pages will load rapidly without needing to refresh separately for every page.
When customers add more products to their wishlists, it doesn't get slowed down because it has in-built potential servers that enhance your Shopify store's scalability.
Your customers can share their wishlists on social media platforms, creating more incoming traffic to your store.
It enables you to import wishlist data from third-party apps or other popular eCommerce platforms like Magento, WooCommerce, etc.
Pricing Plans – Comparatively, it offers a maximum free trial period of 60 days. The Paid plan starts at $4.99/month.
Choose the best Shopify wishlist app for your store
Wishlist feature would be a great addition to your Shopify store. It allows your potential customers to save their favorite products to buy later. This not only gives them a reason to come back but also increases the average order value for your store.
If you want to start a loyalty program for your store and offer a wishlist feature as well, then Growave would be the best wishlist app you will ever find.
Other apps on the list are specially built for adding wishlist features to your store. So, decide what features you want in a wishlist app and pick the most suitable one.
I hope this article helped you pick the right wishlist app for your store. If you're looking for more Shopify apps for your store, here are a few hand-picked articles that you should check next –