Are you planning to launch a new product or redesign the store? Want to create a coming soon page to keep your visitors informed? You should try GemPages, the best coming soon page app for Shopify!
The Coming Soon Pages are not only used for store launches but can also be used to notify customers when your Shopify store is under maintenance or shut down for a while, as happened during the 2020 pandemic.
Similarly, you can create coming soon pages for the pre-launch of new products on your store to create a buzz around and generate more sales.
So, if you are looking for the best Shopify app to design a beautiful and responsive coming soon page, I've picked some of the best Shopify coming soon page apps that you can install instantly and create the page within a few minutes.
Ready? Let's get started.
1. GemPages – Beautiful Coming Soon Page Templates
GemPages is the #1 Shopify no-code drag-and-drop landing page builder that lets you create optimized coming soon pages. You can create eye-catchy designs by accessing 50+ templates and 100+ block elements that can be added directly within a few clicks.
On top of all, it has a high-speed CDN, which means your coming soon page will load faster regardless of the number of incoming visitors at any given time. Check our detailed review to get a complete overview of its features and functionalities.
Feature Highlights –
Add a new section/template to improve the look & feel
Save your templates and blocks for reuse to save time
Edit page title, add meta descriptions, alt text, and configure H1, H2 tags
Identify the winning page variant by running A/B testing
Access to advanced page settings
Pricing Plans – GemPages plans start at $15/month and goes upto $59/month. It offers a 10-day free trial, but using our GemPages coupon, you can get a 30-day extended free trial (no credit card required)
2. PageFly – Popular Shopify app for coming soon pages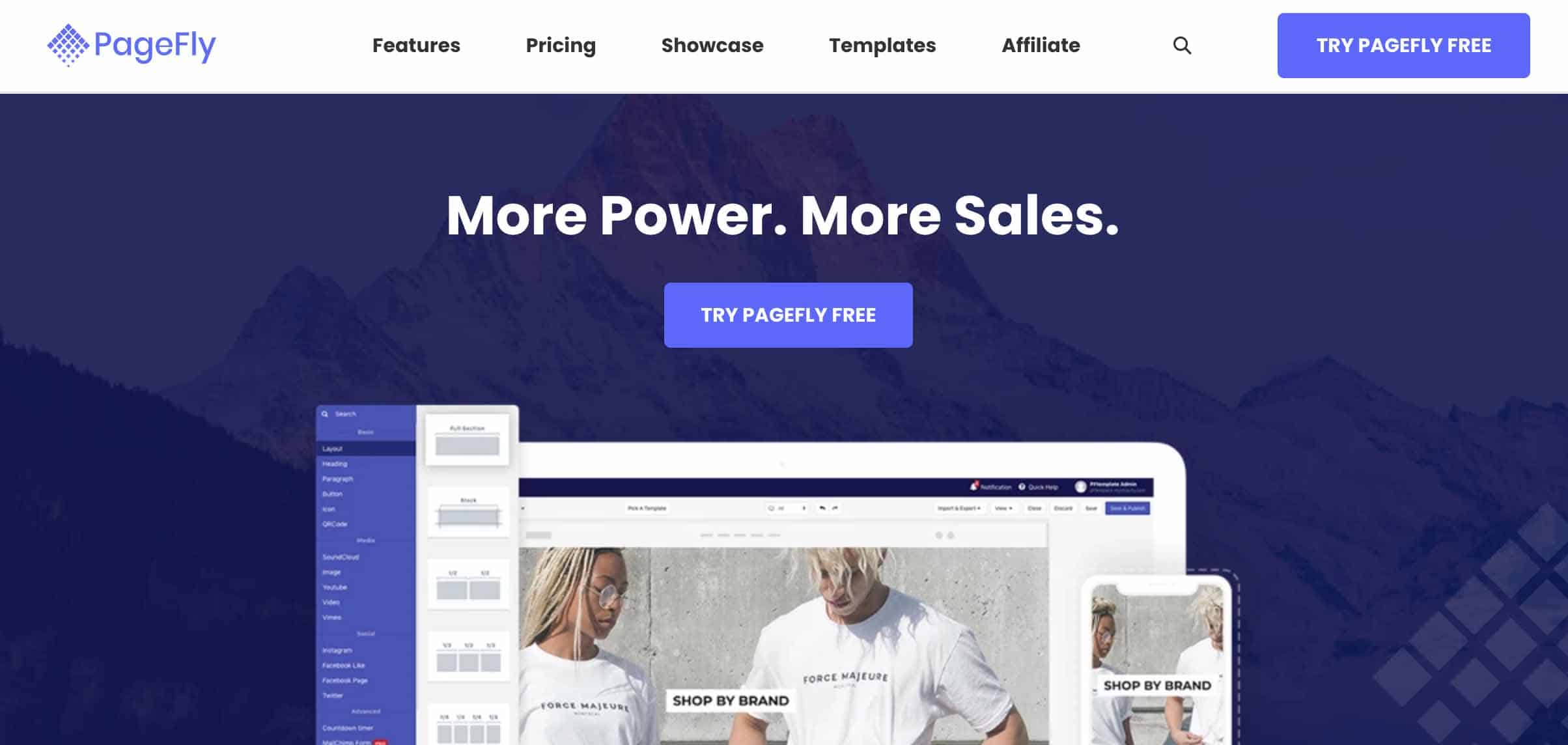 Pagefly is another popular Shopify Landing page builder that lets you build highly responsive landing pages with 70+ stunning templates and drag and drop forms that look perfect on any device.
You can use this page builder to create SEO-optimized coming soon pages, product pages, pricing pages, FAQ pages, etc., to magnify your Shopify store sales rate to the next level. Read our comprehensive PageFly review to know more about it.
Feature Highlights –
Access to 50+ features and elements to amplify sales
90+ built-in templates crafted by Shopify CRO experts
Import/export pages and reuse saved sections
Built-in analytics with Facebook pixel and Google Analytics integration
Compatible with popular Shopify apps
24×7 customer support
Pricing Plans – Pagefly has a free plan with access to all the features, customer support, 3 publishable slots, and limited tracking sessions. To access more publishable slots (pages & sections), you will have to opt for one of the paid plans starting at $29/month.
If it matches your needs, you should check our PageFly coupons to get up to 10% off on paid plans.
If you're planning to temporarily shut down your Shopify store, you must inform your customers; otherwise, they might easily forget you.
To solve this, you can use this optimized Shopify coming soon page app. It lets you display a countdown timer, so visitors know when you'll be back. Without coding, you can customize the vibrant look. It is fully optimized for speed and has all features required to build an attention-grabbing page.
The best part is that your coming soon page will be automatically resized irrespective of device type, which enhances the user experience.
Key Features –
Easy-to-use drag & drop widget
Auto-schedule coming soon page based on daily settings and pre-defined date/timebase
Choose from multiple timer types for a countdown
Set your own custom pre-loader icon
Enable age verification to restrict underage users
Integration with Mailchimp and Klaviyo for collecting emails
Pricing Plans – UnderConstruction has a forever free plan that allows for unlimited views, age verification, email collection & app branding. To remove the app branding you can upgrade to the paid plan costing $0.99/month.
With over 2100+ 5-star reviews, Shogun is a powerful landing page builder that lets you build any type of page including homepages, product pages, blog pages, and many more.
It has a robust drag-and-drop builder that lets you customize your Shopify coming soon page with refined standards. You can collect emails from interested prospects, boost urgency via countdown, and add product videos & sliders to deliver a delightful viewing experience.
Key Features –
30+ mobile-optimized themes & elements library
Built-in lazy loading & image optimization
Optimize page title, meta description, open graph meta tags, etc
Design the pages based on the screen size
Boost your page for conversions by running A/B testing
Pricing Plans – Shogun's paid plan ranges from $39/month to $299/month. It also offers a 10-day free trial so you can signup and experiences the ease of customizing the coming soon page for your store.
This Shopify coming soon page app is specifically designed to create the preorder and the Coming soon pages for products. It let's to replace the "Add to cart" button with a "PreOrder Now" button, allowing customers to order the products before launch.
This Shopify app takes just 10 seconds to install, and then you just need to search for products and enable one of two product options. Your product pages will be updated automatically with Coming soon features.
Key Features –
Change default text, styles and customize easily
Display the dates your products will be available for preorder
Make a product unavailable for purchase until the selected date
Automate the product publishing process
Add badges to specific products on collection pages
Pricing Plans – It offers a 7-day free trial, and the full access plan starts at $9.99/month.
This Shopify app lets you design advanced coming soon pages for your store. With its powerful text editor, you can include any content type like video, links, or images and provide a responsive view based on the measurement of each device type.
The best part is that you can use over ten unique animated themes to design beautiful coming soon pages. Besides, you can add snow effects with colors, background effects, timer, custom favicon, and social icons to deliver an immersive viewing experience.
In general, if you want to build a coming soon page emphasizing design and branding, the Fancy Shopify app is my recommendation.
Key Features –
Flexible & user-friendly setup
Access to unique font styles
Timezone support for the countdown timer
Install different chat messaging apps
Apply different image effects – crop, rotate, mirror, etc.
Pricing Plans – It offers a 2-day free trial, and the paid plan costs $2.99/month.
Having been trusted by leading brands like Dickies, and Mellogang, this is a simple & flexible Shopify coming soon app. You can choose any layouts – Simple, Duo, and Shop. You can also embed a product catalog and sell products directly from the coming soon page if you select the Shop layout.
By accessing its code-free editor, you can customize the background color, image, logo, fonts, etc. To enable a friction-free experience, you can allow customers to bypass the coming soon pages by giving them a password that they can easily enter.
Key Features –
Block unauthorized access to the pages
Let customers access certain pages without getting redirected to your coming soon page
Integration with Google Fonts
Integration with Facebook Pixel and Google Analytics
Dedicated Support
Pricing Plans – It offers a 3-day free trial, and the paid plan is priced at $14.99/month.
How to create a Shopify Coming Soon Page?
In this section, I will show you the best two ways to create a coming soon page for your Shopify stores.
1. Use the Shopify Password page
Shopify, by default, creates a password page for password-enabled stores. It enables you to create a coming soon page only for the store pages (not for product pages) by making some changes as follows –
Step 1: Go to Online Store > Preferences from the left sidebar. Once the Preference window opens, navigate to the Password Protection section.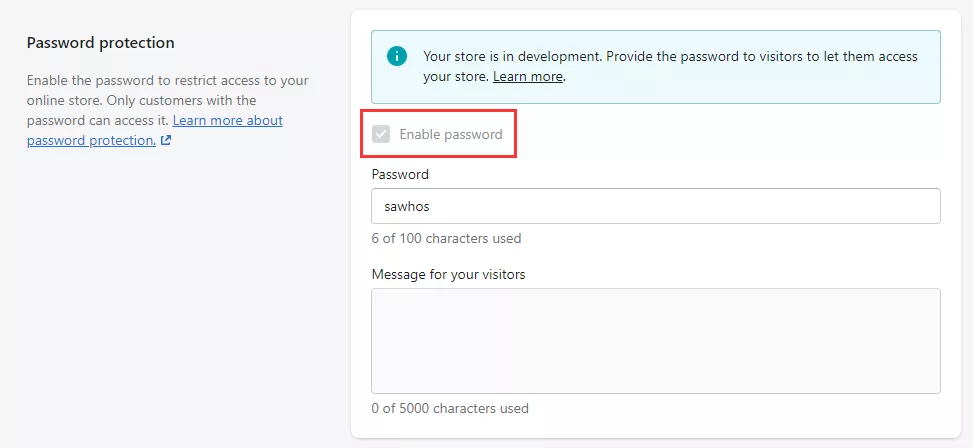 To create the coming soon page, click the "Enable password" as shown in the image above.
Step 2: Next, head over to Online store > Themes from the Shopify dashboard and click the "Customize" button to open the theme editor.
Step 3: In the theme editor, click the dropdown menu at the top and select the password page. This will take you to your theme's default coming soon page, as shown below.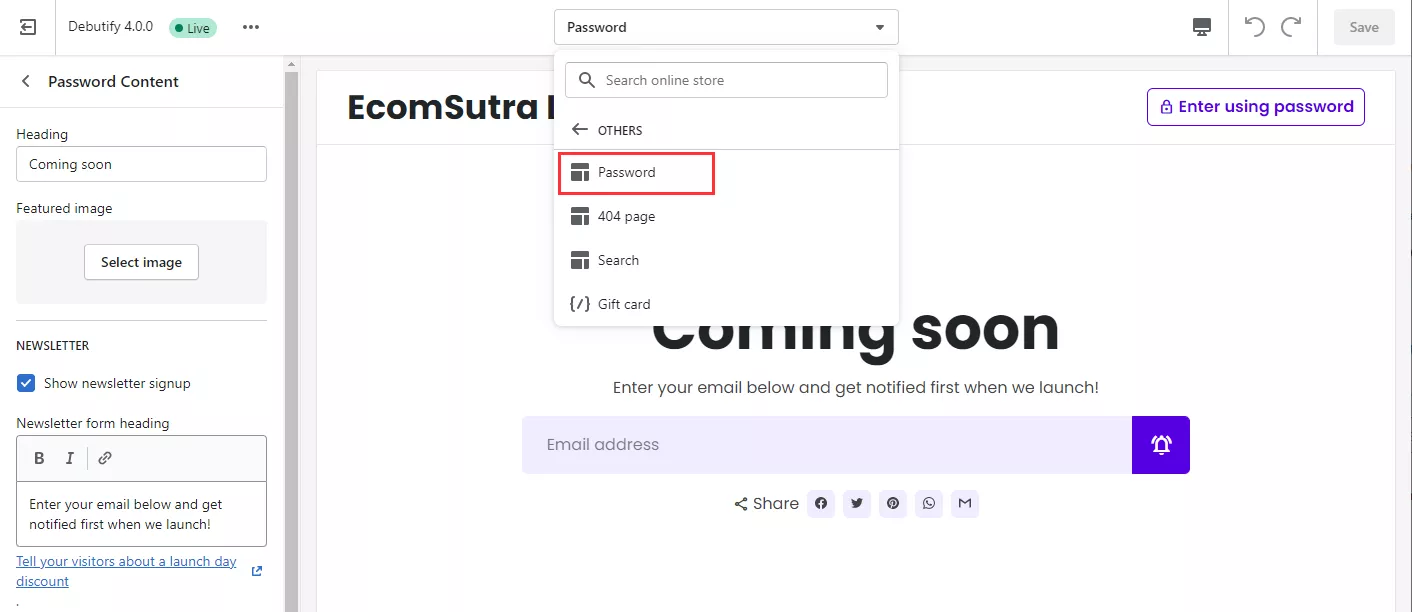 Step 4: Now, you can customize this page by modifying the password header, body content, email signup banner & footer. It should take less than 10 minutes and the page can appear like this.
In this process, Shopify doesn't provide you much flexibility to design the page and add elements like a countdown timer to make it more appealing.
2. Use Shopify Coming Soon Page App
Another way to create a stunning coming soon page with more design and customization flexibility is by using one of the above-listed coming soon page apps.
I highly recommend using GemPages because it enables you to create a converting coming soon pages and lets you make other kinds of landing pages.
As mentioned earlier, GemPages is packed with 50+ landing page templates for different functions, including the basic store pages such as about, contact us, products pages, and more.
Having said that, if you want to create a beautiful coming soon or pre-launch page for your Shopify store, pick one of the apps listed, add it to your store and start creating the pages.
Wrapping Up
Coming soon pages allow you to keep the customer informed and engaged until the store or product is live to purchase.
A good coming soon page app lets you create stunning pre-launch pages where visitors can get notified about the upcoming changes and what they can expect to intrigue their excitement.
And I believe that I've compiled a great set of Shopify coming soon pages that you can use for your store. I hope it helps you pick the perfect tool as per your need.
If you're looking for more such useful Shopify apps for your store, check out these hand-picked articles –