Are you looking for the best product review apps for your Shopify store? Do you want to gather more product reviews and display them on your store pages? If so, this article is for you.
Customer reviews are the most powerful form of social proof for eCommerce businesses. It helps you build trust and credibility with first-time buyers and boost the conversion rate for the store.
In fact, according to a Trustpilot report, nearly nine out of ten (89%) consumers worldwide read reviews before buying products. This shows that reviews are an integral part of the buyer's journey, and they trust reviews from their fellow shoppers.
So, to improve the conversion rate for your Shopify store, it's time that you get a Shopify product review app that lets you collect genuine customer reviews and enable you to display them on site pages beautifully.
Additionally, you want your product review app to –
Allow customers to include photos/videos in the reviews
Imports customer reviews automatically to Google Shopping
Display product reviews on search pages using the Google review snippet
Automatically sends review request emails to customers
Here's a quick overview of the top 5 Shopify product review apps –
And there's more… Let's dive into each review app to find the right one for your Shopify store.
Ready? Let's get started.
Loox is the most popular review app that enables you to automatically collect product reviews from customers and display them across your online store to build trust and credibility with your customers. It is one of the few review apps that allow customers to submit photo and video reviews.
It has an intuitive and user-friendly interface that enables anyone to easily set up automated review request emails and customize review widgets without writing a single line of code. Using Loox, you can display review carousels on the homepage and create a dedicated review page to display all your store's reviews.
Key Features –
Send automatic review request emails
Offer discounts for adding a photo or video
Customizable attractive customer review widgets
Create post-purchase upsell offers with photo reviews
1-Click AliExpress reviews importer.
Pricing Plans – Loox offers a 14-day free trial. Its paid plans are based on the number of monthly review request emails you can send. Here's the breakdown of each plan –
Basic Plan: $9.99/month, up to 100 review request emails
Essential Plan: $34.99/month,300 -6,000 review request emails
Growth Plan: $299.99/month, unlimited review request email
Okendo is another popular product review app that enables you to collect genuine customer reviews and display them across your site using its review widgets. It also allows customers to submit photo and video reviews that help you build trust with new customers.
Okendo provides interactive review widgets that allow customers to filter product reviews based on various attributions such as size, color, age, etc., which helps them find more relevant reviews and boost customer engagement in your store.
Apart from displaying product reviews on your website, Okendo enables you to syndicate reviews to other sales channels, including Facebook Shop, Amazon, Target, and other marketplaces. So, no matter where you wish to sell, you can display your customer reviews and drive more sales.
Key Features –
Fully customizable 15+ review widgets
Allows collecting photo and videos reviews
Incentivize customers for reviews and UGC
Provides detailed analytics reporting with actionable insights
Supports over 50+ Integrations with popular Shopify apps
Excellent 24/7 customer support
Pricing Plans – Okendo has a flexible plan based on the store's monthly orders with a 14-day free trial. The plans are as follows –
Essentials: $19/month, up to 200 orders per month.
Growth: $119/month, up to 1,500 orders per month.
Power: $299/month, up to 3,500 orders per month.
It also offers custom pricing for advanced integration and reporting features. Rest, it provides all the essential features you need to collect and display reviews on your site.
Fera is a top-rated product review app that enables you to collect text reviews, photo reviews, and video reviews from customers and showcase them on your website beautifully. It provides attention-grabbing widgets that you can customize to display products and store reviews across the website.
Using Fera, you can import customer reviews from Google, Facebook, Etsy, and other sources. And, you can manage all the existing and new customer reviews directly from the Shopify dashboard. You can also set up automated review request emails and incentivize customers with cashback, loyalty points, or discounts to submit reviews in your store.
It is an SEO-friendly app that generates review schema to display review ratings on Google search and Google Shopping results, which maximizes social proof and increases the click-through rates for your product pages.
Key Features –
Beautiful product review and store review widgets
Supports photo and video reviews
Sync reviews from Facebook, Google, and other sources
Automate review request emails
Offer rewards in cashback, points, and discounts
Pricing Plans – Fera allows adding or importing unlimited customer reviews in all plans. It has a free plan which allows up to 10 review request emails and 1 active widget. For more features and accessibility, you can opt for one of its paid plans –
Startup: $9/month, allowing up to 100 order review request emails, three active widgets, and access to full design customization.
Small: $29/month, allowing up to 1000 order review request emails, ten active widgets, advanced design customization, and a custom email domain.
Medium: $99/month, allowing up to 10,000 order review request emails, and twenty active widgets with multi-store review synchronization.
Stamped is a robust Shopify product review app that enables you to handle and manage reviews hassle-free. It lets you moderate reviews, auto-publish the highest-rated ones, customize review widgets, and follow up with customers by sending review request emails at definite intervals.
Apart from displaying customer reviews, Stamped enables you to display user-generated content from Instagram and create shoppable galleries to add across your Shopify store pages. It also provides detailed analytics reporting and sentiment analysis of customers to help you improve customer experience and generate more sales.
You should read our comprehensive review of Stamped.io to learn more about its features and functionalities.
Key Features –
Send automated review request emails

Create a dedicated review page

SEO-friendly review widgets
Share best reviews on social media with banners
Run retargeting ads with customer testimonials and photos
Measures and analyze overall customer satisfaction
Integrates with popular Shopify designing and marketing apps
Pricing Plans – Stamped has a free plan with in-mail and SMS review request features. The Paid plan starts at $23/month and goes up to $299/month with all the feature access.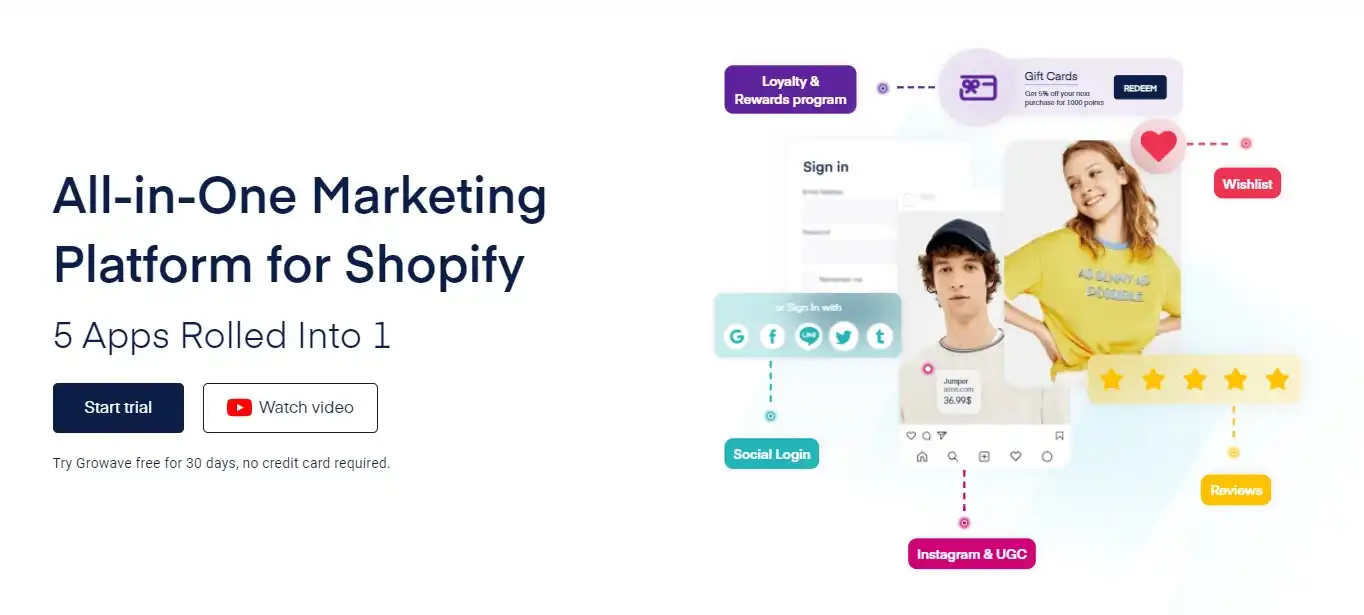 Growave is a popular Shopify marketing app with a fantastic built-in review tool that lets you collect product reviews with automated emails based on customers' purchases. You can display the collected reviews across your website in carousels and other beautiful layouts that fit your brand guidelines.
Using Growave, you can quickly moderate reviews by replying, thanking, and resolving the issue publicly or privately. You can also allow your customers to ask questions and get reliable answers from verified shoppers and your team. All this can help you build trust with your customers and boost conversion rates.
The best part of using Growave is its built-in loyalty reward program that allows you to offer attractive offers and discounts to encourage shoppers to submit authentic reviews and share products on social media.
Want to know more about it? You can read our in-depth Growave review.
Key Features –
Schedule review request emails by delivery or order status
Automatically sync reviews between multiple websites and countries.
Display reviews on a dedicated page
Embed a Verification badge for authentic reviews
Create customized review forms
Showcase product insights and characteristics purchased by the reviewer
SEO-optimized review snippets and FAQs
Pricing Plans – Growave's basic plan starts at just $19/month and goes up to $299/month. It offers a 14-day free trial on all plans, and with our Growave Coupon, you can get a 30-day extended free trial.
LAI Product Reviews is another popular review app for Shopify stores. It allows you to import reviews from AliExpress, Amazon, DSers & other sources. It is easy to use with a simple user interface, enabling anyone to set up and customize the review widgets easily.
With this review app, you can also encourage customers to submit reviews by rewarding discounts and stimulating them to re-purchase with coupon emails. It creates SEO-friendly review snippets to display ratings on SERPs to increase click-through rates and boost conversion rates.
Overall, whether you are a dropshipper or selling your own products, the LAI product review app can be an ideal choice for you to collect reviews from multiple sources and display them across your website pages.
Key Features –
Customizable reviews widget

in 18+ layouts
After orders are fulfilled, review request emails are automatically sent.
Drive traffic from social channels & Google with social sharing & Google rich snippets features.
Upsell with coupon emails & reviews pop-ups
Seamless integration with GemPages, PageFly, EPORLO, and other apps
Pricing plans – LAI pricing plans are designed to match businesses of all sizes. It has a free plan that allows import from AliExpress and CSV files. The paid plans start at just $4.95/month and go up to $14.95/month, allowing up to 120,000 review imports and other advanced features.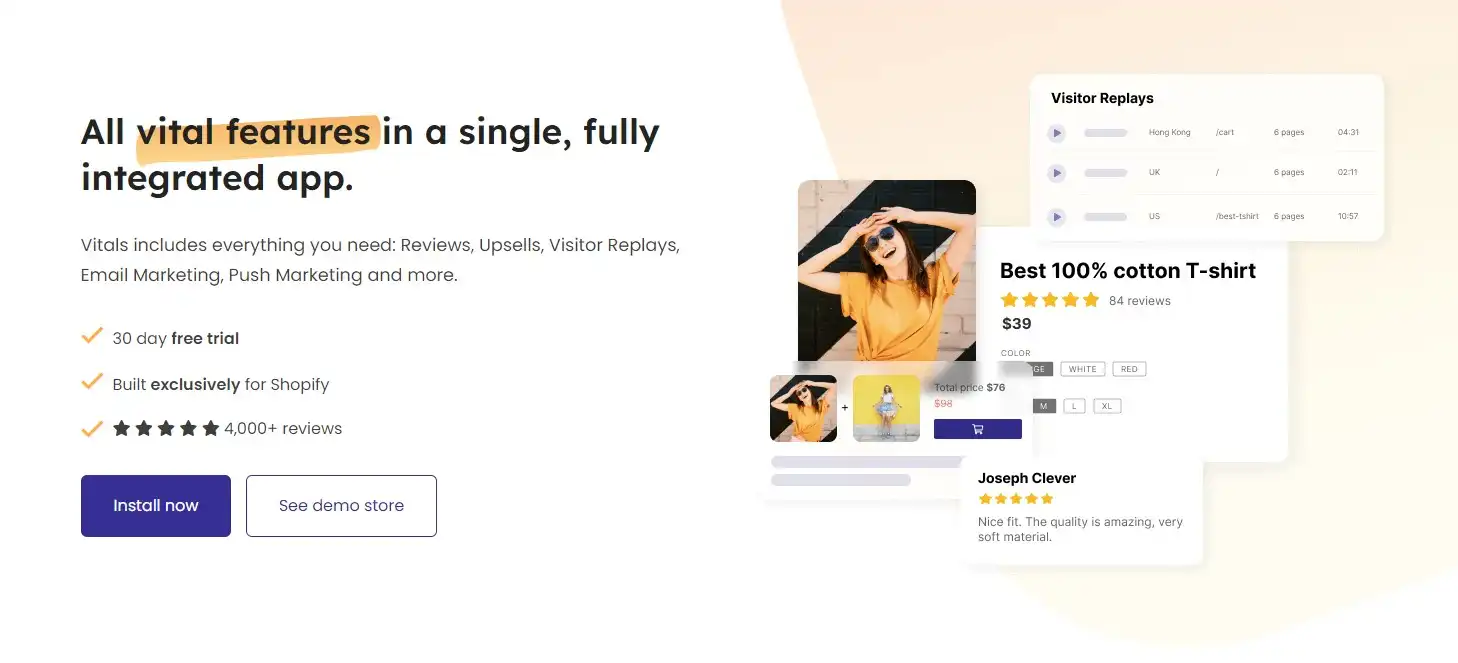 Vitals is one of the best Shopify sales and marketing apps with 40+ app features to optimize your site for a higher conversion rate and generate more sales. Among all those apps, it has a robust review app that enables you to receive ratings & testimonials with photos and display them on home, product & collection pages.
With the Vitals Review app, you can send automated review requests via email after the product is delivered. Most importantly, to distinguish between imported or unverified purchases, it allows you to add a verified mark to genuine reviews. This helps you build brand credibility and win the trust of customers.
Finally, Vitals combines 40+ sales-boosting apps that you will need to grow your store. You will get apps like currency convertor, Facebook chat, Free Shipping Bar, and more at the cost of a single app. Isn't this a great deal?
Key Features –
Auto-request customer review after order delivery
Import product reviews from AliExpress with photos
Display product reviews widget on home, product, and collection pages
Pricing Plans – Vitals offers a 30-day free trial and a 30-day money-back guarantee on the paid plan, which costs only $29.99/month.
This is another Shopify product review app developed by leading Shopify experts. It lets you send automated review request emails to collect product and site reviews from your customers. It also allows customers to share photo reviews, which you can use as user-generated content for your website and social media to build social proof.
With this feature-rich review app, you can display questions and allow customers to ask their questions, which in turn helps you win the trust of your new customers. The app provides beautiful design options to showcase the reviews and questions across your Shopify store to boost your conversion rates.
Key Features –
SEO-configured review widgets
Six built-in layouts to display reviews.
Import Unlimited bulk Reviews from other review apps
Verified Review Sign to highlight genuine reviews
List out all the authentic reviews on one review page
Auto-resizes the uploaded images for speed improvements & performance
A separate page with all the reviews
Auto-rotate the submitted images submitted for a better experience
Pricing Plans – You get a 14-day free trial. The starter Plan goes for $9.90/month, and Pro Plan for $12.90/month.
Ali Reviews is a review app trusted by over 7000 Shopify store owners and has received an average rating of 4.9 stars. It is easy to use and beginner-friendly, enabling anyone to start by picking their favorite review widget styles and presenting customer reviews in the most eye-catching way possible. You can even customize the review widget elements to match your brand.
Ali Reviews app is packed with features to help you collect reviews by sending review requests via emails and SMS, rewarding reviewers for photo reviews, or importing reviews from different sources more efficiently and displaying them on the site.
To top it all off, you also display personalized reviews based on consumer information (location/AOV/total spending) or on-site behavior, which can increase conversion rates and reduce cart abandonment rates.
Key Features –
Highly-customizable widgets & Carousel
Manual & automatic email/SMS review request
Get instant reviews at the delivery time
Offer discounts to incentivize customers to leave a review
Import reviews from AliExpress, DSers & Ali Drop app for dropshipping
Plans & Pricing – Ali Reviews has a free plan allowing up to 10 reviews per product. The paid plans start at $9.90 per month and go up to $49.90 per month. All plans include a 7-day free trial.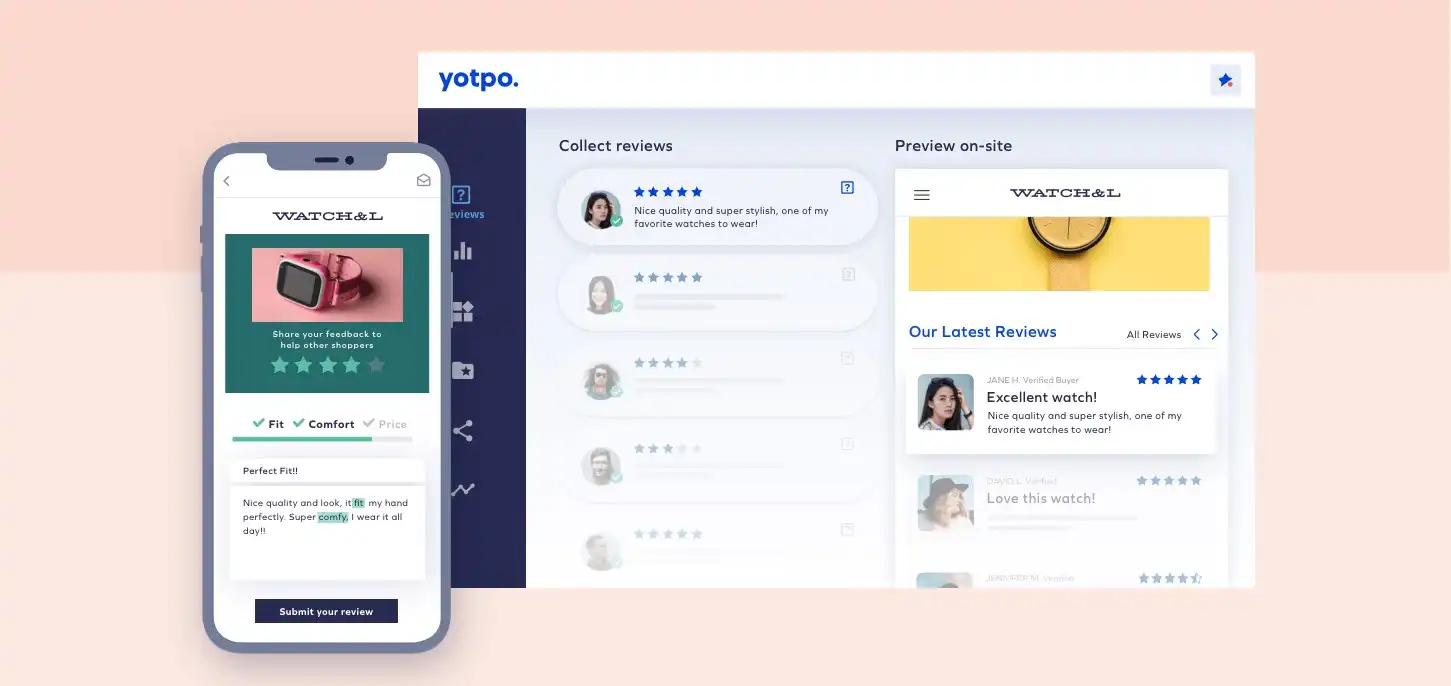 Yotpo is another excellent Shopify product review app that can boost your store sales by collecting reviews, creating loyalty programs, referral marketing, and much more. You can also directly share customer reviews on social media platforms like Facebook and Twitter from your dashboard.
The Yotpo product review app offers more options for moderating reviews. It can also flag negative comments or reviews so that you can give prior importance and respond to the customers immediately.
You can encourage your customers by offering them a loyalty program wherein they receive a coupon when they post product reviews. An added bonanza is that you can collect both website and product reviews in a single email, which is quite an exciting feature to highlight.
Key Features –
Send automated email & SMS Review Requests
Collect reviews, ratings, photos, and Q&A from customers
Customizable on-site widgets
Coupons to incentivize users to leave a review
Plans & Pricing – There is a free plan available, and if you wish to upgrade, you can opt for the Growth plan, which starts at $15/month.

Judge.me is one of the most reliable Shopify product review apps that enriches your Shopify store by displaying product reviews and ratings and collecting dynamic content like photos/videos from your customers.
Your Shopify store can receive more trust on social platforms as this app allows you to share reviews on major social media platforms. You can send unlimited emails requesting the customers to review the products they purchased from your store.
Judge.me also synchronizes with Facebook to display all products quickly on customers' chat. By collecting the reviews, you can also connect with the Checkout comments app to understand the customer's experience during their checkout process.
Key Features –
Product reviews with text, photos, and videos
Unlimited review requests, orders, and imports
SEO-rich review snippets
1-click AliExpress review import with images
Incentivize reviews with coupons
Send review request emails after your delivery using Aftership
Plans & Pricing – It offers a free plan but to utilize most of this review app, you need to upgrade to the Awesome plan costing $15/month.
How to add customer reviews to Shopify for free?
All the above listed review apps are premium ones with some advanced features like automated review request emails, Q&A, reward points etc. However, if you are just getting started and just want to add simple customer reviews on product pages, you can use Shopify's free product review app.
It is pretty good with basic customization optimization and review management features. You can watch this video for a step-by-step tutorial to add customer reviews for free to your Shopify store.
I hope you find this video helpful. If so, you may want to subscribe to our YouTube channel for more such tutorial and guides to build and grow your Shopify store.
Choose the Best Shopify Product Review App
Incorporating product reviews/ratings, customer testimonials, etc., create an authentic view for your Shopify store. You cannot force your customers to buy your products but instead, deliver them the 'why' reason to choose you over your competitors.
When you showcase exactly what your Shopify store is about with true ratings/reviews, customers begin to trust and believe in you. Eventually, they get converted into loyal customers for life. So, pick the best review app for your store and build credibility with your customers with authentic reviews.
I hope this article helped you pick the best review app for your Shopify store. If you are looking for more apps, here are a few handpicked articles you should read next –