Are you struggling to convert your website visitors into customers?
Are you seeing a lot of traffic on your online store but not able to generate revenue? Well, you need an eCommerce conversion funnel.
In this guide, I will walk you through every aspect of the eCommerce conversion funnel and how you can create an effective conversion funnel for your eCommerce business.
Ready? Let's get started.
What is an eCommerce conversion funnel?
An eCommerce conversion funnel is a visual representation of how your target audience follows a path from getting to know your brand/online store to become a paid customer.
In short, it is a visual illustration of converting an unknown stranger into a customer.
Every business out there has a conversion funnel, whether defined or not, but it exists. Every business person or entrepreneur knows that you can't just open a store or website and expect people to come and buy from you.
You have to create a buzz among your target audience to let them know about your products and services. And once they visit your store, you need to guide them stage-by-stage until they complete the purchase.
And that process of guiding a visitor through the purchasing journey is what a conversion funnel is all about. It just helps you track and understand your audience better.
Why do you need an eCommerce conversion funnel?
You might be thinking about why put extra effort into creating a conversion funnel when all you can do is focus on driving traffic to your website using paid ads or SEO and generating more sales.
But here's an eye-opening fact for you – more than 95% of first-time visitors never return if they leave your site without converting.
So, as an eCommerce merchant, you need a conversion funnel to visualize how a prospect interacts with your website throughout their purchasing journey. This way, you will be able to figure out the frictions because of which visitors drop off without converting and optimize your website accordingly to reduce drop-offs and boost conversion rates.
An eCommerce conversion funnel can also help you with creating effective marketing strategies for your brand. Depending on the stages of the funnel, you can create targeted ad campaigns or content to engage visitors leave the website without completing the purchase.
Key stages of eCommerce conversion funnel
To create a conversion funnel, you need to first understand the 3 primary levels of a customer's buying journey, which are as follows –
Top of the Funnel – At this stage, people are not necessarily looking to buy your product instantly. They might be looking for solutions to their problem or researching for future purchases.
Middle of the Funnel – At this stage, people interested in buying identified your brand and are considering and comparing it with other brands available.
Bottom of the Funnel – This is the final stage consisting of people who decided to buy from your brand. Most of them will buy eventually, while for others, you may need to give a little nudge to make the purchase.
Now, for eCommerce businesses, you can break down these levels into four key stages of the customer buying journey, which are as follows –
Awareness
Interest
Desire
Action
Here's how these stages can be represented in the form of the funnel –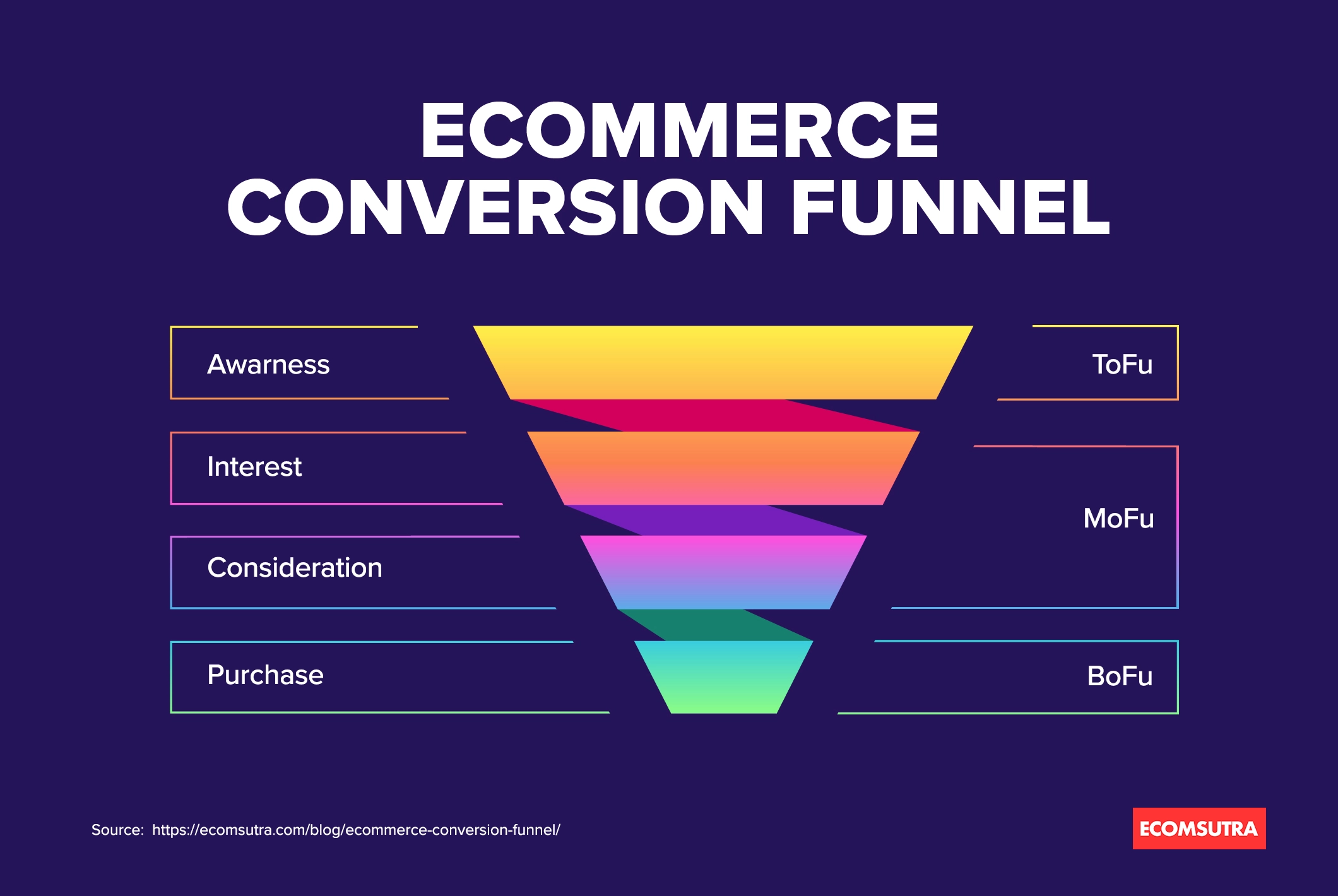 Every business needs a custom conversion funnel, but the stages remain the same with actionable strategies depending on their business model, products, and how customers complete their purchases.
Having said that, let me explain each stage of the eCommerce conversion funnel.
Stage 1: Awareness
At this stage, your goal is to reach out to your target consumers available on different marketing channels and make them familiar with your brand and what you offer.
This is the first time they will find out about your brand. So you want to create a lasting impression on them by providing informative content about your products and how it solves their problems.
Think of this like you are meeting someone very important for the first time. So you don't want to start with direct selling, instead, you want to know them and help them with their problems.
Therefore, at this stage, you should focus on creating informational content or advertisements that people can relate to their problems.
For instance, take a look at this guide from Loreal Paris –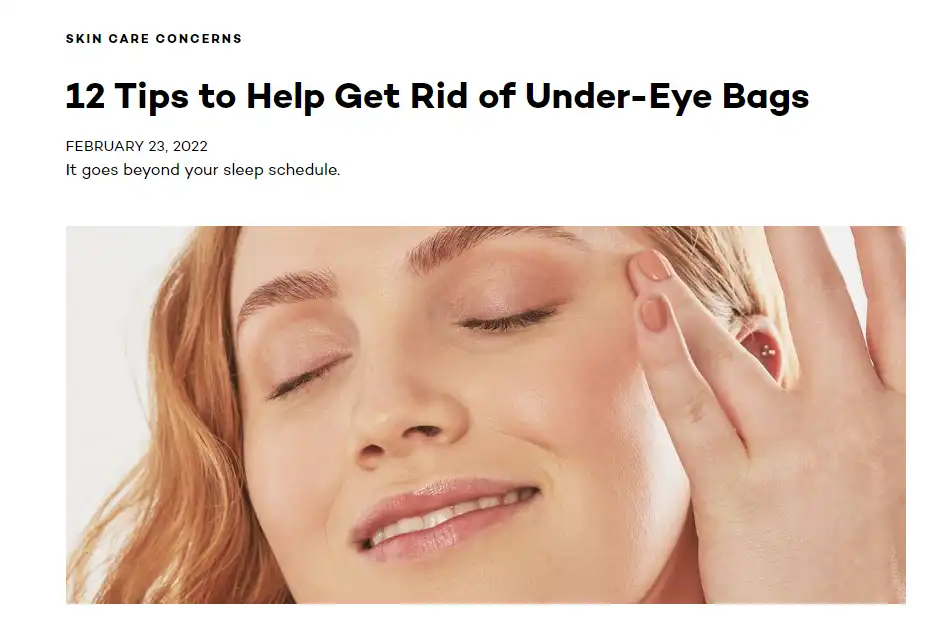 The brand has created this guide to help anyone who wants to get rid of the under-eye bags. Here, they are not selling their products directly, instead, they present their products as a solution that readers can try.
When someone visits this article via google search, social media, or ads, you know that the visitors are looking for solutions to that specific problem. This way they come into know about your products and enters into your conversion funnel.
Stage 2: Interest
Once you have people who know your brand and most likely looking for products like yours, you need to keep engaging with them with more informative content related to their past interactions so that they remain interested in your products.
So, at this stage, you will need to leverage the marketing platforms like Facebook, Instagram, Pinterest, and other that enables you to retarget such visitors on the platform and drive them back to your site.
For instance, using the last example, the brand can run a targeted ad campaign to the visitors of that article with a short video interview with an expert on what causes under-eye bags and how to avoid it.
Your objective at this stage should be to keep such potential customers engaged with related content so that whenever they are ready to make a purchase decision, your brand should be on top of their mind.
Stage 3: Consideration
By the time people reach this stage, you have already filtered out those who were just randomly looking for the information and most likely not interested in purchasing your product ever.
Now, you have the audience who interacted with several of your content and showed that they want a reliable solution for their problems. But, remember you should assume that they might they have interacted with other brands as well and considering their products.
So, at this stage, you have to work a little harder to build trust with them. You can start with showing them customer testimonials, detailed product descriptions that addresses their pain points and providing other relevant content to prove them that you have the perfect product they are looking for.
To create such powerful impression, you can also create articles or videos comparing your products with different brands. Or better, you can ask influencers to make such content and bring it to your audience's attention.
Stage 4: Purchase
This is the final stage where you should have your most ideal consumers ready to buy products from you.
The people reaching this stage have chosen your brand over others to buy the products. You just need to give a little nudge to make them add products to their shopping cart and complete the checkout process.
At this stage, you should have conversion-friendly product pages and a smooth checkout process, ensuring that people complete the process easily.
Also, prepare a sequence of abandoned cart emails and SMS alerts to remind shoppers about their cart and push them to complete the purchase. You can use email marketing software like Omnisend to automate your email and SMS marketing campaigns.
The above-outlined 4 conversion funnel stages are common for most eCommerce brands. However, you can optimize it for your brand based on the complexity of your customer's purchasing journey.
Having said that, let's look into how to create a conversion funnel for your eCommerce brand.
5 Steps to create an eCommerce conversion funnel
There are mainly 5 steps to creating an eCommerce conversion funnel that helps you identify how your customers shop and how you can guide them to complete a purchase.
Let's look at them individually.
1. Define buyer personas for your brand
First things first, you can create an effective eCommerce funnel without a well-researched buyer persona. A buyer persona tells you everything you need to know about a specific type of customer.
It helps you understand their pain points and how you can address them throughout their purchasing journey. Need help? Read our complete guide to creating a buyer persona for eCommerce.
2. Identify your customer touchpoints
Next, you need to identify the strong touchpoints where customers interact with your brand throughout their purchasing journey. By identifying these touchpoints & analyzing their actions after that, you can figure out answers to some crucial questions like –
How did they first become aware of your brand?
How do different touchpoints impact their purchasing decisions?
Which touchpoints play a crucial role in conversions or drop-offs?
Remember the touchpoints can be anything from your social media ads, blog posts, customer reviews on external platforms, your website, etc. In fact, if you have offline stores for your brand, it can also be one of the important touchpoints for you.
You can use Google Analytics path exploration reports to identify the touchpoints on your website. Using these reports, you can view the path taken by visitors to your website and the actions taken by them.
For external touchpoints, you will have to conduct customer surveys or use advanced eCommerce analytics reporting tools.
3. Create your customer journey map
By now, you should have a clear idea of who your customers are and how they interact with your brand at different touchpoints. Next, you need to map this information to visualize a customer journey.
A customer journey map tells you how customer transition from one touchpoint to another throughout their purchasing journey. Using this journey map, you can ensure that the right information is provided to guide them to the next step toward conversion.
The process is simple, from the buyer persona you should have insights about customers' likes, dislikes, pain points, etc. You just need to map them to different touchpoints such that it helps you avoid the possible roadblocks that might take visitors off their purchasing journey.
For instance, if you noticed that a lot of customers start their journey with a specific category page, but most of them drop off from the product page only. Then, you might have to work on your product pages to provide the information they seek to make purchasing decisions.
Similarly, if their journey starts with paid ads and leaves the website at checkout, you may have to optimize the checkout page to fit their convenience.
4. Divide journey map into funnel stages
With your customer journey map, you now have defined the entire path that customers follow to complete their purchasing journey.
Now, to create your eCommerce conversion funnel, divide the customer journey map into the four stages outlined above — awareness, interest, consideration, and action.
5. Create & map resources to each stage
An eCommerce conversion funnel is nothing without dedicated resources at each stage of the funnel that guides visitors toward conversion.
From your website design, popups, and blogs to paid ad campaigns and social media posts, you will need everything to engage and help shoppers transition from one stage to another till they become paid customers.
Important KPIs to Analyze Ecommerce Conversion Funnel
Once you set up your conversion funnel, you need to consistently track and analyze it performance at every stage. This way, you will be able to find out if there's any leakage in the funnel from where you might be losing potential conversions.
So, here are some of the key performance indices that you should consider to tracking for your conversion funnel –
Traffic source & mediums – It is very crucial for you to know which channel drives the most traffic to your website. This way, you will know where people are finding your website and thus optimize your strategies accordingly.
Organic Traffic Sessions – This metric shows how many visitors are finding your website from search engines like Google and Bing. if you are actively focusing on website SEO and content, then you must track this metric.
SEO keyword ranking – Again, this is for websites that rely on SEO to drive traffic. You can use Semrush to constantly track your keyword rankings on Google search results. 
Pages Per Session – This metric tells you how many pages visitors visit on your website in a session. The higher the number of pages per session, the better as it shows that your website is engaging and users are willing to spend time on it to find their products.
Return on Ad Spend (ROAS) – If you are running paid campaigns on Facebook, Google, and other channels, you need to track this metric to understand how much you are getting in return for every penny spent on different campaigns.
Conversion per channel – Ecommerce businesses should not rely entirely on a single channel to drive sales. You should leverage organic traffic, paid ads, email marketing, and other channels to drive traffic and generate sales. And, by tracking this metric, you will know which channel drives the most conversions for your business.
Cart Abandonment Rate – This metric tells you how many of your shoppers left the cart page without completing the purchase. It should be as low as possible to ensure that you will have to set up automated marketing communications.
Conversion Rate – This metric shows the percentage of visitors who converted into paid customers. This is basically an overall performance metric for your conversion funnel.
To track these metrics, you will need a proper analytics platform. You can use your platform's built-in analytics tool or Google Analytics, which is free. You can also use premium eCommerce analytics reporting tools to consolidate data from all your sales and track all the KPIs on one dashboard.
Wrapping Up
An eCommerce conversion funnel is the must-have for any brand that strives to make data-backed decisions and is always ready to do experiments to find out what works best to convert consumers at each stage of the funnel.
The conversion funnel helps you analyze your marketing performance at each stage of the buying journey and provides you with data to optimize your content and marketing strategies for better performance.
That's why I recommend collecting your consumer data and creating a well-defined and effective conversion funnel for your eCommerce business. But remember that you can't just create a funnel and leave it as it is forever – you must analyze it regularly and optimize it for better results.