Omnisend is one of the best eCommerce marketing automation software, enabling you to deliver a personalized shopping experience via email and SMS campaigns. It seamlessly integrate with Shopify, WooCommerce, BigCommerce and Wix stores, allowing you to send automated marketing communications from a single platform.
You can learn more about its features and functionalities in our in-depth review here.
Use Discount Code: ECOMSUTRA
Here are some of the best picks in which Omnisend is featured –
How to use Omnisend Discount Code?
With EcomSutra exclusive Omnisend Discount Code, you will get 10% off on all plans for the first 6 months. To claim this deal, you just have to enter the coupon code while purchasing or upgrading to the paid plan.
Here's the step-by-step instruction –
Omnisend offers a free plan. So, you can just navigate to Omnisend.com and create your free account. In the free plan, you will send 500 emails and 60 SMS per month for FREE.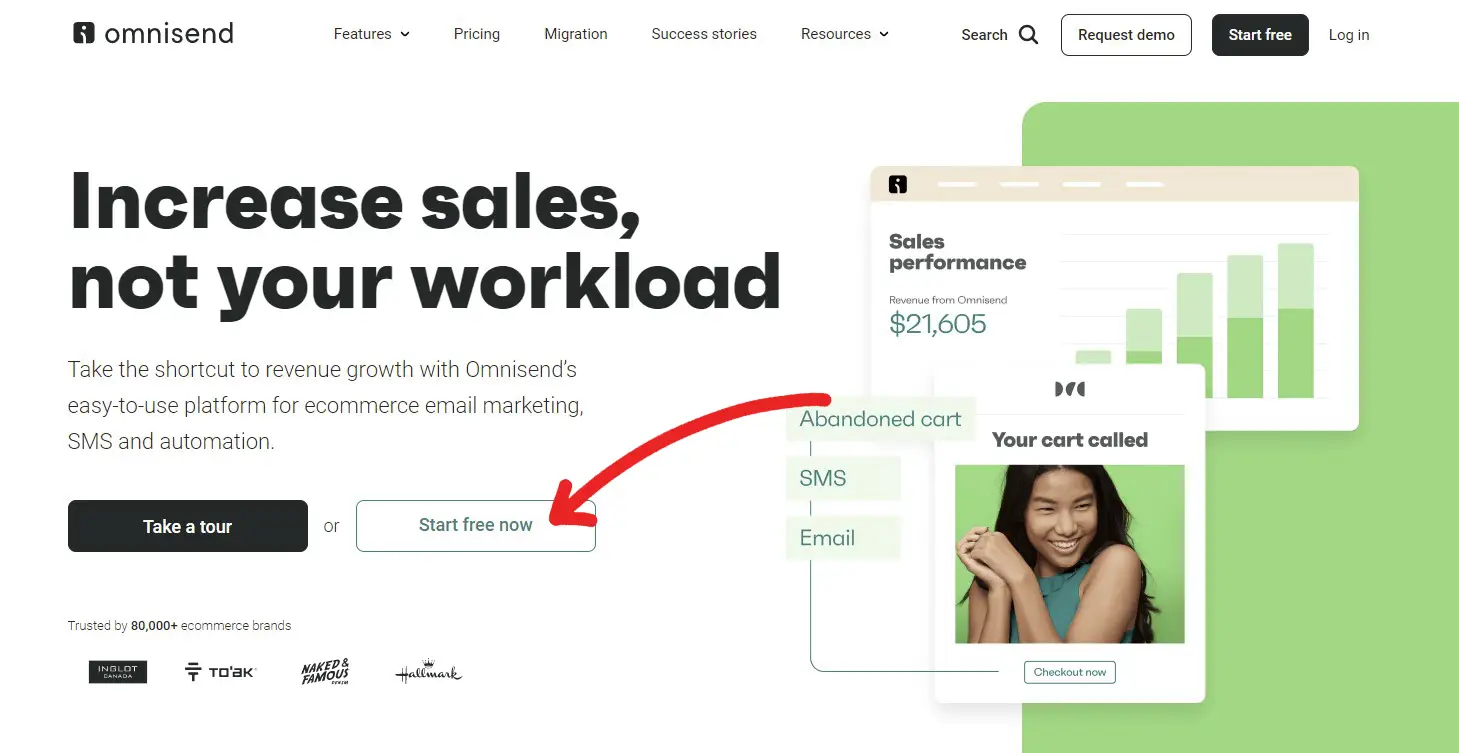 After signing up, if you want to upgrade to the paid plan to send unlimited emails, SMS and push notifications, click the profile icon in the top-right corner and a dropdown menu will appear.
Next, click the "View Our Plan" button from the menu as shown below –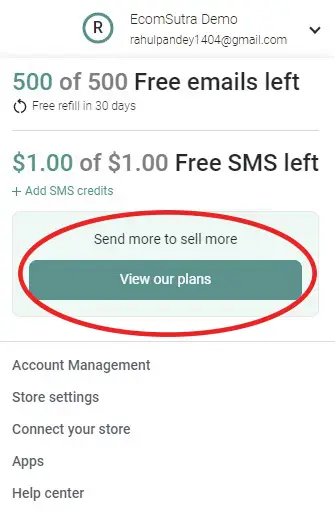 Here, you will see the normal pricing of its two paid plans. Below, the pricing table, you will see a text field to enter discount code. In that field, enter the code "ECOMSUTRA" and hit the "Redeem code" button".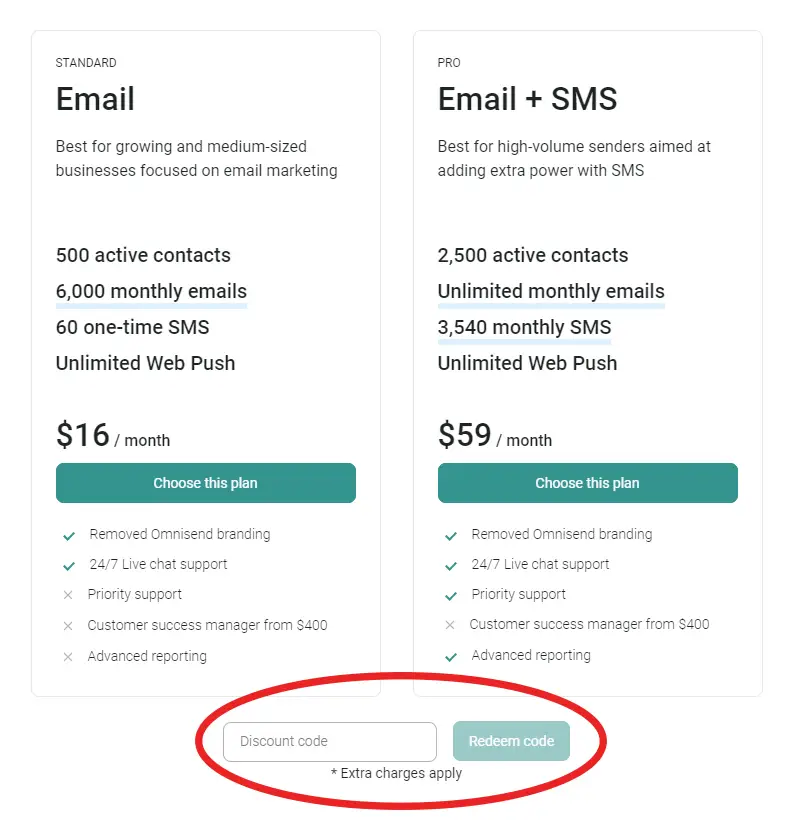 You should see the update pricing plans in the table, as shown below.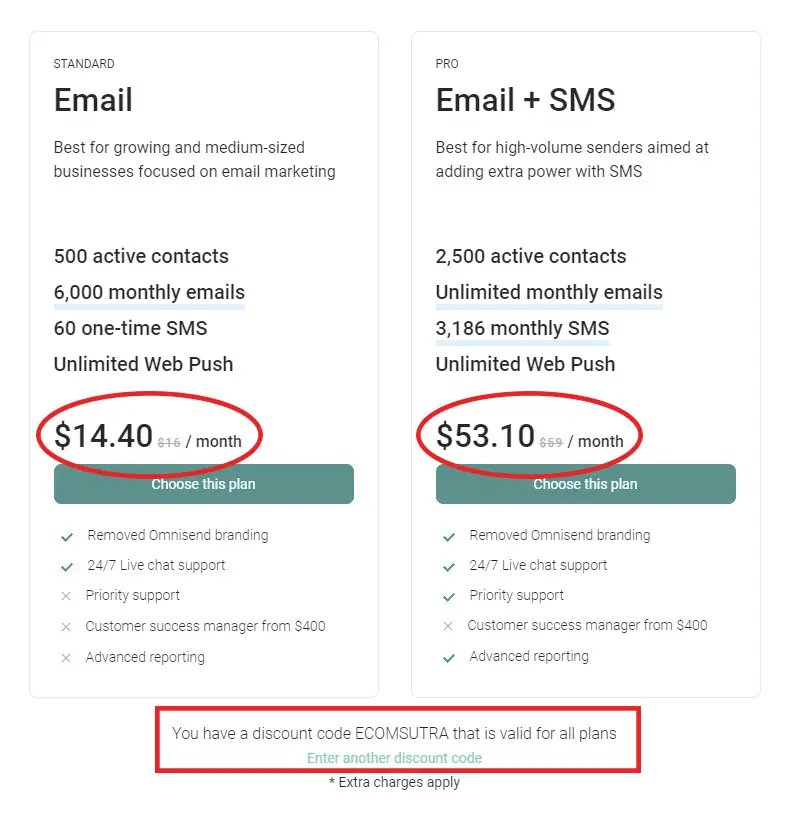 Now, choose the plan you need for your business, provide billing information and you will have your discounted paid plans.
Omnisend Discount Code FAQ
Will I have to provide payment details while creating the account?

No, Omnisend doesn't ask for payment details or billing information while signing up. You will only have to provide these details when you upgrade from free to paid plan.

Will the Free plan give me access to all the Omnisend features?

Yes, Omnisend gives you a complete access to all its features including, automation workflow, popup builder and others. The only limitation is that you will be able to send only 500 emails and 60 SMS in a month for up to 250 contacts.

How long does your Omnisend Discount code valid?

Our exclude discount code should get you 10% discount for up to 6 months.