In today's business landscape, affiliate marketing has become an increasingly prominent element of marketing strategies. Particularly within the realm of eCommerce, affiliate marketing stands out as one of the most potent marketing strategies for augmenting sales.
However, to truly harness the full potential of affiliate marketing, it's imperative to establish a seamless affiliate program on your eCommerce website. This program should enable affiliates to effortlessly sign up, while also allowing you to diligently monitor their performance and ensure timely payouts. Fortunately, for BigCommerce merchants, this entire process can be effortlessly streamlined with the assistance of dedicated apps.
In this blog post, I'll share the top 8 BigCommerce affiliate apps, each designed to aid you in setting up a robust affiliate program for your business. These apps will not only simplify the setup but also assist you in identifying influential partners who have the potential to drive significant sales for your enterprise.
Why Your BigCommerce Store Needs An Affiliate Program?
Affiliate marketing, as you are probably aware, is a collaborative marketing strategy where companies join forces with affiliate partners to boost product or service promotion. This approach is particularly valuable for businesses operating on limited budgets, needing an in-house design team, or aiming to manage risk effectively.
The beauty of affiliate marketing lies in its potential for a high return on investment, increased brand visibility, and substantial business growth through enhanced sales.
While it might seem too good to be true, the advantages of affiliate marketing are the result of highly targeted and efficient marketing efforts. Before delving into the best affiliate marketing apps for your BigCommerce store, let's explore the fundamentals of affiliate marketing and the key benefits it offers –
Cost-Effective Results: Affiliate marketing ensures that you only pay marketers when they deliver actual customers or leads.
Enhanced Conversion Rates: With expert online marketers promoting your products or services, you can expect improved conversion rates.
Zero-Cost Marketing: In today's digital landscape, online paid advertising can be exorbitant. For instance, Google Ads can cost anywhere from $1 to $50 per click. However, with affiliate marketing, you pay nothing upfront.
Marketing Automation: Establishing an affiliate program is a one-time effort; affiliates automatically join and promote your offerings.
Guaranteed Profit Margins: While advertising on platforms like Google may incur high costs, affiliate marketing assures a profit.
Risk-Free: Affiliate marketing eliminates the need for upfront payments, and you only pay when results are achieved, minimizing risk.
Swift Results: A well-executed affiliate marketing strategy can rapidly propel your business to prominence.
Free Branding and Visitors: Even if affiliate partners bring in visitors who don't convert into leads or customers, your business still gains exposure at no cost.
Augmented Social Proof: Today's consumers are discerning and rely on a brand's reputation and social proof.
These benefits underscore the importance of implementing an affiliate program for your BigCommerce store. Now, without further ado, let's dive into the most eagerly anticipated section of this blog, where we'll unveil the top affiliate marketing apps for your BigCommerce store.
Top 8 BigCommerce Affiliate Marketing Apps
Now, to help you pick the right affiliate app for your BigCommerce Store, I reviewed some of the popular BigCommerce affiliate apps and ranked them based on my experience and the features they offer.
If you are ready, let's get started.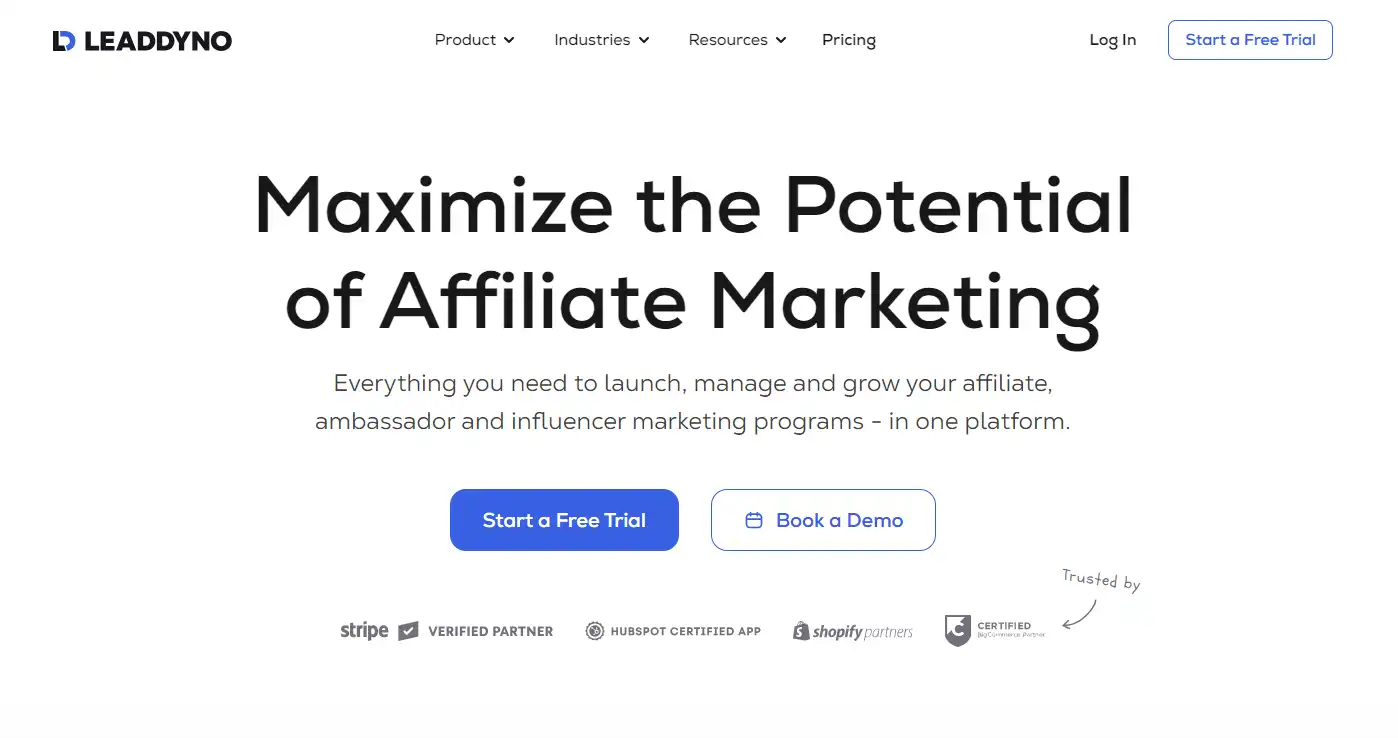 LeadDyno is the best BigCommerce affiliate marketing app that equips you with all the essential tools for initiating, overseeing, and expanding your affiliate program. With built-in features like affiliate newsletters, trackable coupon codes, and a library of shareable content, LeadDyno empowers you to promote your brand effectively through affiliate marketing.
One of the standout features of LeadDyno is the dashboard it provides to affiliates. This dashboard offers a real-time overview of the number of clicks on affiliate links and the performance of these links. This data is invaluable for maximizing the impact of your affiliate marketing partnerships and reinvesting in your affiliates.
In essence, LeadDyno allows you to leverage influencer, affiliate, and customer relationships to launch, scale, and optimize your marketing programs, ultimately impacting your bottom line.
Furthermore, affiliates gain access to a library of shareable content for promoting your brand through various channels like email, Facebook, LinkedIn, Twitter, and banners. LeadDyno simplifies affiliate marketing by automating the process of inviting new customers to join your affiliate program, sending automated emails to engage customers or leads, and creating email marketing drip campaigns tailored to post-purchase or inquiry scenarios.
Key Features –
Real-time click and commission tracking for affiliate monitoring
Mobile app for tracking sales and sharing content
Affiliate newsletters and trackable coupon codes
Automated affiliate marketing processes
Customizable email marketing drip campaigns
Pricing Plan – LeadDyno offers pricing starting at $49 per month, with a 30-day free trial for BigCommerce users.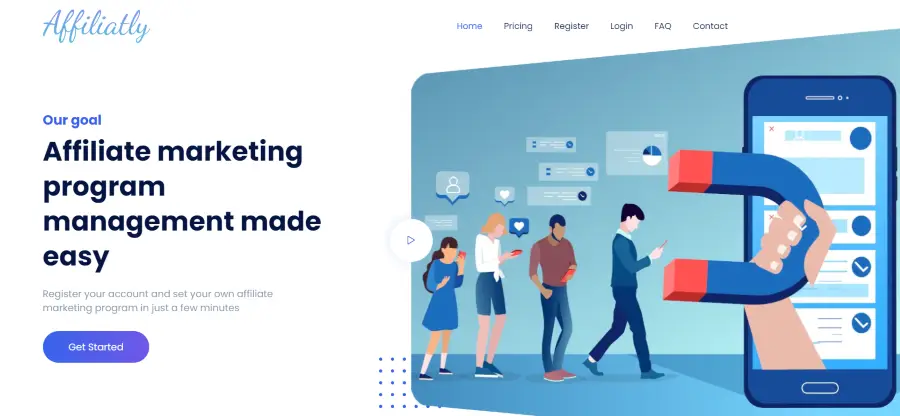 Affiliatly stands as a cutting-edge application in the realm of marketing solutions, designed to empower eCommerce business owners and their teams with an array of remarkable marketing strategies. This platform presents a contemporary approach to drawing more visitors to your website.
At its core, Affiliatly equips merchants with a fully functional affiliate program and dashboard tailored for your BigCommerce store, facilitating the tracking and oversight of your affiliate partners. Additionally, it allows individuals to create links, market your shop, and promote it effectively.
You can effortlessly monitor the visits and orders from users who land on your site via affiliate links, simplifying the management of referrals through various solutions such as links, QR codes, coupon codes, and client email tracking. Furthermore, Affiliatly enables you to customize tracking link templates, establish bespoke tracking codes for your affiliates, and set unique commissions for specific products.
Moreover, you have the option to supply banners to your affiliates, oversee affiliate statistics, and manage affiliate earnings percentages. Affiliatly even grants you the flexibility to modify the content for login, registration, and FAQ pages with ease. To top it off, you can engage your customers by displaying affiliate or order statistics via a popup in your checkout process.
Key Features –
Precise tracking of user visits and orders through affiliate links
Offering links, QR codes, coupon codes, and client email tracking
Providing banners for affiliates and monitoring affiliate statistics
Easy content customization for login, registration, and FAQ pages
Convenient popup feature for engaging customers
Pricing Plans – Affiliatly offers a generous 90-day free trial, and its paid plans commence at $16 per month, extending up to $39 per month.
GoAffpro is another robust BigCommerce affiliate marketing app that can help you streamline the process of setting up an affiliate program and recruiting influencers and content creators to promote your products.
Goaffpro is a comprehensive affiliate marketing tool and influencer marketing platform for your eCommerce store. With Goaffpro, you can create a custom-branded partner portal for your BigCommerce store in less than five minutes.
This versatile tool is also a boon for affiliate marketers, enabling them to customize their affiliate sites with their logos, store themes, and fonts. The platform boasts a modern, mobile-friendly design that seamlessly caters to both mobile and desktop users. Furthermore, it integrates with popular email marketing tools such as Mailchimp, Klaviyo, and Omnisend, allowing you to synchronize your email campaigns with affiliate information.
GoAffpro puts you in complete control of your affiliate program by allowing you to customize affiliate commissions, coupons, referral links, and payouts.
Key Features –
Customizable affiliate portal with branding options
Tailored commissions for different products, categories, or affiliates
Automatic voucher distribution upon affiliate signup
Multi-level marketing capabilities
Seamless integrations with email marketing and Facebook Pixel
Pricing Plans – Goaffpro offers basic functionality for free, and for enhanced features, you can choose from two premium plans: $29 per month and $99 per month.
Refersion proudly presents itself as a BigCommerce affiliate app that empowers businesses to drive ecommerce growth through influencer and affiliate marketing programs, and it delivers on this promise.
Refersion is an affiliate marketing platform that can be launched in just minutes, allowing you to focus on the crucial task of building relationships. It offers the ability to recruit, track, and compensate affiliates, all within a user-friendly platform. Moreover, Refersion features a marketplace with over 5,000 members ready to collaborate with you!
With Refersion, you can craft a custom registration page that aligns with your branding. New users can swiftly sign up for your program and access their personalized dashboard to create links, update details, and analyze their performance.
Key Features –
Support for stores of all sizes, platforms, and currencies
Customizable signup page with branding elements
Easy customer enrollment with the Post Purchase widget
Personalized affiliate dashboards for performance analysis and link creation
Bulk affiliate payments with PayPal Mass Payments
Pricing Plans – Refersion offers a 14-day free trial and two premium plans: $99 per month and $249 per month. Enterprise business owners can also engage with the sales team for a custom plan.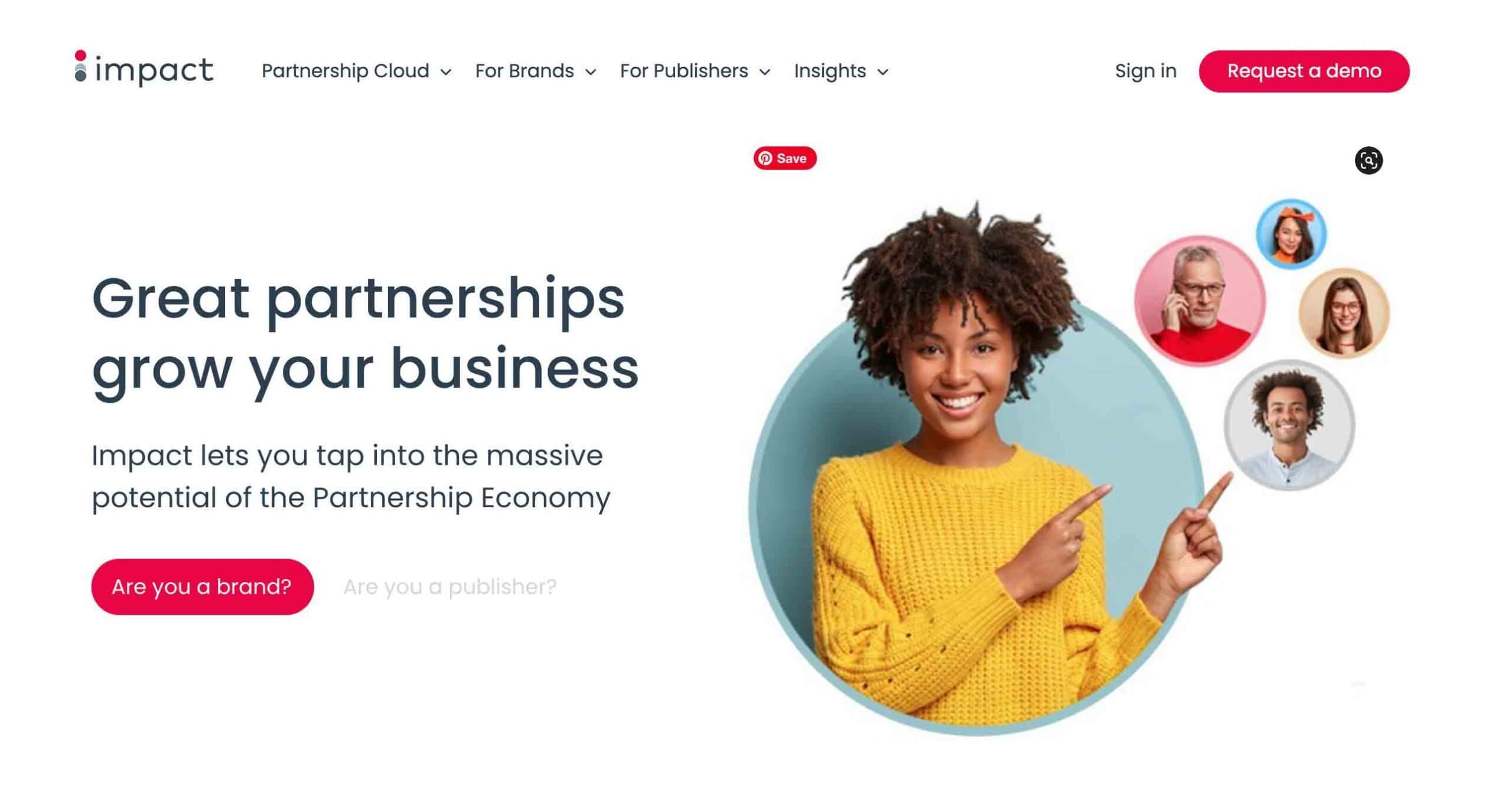 Impact is probably the most popular affiliate management platform for businesses of all kinds and scales. Whether you are running an eCommerce business or selling software products, you can easily set up a robust affiliate marketing program.
With its direct integration with BigCommerce, you can easily connect your store and sync data without any technical hassle. The best part is that once your program is live, the existing content creators and potential partners can discover your products and start promoting them.
You can also explore existing partners on the platform and manually invite them to join your program. It simplifies the onboarding of new partners and the negotiation of payout terms, ensuring that credit is automatically settled for the incremental value they bring.
Unlike other affiliate apps on the list, Impact gives you a unique advantage in discovering the most reliable affiliate partners based on their past performances on the platform, and recruiting them effortlessly. This not only saves you time but strengthens your marketing capabilities to boost sales revenue for your store.
Key Features –
Discover global partners and automate recruitment through nurture campaigns
Auto-generate contracts and facilitate automatic partner payments
Real-time tracking of partner traffic across all devices
Engage partners and evaluate their performance
Streamline budget allocation by eliminating fraudulent traffic and focusing on legitimate partners
Pricing Plans – Impact follows a customized pricing model that begins at $30 per month.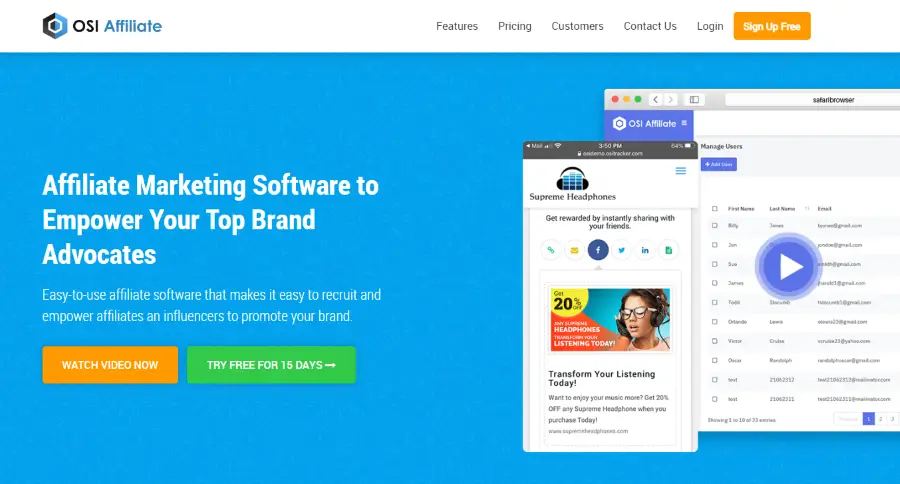 OSI Affiliate is your key to increasing website traffic and boosting sales through the implementation of a Affiliate program. By introducing a affiliate program, you can leverage your existing customer and influencers to promote your BigCommerce store, rewarding them with cash, gift cards, or enticing incentives for their promotional efforts.
The user-friendly OSI Affiliate interface ensures a quick setup, taking only minutes to get you up and running. Additionally, you can equip your affiliates with social media promotional tools, enabling them to promote your products on platforms like Facebook, Twitter, LinkedIn, and more. You can also provide them with banner graphics, pre-written email templates, and a range of other promotional resources.
Should you require assistance with account setup or management, OSI Affiliate Software offers 24/7 support from a knowledgeable team.
Key Features –
Empower affiliates to promote your products on Facebook, Twitter, LinkedIn, and more
User-friendly affiliate sign-up process
Effortless customer enrollment
A quick program set up in a matter of minutes
Pricing Plans – OSI Affiliate Software offers pricing starting at $47 per month, with options extending up to $97 per month. Additionally, a 15-day free trial is available.
7. Katalys (Previously RevOffers )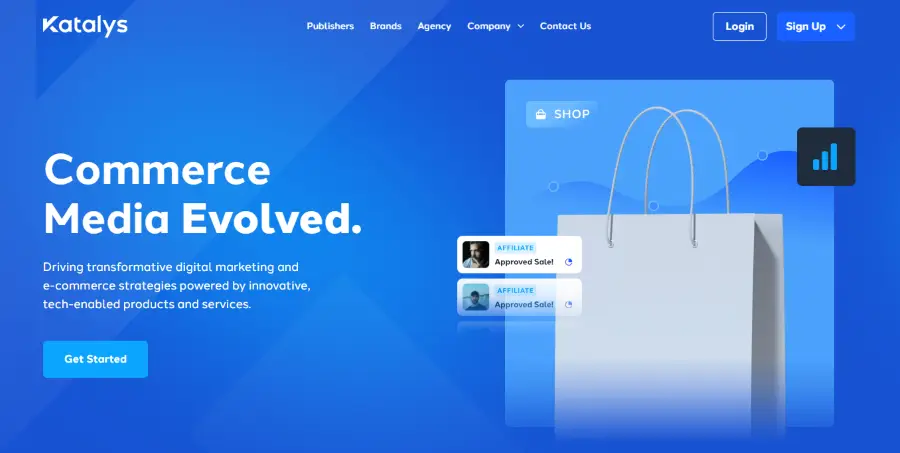 Katalys was conceived to help publishers monetize their traffic by connecting them with high-converting offers. As a BigCommerce store owner, you gain access to a handpicked selection of publishers, affiliates, and influencers eager to promote your products in exchange for commissions.
The Katalys app for BigCommerce enables you to enhance your eCommerce sales automatically. It's a solution that supports your efforts in various ways, including –
Driving increased traffic to your website
Establishing connections with potential customers for your products and services
Attracting qualified leads to join your mailing list
Generating consistent sales growth
Paying only for verifiable sales
Acquiring valuable SEO-friendly backlinks from publishers
Katalys streamlines the technical integration into a seamless one-step process. The app listens for order-related events within your BigCommerce setup and reports to the Katalys Attribution Engine upon order completion. The backend system then takes care of the rest, analyzing and reporting on the growth driven by Katalys month after month.
Key Features –
Create CPS, CPA, or CPL offers
Track hits and sales across your eCommerce website
Configure custom rules and conditions for tailored offers
Comprehensive end-to-end campaign management
Enhanced transparency through detailed reporting and intelligent dashboards
Built-in fraud protection that identifies and rejects click fraud automatically
Pricing Plans – Katalys follows a custom pricing model, and advertisers can connect with the team to discuss their specific requirements.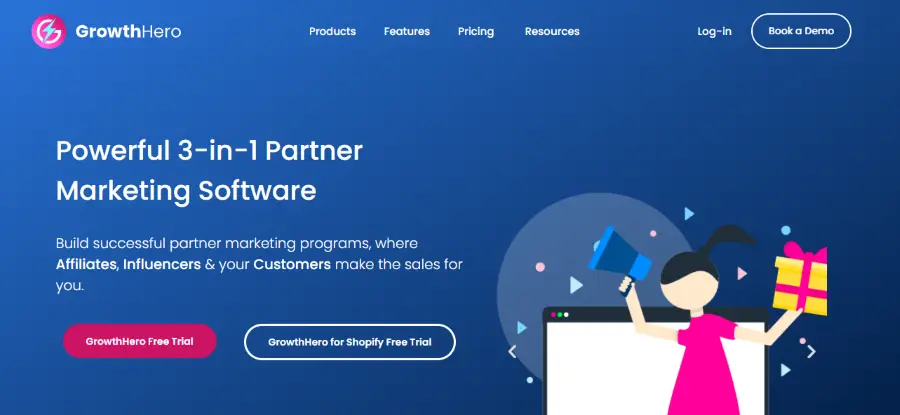 GrowthHero empowers you to initiate a white-label, fully functional affiliate program in a matter of minutes. This all-in-one platform allows you to effortlessly manage your affiliate partners, campaigns, commissions, and more, all from a single, user-friendly dashboard.
Additionally, GrowthHero features an affiliate marketplace, simplifying the recruitment of potential partners and offering them the necessary resources to effectively promote your products.
With GrowthHero, you have the flexibility to create customized affiliate programs and seamlessly oversee your affiliate partners through automated email updates and payouts. Partners gain access to their own dedicated dashboard, where they can access promotional materials, track their performance, and view payout details.
Notably, GrowthHero employs three fraud-detection methods to safeguard your resources, including checks for identical email addresses, matching first and last names, and referrals between partners and customers.
Key Features –
Creation of unlimited affiliate programs
Customization of commission structures for individual products
Effortless affiliate recruitment via the built-in marketplace
Automated email notifications with affiliate updates
Dedicated affiliate dashboard for partners
Detailed analytics and reporting for program performance and sales
Pricing Plans – GrowthHero offers three pricing plans:
Starter: $49/month
Pro: $99/month
Premium: $199/month
By opting for annual payments, you can save 8%, and all plans come with a complimentary 30-day trial.
Wrapping Up
Affiliate marketing stands as a powerful avenue to expand your reach and enhance brand recognition within your target audience. If you haven't yet ventured into establishing an in-house affiliate program for your BigCommerce store, you may be missing out on a substantial revenue stream.
Among the selection of top-notch BigCommerce affiliate apps, each app brings its own unique strengths and capabilities to the table. Rest assured, these apps have been carefully curated to cater to a wide range of needs, ensuring you'll find the ideal solution to kickstart your affiliate program today.
In the world of eCommerce, leveraging the influence of affiliate partners is an invaluable asset. So, seize the opportunity to harness the potential of affiliate marketing and select the perfect app to elevate your BigCommerce store to new heights. The right choice today can bring you closer to the business growth and success you've been aspiring for.
If you are looking for more apps to grow your BigCommerce store, here are a few hand-picked articles that you may want to read next –