One of the common factors behind the success of giant eCommerce companies like Amazon, Flipkart, and small D2C brands is their exceptional customer service. By providing excellent customer support, they build credibility among customers and win their trust to establish long-term brand loyalty.
Since you landed on this article, I don't think that I have to make you understand it's important, right?
So, without any further ado, let me show you some of the best BigCommerce helpdesk apps that you can choose from to provide customer service to your website visitors and customers.
Here are the top 5 BigCommerce customer service apps –
Now, let's dive into these apps in detail.
Gorgias is probably the most popular BigCommerce helpdesk app that brings all your customer service channels together into one central hub. Whether you are offering customer service via email, SMS, WhatsApp, live chat, or social media, you can view and manage all your support tickets from a single screen. This consolidation eliminates the need for agents to juggle between multiple channels, enabling them to be more efficient with customer support.
It equips you with an array of capabilities, including the creation of tickets, assignment of tickets to other agents, one-click automated replies, tag setup, and more, fostering collaboration. Additionally, you can perform tasks such as order edits, refunds, and subscription cancellations without leaving your dashboard, enabling you to offer quick resolutions to customer queries.
Overall, Gorgias is an all-in-one customer service app that provides you with everything you need to provide excellent customer support for your BigCommerce Store. You can read our detailed Gorgias review to know more about its features and functionalities.
Key Features –
Centralized management of conversations across email, live chat, phone, and social channels.
Get a comprehensive view of the customer's conversation history across various channels.
Support request consolidation from multiple stores.
Access to customer details and order information alongside each ticket.
Implementation of automated responses to common inquiries.
Efficient access to customer data and purchase history for enhancing support agent performance.
Pricing Plans – Gorgias offers a free 7-day trial and the paid plan starts at just $10/month, based on the number of monthly tickets, with access to all its features and functionalities.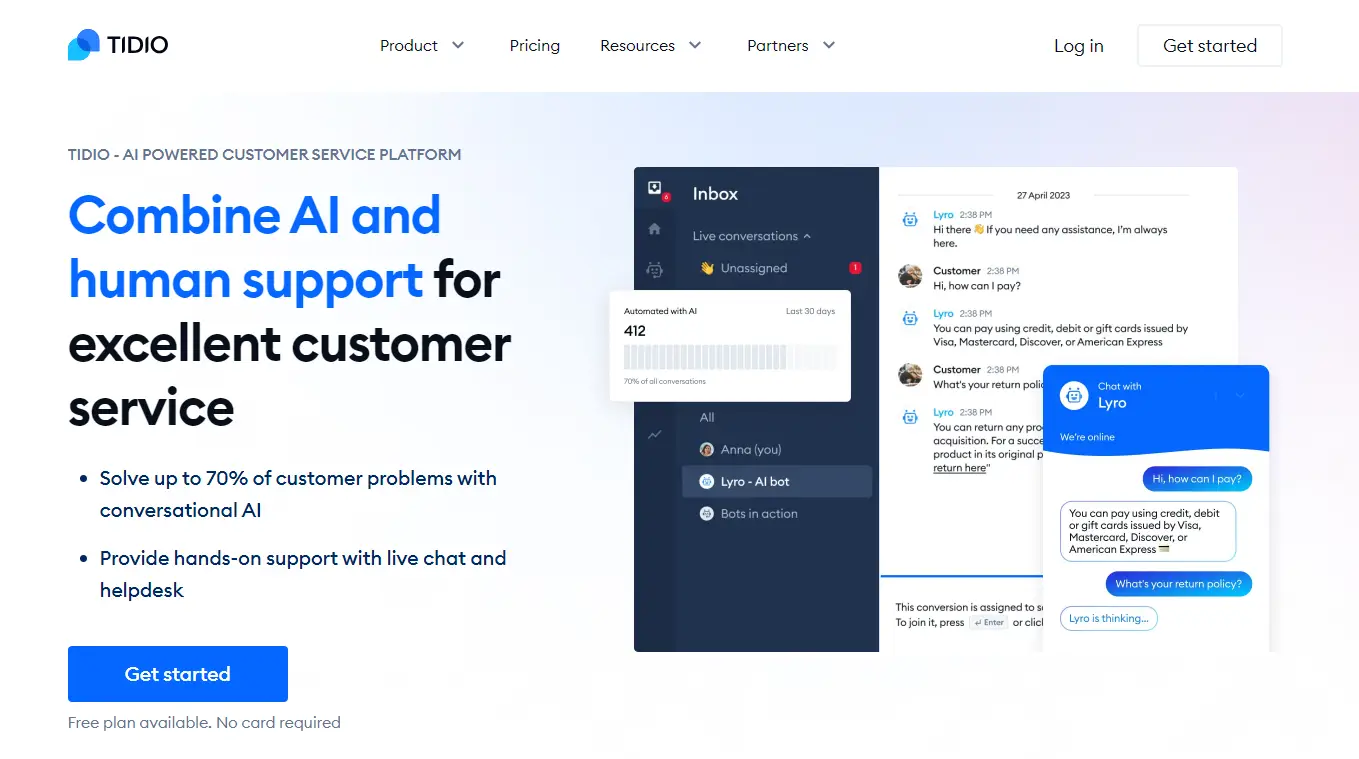 Tidio is another versatile helpdesk app that integrates seamlessly with BigCommerce stores and provides you with a combination of live chat and AI-powered chatbots to streamline your customer support and enhance the overall customer service experience in your online store.
With Tidio, you will get a centralized dashboard for all your customer support queries from live chat, chatbots, emails, Messenger, and Instagram messages with a clear view of customer details. It also lets you view live visitors on your site and allows you to start a proactive chat via a website chat widget to help them with their requirements.
Moreover, you can create multiple chatbots for different purposes like cart abandonment recovery, upselling, new visitor discounts, and more to boost your sales and increase the average order value for the store. You can also read our Tidio review for a detailed overview of its features and functionalities.
Key Features –
Centralized management of messages from live chat, email, Messenger, and Instagram in a shared inbox.
Utilize Tidio's Visitors List to identify and understand your customers' needs.
Proactive initiation of live chat conversations to increase sales opportunities.
Customizable, user-friendly widget to match any website.
Enhanced support capacity through Lyro, a conversational AI offering personalized assistance akin to a human agent.
Pricing Plans – Tidio offers a free starting point, with paid plans ranging from $29 per month to $394 per month.
If you want to offer only live chat for customer service, LiveChat might be the best customer service app for your BigCommerce store. It focuses on ensuring both potential and returning customers receive the support they need, fostering not only transaction completion but also long-lasting customer relationships.
It lets you add a simple chat widget to the bottom right corner of your eCommerce site, enabling customers to engage directly with your customer service representatives. This chat widget also allows you to send chat invitations to initiate a conversation with them.
Moreover, with its direct integration with BigCommerce, it displays customer information and order history within the chat window, making it easier for agents to provide relevant information and personalized assistance for a better shopping experience.
LiveChat further empowers you to send product recommendations directly to customers using Product Cards, and visually appealing previews linking to items on your website. Overall, it is an amazing live chat app that you can utilize to provide excellent live customer support in addition to email and phone support.
Key Features –
View cart content directly within the LiveChat app.
Deliver product recommendations through visually appealing previews within chat conversations.
Access customer order history alongside each conversation to expedite issue resolution.
Proactively engage website visitors by offering assistance, preventing cart abandonment, and driving sales.
Connect with customers through their preferred communication channels, including your website, email, or social media.
Pricing Plans – LiveChat offers pricing starting at $20 per month, with plans extending up to $59 per month. The BigCommerce customer support app also includes a 14-day free trial.
eDesk stands out as a comprehensive customer service help desk application designed exclusively for eCommerce sellers. This tool simplifies the challenge of delivering consistent customer service across multiple channels by consolidating all aspects: tickets, order and shipping information, customer data, and metrics, into a single unified platform.
With eDesk, you gain the ability to maximize profitability by accessing valuable customer data, which allows you to understand your clientele better. This tool seamlessly integrates all your sales channels, providing you with a holistic view of your customers and their purchase history for every interaction.
Additionally, eDesk employs pattern analysis on your customer service inquiries, enabling you to focus on areas that may need improvement. To expedite responses, you can also analyze ticket volume by store, language, and query type, and create templates for efficient communication.
Key Features –
Streamlined and centralized eCommerce customer service.
Integration with all your sales channels and marketplaces.
AI-powered sentiment analysis and summary generation to assess customer sentiment.
Advanced template creation and the option for HandsFree responses.
Pricing Plans – eDesk has a free plan that allows up to 30 free monthly customer conversations. Further, it has two types of pricing plans based on the number of tickets and users, starting at just $69/month/agents.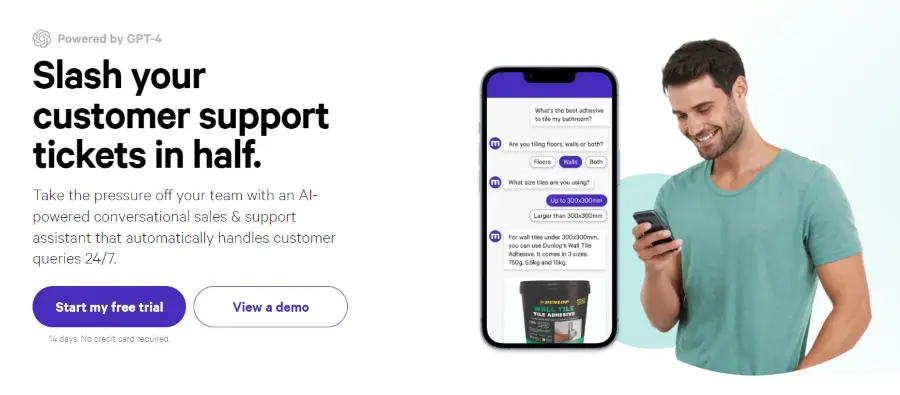 Maisie is another AI-powered BigCommerce customer service app that offers potent chat automation and customizable triggers, enabling you to interact with customers 24/7 throughout their entire buying journey. It enables you to proactively engage with website visitors, assisting them in finding their desired products and driving the sales you desire.
What makes Maisie stand out is that it is powered by ChatGPT-4, which responds to customer queries in a human-like language, which can significantly improve the customer service experience for customers and reduce their likelihood of departing without completing a purchase.
Maisie emerges as a next-gen conversational chatbot, empowering you to connect with your customers, deliver instant support, and provide personalized product recommendations. Such interactions will keep customers engaged and foster stronger relationships that can lead to increased sales for your BigCommerce store.
Key Features –
Round-the-clock, real-time customer service, even while you sleep.
Effectively prevent and recover abandoned shopping carts.
Accelerate the growth of your email marketing list.
Chatbot segmentation is based on visitor behavior, distinguishing between new and returning visitors, specific page visits, or cart size.
Customizable chatbot content, images, and conversational flows.
Easy implementation and versatile integration with various channels.
Pricing Plans – Maisie AI's pricing structure is contingent on the number of unique monthly visitors. It starts at $29 per month for 1000 monthly visitors.
Zendesk brings a robust, transactional commerce support solution that enhances agent efficiency and improves customer service experience for your BigCommerce Store. This help desk app places a strong emphasis on fostering connections with your customers through personalized experiences.
While Zendesk doesn't offer a native app for BigCommerce stores, it seamlessly merges with your BigCommerce account through the Agnostack created app, bringing all its customer service features to your online store.
Zendesk leverages the power of AI and automation for both voice and live chat options, ensuring that you can address customer concerns effectively, including handling particularly challenging situations. It's important to note that it lacks a smart inbox, which might be a crucial factor in your choice of a helpdesk app.
Zendesk caters to businesses of all sizes, with plans tailored for startups, medium-sized enterprises, and large corporations, ensuring compatibility with your BigCommerce store, regardless of your business stage.
Key Features –
Agents can swiftly access order history based on the customer's email address.
Real-time search, sort, and filter capabilities for rapid order retrieval.
Ability to process full orders, item-level refunds, and custom refunds within Zendesk.
Creation of reusable customer responses using real-time data from commerce, shipping, and payment platforms.
Agents can save or pin an order to a ticket for quick access, ensuring order details are readily available during agent transitions or reopened cases.
Pricing Plans – BigCommerce by agnoStack starts at just $5/month per agent and extends to $34 per month per agent. In addition to this, you will also need a Zendesk subscription starting at $69/month per agent.
Wrapping Up
When it comes to running a successful eCommerce business, exceptional customer service is an integral part of the equation. Providing outstanding support at every stage of the buyer journey, from the initial interaction to post-purchase follow-ups and upselling, not only builds trust with your customers but also drives sales and fosters long-term relationships.
In this article, we explored some of the best BigCommerce helpdesk apps, each offering a comprehensive set of features that can empower you to implement best practices and streamline your customer support operations. Whether you're looking to offer real-time assistance through live chat, deploy AI-powered chatbots for automated responses, or efficiently manage customer inquiries through helpdesk ticketing systems, you'll find the perfect BigCommerce helpdesk app to meet your specific needs.
Many of these apps offer free plans or trial periods, allowing you to delve into their capabilities risk-free. However, if you're ready to take your customer support to the next level with advanced features and insights, you might consider investing in one of the robust options like Gorgias or Tidio, tailored to your budget, business size, and requirements.
Ultimately, a good helpdesk app can play a pivotal role in providing a seamless shopping experience in your BigCommerce store, resulting in increased sales, and conversions. So, go ahead and explore the options mentioned above to find the perfect fit for your online store.
If you are looking for more apps for your BigCommerce store, here are a few hand-picked articles you might want to read next –