Are you looking for the best Shopify chatbot app for your store? This article is for you!
Chatbots are AI-powered digital assistant tools that enable you to interact with website visitors and customers to generate leads, offer personalized services, recover abandoned carts, and resolve customer issues instantly. Moreover, it also lets you re-engage with your past customers to encourage repeat business.
A good Shopify chatbot helps you automate repetitive tasks and personalizes every conversation with your customers and store visitors.
In this article, I have picked some of the best Shopify chatbot apps you can consider using for your store based on your business model and requirements.
Features to look for in a Shopify Chatbot App
When you choose a chatbot for your Shopify store, I suggest first making a list of all the features you want in your chatbot. There are tons of apps available in the market, and if you are going to try each, you may never have the opportunity to add a reliable chatbot app to your store.
For starters, here are some of the standard features that you should be looking for in a chatbot app –
Customizable templates – It must be intuitive and highly flexible to design & deploy fully functional & on-branded chatbots
Conversation routing – The chatbot must be capable enough to quickly connect or transfer the ongoing conversation to a live agent
Omnichannel functionality – It should be able to engage with your customers across different channels to deliver a unified experience
Automation builder – The automation builder must enable you to build a no-code workflow to get triggered based on the customer's activities
Analytics – Visualize how your customers interact and convert by getting access to real-time conversational insights and behavior
Integration – Your Shopify chatbot app must be able to integrate with your evolving tech stack based on how you want to scale the conversations
Apart from these features, you should also consider the app's pricing that you can fit into your budget. Do not get carried away by the advanced features you may never use; instead, analyze the app and see if it can fulfill your business needs.
Top Chatbot App for Shopify Stores
In this section, I have reviewed and ranked the best Shopify chatbot apps based on their ease of use, pricing, and the above-listed features.
So if you are ready, let's get started.
Tidio is the best Shopify chatbot app that can automate every aspect of your sales and customer service conversations. It can automatically send instant responses to customers regarding their shipping, order status, return queries, recommend products, and saves your time by handling the most repetitive questions.
You can choose from over 30+ pre-designed bot templates and easily customize them via its no-code visual editor. You can specify the actions, triggers and instruct the chatbot to act upon meeting certain conditions. By connecting these aspects logically, you can design a fully-functional chatbot within minutes.
Thus Tidio helps in elevating your store's customer experience by cutting down the workload of your agents. It lets you easily communicate with people who visit your store in real-time, provide immediate assistance, increase sales and resolve concerns.
Key Features –
Offer discounts to new and returning visitors
Automatically collect and qualify leads based on their site behavior
Send automatic reply when operators are busy
Measure customer satisfaction by asking for feedback
Segment visitors and customers to send personalized messages
Create a bot in multiple-languages
Access to in-depth chatbot analytics
Integration with Messenger, Zapier, Instagram, HubSpot, etc
Pricing Plans – Tidio has a free plan that allows upto 2 operators, access to the chatbot, bot templates, visual editor, analytics, and reach upto 100 monthly unique visitors. To scale up beyond this limit, you'll have to upgrade to the paid plans –
Starter Plan – $39/month – upto 2,000 monthly unique visitors
Team Plan – $79/month – upto 15,000 monthly unique visitors
Scale Plan – $399/month – unlimited monthly unique visitors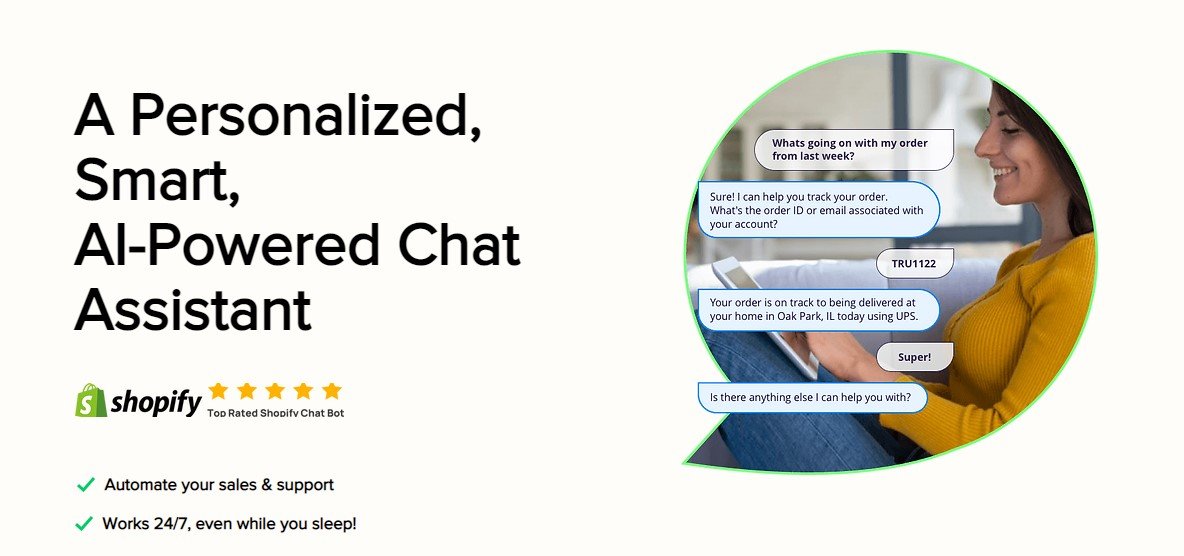 Relish.ai is a top-rated AI-powered Shopify chat assistant that automates both your sales & support tasks to provide excellent pre-purchase and post-purchase experience. It works 24×7, connects the customer to the respective agent, delivers instant answers, and continuously upgrades itself via constant customer interactions.
It automatically helps customers track their orders, provides product recommendations, and assists with re-orders, returns & cancellations. Moreover, your customers can get quick responses to important product questions and browse through your extensive catalog in the easiest way possible.
The best part is it lets you get rid of the low-responsive "away messages" by enabling you to engage and re-engage with shoppers. It helps grow your subscriber list and reduces cart & browsing abandonment to recover lost customers.
Bottom line, Relish.ai lets you build profitable customer relationships by being there for customers at the right time. It works even while you sleep, acting as a virtual shopping assistant to all your customers.
Key Features –
Launch your Shopify chatbot with no coding
Simple and intuitive interface to manage your bot
Access to a variety of optimized sales and support templates
Engage with your customers via chat campaigns
Increase sales via upselling & cross-selling
Web accessibility
Instant replies to brand and product FAQ
Pricing Plans – Relish has 4 pricing plans which differ based on your monthly site visitors. They are as follows –
Grow Plan – $29/month – upto 5000 monthly site visitors
Pro Plan – $69/month – upto 50,000 monthly site visitors
Premium Plan – $199/month – upto 2,00,000 monthly site visitors
Enterprise Plan – Custom Pricing – based on your requirements
You can enjoy unlimited user interactions, unlimited sales chatbot & FAQ bots, full access to the Relish AI library, and integrations in all of its plans. Besides, you can try all paid plans free for 14 days to decide whether it's the right fit for you.
By empowering 9000+ brands, Gorgias is one of the best eCommerce customer service software with built-in ticketing & helpdesk capabilities. It has a robust chatbot system that automates almost every aspect of your online store conversation; thus, you can respond to customers within seconds.
It automates responses to the most commonly asked questions like "Where is my order"?. Likewise, you can create macros and apply rules to automate personalized messages. You can also set your custom rules based on any variable and let them trigger at the right time at the right moment.
Overall, Gorgias is a powerful Shopify app that I think every growing brand should use to provide 24×7 customer support and optimize the customer purchasing experience. It combines the true essence of chatbot functionality within a helpdesk system.
You can read our in-depth Gorgias Review to learn more about its chatbot and ticketing system for Shopify stores.
Key Features –
Set rules to prioritize inquiries based on customer info, order history, or channel
Allow to automatically close the chat when specific conditions are met
Respond to all social comments to boost interaction with your followers
Trigger actions by automatically detecting customer sentiment
Access to in-depth analytics with a complete breakdown of all parameters
Pricing Plans – Gorgias has four pricing plans based on the monthly ticket volume. They are as follows –
Basic Plan – $60/month – upto 300 monthly tickets
Pro Plan – $360/month – upto 2000 monthly tickets
Advanced Plan – $900/month – upto 5000 monthly tickets
Enterprise Plan – Custom – Based on your requirements
All the plans support unlimited users, social media integration, macros, rules, and upto 150 integrations. You can also try Gorgias free for 7 days to gauge whether it stands upto your expectations.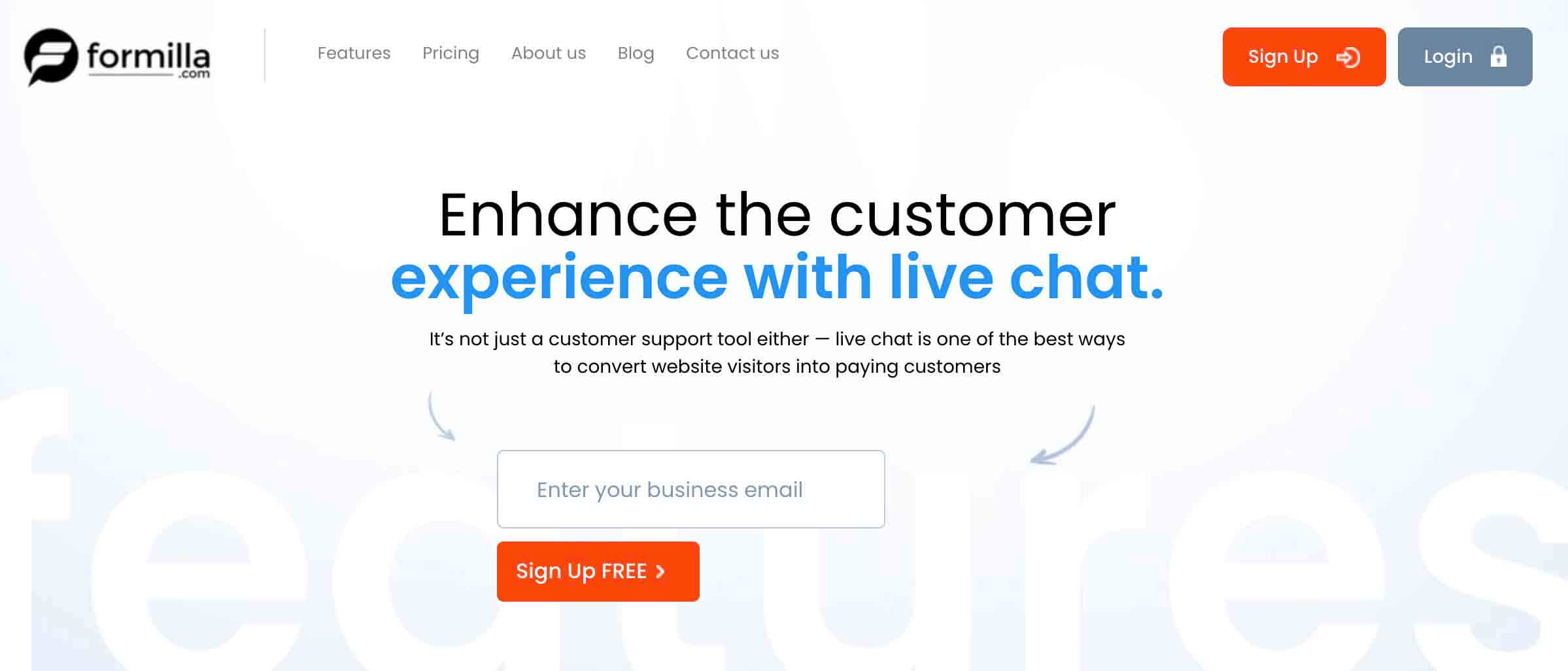 Formilla is a versatile Shopify chatbot app that enables you to provide 24-7 sales and customer support to your customers and website visitors. In addition to this, it also offers live chat with real-time visitor monitoring and marketing automation features to revolutionize customer experiences to the next level.
With Formilla, you can create custom chatbots that automatically qualify leads, book meetings, & provide info about your products. Besides, it's also possible to set up a helper bot that instantly addresses the most common visitor questions. You can even optimize it further by reviewing transcripts of the customer interactions to increase accuracy.
It also enables you to automatically display custom messages to your Shopify store's visitors based on country, location, etc. This way, you can offer a personalized shopping experience to your store visitors and customers.
Overall, Formilla strives to deliver an advanced chatbot solution coupled with powerful targeted messaging capabilities. Rather than acting as a simple chat widget, it helps convert your Shopify store visitors into long-paying loyal customers.
Key Features –
Deploy menu-based AI chatbots to resolve issues quickly
Access to custom branding, colors & themes
International language support
Route conversations to the live agent as soon as he's available
Access your chat conversation history, prioritize & filter them
Segment customers automatically into separate groups for effective targeting
Integrate with Zapier to connect with 1000+ apps
Pricing Plans – Formilla has a free plan that allows upto 30 chats/month with 1 chat agent. You will have to upgrade to one of its paid plans to access its exclusive conversational features. The plans are as follows –
Premium Plan – $24.99/month – 2 chat agents, custom bot, AI helper bot, unlimited live chat, desktop & mobile apps, 3rd party integrations, autoresponder, advanced customization, create chat departments, etc.
Professional Plan – $49.99/month – All Premium plan features + installation on multiple websites, remove Formilla branding, file sharing, email & social widgets
Growth Plan – $69.99/month – Access to full-fledged Formilla's features
Formilla also offers a 15-day free trial with no credit card required. However, note that you have to pay $19.99/month as an additional fee to include custom bots and AI-powered chatbots (applicable to all paid plans).
Having been trusted by 1M+ users, Manychat is an excellent chatbot app for your Shopify store. It helps escalate your store's sales by automatically sending abandoned cart reminders, order updates, and personalized coupons by engaging with customers via Facebook messenger and SMS.
Using its drag-and-drop visual flow builder, you can set all these campaigns within minutes. You'll have to choose the trigger for your flow which is basically an event that will provoke the conversation. It can be like when a customer leaves his cart, places an order, cancels an order, or anything. Once you set up the trigger, you can start building the automation by specifying action, condition, and delay at ease.
Manychat is ideally designed to simplify your marketing operation via automated customer communication. It shall aid your customers in finding what they're looking for and interacts with them via their preferred channels – messenger, SMS, or email, thus exemplifying their shopping experiences.
Key Features –
Build custom chatbot flows
Run automated drip sequences
One tap contact data collection
Create custom keyword triggers
Win more conversations via A/B testing
Track your chatbot analytics under one dashboard
Apply tags to mark, organize and segment your contacts
Pricing Plans – Manychat has a free plan that allows only upto 1000 contacts. You can engage with customers across multiple channels, automate conversations, and access basic growth tools, 10 customer tags, and email support.
The Paid plan starts at $15/month and scales with the number of contacts. You can build advanced campaigns, segments, expand customer reach, improve performance via analytics, remove Manychat branding, and integrate with 2000+ business tools via Zapier.
Ochatbot is a popular Shopify chatbot app that helps in skyrocketing your store's sales and revenue. It asks questions, understands what customers are looking for, and recommends the best products. It provides product image, price, description, and add-to-cart option right inside the chatbot window.
You can quickly build an on-branded chatbot without coding. Ochatbot makes your job easier by automatically gathering product SKUs, images, text, and other info. Besides, it meets GDPR and CCPA regulations, so you stay compliant and trouble-free with local laws.
On top of all, Ochatbot specializes in uninterrupted conversational flow. Since NLP powers it, it can engage with customers at any point in their journey regardless of how much they keep changing topics. This accounts for a flawless and frictionless conversational experience that scales.
Key Features –
Boosts cart recovery by monitoring customer's checkout info
Displays similar or complementary products to increase AOV
Access to lead generation chatbots
Applies multiple triggers to initiate a conversation in the customer journey
Showcase Videos and Images for custom product presentations
Robust analytics & reporting – Fallback report, page engagement, user responses, conversions & revenues, etc
Pricing Plans – Ochatbot has a free plan that allows for upto 5000 monthly visitors, 80+ lead bot templates, unlimited leads & interactions, 50+ prebuilt standard intents, 20 custom intents, and abandoned cart capture (3/month). To unlock advanced features, you'll have to upgrade to the paid plans –
Basic Plan – $69/month – All Free plan features + upto 10,000 monthly visitors, 50 custom intents, 25 Ochatbot eCommerce SKUs
Plus Plan – $109/month – All Basic Plan features + upto 30,000 monthly visitors, 100 custom intents, unlimited Ochatbot eCommerce SKUs, unlimited abandoned cart capture, automated order status & tracking, upsell & cross-sell, page targeting, integrations, & custom button actions
Pro Plan – $495/month – The team fully manages every conversational aspect of the chatbot for you
Enterprise Plan – Custom – Unlock the complete potential based on your high-volume requirements
You can also try Ochatbot's plus plan free for 45 days without a credit card.
Maise AI is a powerful Shopify chatbot app that lets you engage in one-on-one conversations to generate more conversions. It transforms passive buyers into active shoppers by displaying the latest & best-selling products and offers incentives like free shipping & discount coupons to reduce cart abandonment and close more sales.
Sometimes shoppers will not be willing to make the purchase and might abandon it soon. In such cases, the chatbot will interact and collects their contact details so you can remarket those prospects easily. You can send promotional messages, cart reminders, and back-in-stock alerts via email & messenger to bring them back to your Shopify store.
On the whole, Maise is best suited for Shopify store owners who don't have time or agent support to chat 24×7 with customers. From assisting in product discovery to resolving all the queries, Maise takes care of everything – which means you can build and scale customer engagement on autopilot.
Key Features –
Access to over 18 conversational templates or build your own
Customize all elements of chatbot – design, content, images, flows
Trigger conversations based on business rules like time on page, exit intent, cart value, and shipping times
Display chatbots depending upon behavior, new vs. returning visitors, specific page visits, or basket size
Send automatic order confirmation and shipping updates via messenger
Seamlessly handle support questions on autopilot – FAQ, returns & exchanges, order issues
Pricing Plans – Maise AI pricing plans are based on your store's monthly unique visitors. The plans start at $15/month for upto 5000 unique monthly visitors and go upto the custom pricing. You'll access all Maise features, unlimited website bots, and unlimited conversations.
Which is the best Shopify chatbot app for your store?
Chatbots play a crucial role in improving the shopping experience for your customers and generating more sales. It can function 24/7, enabling you to serve global customers even when your entire team is sleeping.
So, while choosing a chatbot for your Shopify store, you must define your goal of using it and how you will leverage it for your store. For instance, if you want a chatbot for your customers exclusively for customer support, Gorgias would be the best pick.
On the other hand, if you want to provide both live and chatbot support, Tidio and Relish AI would be my top recommendation.
I hope this article helped you find the best chatbot app for your Shopify store. If you are looking for more apps to improve customer experience and boost sales, here are a few hand-picked articles you should read next –