Order fulfillment is arguably the most important part of a successful eCommerce business. You might be doing great with marketing and product development, but if your customers don't get the right product at the right time, nothing you do is worth it.
This is where you need the best fulfillment solution to manage your eCommerce orders. Using a fulfillment service has many advantages, some of which include the following –
Reduced operating costs
Lower shipping cost
Streamlined order management
Fewer errors in order processing
Faster and efficient order fulfillment
So, whether you are already managing an eCommerce business or starting a new one if you want a smooth order management process for your business, this article is for you.
In this article, I have put together a list of the best eCommerce fulfillment companies and software you can consider for your business.
How to Choose an Ecommerce Fulfillment Service Provider?
There are hundreds of fulfillment companies out there with similar features. But before you start looking into these companies, you should know what features and services you want from your fulfillment partners.
Here are some of the essential features that I think every eCommerce fulfillment software must offer –
Storage & warehousing
Global Fulfillment centers
Multiple shipping services
Multiple Sales Channel fulfillment
Product return management
Excellent Customer Support
Advance analytics reporting
Apart from these features, you should also look into the fulfillment service pricing model. Different fulfillment company charges different storage and fulfillment fees. Some even charge setup fees and packaging costs.
In short, before you decide on the fulfillment services for your eCommerce business, make sure that you understand their pricing model and see if it fits into your operations budget.
Top 3 Ecommerce Fulfillment Service Providers
In this section, we will dive deep into some of the best fulfillment services you can rely on for effective order management for your eCommerce business.
Ready? Let's get started.
1. Easyship – Best for International Fulfillment Services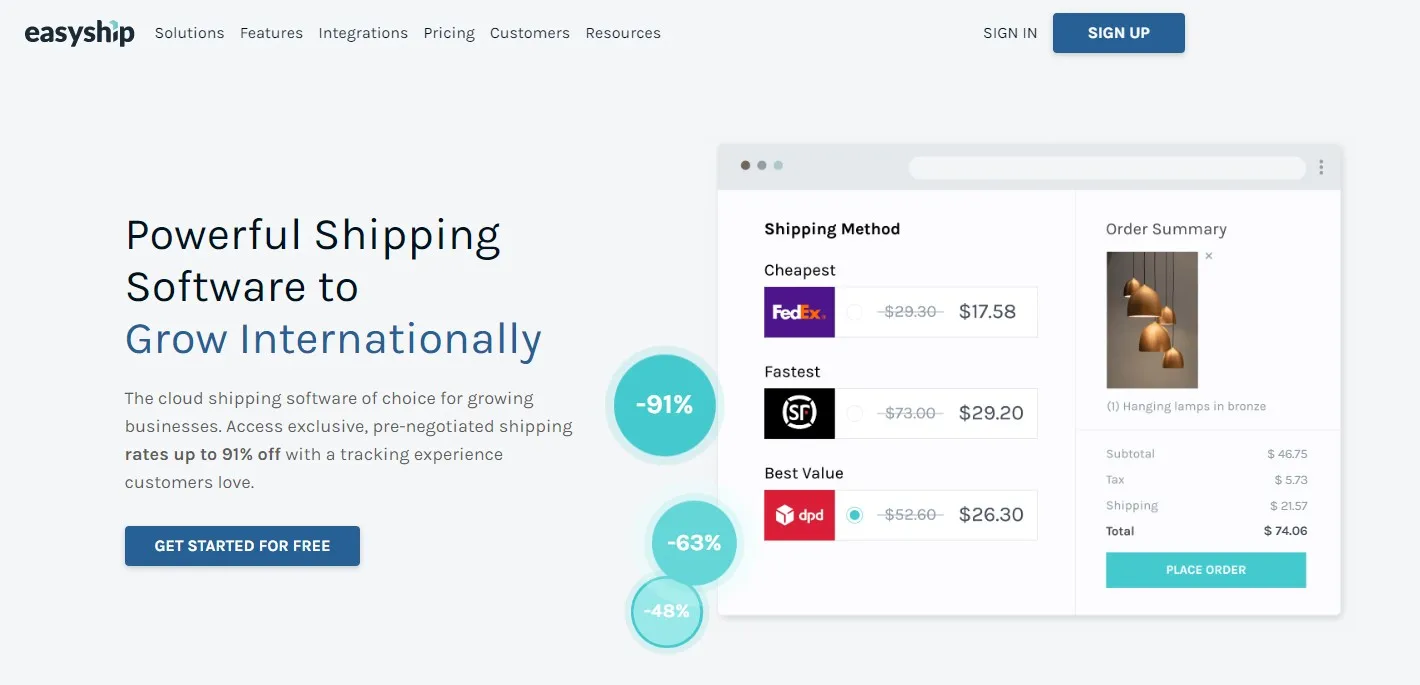 Easyship has one of the largest networks of fulfillment centers spread across four continents – North America, Europe, Asia, and Australia. With such a vast network and 250+ shipping partners worldwide, you can ship products anywhere in the world faster at affordable shipping costs.
It supports integration with major eCommerce website builders and marketplaces, allowing you to connect multiple sales channels and fulfill orders from a single dashboard. With Easyship, you can display shipping costs and allow customers to select their preferred courier service to improve conversion rates.
Overall, if your eCommerce website serves the international market, Easyship might be the perfect fulfillment service provider for your business. It has everything you need, from order management to custom branding and tracking for customers.
Key Features –
It provides 250+ logistic and shipping partners with all-mode of connectivity across the world.
It provides a free address validation service to reduce the risk of failed delivery.
It allows splitting and merging shipments for faster and low-cost delivery charges.
It supports integration with popular eCommerce platforms and marketplaces like Shopify, WooCommerce, Amazon, eBay, etc.
You can send an email update when the product reaches transit.
It provides a dedicated order tracking page where customers can see the order status and entire shipping journey.
Provides in-depth analytics reporting on shipping behavior and provides insights to improve your shipping process.
It provides 24/7 global customer support with a dedicated account manager.
Pricing Plans – Easyship has a free plan that allows 50 shipments/month and access to essential fulfillment services. For more shipments, you have to opt for one of the paid plans starting at just $29/month. It also gives you access to dedicated customer support, branded tracking page, and more.
Apart from the monthly subscription fees, it charges shipping costs based on origin, destination, product size, weight, and product type. You can calculate the shipping charges here.
2. ShipBob – Best for Ecommerce Fulfillment in America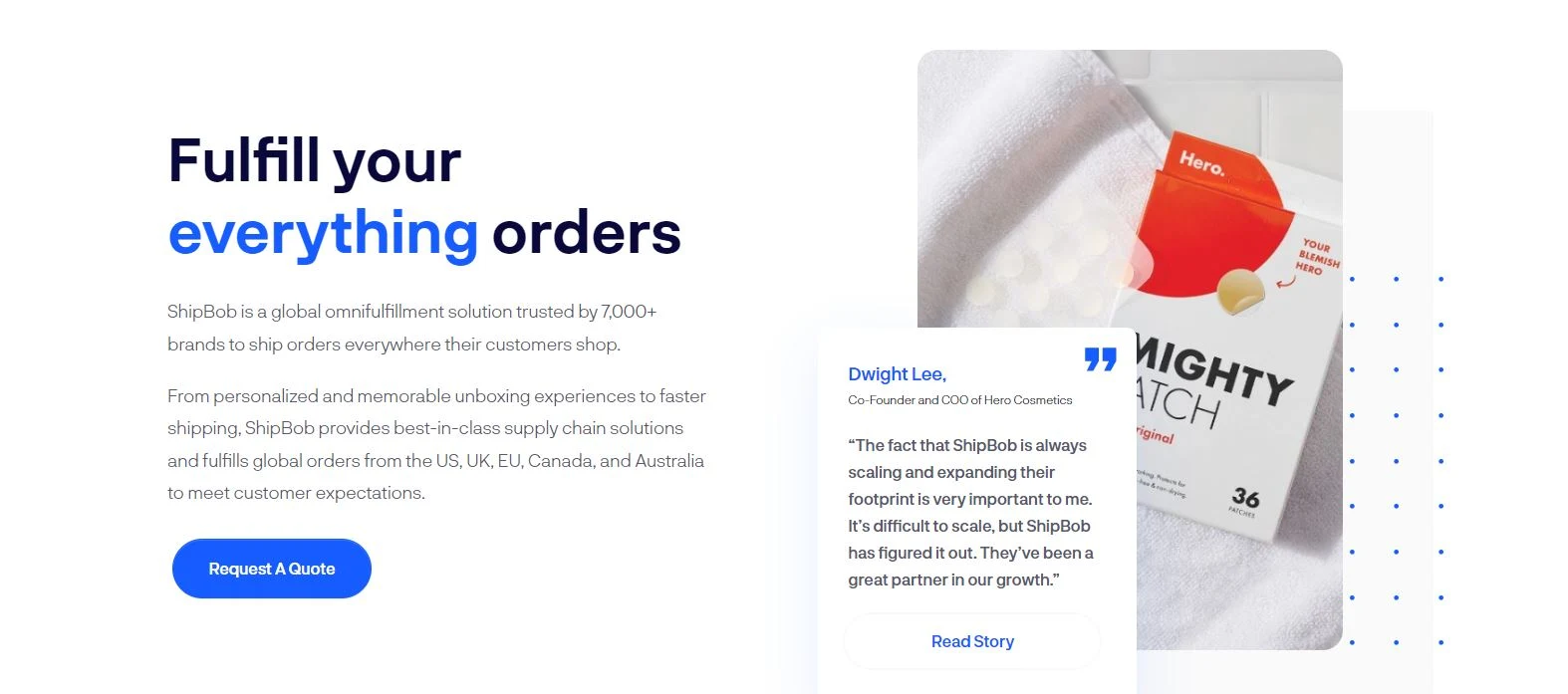 ShipBob is a leading eCommerce fulfillment service provider with a vast network of fulfillment centers across the US, Canada, Europe, and Australia. It supports global fulfillment with 2-day express order fulfillment across the United States.
With ShipBob, you can distribute your inventory across multiple fulfillment centers near your customer locations. This way, you can save on shipping service and stay competitive with faster delivery service.
ShipBob has a free analytics reporting tool where you can find data on revenue, shipping cost, storage fees, and more. It also provides insights on reducing shipping costs, recommends fulfillment centers, etc.
Key Features –
It offers 2-day shipping across the continental US
It connects you with the ground, air, and regional logistics partners for on-time delivery.
It lets you track your orders with a timeline view of order status – you can see when the order was picked, packed, and shipped.
It supports order fulfillment from multiple sales channels, including Amazon, Walmart, and eBay.
It supports seamless integration with major eCommerce platforms like Shopify, WooCommerce, BigCommerce, etc.
It provides real-time inventory and order tracking data across multiple locations.
It provides robust analytics and insights reporting on day-to-day operations and performance.
Pricing Plans – ShipBob software is free to use, where you can connect your store and manage inventory. For fulfillment services, they offer custom pricing based on your unique needs and requirements. 
3. Deliverr – Affordable Ecommerce Fulfillment in the USA
Deliverr is a US-based eCommerce fulfillment service provider with 80+ warehouses across the States, which enables you to deliver Amazon-like 1-2 shipping experience across marketplaces and your own site.
It offers three levels of fulfillment, which impact your delivery speed and fulfillment price. These levels are –
Standard delivery (5-7 days)
3-day delivery
2-day delivery
When you use Deliverr to fulfill orders from your online store, you can choose your preferred fulfillment type. For the Amazon store, you are automatically eligible for prime-like programs and 2-day free shipping for Walmart. 
Deliverr supports integration with the most popular eCommerce platforms and sales channels, including Amazon, eBay, and Walmart. It also supports Facebook Ads, Instagram Ads, and Google Shopping, where you can display fast delivery badges to boost conversions.
Finally, if you are operating an eCommerce business in the US and want to stay competitive with giants like Amazon in terms of fast delivery, Deliverr can be an ideal choice for your online store.
Key Features –
It brings a vast network of warehousing and logistics partners across the United States at an affordable price.
It offers transparent pricing competitive with Amazon's multi-channel order fulfillment.
Its intelligent algorithm helps you allocate inventory strategy across their warehouse networks for fast delivery with low shipping costs.
You can connect any sales channel with complete automation for order fulfillment.
It lets you display fast-delivery badges on your website and Ads.
It integrates with major eCommerce platforms, including Shopify, WooCommerce, and BigCommerce.
It lets you connect to multiple sales channels, including Amazon, Walmart, eBay, and others.
Pricing Plans – Deliverr offers transparent and affordable fulfillment pricing, starting at $4.15/unit. The price varies based on the item's weight, size, and service level you opt for.
Found your Ecommerce Fulfillment Service Provider?
Outsourcing fulfillment services can be one of the best decisions you will ever make for your eCommerce business. It doesn't just reduce your operating cost and initial investments in setting up warehouses, making it super easy to scale your business.
With good fulfillment software, you can deliver products anywhere in the world without even setting a foot out of your country – these fulfillment services manage everything for you.
Having said that, I hope this article helped you find a reliable fulfillment partner for your eCommerce business. If you are looking for tools and software for your eCommerce business, you may want to check these articles next –