Do you want to add an appointment booking feature to your Shopify store? Are you looking for the best Shopify appointment booking app? If so, this article is for you.
If you want to sell services from your Shopify store, setting up an appointment booking system is crucial to allow customers to book appointments for your services by themselves. You can also allow them to reschedule their appointments or cancel without involving you or your team.
So to give your customers a smooth online booking option and make your day-to-day tasks highly productive, Shopify provides you with many appointment booking apps that you can instantly connect to your store.
To help you with this, I've compiled a list of the top Shopify appointment booking apps you can use to add a booking feature to your online store.
Ready to explore? Let's get started.
1. Appointo – Best Appointment Booking App
Appointo is one of my latest discoveries from the Shopify App Store. This appointment booking app is easy to set up and provides an intuitive user interface to manage bookings for your Shopify store. With this app, you can allow customers to book multi-day reservations and group appointments.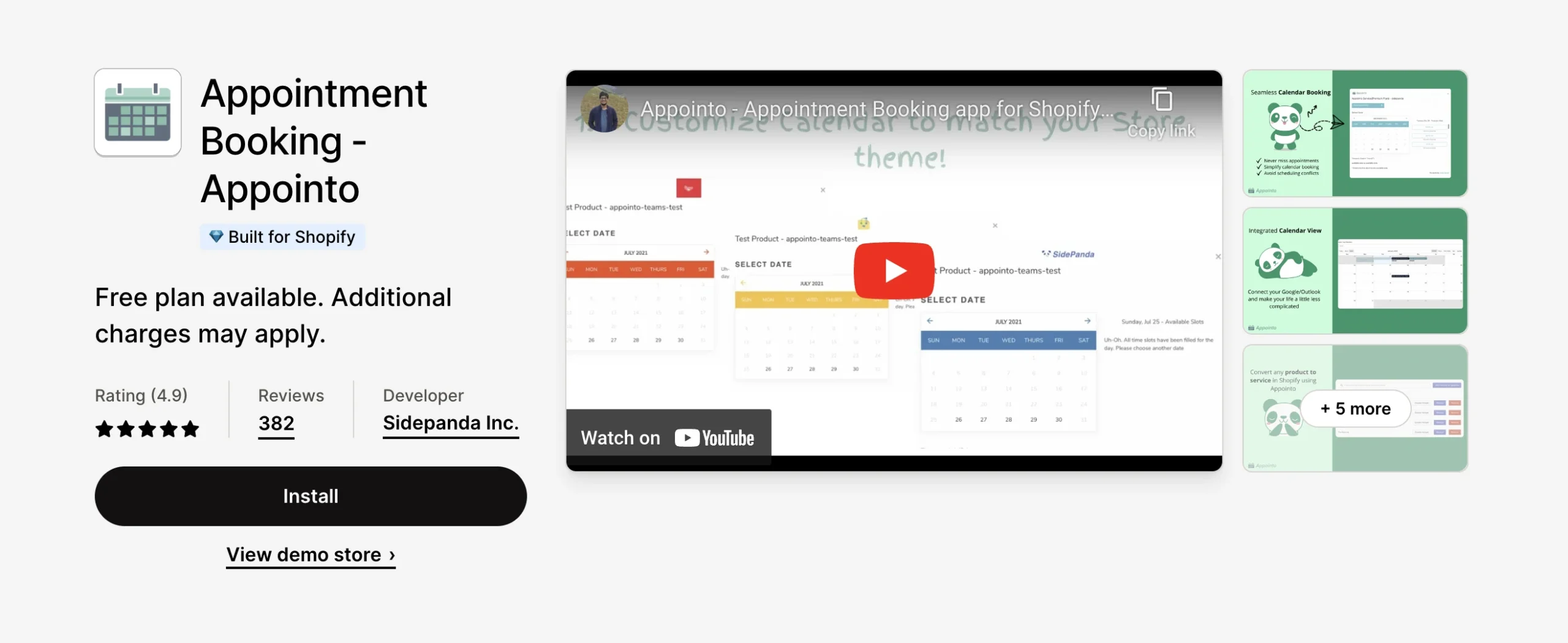 It allows you to send automated booking confirmations and reminders via email, SMS, and WhatsApp. You can also allow your customers to reschedule or cancel their bookings by themselves. The app integrates seamlessly with Google and Outlook calendars, keeping you and your team updated with booked appointments and avoiding overlapping with other calendar events.
Overall, whether you are selling services, consultations, or events on Shopify, Appointo has everything you need to get started. Moreover, it allows you to sell booking subscriptions that you can use to enhance the shopping experience for your customers and generate recurring revenue for your store.
Key Features –
You can customize the booking button, calendar, and questionnaire.
You will have a user-friendly dashboard to manage your appointments and bookings.
You can allow customers to manage their bookings from the customer portal.
It provides pre-written emails and message templates for reminders, confirmations, and rescheduling, send p
It allows you to create & sell recurring booking subscriptions.
It supports direct integration with Zoom to automatically generate meeting links for virtual appointments.
Pricing Plans – Appointo has a free plan that allows 1 product for booking. The paid plans start at $10/month, allowing unlimited products with access to all the essential features for managing booking and calendar integrations.
2. Sesami – Omnichannel Booking App
Sesami booking app is recognized as one of the best intuitive calendar apps for your Shopify store, as it offers a personalized booking service for your customers. It provides integration with the Shopify POS so that you can increase your revenue as customers will instantly pay for booking appointments with you.

It can run smoothly on any device where your Shopify store is supported and offers appointments one-on-one or as a group. It also lets you send email messages to customers who have booked their dates and a calendar file (.ics) attached.
Key Features –
It broadly supports multiple languages and is flexible to convert into various time zones to match your customer preferences.
It offers synchronization with Google Calendar so you can be productive and track all your daily appointments efficiently.
The store admins can also interact with customers regarding the rescheduling and cancellation of events.
It offers buffer time to clean up after the appointment or let you be ready for your next meeting. It is displayed on your store calendar but not on the booking page.
You can also link Zoom, Google Meet, and other conferencing tools for convenience.
Pricing Plans – It offers a free plan that allows you to schedule unlimited appointments, and the paid plan starts at $19/month.
3. BookThatApp – Easy Appointment Booking App
BookThatApp allows your customers to book their preferred time slots by checking the availability status in real-time. The new visitors or the existing customers on your Shopify store can quickly land on the product page, look for available dates, and then book it immediately.
This Shopify booking app is highly mobile-responsive so that your customers can quickly navigate without any hassles, and it offers integration with iCal and Google Calendar to stay on track with your agenda.
The booking formats are available in daily, weekly, and monthly formats so that it is easy for you to manage all your schedules. Also, each booking in your calendar is color-coded. Thereby, you can distinguish between the type of reservations made by the customers.
Key Features –
It is highly compatible with popular Shopify themes.
It will remind your customers by sending timely SMS and email notifications per their schedule and ping them again after the session for feedback.
It offers excellent reporting features that help you analyze the performance and improve accordingly.
Suppose you are not available on certain days. In that case, you can mention those dates by using the 'Blackout' settings and specify the opening hours of your store so that customers will know when you are ready to accept new bookings/reservations.
Also, when there is a change in your online booking schedules, those dates are automatically updated so that you can stay on track with your customers.
Plans & Pricing – It offers a free plan that allows only up to 10 bookings. You need to upgrade to the Standard plan to gain unlimited bookings, which start at $19.95/month.
Tipo booking app provides exceptional booking service as you can track all the appointments with detailed booking information like status, date/time, location, etc. It provides outstanding service round the clock, so your customers can access your booking system anytime.

It offers a unified booking interface, and the installation process is relatively easy as it does not require technical knowledge. It also lets you add different custom fields based on your requirements in the booking section, namely dropdown, checkboxes, radio buttons, etc., to facilitate more interactions with your store customers.
Key Features –
You can take control of the entire online booking system by using customizable fonts, colors, and images that complement your store's unique identity.
It permits both types of bookings, online booking for individuals or as a group.
It allows you to access the activity log, where you will be shown the history of all booking activities.
It provides useful analytics and reporting that aids you in making informed decisions for the future.
Email notifications are sent automatically to customers if there are issues like appointment rescheduling, pending/accepted dates, etc.
Pricing Plans – It offers a 30-day free trial and a free plan. The Pro plan starts at $14.90/month.
5. Appointly – Simple Shopify Booking App
Appointly is one of the highest-rated Shopify booking apps that allows you to sell services on Shopify. It is easy to set up for merchants with seamless user interface for managing appointments.
You can add multiple team members for bookings and automatically sync calendar events with Google and Outlook calendars to avoid overlapping events. You can also connect with Zoom to automatically generate meeting links for virtual appointments.
Key Features –
It provides an intuitive user interface to create events and manage bookings.
Customers can manage their bookings by themselves.
It supports seamless integration with Google and Outlook calendars with 2-way sync.
You can allow payments in full deposits or partial for appointments.
It facilitates one-on-one or group events, minimum scheduling notice, etc.
Pricing Plans – A 14-day free trial is available, and it is one of the most affordable apps, which starts at $5/month.
If you run a service-based business and have a Shopify store, then Booking Commerce would be the best choice to add appointment booking features and provide a seamless experience for scheduling appointments.

It lets you add different booking systems, appointment types, rent types, and concert and event-type bookings in your store. It also enables you to add the interface to embed booking features on the product pages, allowing customers to book any product by selecting their preferred Timezone and Booking Date.
Key Features –
Customers can quickly book their products/services by looking at the available calendar slots.
The Store Admins can have full control over the online booking system to approve, reschedule, or cancel the entire event.
Indicate that booking reservation will not be accepted for specific days and offers flexible payment procedures as it is compatible with point-of-sale systems for your Shopify store.
Whatever action is performed by both the admin/customer, email messages are sent to customers so that every action is monitored and tracked.
An online Booking system for products can be added by selecting any product and conveniently making it available for customers to book them.
The store admin has all the privileges, and when customers book a product, the admin of your Shopify store receives the request to approve it.
Pricing Plans – It offers a 15-day free trial, and the paid plan starts at $18/month.
Choose the Best Shopify Booking App for Appointments
If your business involves customer booking time and consultancy, you need to offer them a seamless method to book appointments, and all the above-listed apps are best in that case.
Now, it is your turn to figure out which of these apps fulfill your business needs and install it instantly.
I hope this article helped you pick the right appointment booking app for your Shopify store. If you're looking for more useful tools for your store, check out these articles –