Are you looking for the best customer service apps for your Shopify store?
That's great! We talk a lot about various mind-blowing strategies to boost the ROI, increase sales, and aim at being the best eCommerce brand in the market.
We make things so complicated, and we end up forgetting to use a must-use and straightforward strategy that brings in more revenue to your Shopify store.
That simple strategy is delivering the right solution to the right audience at the right time, also termed as 'Customer Service.'
So, incorporating the right customer service tools to assist your customers should be the core requirement of successfully running your Shopify store.
To help you through this, I've compiled a list of the best Shopify Customer Service Apps that you can use to provide a better user experience and customer service to store visitors.
Here are the top 6 Shopify customer service apps –
Now, let me walk you through each of these tools and show how you can use them in your Shopify store.
1. Tidio Chat – Live Chat & Chatbot App
Tidio brings all your live chat, e-mail, and Messenger communication in one panel for your Shopify store. By incorporating this customer service tool, you can boost sales by over 40%.
Tidio acts as a go-to assistant to solve and responds to all customer queries. The best part about this Shopify live chat app is that it collects all the essential customer details like name, phone number, email addresses via a pre-chat survey, which you can use to deliver target and personalized marketing campaigns.
It also enables you to send canned responses so that the customers will be amazed by seeing your spanking replies. Another exciting feature to highlight is that you can see the list of customers visiting your Shopify store in real-time.
When you notice a visitor/customer landing on the same product page frequently, you can immediately start a conversation with that customer by asking what their issue is or how you can assist them.
By clicking on the start chat button, you can begin creating a meaningful conversation with your customers and provide them value by responding to their queries rapidly.
Tidio also supports live typing, meaning you can see in real-time what your customer types in advance so that you can keep your replies/responses ready in mind.
This powerful customer service app supports multiple languages and offers lots of automation and bot templates to spike your sales rate. It also greets the new incoming visitor to your Shopify store and can also send targeted discounts to either new or returning customers.
You can enrich your marketing efforts as this app integrates with major platforms like Zendesk, GetResponse, Mailchimp, etc., and with Zapier to automate all the processes.
Tidio lets you create cart abandonment bots that pop-ups when a customer is about to leave the checkout page helping you reduce the cart abandonment rate of your Shopify store.
When customers reply to this pop-up, you can potentially understand what made them abandon the purchase, to which you can quickly resolve the issue and not lose the sale.
Plans & Pricing: Tidio offers a free plan which provides essential live chat, chatbot, and mailing features. The paid plan starts with $18/month offering all the high-end features including unlimited active chatbots, visual chatbot editor, etc.
2. Reamaze – Top Live Chat and Helpdesk App
If you are actively looking for apps that augment the customer shopping experience for your Shopify store, then Reamaze is one of the best choices you can make.
Reamaze is a complete power-packed customer service solution for Shopify stores with a help desk for customers, live chat support, chatbot, and a dedicated FAQ page to provide impeccable solutions for your customer queries.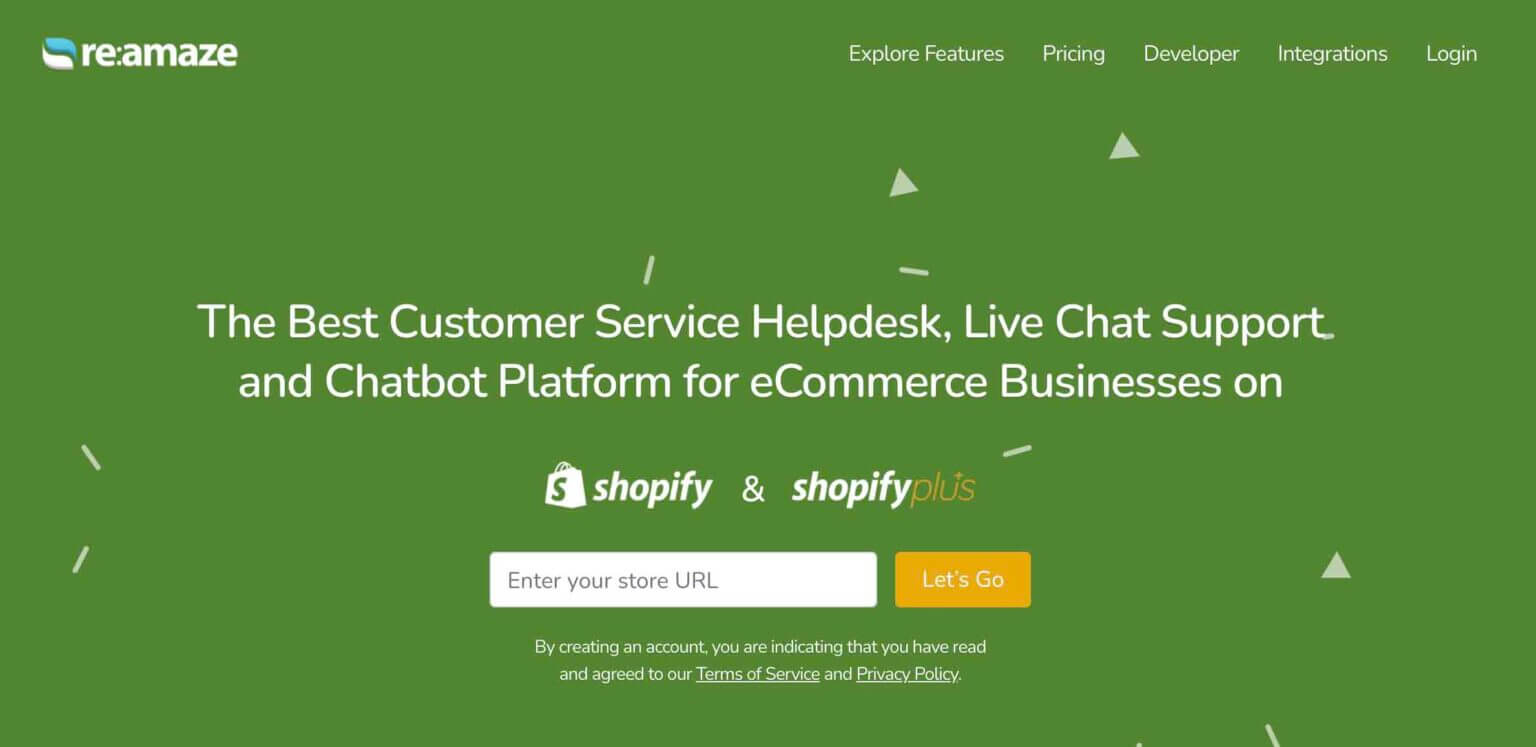 Reamaze helps create refined customer service for your Shopify store by enabling you to send product links while chatting with customers. In this way, customers are exposed to your products even more without navigating to different parts of your store and making proactive buying decisions.
Forget about sending delayed responses as this fantastic customer service app provides pre-built chatbots to reply to customer doubts/questions rapidly.
It uses AI-powered tech to precisely segregate support messages and displays your Shopify store status when a critical issue arises to solve them priorly, thereby preventing potential problems in the future.
With the help of this dynamic customer service app, the browsing history can be tracked, and Shopify store owners can measure their customer service team's performance and outcome. It also lets you build workflows to reply, assign, and tag tickets in the helpdesk.
Plans & Pricing: It offers a 14-day free trial, and the Reamaze basic plan starts at $29/month.
The role of customer service is not just restricted to answering queries and collecting feedback. It carries over even after they have purchased your products, which means you need to take care and show your keen attention towards them in providing a happy shopping experience.
This is where the Route Shopify app comes into the picture. The main core of Route lies in providing an effective, safe, and transparent shipping process to the customers.
It offers a complete bundle of features to give an excellent post-purchase experience like package tracking, order protection, and instant responses, creating a strong hook between you and your customers.
When you integrate the Route app into your Shopify store, you can forget about the shipping burden as its supremacy lies in delivering a happy and authentic product-delivery experience to your customers.
It provides a visual tracking feature wherein customers can view their order status in real-time. If there is any discrepancy during shipping, Route shall ease your hassle as it calculates all the losses so that you can deliver the promises you've made to the customers.
Another feature to accentuate is that this app offers engagement tools to promote additional products to the customers during the delivery that ultimately improves your Shopify store revenue.
This app helps resolve customer issues faster as the order issues (refund or reorder) are approved within 24 hours, which enriches your Shopify store reputation and online purchasing experience.
Plans & Pricing: This Shopify app is entirely free to use.
4. Easy FAQ – Best Shopify FAQ page builder
How can you think of different ways to improve customer service without having an exclusive FAQ page for your Shopify store?
Having an in-built FAQ page is really important and a mandatory one as it gives a clear view of what you can offer to your customers and how you can help them solve their queries immediately.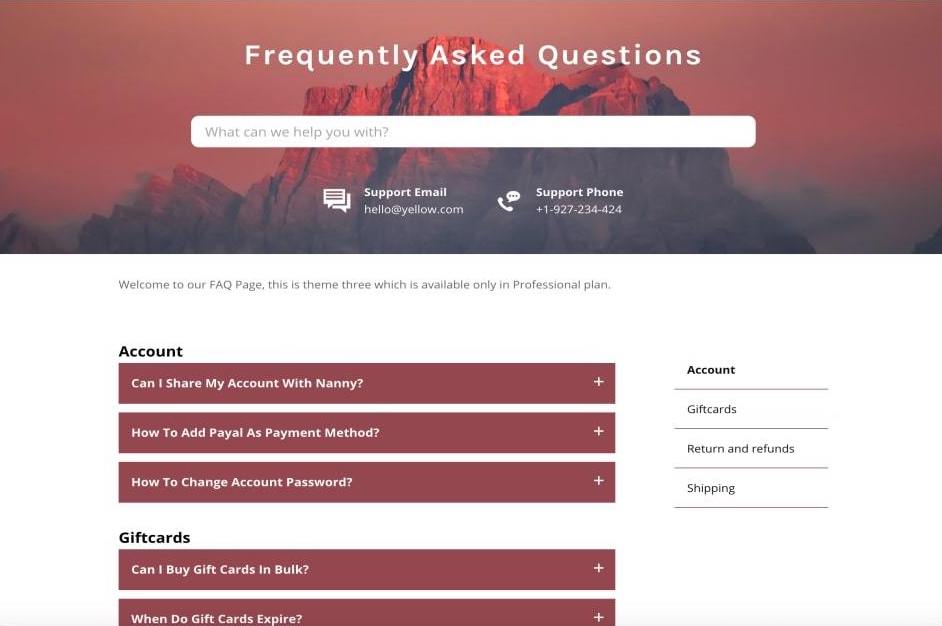 This is one of the FAQ themes offered by this app. However, it provides many configuration options and lets you display FAQs on checkout pages.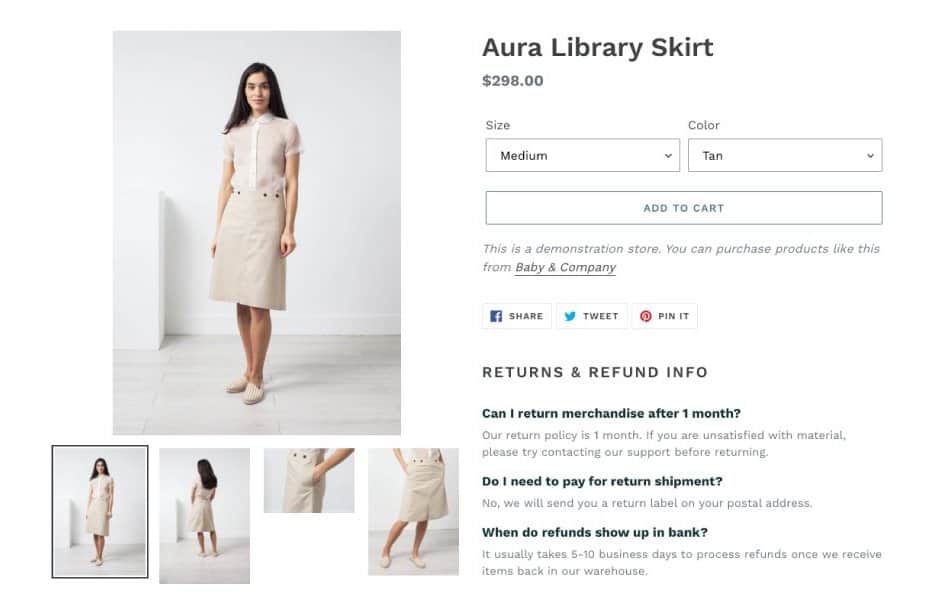 It also offers a built-in cache that optimizes your FAQ page for faster loading and provides a rich text editor to display the answers that provide an excellent readability experience for your customers. Even you can design your FAQ pages to be SEO-friendly as it extends support to Google FAQ schema.
You can also create a customized FAQ page URL that assists your store's branding efforts, and even if you wish to add extra design options for the FAQ page, you can contact the Easy FAQ app's team to implement the plan for your Shopify store.
Plans & Pricing: It offers a free plan with which you can add up to 10 FAQ. To get the most out of this app, you need to upgrade to the essential plan, which starts at $3.99/month.
As you can guess from its name, HelpCenter is a customer service app that provides live chat support, helpdesk ticketing, and FAQ builder for Shopify stores.
HelpCenter helps you manage all the customer inquiries, whatever the channel of communication under one helpdesk efficiently. In fact, with HelpCenter, you can manage all the incoming queries effectively from multiple sites with a single account.
With live chat, no messages are lost as customers can chat with you even when you are not available. The installation process is so simple to get started which significantly reduces the technical pain-points.
The FAQ pages designed for your Shopify store supports multiple languages and is also optimized for Google searches. It also lets your FAQ page be classified into sections and categories to understand the customers.
You can also perform certain operations like canceling, refunds, etc., right from your helpdesk by integrating it with Shopify Orders, which saves your time and allows you to quickly respond to customer-focused issues.
Plans & Pricing: It offers a 14-day free trial, and a free plan is also available. The Premium plan starts at $4.95/month which comes with lots of stunning features.
6. JivoChat – Popular live chat support app
JivoChat is one of the most trusted live chat apps for your Shopify store. It is a power-packed solution that offers multiple features, assisting you in providing an amazing customer experience and turning visitors into potential customers.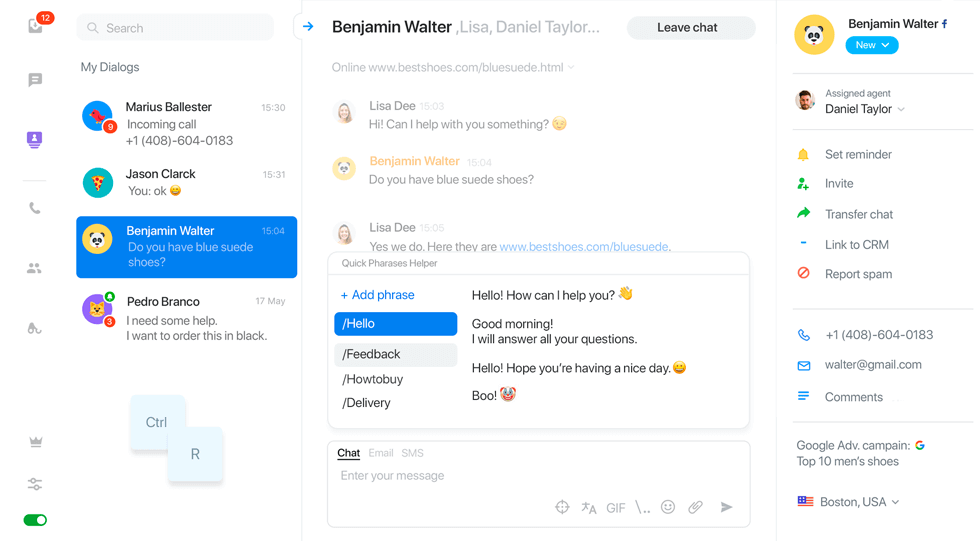 As you can see in the above image, with the help of JivoChat, you can handle multiple chats at a time that increases your Shopify store efficiency and lets you send canned responses for quickly assisting your customers.
With its instant callback feature, customers can enter their phone numbers, and you can call them immediately to fix their potential issues which develops a sense of credibility for your Shopify store.
The most pre-eminent feature of JivoChat is that it has a built-in CRM which allows you to add reminders and status updates to the chat conversations. In this way, you can create a dedicated customer follow-up strategy and convert them into long-lasting loyal fans.
JivoChat takes less time to install and is perfectly optimized to suit both the desktop and mobile versions of your Shopify store.
Plans & Pricing: It offers a 14-day free trial, and a free plan is also available. However, to access premium features, you need to choose the professional plan at $19/month.
Wrapping Up
The most successful eCommerce stores always focus on providing the best customer support from their first visit to the product delivery and even after that for feedback.
Excellent customer support helps you win the trust and build credibility among consumers which ultimately results in customer base expansion and business growth.
In this article, I tried to list the best Shopify customer service apps that allow you to interact with visitors and customers in real-time, keeping them notified about shipping and delivery. I hope it helped you figure out the right customer service apps for your store.
If you are looking for a complete guide to help you with your Shopify store, you should check out my Shopify guide page to find the best tips, strategies, and tools you will need to build and grow your eCommerce business.