Do you want to launch a mobile app for your Shopify store? Well, that's a brilliant idea!
Smartphone users are increasing drastically worldwide, and with cheaper internet services, consumers spend a lot more time shopping via mobile eCommerce apps. 
So, if you plan to leverage this consumer behavior to grow your business, this article is for you.
Here, I will show you some of the best mobile app builders for Shopify stores that you can use to create an app for iOS & Android devices.
Ready? Let's get started.
1. Plobal – Top Shopify Mobile App Builder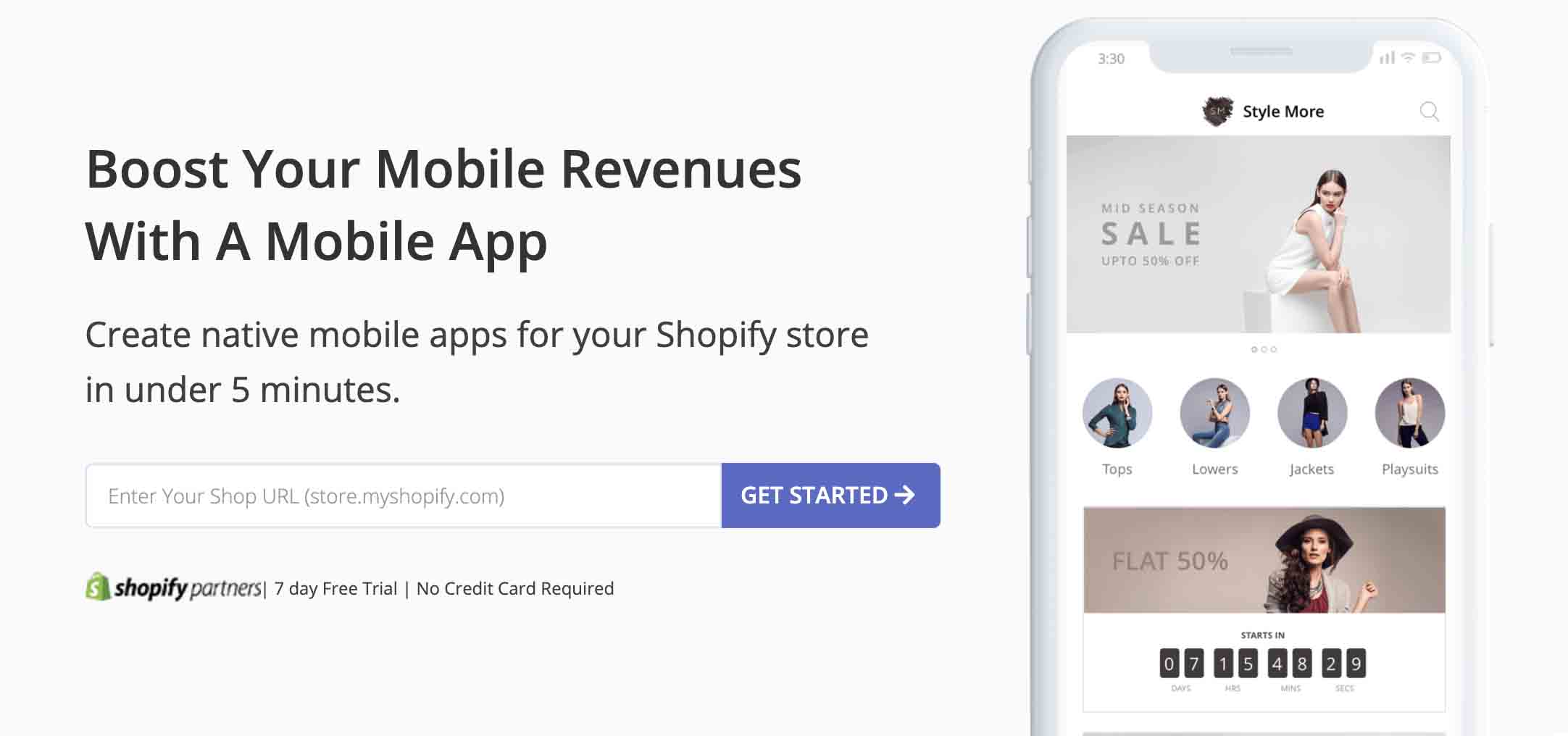 Trusted by the premium brands like Steve Madden, Bailey's Blossoms, Ravin, etc., Plobal is an automated Shopify mobile app builder that turbocharges your online store to witness high revenue.
It offers more than 100 robust features which let you develop a future-proof mobile app for your Shopify store. Also, with its flexible drag-and-drop builder, you can quickly launch your "no-code" mobile app within 1 to 3 days.
As a Shopify store owner, it's your responsibility to monitor how your customers progress throughout their buying journey. Plobal has got you covered with this by allowing you to design automated sales funnels that deliver you the accurate data of your mobile app installs and much more.
Now comes the most interesting part- Plobal lets you create an ideal m-commerce app by setting up recurring organic installs that maximize the app downloads. Once this is done, the next step will be to deliver targeted push notifications that efficiently fuel up your store engagement.
In a nutshell, Plobal not only assists you in building a reliable mobile app but helps you also in the massive growth of your brand by conducting automated campaigns.
Key Features –
It delivers personalized product recommendations that help in boosting your sales and ROI.
It tracks and analyzes crucial metrics like conversion rates, average order value, and daily and monthly active users.
It helps deliver a smooth checkout process such that you can automatically integrate with Apple pay and sell in multiple currencies.
It allows you to send flash sales push notifications to your app users. 
Ratings: 4.8 (374 reviews)
Price: $199/month
Free Trial: 7-day free trial
2. Appmaker – Robust Mobile App Builder for Shopify
Appmaker is another top-notch Shopify mobile app builder that enables users to create beautiful native Android and iOS Shopify apps without knowing how to code. Appmaker offers cutting-edge features that will make your app stand out from the crowd. You'll be able to create a Shopify app in just a few simple steps.
Its drag-and-drop app creation method allows you to swiftly create and test native apps that are simple to customize and sync with your store in real-time. Appmaker creates a high-quality iOS and Android app that will showcase your Shopify Storefront in the best possible way.
To stay in touch with your customers, you can use a Shopify app to deliver push notifications and engage them with personalized offers, reminders, and promotions to boost sales.
Key Features:
It provides a beginner-friendly drag-and-drop builder.
The app stays in real-time with your Shopify store.
You can send push notifications to your app users.
It lets you create app-only coupons and deals to encourage more downloads.
It provides actionable app analytics to understand how users interact with your app.
It provides significant third-party plugin compatibility to ensure a seamless transfer from your current store to the app.
Ratings: 4.8 (28 reviews)
Price: Starts at $99/month
Free Trial: 14-day free trial
3. Vajro – Popular Shopify Mobile App Builder
By empowering 1000+ Shopify stores with amazing mobile apps, Vajro is one of the best Shopify mobile app builders that I have come across. It helps you design a powerful mobile app for your Shopify store that drives more sales. It has more than 20 pre-built themes, which you can use to develop a stunning mobile app of your choice in minutes.
Now let's get into the most important part of how this mobile app builder helps increase conversion rate for your store. Vajro enables this complex process into a cakewalk with the help of push notifications. 
You can send an unlimited number of pushes like flash sales, announcements, offers, etc., which instantly pulls your customers back to Shopify. You can also engage with your customers via live video, which blasts your Shopify store sales.
An eCommerce mobile app is fulfilled only when it has a proper checkout facility. This Shopify mobile app builder eases this by having all the customer details pre-filled for them. Also, if you have any international customers, they have the flexibility to pay in a currency of their own.
As a Shopify store owner, you want to track how many users have installed your mobile app and how it performs. You can view these results as Vajro provides detailed and meaningful analytics data on how the app performs regarding the number of downloads, sales, engagement, and more.
Key Features –
It allows you to launch your mobile app absolutely without coding.
It allows you to sync your products with your Shopify store automatically.
It helps regain your lost sales by sending abandoned cart pushes to your customers.
It facilitates an easy checkout process by allowing the customers to choose their desired mode of payment which includes "buy now, pay later."
It lets you see the total number of sessions, product sales, the products added to the cart the most, who uninstalled your app, etc. 
Ratings: 5.0 (527 reviews)
Price: Starting at $99/month
Free Trial: 60-day free trial
4. JCurve – Simple Mobile App Builder for Shopify

JCurve lets your shoppers purchase their products seamlessly anywhere and anytime through your Shopify mobile app. Founded by the top-notch experts of silicon valley, JCurve offers many promising features that scale your mobile app to reach its highest potential possible.
This Shopify mobile builder app provides mesmerizing UI themes that crafts a magnetic power to your app. Also, it uses a lego-block style builder to create both iOS and Android apps, along which you can see a preview of how your app looks in real-time.   
It helps drive customers through the sales funnel using powerful features like unlimited push notifications and personalized product recommendations and allows your customers to track their order status easily.
To reap the utmost benefits from this app, JCurve lets you launch your android and iOS apps in more than 120 countries. This effortlessly targets international audiences, which gives a lightning hike in your sales rate.
Key Features –
It allows you to deliver extended support to your customers via Whatsapp and Messenger, strengthening the relationship.
It offers advanced analytics that illustrates how your customers use the mobile app and understand which products drive more popularity.
It helps recoup the lost sales by setting up auto-reminders that bring back your customers to the cart conversion process.
It generates free organic traffic from mobile users on Apple and Google play stores. 
Rating: 4.8 (117 reviews)
Price: $89/month
Free Trial: 30-day free trial
5. Tapcart – Effortless Shopify Mobile App Builder
Tapcart is a premium Shopify mobile app builder that transfigures your eCommerce business to the highest level by designing a mobile app that your customers love. It offers speedy checkout, faster page loading, and unlimited push notifications, contributing to a joyful shopping experience.
It offers a smooth drag-and-drop builder, which lets you build your custom mobile app without any hassle. Also, you can present your products more interestingly and engagingly possible.
Key Features –
It allows you to update your app in real-time to maintain its functionality at a high level.
It lets you deliver app-only exclusives and offers to drive more traffic.
It enables you to connect your mobile app with existing Shopify plugins.
It allows you to design both premium and scheduled push notifications.
Ratings: 4.7 (316 reviews)
Price: $99/month
Free-trial: 7-day free trial
Choose the best Shopify mobile app builder
With the inevitable increase in smartphone usage, mobile commerce is expected to generate 53.9% of total eCommerce sales. So if you haven't launched a mobile app for your Shopify store but wish to grow your eCommerce business to the next level, pick the right mobile app builder to get started.
Choosing the right Shopify mobile app builder entirely depends on the features you are looking for and the platforms supported. In this article, we tried to provide all the necessary information about each app to help you pick your mobile app builder.
If you are looking for more apps to improve the conversion rate and generate more sales for your Shopify store, you should check out these hand-picked articles –