Finding the right products and a reliable supplier is crucial for a successful dropshipping business. You don't want a product no one wants to purchase and not a supplier who can't fulfill the orders on time.
That's where you need a product sourcing app that can help you find the winning products in the market and connects you with reliable suppliers to ensure the smooth operation of your dropshipping store.
In this article, we will show you some of the best product-sourcing Shopify apps available in the market that you can trust blindly when it comes to product quality and trusted suppliers.
If you are ready, let's get started with the most popular app in the category.
1. Spocket – Product Sourcing from the US & EU
If your target customers are from the US and Europe and looking for faster shipping service, Spocket is the best product-sourcing Shopify app for you. It has thousands of products, including print-on-demand goods, at a 30-60% discount on retail price.
Using Spocket, you can find winning products from Europe and the US, and it also connects you with regional suppliers for quality products with rapid delivery rates between 2-5 days. You can learn more about it in our Spocket review.
Key Features –
Spocket handles inventory for all products, ensuring your products are available and ready to ship at all times.
You can order sample products from different suppliers to verify their shipping speed.
It generates branded invoices that contain your Shopify store's logo, name, and personal notes.
It offers real-time order tracking so that customers can know exactly where their order is.
Pricing Plans – It offers a 14-day free trial and a free plan for entrepreneurs who want to browse Spocket's product catalog. The Starter plan starts at $24/month, allowing for 25 unique products and giving access to unlimited orders.
2. Syncee – Source products from trusted brands
With over 6 million products and thousands of trusted brands, Syncee is one of the best product-sourcing apps for Shopify stores. It has most of the suppliers from the US, Europe, and Australia, which ensures faster delivery with high product quality.
Using the Syncee app, you can easily find and upload products to your store and sync the order automatically to your chosen suppliers.
Key Features –
It has a vast collection of products in 400+ categories.
There are 12,000+ reliable suppliers for high-quality products
It automatically syncs order data from your store to suppliers
You can set up dynamic product price setting to change the price as suppliers do
It supports multiple languages for the dashboard and other pages
Pricing Plans – Syncee has a free plan that allows you to explore the marketplace and create product catalogs. To import products to your store, you will have to opt for one of its paid plans, starting at just $29/month with a 14-day free trial.
3. Printful – Source print-on-demand products
Printful is one of the best print-on-demand Shopify apps that lets you create and sell custom products online. It enables you to work with suppliers to customize the white-label products with your own design and sell them on your Shopify store.
It offers built-in tools that enable you to create eye-catchy designs and product mockups and builds your brand logo. The best part of using Printful is that it doesn't incur any upfront costs, which means you can expand your business without much investment and inventory. You can learn more about its services and tools in our detailed Printful review.
Key Features –
You can create personalized designs that your customers like using Printful.
It gives you the control to decide how much profit you'll gain from your sales.
It takes care of your inventory, equipment, shipping, and packaging, which eases your manual workload.
It prevents unnecessary piling up of stocks as each item is printed only when a customer places an order.
Pricing Plans – It is free to install and use. However, you will have to pay on a per-order basis.
4. DSers – Product sourcing app for AliExpress
DSers enables you to find and import products easily from AliExpress. It processes hundreds of orders at lightning speed so that it reaches your customer's hands at an extremely faster rate.
You can also find the best suppliers for your products at reasonable prices with high quality, increasing your profit margin and improving customer satisfaction.
Key Features –
It automatically syncs the tracking and shipping information to your Shopify store.
You can set the shipping method that suits your requirements.
You can change the supplier of the product without any complications.
It enables you to choose country-specific suppliers to serve customer orders quickly.
It allows you to select the products which you don't want to process, and it will be hidden.
Pricing Plans – It offers a 14-day free trial and has a free plan which lets you manage 3 stores of up to 3000 products. The Basic plan starts at $1.99/month, allowing up to 5 stores and 7500 products.
5. EPROLO – Free product sourcing app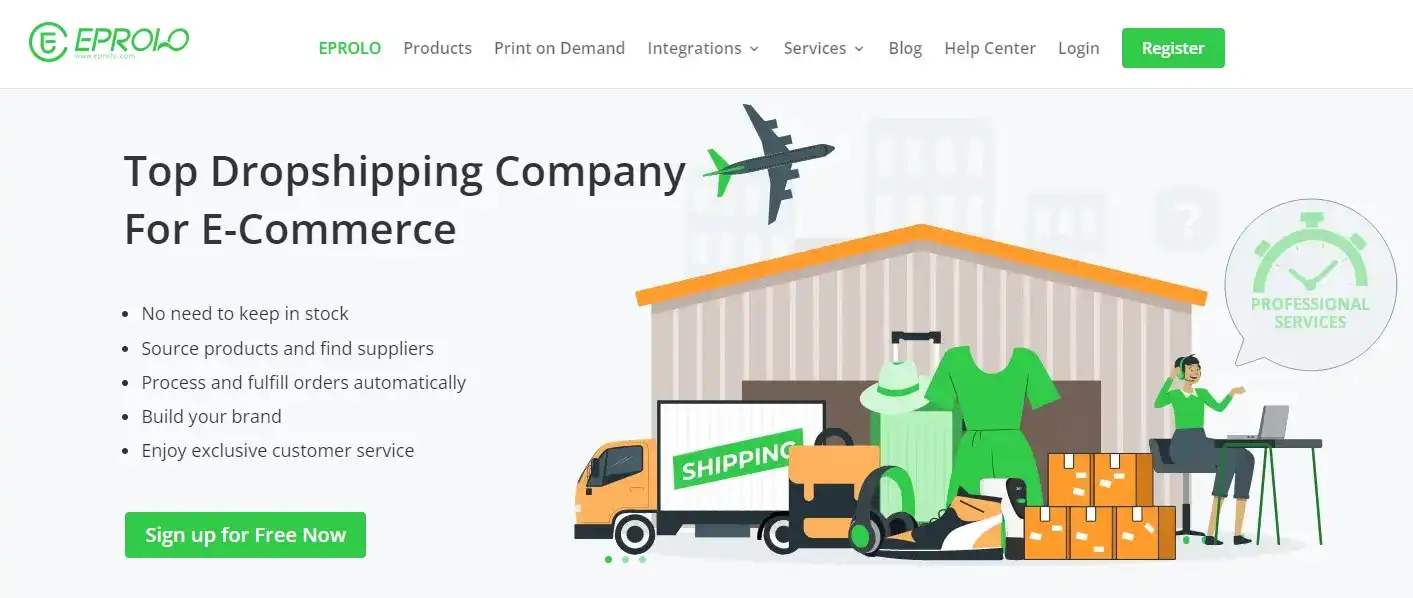 Eprolo is a free dropshipping platform that can help you with reliable product sourcing, warehousing, quality control, and shipping. If you are using AliExpress for your dropshipping business, you should try this app as it is free forever.
Eprolo guarantees unified supply management as all packages are shipped out from its own warehouse. It means that your customers will never receive multiple packages from one order.
Key Features –
You can quickly edit product titles, descriptions, variants, images, etc., to optimize for organic ranking.
It enables order fulfillment in bulk and takes care of packaging and shipping to customers.
Eprolo provides faster shipping to the US and UK. It takes only 5-8 days to reach the US and 8-12 days for Europe.
It provides real-time inventory management to ensure you never sell out-of-stock products.
It double-checks the product before it is shipped to your customers.
Pricing Plans: It is free forever.
6. Dropified – Product sourcing from AliExpress & Alibaba
Dropified enables you to import thousands of products with a single click. It also allows you to save products to wishlists, and you can later use them to perform the desired operation in your Shopify store.
It offers 80+ product catalogs from which you can source the best products from multiple marketplaces like Amazon, Alibaba, eBay, AliExpress, etc. The best of all is that you can add custom order notes to suppliers to prevent them from sending pricing or promotional materials to your customers.
Key Features –
You can add custom tracking URLs that can be sent to customers.
It allows you to remove the background from the product images with its third-party integrated background remover tool.
You can automatically add markups to all the products.
It lets you track orders automatically and change suppliers quickly.
Pricing Plans – It offers two types of plans: Build and Lifetime. The Build plan starts at $47/month, which is suitable for sellers. Starting at $147, the Lifetime plan is ideal for beginners and students to get started.
Automizely Dropshipping empowers you to run an easy, fast, and profit-driven dropshipping business by importing winning products to your Shopify store. It offers a product editor to edit product descriptions and images, listing prices in bulk, thus saving a lot of your time in importing products.
It offers a risk-free profit margin as it allows you to set listing prices and apply them automatically when adding products to your import list. It gives you different options you can assign a fixed price, or multiplier, and compare the price to the imported products.
Key Features –
It allows trackable delivery and free express shipping to your US customers.
It enables you to manage your Shopify orders and notify suppliers to start the shipping process.
You can make direct payments to your dropshipping supplier instantly from the order management dashboard when the order is shipped.
You can build high brand value and trust by including logos and stickers in the package.
Pricing Plans – It is completely free of cost.
8. Importify – Product Sourcing from Multiple Suppliers
Importify is a Shopify product sourcing app that enables you to find products from a wide range of wholesalers, add them to your Shopify store, and start selling online to reap profits. It allows you to import the best-selling products and automates your entire dropshipping process with just a few clicks.
With the help of its semi-automatic order fulfillment, you can quickly pre-populate your customer's addresses on the checkout page, which prevents manual entry. Also, it lets you import from multiple marketplaces like Alibaba, AliExpress, Amazon, and other hundreds of suppliers.
Key Features –
You can easily change your suppliers when the product is out of stock or have a better option.
It has a built-in editor for editing product descriptions, tags, prices, images, titles, etc.
It allows you to use the override function to migrate from other apps like Dropified, and Ali orders and keep your current product link.
Pricing Plans – It offers three types of plans, and each plan has a one-day trial. The Basic plan starts at $14.95/month, and the Premium plan starts at $27.95/month.
9. Modalyst – Sourcing from AliExpress Suppliers
Modalyst is a reliable Shopify dropshipping application that lets you find thousands of fast shipping suppliers in the USA and Europe. It is an official partner of AliExpress, enabling you to connect the top AliExpress suppliers and products for dropshipping.
Modalyst lets you curate a wide variety of products for your store as it offers the most extensive catalog of high-quality products. Also, you can easily customize your product listings and enable automatic order routing.
Key Features –
It allows you to set your own profit margin and pricing rules to make high profits.
You can automatically add shipping costs to the product price and offer free shipping.
It sends automatic inventory and pricing updates.
Pricing Plans – It offers a free plan that lets you sell up to 25 products and is suitable if you are getting started with dropshipping. The Start-Up plan starts at $35/month, allowing you to sell up to 250 products. All the plans charge a transaction fee of 5%.
Which is the best Shopify product-sourcing app for you?
Not, I think finding the perfect product for your store and a reliable supplier can be a lot easier using any of the above apps. However, I still recommend you do your own research regarding the product and its supplier before you start taking orders on a large scale.
We hope this article helped you find the right product-sourcing app for your Shopify store. If you are still in the researching stage and haven't set up the store yet, you might want to read these articles-