Are you looking for essential Shopify apps for your dropshipping store?
Starting a Shopify dropshipping store is extremely easy. However, to make it a success, you must use the best apps and tools to provide an exceptional user experience throughout the customer journey and generate more sales.
So, either you are planning to start a dropshipping store or optimize it for growth, in this article, I will show you some of the best Shopify apps you need to run for a successful dropshipping store.
1. Spocket – Product Sourcing App
Finding winning products and the best suppliers for your product is crucial for success in dropshipping stores. Spocket is one of the most popular Shopify apps for product sourcing. It connects you with thousands of manufacturers and suppliers available worldwide.
You can find the products you want to sell in your store, import them with one click and customize the product details and photos before displaying them in the store.
One advantage Spocket offers is that you can test new products for free which allows you to analyze the market demand of the product before taking it to a large scale. Also, the product stock levels and inventory are automatically updated, providing a smooth order fulfillment process.
To know more about it, you should read our in-depth Spocket Review.
Feature Highlights –
It automates bulk orders and fulfills multiple orders with a few clicks.
You can choose the exact variants that you want from multiple suppliers.
You can add multiple users to your online store, which lets you run a smooth dropshipping business.
It offers real-time order tracking, giving your customers a clear view of their delivery status.
2. Ali Reviews – Customer Ratings & Reviews
Customer reviews are the most powerful social proof for a dropshipping store. It emboldens trust and credibility among new customers and generates more sales for your store.
With 5400+ customer reviews and over 40,000 active merchants, Ali Reviews is one of the best Shopify review apps for dropshipping stores. It allows you to send automated email reminders to customers to share product reviews with photos.
Ali Reviews allows you to display reviews in 9+ stunning styles by using the intuitive drag-and-drop editor. The great news is that you can show personalized product reviews based on your customer information like location, average order value, etc., and behavior.
Feature Highlights –
It offers different widgets like review boxes, review popups, and carousel sliders.
You can also migrate reviews from other Shopify apps.
It allows you to proactively display reviews for essential products or new products, which helps in improving your conversion rates.
You can reward your customers with attractive deals for posting reviews.
3. GemPages– Landing Page Builder
With 1,00,000+ active Shopify merchants, GemPages is the best landing page builder for Shopify stores. It enables you to build personalized landing pages that deliver a high sense of relevancy and a stunning experience for your customers.
Whether starting a new dropshipping store or introducing new products, you need a landing page builder to design conversion-friendly pre-launch or campaign pages.
GemPages offers an intuitive drag-and-drop editor, enabling you to build beautiful landing pages from scratch or customize one of its 50+ responsive templates. You can also create sales funnels to engage customer experience through the purchasing cycle and generate more revenue.
Feature Highlights –
It provides premade sections like testimonials, hero banner slideshow, etc., eliminating the need to design elements from scratch.
It provides meaningful analytics which tells you how your landing pages have performed and lets you optimize them for better conversions.
You can edit meta title and description, alt text, etc. to make your blog get ranked high on search results.
It increases your conversion rate as you can create FOMO effects, upsell, place effective CTA's, and much more.
4. Omnisend – Email & SMS Marketing Automation
Omnisend is the #1 marketing automation app for Shopify, enabling you to send personalized emails and SMS messages to garner more sales and conversions. It offers stunning pre-built templates, sign-up forms, and powerful automation to help your eCommerce business scale up to the next level.
It helps segment your customers on different criteria, enabling you to send hyper-relevant messages that hook your customers. You can also automate your prospect and customer communication using customer lifetime value, lifecycle stages, etc., which adds more value to your targeting efforts.
Feature Highlights –
It captures more customers by syncing data to build Lookalike audiences for Facebook and Instagram ads.
You can engage with customers by sending text messages regarding order shipments, back-in-stock alerts, items left in the cart, etc.
It creates a customer profile to review their purchase history, recent website activity, the total amount spent, etc.
It enables you to perform A/B testing to choose the best form copy that helps maximize your conversions.
5. Postscript – Shopify SMS Marketing
If you are looking for simple text automation based on users' actions and Shopify store data, Postscript would be the right choice. With five-star ratings and top-rated reviews, Postscript is the best Shopify SMS marketing app.
It provides a default automation template allowing you to send follow-up messages, abandoned cart notifications, and much more based on user interaction. You can also insert GIFs and photos in messages to deliver an interactive conversational experience.
Feature Highlights –
It allows you to segment your customers based on their history with your Shopify store.
It enables you to easily schedule campaigns in advance, which saves a lot of time.
It has a Safe-Send feature which ensures that you don't send too many texts to your customers.
6. Growave – Loyalty & Referral Marketing App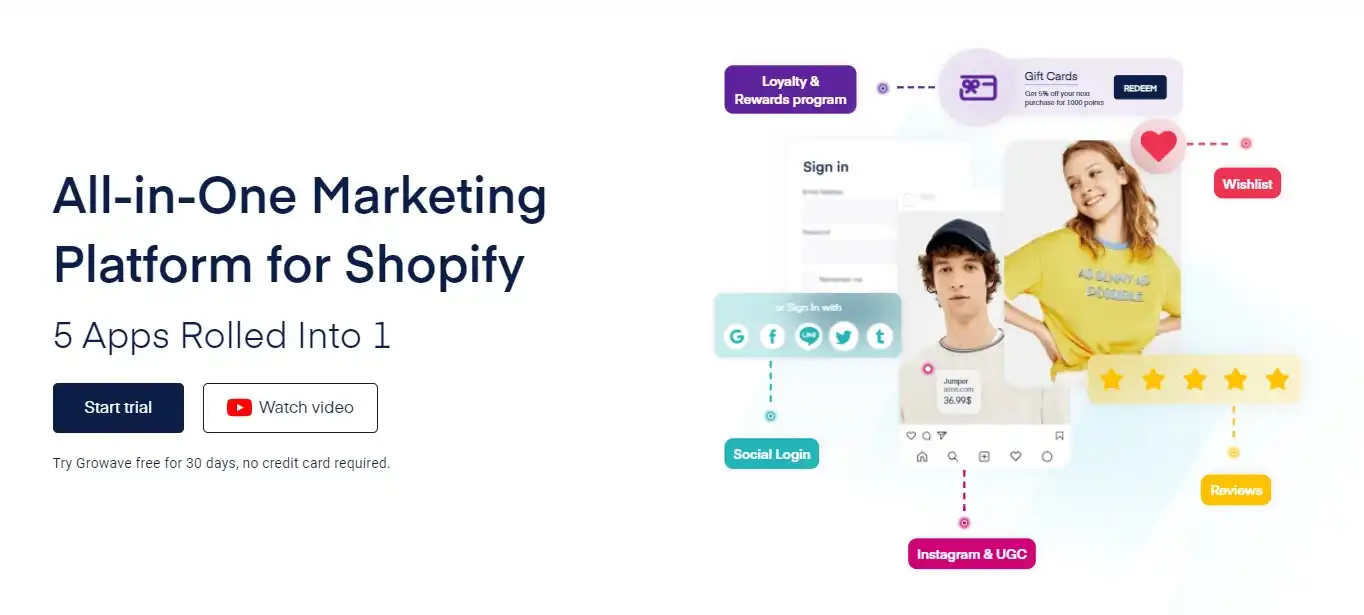 Growave is one of the best Shopify reward program apps that offers a suite of comprehensive features to push your Shopify store to the next level. You can reward customers with loyalty points, referral rewards, send wishlist reminders, leverage product reviews, and much more.
Growave is easy to set up and customize that complements your store branding. It also helps in strengthening your customer relationships by increasing repeat purchases by offering them redeemable points, gifts, and VIP- tier memberships.
Feature Highlights –
You can reward points and discounts for sharing your store and following your social media pages.
You can boost engagement by nudging customers and point expiration reminders.
It enables you to collect product/photo reviews and testimonials on autopilot.
It offers one-click social login, allowing customers to easily log in via Facebook, Google, Twitter, Yahoo, etc.
For further reading –
SEO is the most under-estimated marketing strategy among dropshippers. However, if done right, you can save a lot on your advertising expenses and get a higher ROI on your marketing budget.
So, if you want to optimize your store for higher search engine ranking, SEO Optimizer is a must-have app for you. With over 450K active installs, it is one of the best Shopify SEO apps available in the app store.
One of the best features that I like about SEO optimizer is its autopilot feature, which allows you to monitor and fix the SEO issues based on your set rules.
It also enables you to automatically build, maintain and submit your store's sitemap to ensure that every page is crawled and indexed by Google. Also, you can quickly add JSON-LD to your Shopify store that delivers easily indexable content to Googlebot for high search rankings.
Feature Highlights –
It helps in structuring your URL with the help of a URL optimization tool.
You can monitor and redirect broken links automatically that don't impact your traffic rates.
It enables you to reduce the file size of your images by compressing them, which makes your page load faster.
You can gain access to your weekly SEO health reports that let you make better-informed decisions.
For further reading –
8. Weglot – Shopify Translation App
Do you target consumers from different countries or regions speaking other languages? Then, you must optimize your store in their native language.
This is where you will need Weglot, a top-rated Shopify translation app that enables you to translate your Shopify store into multiple languages within a fraction of time. It allows you to translate sites into 100+ languages and the best part is that every piece of the website content will be translated in the respective language.
It also translates the content on the checkout page, email notifications, and dynamic content like popups, reviews, etc. The best part is that it complies with Google's multilingual SEO practices so that your translated store will automatically get indexed for higher search discoverability in your target market.
Feature Highlights –
It offers an intuitive interface to edit and manage all the translations.
You can translate images, SEO metadata, and external links to capture natural traffic.
It offers a customizable language switcher, which makes customers easily switch over to their preferred languages.
It is fully compatible with your store and your theme, which enables high flexibility.
9. Tidio – Live Chat and Chatbot for Shopify
Do you know that 79% of consumers prefer live chats as they offer instant responses? Tidio masters this as it helps in boosting your engagement levels by combining live chat, chatbot, and marketing automation that gears up your store's sales and conversion rates.
The Tidio chatbots use AI-driven solutions to recognize what your customers need and then readily act upon them. This Shopify live chat app simultaneously manages all the incoming conversions in a unified area, increasing customer satisfaction levels.
Feature Highlights –
It helps recoup the lost traffic by bringing back abandoned carts, offers discounts, generates leads, and much more.
You can customize the live chat widget to suit your eCommerce brand.
You can discover who browses your site and immediately start a conversation with them.
It enables you to collect ratings, ask customers to fill out surveys, etc., with which you can optimize your customer service to meet the needs better.
Also Read: Best Shopify Live chat apps
10. Wishlist Plus – Add Wishlist feature
Being used by thousands of merchants, Wishlist plus is a popular Shopify wishlist app that lets customers save their favorite items so that they can come back and purchase. This intuitive wishlist module is mobile-friendly and doesn't require a user's login to add their items to the wishlist.
The most exciting part is that it allows you to run personalized marketing campaigns via emails, Facebook, and Instagram based on the customer's wishlist activity. This helps in generating higher conversions for your store.
Feature Highlights –
It allows you to display how many people wishlisted a product to showcase as social proof.
You can send low-in-stock and price-dropped emails for the wishlist products to pull customers back to shopping.
It enables you to create intelligent popup nudges to capture the email addresses of your customers.
It enables you to easily customize the wishlist module that supports the look and feel of your brand.
With a five-stars rating, Currency Converter Bear is the best Shopify app that offers multi-currency support in the checkout. You can easily add the currencies with a few clicks, and the exchange rates will be updated regularly.
This Shopify app fosters high convenience as it automatically converts the prices into local currency based on your customer's location. It supports 160+ currencies and displays round converted prices ($10 and not $10.83), making the payment processing easy for the customers.
Feature Highlights –
It offers 4 beautiful built-in layouts which can be customized to support your Shopify store branding.
It enables you to automatically convert prices without displaying them to the clients.
You can place the currency converter anywhere in your Shopify store.
You can provide a rich shopping experience as it offers mobile-optimized layouts.
It is essential that you set up product variants that make customers easily choose the best version of the product. And this is the best Shopify app that offers an automated variant image swatch, thus replacing traditional option selectors.
You can customize the swatches easily such that it looks appealing by satisfying your producing requirements. It also enables you to display a group of products as variants, and the best part is you can show more than 100 variants on the product page, which is mind-blowing.
Feature Highlights –
You can add variants on the collection page, and these swatches work on all product filters.
You can link related products as swatches.
It allows you to easily upload swatch images/color codes in bulk.
It enables you to hide, strikeout, or display out-of-stock variants.
13. AfterShip – Order Tracking and SMS Updates
One of the crucial factors that impact the post-purchase experience of customers is order tracking. AfterShip makes this process a breeze as it allows you to send timely delivery notifications to your customers via email and SMS, which makes them stay updated on track.
As a Shopify store owner, you can connect with 700+ couriers globally to provide fast shipping. You can also drive more traffic by customizing your tracking page with logo and store URL to generate more sales and conversions.
Feature Highlights –
You can automatically import your tracking numbers to AfterShip that displays the tracking information for the shipments at a unified interface.
You can filter shipments by dates, statuses, couriers, and destination.
It allows you to set up a custom domain to display the tracking information and increase your Shopify site's searchability.
It provides meaningful insights on shipments, notifications, tracking pages, and customer feedback.
Wrapping Up
Dropshipping is a cost-effective eCommerce business model which anyone with a laptop and internet access can start. And by using the above-mentioned Shopify apps, generating sales and conversion shouldn't be difficult at all.
Now it is your turn to take your major step in building your dropshipping business by picking the right apps for your Shopify store and taking it to the next level.
If you are looking for more guides and tips to grow your dropshipping business, here are few hand-picked articles that you might want to check next –