If you want to sell products like t-shirts, stickers, mugs, posters, and other items with customized prints, print on demand is the best way to go. In this eCommerce business model, you don't have to hold inventory as the products are created only after receiving orders, and your print on demand partner fulfills the demands.
You just have to find the best POD products to sell & set up a storefront where customers can place orders for your products; after that, your print on demand partners should be able to handle the order fulfillment from manufacturing to shipping.
Starting a print on demand business on Shopify is probably the easiest way to step into the eCommerce space. It provides plenty of POD apps that you can choose from and add the best products to your store.
However, trying every app to find the right one can be tiring and time-consuming. So, we did the legwork for you and compiled a list of the best Shopify print on demand apps and reviewed them so that you can pick the one that fulfills your business requirements.
If you are ready, let's get started with the most popular Shopify POD app.
Having generated over $1.14B in sales, Printful is the best Shopify print on demand app. You can customize and sell around 300+ premium products via its flexible mockup generator. It also keeps adding new products so you can endlessly offer more to your customers.
The best part of Printful is that it gives you complete control over branding. You can select your preferred packaging method, add eye-catchy colors, and insert coupons, handwritten cards & personalized notes inside packages.
This is a great way to deliver an outstanding and memorable unboxing experience to strengthen customer relationships.
Furthermore, you can enjoy fast shipping as Printful has over 16 fulfillment centers located across five continents. Its estimated delivery time is 2-7 business days based on your product, quantity, and shipping destination.
Check out our Printful review to learn how the app can simplify print on demand for your Shopify store.
Key Features –
No minimum purchases required
Place sample orders to test the quality
Access to in-house creative services
Store products, pack-ins, and packages in Printful Warehouse
Same-day shipping for orders placed by noon
Automation flow to fulfill incoming orders
Items will be shipped again if lost or damaged
Pricing Plans – Printful doesn't incur any monthly or upfront fees. You'll be charged on a per-order basis. The pricing depends upon the product, shipping, and taxes.
To enjoy Printful's premium services, you can upgrade to the Plus plan costing $9/month, and the Pro plan, priced at $49/month. The list of perks includes built-in design tools, a custom mockup maker, a background remover, 480+ clip art images, etc.
With over 600+ top-quality products, Printify is a top-rated print on demand app for Shopify. Using its free design tools, you can craft attractive designs for any product like t-shirts, mugs, phone cases, etc. Once this is done, you can assign the sale price and choose where to sell.
One major aspect that sets Printify apart is that it does not print products by itself. It acts as a bridge and connects you with its large network of printing partners based on your preferred location across the globe.
And due to this huge network, its product selection is much greater when compared to other Shopify POD apps. So you'll focus on creating better products and growing your business.
Key Features –
Automates order processing, fulfillment, and delivery
Shipping fees vary based on the print provider's location and the customer's delivery address
Automatic order routing for quick fulfillment
Gift packaging option for specific products
Provides tools that let you adapt to uncertain situations
Pricing Plans – Printify offers a free plan that allows up to 5 stores, unlimited product designs, a mockup generator, 24×7 support, & manual order creation. The Paid plans start at $24.99/month for up to 10 stores/account and the Enterprise account for unlimited stores.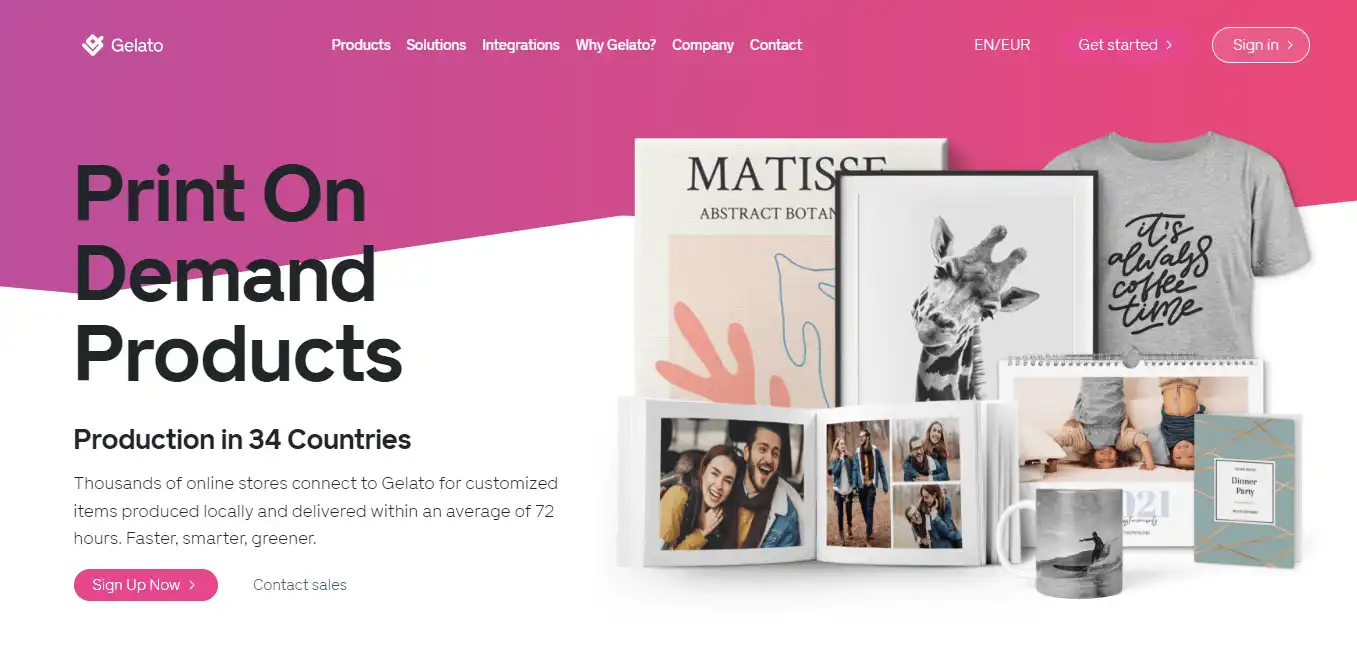 Gelato is a global print on demand Shopify app designed exclusively for creators, entrepreneurs, and enterprises. The key USP of Gelato is that it delivers to 170+ countries and has local production in 30+ countries. Due to a massive network of 90+ print partners, Gelato can scale your POD business via extensive shipping.
It offers thousands of product combinations that you can easily customize via its online editor. You just have to select the format, add layers, upload, and choose pictures. Moreover, it also allows your customers to customize the products they want to buy.
Since it adopts an end-to-end fulfillment approach, it has an excellent uptime of 99.9%. Gelato takes care of everything from order placement to shipping and ships within 72 hours.
Key Features –
Access to 100+ production centers
24×7 customer support
100% quality guarantee
Advanced algorithm for routing orders
Sustainably sourced materials
Dedicated portal for order history and tracking
Pricing Plans – Gelato is free to set up. However, if you want to access premium services, you can upgrade to Gelato+, starting at $9.99/month.
The merits include premium apparel & wall-art mockups, product personalization, automation, live rates, one-click product expansion, etc. It comes with a 30-day free trial, so signup now and test whether its the best fit for your POD business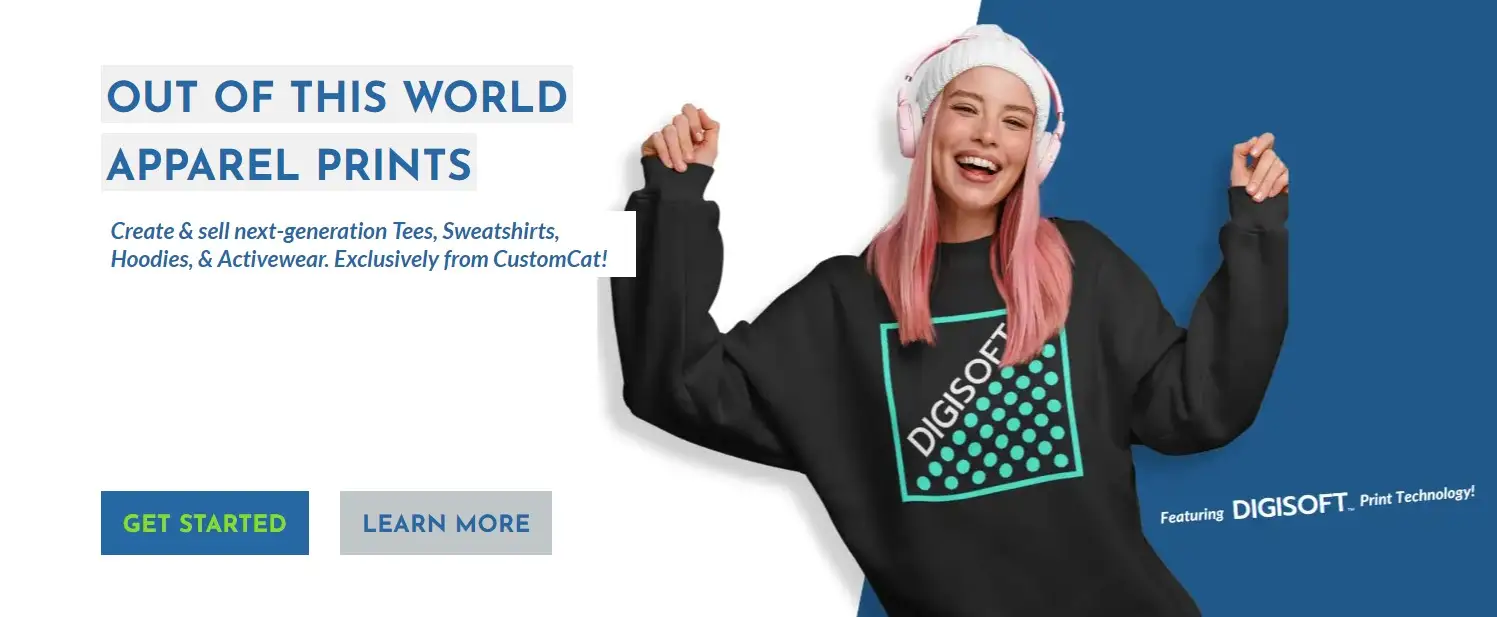 CustomCat is another popular Shopify print on demand app that specializes mainly in apparel prints. From T-shirts, hoodies and sweatshirts to hats and jackets, it offers a range of apparel products that you can design and sell from your store.
Apart from apparel products, you can also find houseware products such as pillows, mugs, wall arts, etc. What makes it unique among other POD apps is its DIGISOFT printing technology, which delivers high quality prints that can amaze your customers.
Key Features –
100+ products to choose from
Modern printing technology such as DIGISOFT and
Seamless integration with Shopify to sync orders and products
Faster order fulfillment and shipping
Pricing Plans – CustomCat is free to use with a pay-per-product basis. Paid plan starts at just $30/month with a 20% – 40% discounts on all products. The paid plan comes with a 60-day free trial.

EPROLO is a convenient and easy-to-use Shopify print on demand app with an impressive catalog of 300+ customizable products. The best part is that it automates all critical processes – order dealing, fulfillment, and delivery so you can concentrate on growing other important aspects of your POD business.
It will automatically sync in the EPROLO app when you start receiving orders. Aftward, EPROLO will create the product and deliver it to your customers under your brand name.
EPROLO's shipping times are generally seven working days. Based on the location, the average shipping duration might vary. However, the time for fulfilling orders usually gets extended during peak season or if there are large quantities. So you'll have to plan accordingly.
Key Features –
Adopts DTG printing method
Products are checked twice before shipping
Set different profit margins for different products after the design
The tracking number will be filled in automatically
Refund or replacement is provided if there's a delivery problem or damage
Free shipping to POD products made in USA & Australia
Pricing Plans – EPROLO is free to use without any premium plan. You will be charged on a per-order basis.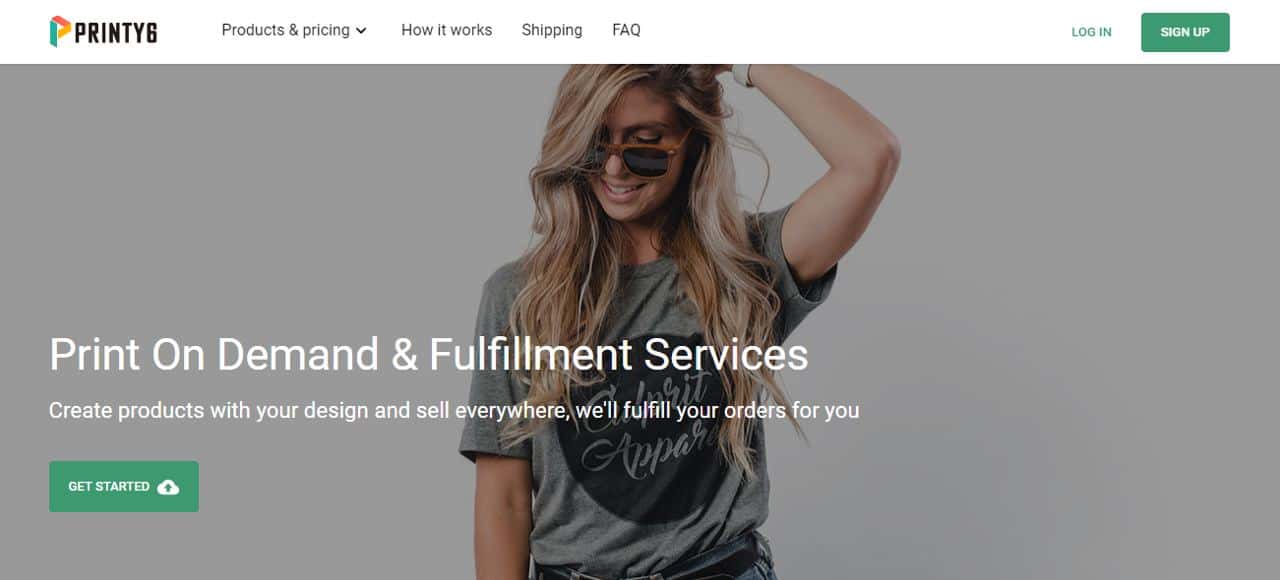 Printy6 is an excellent Shopify print on demand app for artists. With over 200+ products and professional mockups, you can play around with your artistic design to create rich products. It uses premium-quality fabrics, strict standards, and an environment-friendly printing process.
Printy6 shipping network is monumental. It ships to over 230 countries and warehouses in Europe and the US. It also partners with global carriers like FedEx, EMS, DHL, etc., and allows for flat-rate and expedited shipping for faster fulfillment.
So undoubtedly, your product is set to reach millions of customers worldwide, thus making your brand sensational, profitable, and ever-lasting.
Key Features –
Flexible and easy-to-use interface
Automated production process
Real-time transaction monitoring
International delivery time estimates are 2-4 weeks
Forecast sales and automatically adjust inventory
Pricing Plans – Printy6 is free to install and use – pay per product ordered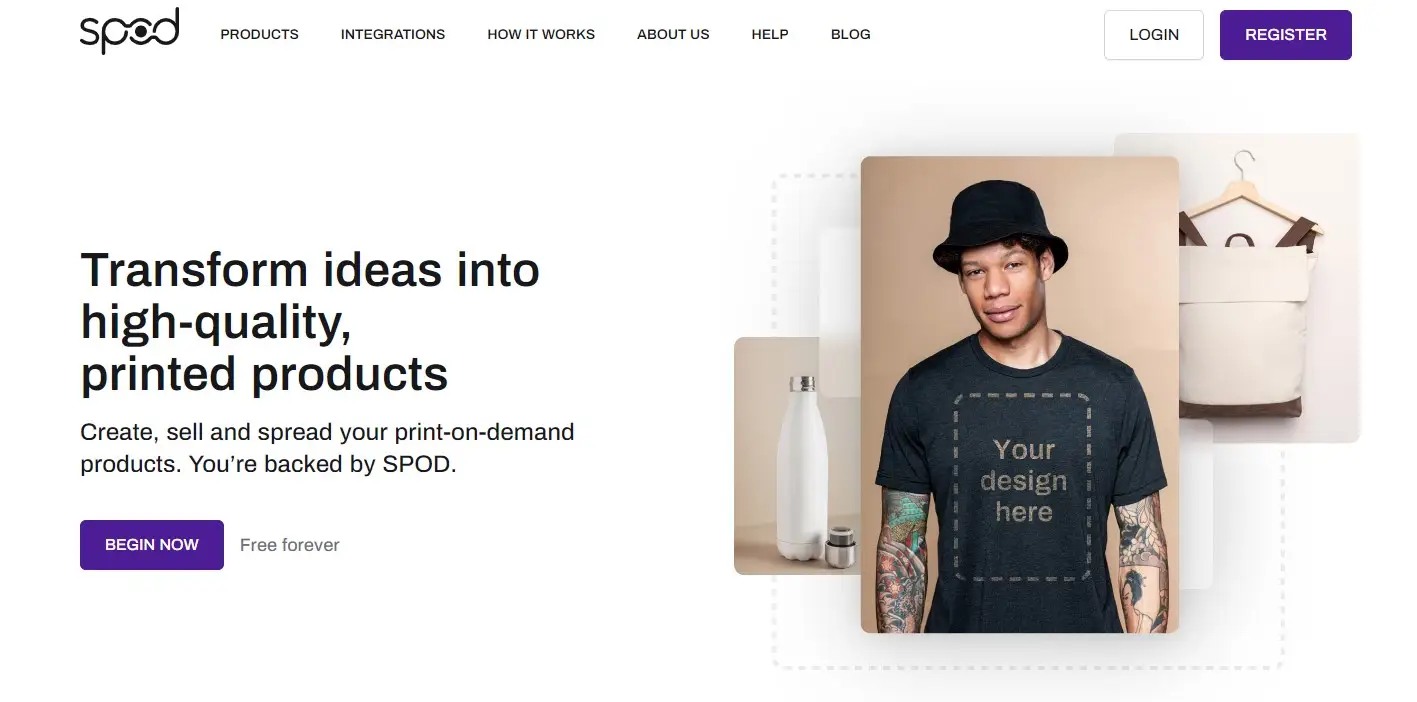 Spod is another reliable print on demand Shopify app that enables you to easily customize the products just the way you want. With over 200+ products and a library of 50k+ creative designs, you can design luxurious products that hook customers and drives more sales.
A unique aspect of SPOD is that it produces 95% of orders under 48 hours. This ensures that your orders get delivered at a faster rate which helps in boosting customer satisfaction and loyalty.
Key Features –
Easy-to-use dashboard to monitor stock, track & cancel orders
Create multiple products with the same design
Orders can be edited or canceled before production
Setup smooth workflow to automate tasks
In-house production facilities located in the US & EU
Plastic-free shipping since 2022
Pricing Plans – Free to install and use – pay per product ordered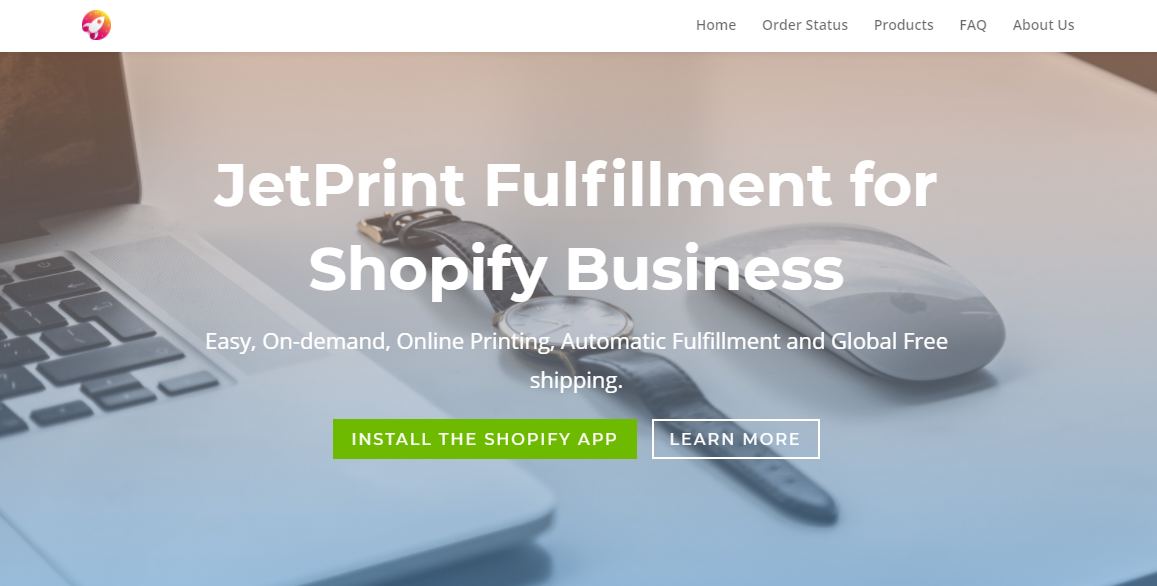 JetPrint Fulfillment is an amazing Shopify POD app that provides stunning products in different categories like 50+ print on demand shoes, 90+ custom watches, 30+ partially/AOP clothing, 20+ attractive custom home decor series, and 8+ custom bag series.
You can freely upload your brand designs and use its advanced mockup generator to customize your product template. After editing, you can preview the designed mockup from multiple angles and scenes.
JetPrint has set lower base costs and different first & additional shipping fees for various countries, letting you set a more reasonable and profitable sale price for your customers.
Key Features –
24×7 customer & technical support
Printing methods include DTG, Screen Printing, Sublimation, and Heat Transfer
10% off on the base cost for your first sample order
Automated or manual order process
Shipment within 3-7 working days for Express delivery
Pricing Plans – JetPrint Fulfillment is free to install and use. You have to pay per product ordered.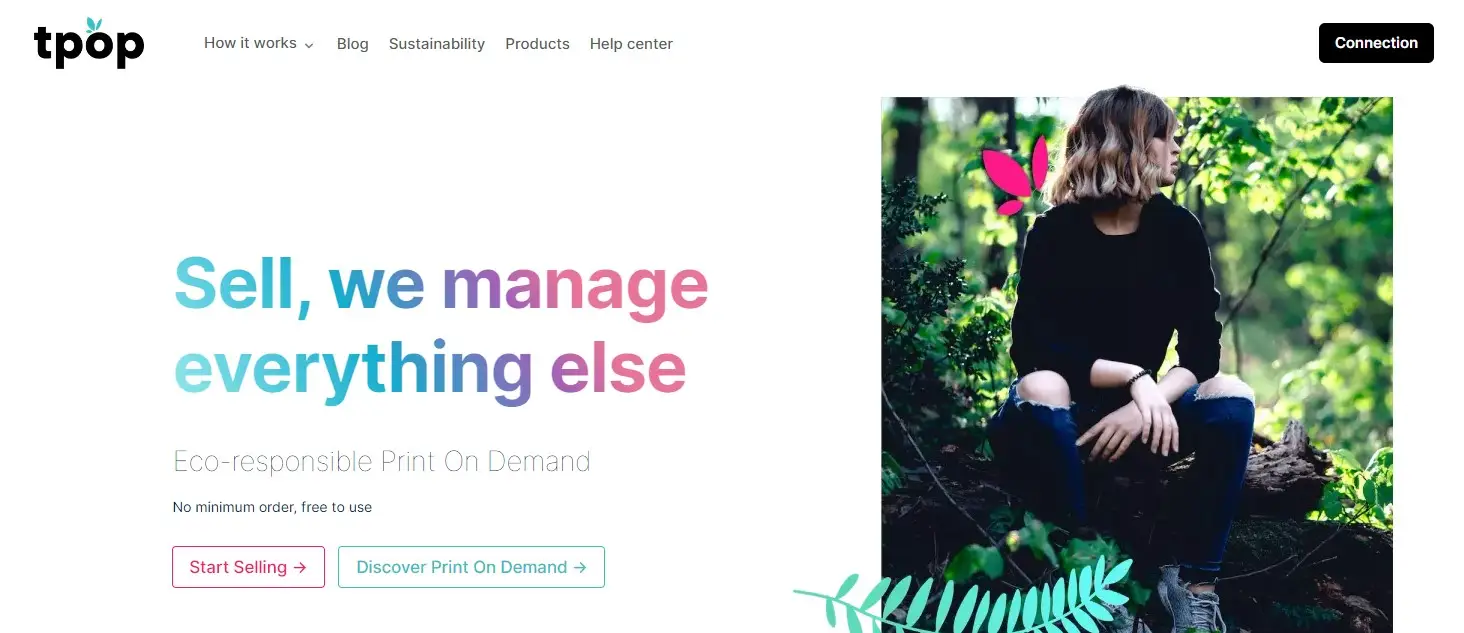 TPOP is an eco-friendly Shopify print on demand app that takes into account environmental sustainability. It allows for plastic-free shipping, and access to eco-responsible products, and uses green printing labels like GOTS, VEGAN, and Oekx-Tex.
The best part of using T-Pop is that it emphasizes branding to deliver a personalized experience. You can add your logo on the packages, t-shirts, and sweatshirts with attractive packing slips. Even you can add a flyer or a thank you card to virtually strengthen customer relationships.
It doesn't place any limits and offers worldwide shipping by processing your orders within 48 hours. All your packages are 100% plastic-free, and you can proudly display your brand image with zero overhead costs.
Key Features –
Create branded products with your own visuals
No minimum order required
Production within 72 hours for all products in stock
Allows for a 100% automated process
Carbon-neutral transport service for delivery
Pricing Plans – Free to use and pay per product ordered

If you wish to launch a fashion streetwear brand viaprint on demand, then Apliiq is my best recommendation. It is trusted by world-class brands like Inc, Wall Street Journal, Cool Hunting, Comedy Central, Huffington Post, etc.
As an apparel brand, you would like to strengthen your brand value, isn't it? This is where Apliiq lets you remove the manufacturer's tags and sew in your own private branded label.
You only have to provide your logo details, and Apliiq will automagically generate the required information for your private label tags based on the products you sell. It is as simple as it sounds!
In simple words, Apliiq is a one-stop destination to design subtle, elegant, and trendy apparel collections. From pocket tees, beanies, hoodies, snapbacks, and joggers, you can customize everything and sell it to customers with high design precision.
Key Features –
Increase sales by running limited edition campaigns
Carve exquisite designs via high-quality woven labels
Save over 55% upon bulk orders
Achieve profits over 25% to 50%
Reach global customers via worldwide shipping
A new product will be sent to customers if there is any manufacturing defect
Pricing Plans – You will only be charged when your product gets fulfilled.

Teelaunch is the simplest print on demand app for Shopify stores. They offer a wide range of products like accessories, drinkware, apparel, home goods, lifestyle, wall art, kitchenware, etc. However, its product catalog is not as vast as other Shopify POD apps.
It has prime locations in major countries like the US, Australia, Canada, Spain, and the United Kingdom. So you can expect your products to quickly reach your customers, contributing to the post-purchase experience for customers. 
Key Features –
Dye sublimation employed for mugs
Disable or limit daily charges based on the preference
Access to free premium canvas branding on canvas wraps
Pricing Plans – You can install and use it for free. They charge you for the products and shipping per order.
Which is the Best Shopify POD App for You?
Print on demand is the best way to give life to your product idea. You don't have to manage anything – right from design, order processing, and fulfillment, every step is taken care of by the POD company. So there's a low investment and possibly high profits if done right.
Finally, our top recommendations for Shopify POD apps are Printful and Printify – these are the best and most accessible platforms for anyone to get started.
On the other hand, if you are looking for faster order fulfillment for your global consumers, Gelato would be the right pick.
Rest assured, all the apps listed above are the best and bring something unique to the table, which you can leverage to build your print on demand business. However, I recommend choosing the best Shopify print-on-demand app based on your product type and target audience to ensure faster delivery of services and high-quality products.
we hope this article helped you pick the best print on demand app for your Shopify store. If you already have a Shopify store and want to boost sales, here are a few more that you can consider trying –