If you are thinking to start dropshipping with WooCommerce and looking for the best plugins to set up the store, this article is for you.
With WooCommerce, starting a dropshipping business is cheap and easier for anyone – you don't have to be tech-savvy to create a store and add all the essential features. Instead, you can use the available free and paid plugins to get started.
However, to start dropshipping on WooCommerce, you will first need a reliable WooCommerce hosting provider that keeps your website safe and secure. Once you set up your web host, you can add plugins to create the website, source products from dropshipping suppliers, and manage it smoothly.
In this article, I have compiled some of the best WooCommerce dropshipping plugins available in the market, each with its unique set of features and capabilities. Read on to discover the plugins and learn how they can help you in the process.
Ready? Let's start with some of the supplier plugins.
Best Dropshipping Supplier Plugins for WooCommerce
For a dropshipping business, it is very crucial to find winning products and trusted suppliers who can provide high-quality products and active customer support.
So, here are some of the best WooCommerce dropshipping suppliers you can consider using for your store –
Spocket is one of the global dropshipping suppliers that lets you source quality products from the US, EU, Canada, and other countries. However, it is well known for high-quality products and faster shipping from US & EU-based suppliers.
Using Spocket, you can quickly browse through its product catalog to find your winning products and directly import them to your store using its WooCommerce plugin.
The best part is that all the suppliers on the platform are pre-vetted and offer competitive pricing with 30-40% discounts on every product, which allows you to book a higher profit margin compared to your competitors.
Want to know more about its features and functionalities? Read our comprehensive Spocket review.
Key Features –
30-40% on all products
Allows direct communication with suppliers
Automatically sync orders data to suppliers
Offers flat-rate shipping
Real-time shipment tracking
Create brand invoices
Dedicated 24/7 support team
Pricing Plans – Spocket has a free plan that allows you to browse and find winning products. However, to import them to your store, you will have to opt for one of its paid plans, starting at 29.99/mo.
If you want to dropship print-on-demand products from your WooCommerce store, Printful might be the perfect supplier for you. It has a wide collection of products in various categories—apparel, home & living items, jewelry, accessories, and more.
It also provides a built-in design maker tool to customize your products as you want. Once the orders start flowing from your store, Printful manages everything from printing the products to order fulfillment. And, using its WooCommerce plugin, the orders are directly imported to Printful.
To learn more about its features and functionalities, you should read our in-depth Printful review.
Key Features –
Automated order syncing
Order discounted product samples
Built-in design maker tool for product customization
Automated tax settings and live shipping rates
Allow customers to personalize products themselves
24/7 customer support
Pricing Plans – Printful is free to use and you only have to pay per order. However, for additional services like custom branding, warehousing, and others, you will have to opt for its paid subscription plans, starting at $9/month.
Syncee is another popular dropshipping platform with millions of products from 12,000+ pre-vetted suppliers for the US, EU, Canada, and Australia. Whether you are looking for a trending or niche-specific product, you can easily find it on Syncee.
With the Syncee WooCommerce plugin, you can directly upload products into your store in one click, and it will automatically update the product inventory and order data to the respective suppliers.
Key Features –
A vast collection of products & suppliers
One-click product import to your store
Automated order sync to suppliers
Allows dynamic pricing settings
Provides direct communication with suppliers
Pricing Plans – Syncee plugin is free to use. However, to import products to your store, you will have to opt for its paid plans starting at just $29/month

DropshipMe is a dedicated WooCommerce plugin for dropshipping with a curated list of over 50,000 high-quality and best-selling products from trusted suppliers on AliExpress. The advantage of using this plugin is that it provides professionally edited product images, titles, descriptions, and other details, making it easier for you to quickly import and start selling without wasting time selecting the right products and editing them manually.
With the DropshipMe plugin, you can directly import products and reviews to your store and real customer reviews, which can help you boost conversions and generate more sales.
Key Features –
Quick and easy product search
Direct product import to store with all the information
Pre-vetted AliExpress suppliers
Hand-picked winning products
Regularly updated and growing database
Pricing Plans – DropshipMe has a free plan that allows you to import up to 50 products. To import more products, you can opt for its paid plans starting at a $29 one-time payment.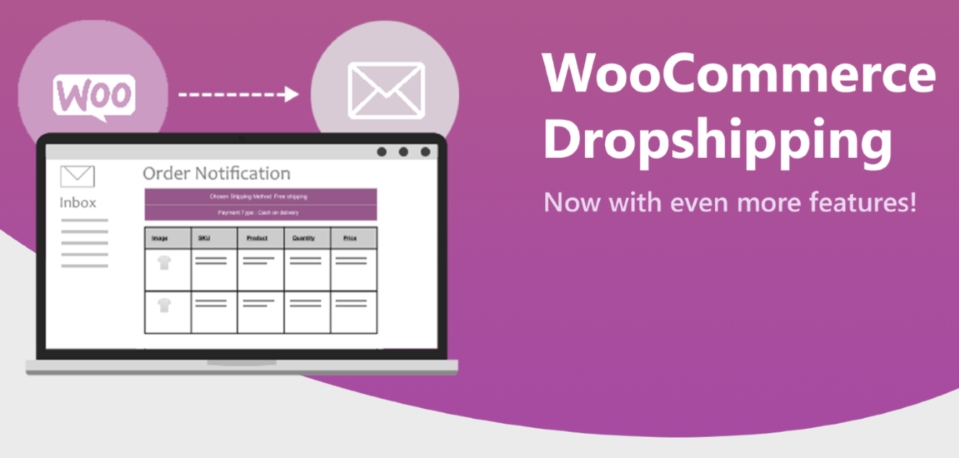 It is a WooCommerce extension designed to help you with dropshipping store management. It allows you to import products from AliExpress using its free Google chrome plugin.
Since it doesn't help you with choosing winning products and finding trusted suppliers, you can consider using this plugin with plugins like DropshipMe, to simplify store management. It helps you with creating custom emails, packaging slips, invoices, and everything else that you need to streamline your dropshipping business on WooCommerce.
Key Features –
Set percentage or fixed profit margins
Bulk import products from AliExpress
Assigning inventory to specific suppliers.
Supplying tracking number of products to the client.
Detailed dropshipping analytics reporting
Pricing Plans – The plugin is available on the WooCommerce Extensions library at $79/yr which includes 1-year support from the plugin developer.
Other Essential Dropshipping Plugins
By now, you know some of the best dropshipping suppliers that you can use to import quality products to your store. However, to build and manage your WooCommerce store, you will need a few more plugins.
Here are some of our recommended plugins you can use –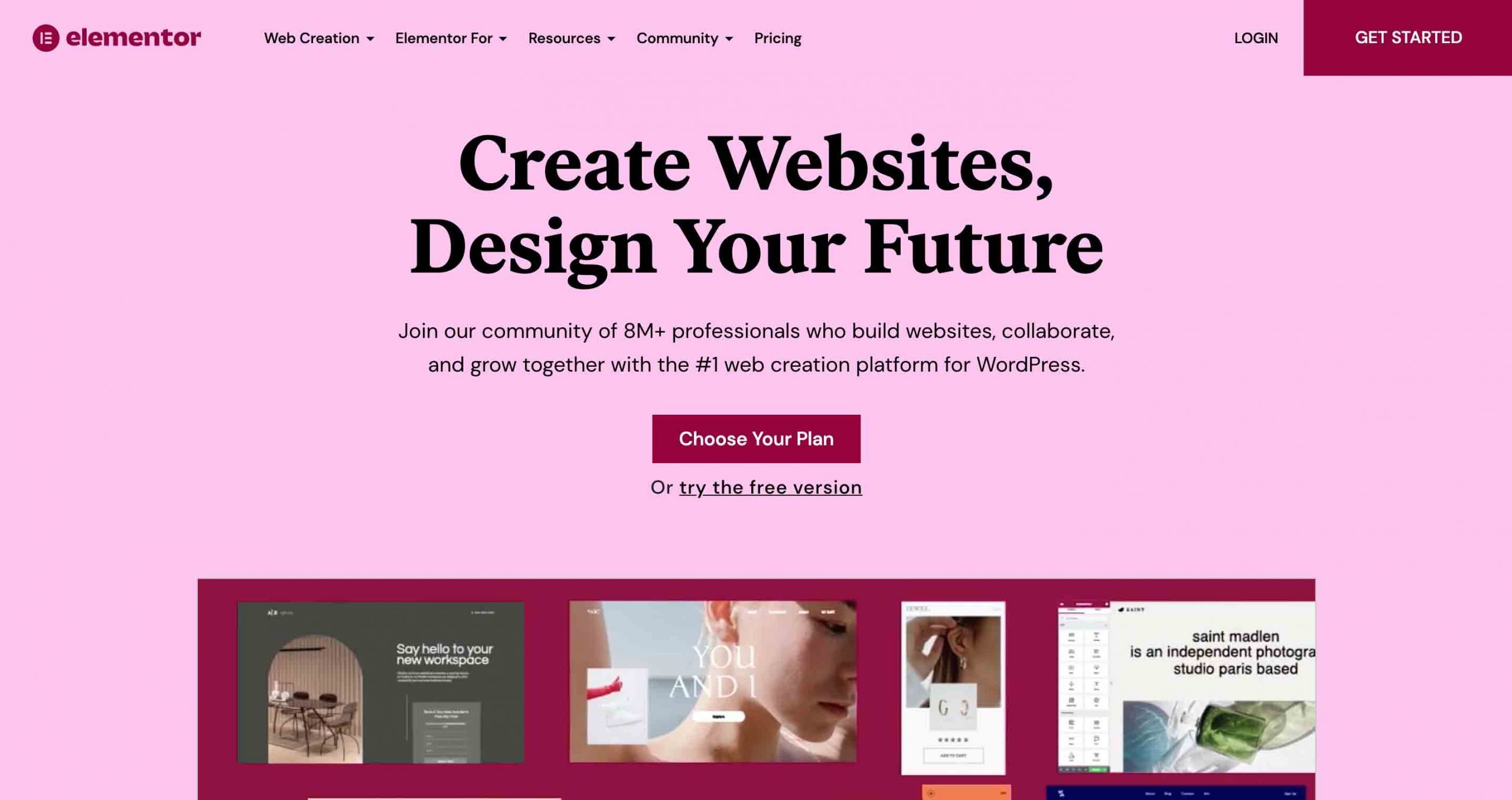 If you are not a web developer or professional designer, you might struggle designing your store or customizing the theme. This is where you can use Elementor. It is one of the best WordPress page builder plugins with seamless compatibility with WooCommerce. It provides a drag-and-drop visual page builder that lets you easily design any kind of page, be it a homepage, product, or category page.
The best thing about Elementor is that it is compatible with almost every popular WooCommerce theme. It has a free version that provides limited customization options. For complete customization flexibility, you will require its premium version.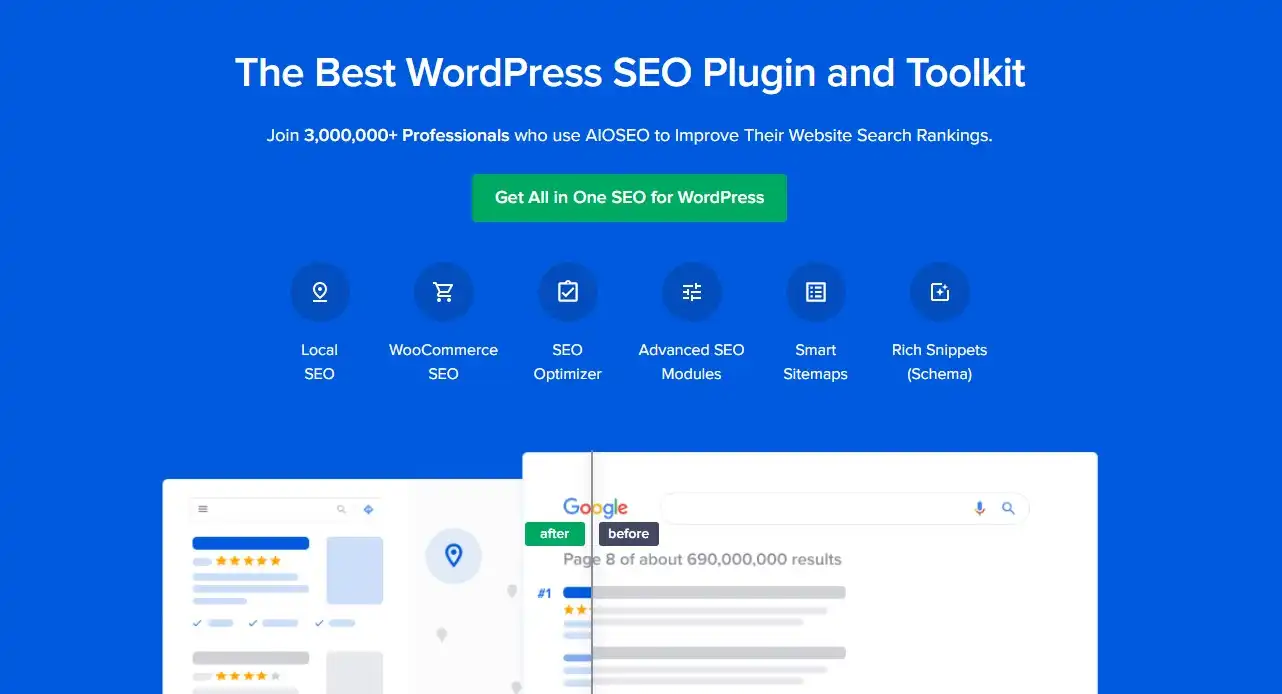 If you want to rank your store pages higher on search results, you must optimize your website pages for their target keywords. This is where you can use All-in-one SEO ( AIOSEO) plugin.
It is one of the best WooCommerce SEO plugins that provides everything you need to optimize your store pages to rank higher on Google and other search engines. It also creates rich snippets for your pages and generates an XML sitemap that you can submit to Google Search Console for faster indexing and ranking.
AIOSEO has a free version that you can download from the WordPress plugin directory. But to access its advanced features like multiple keyword optimization are available only with its premium version.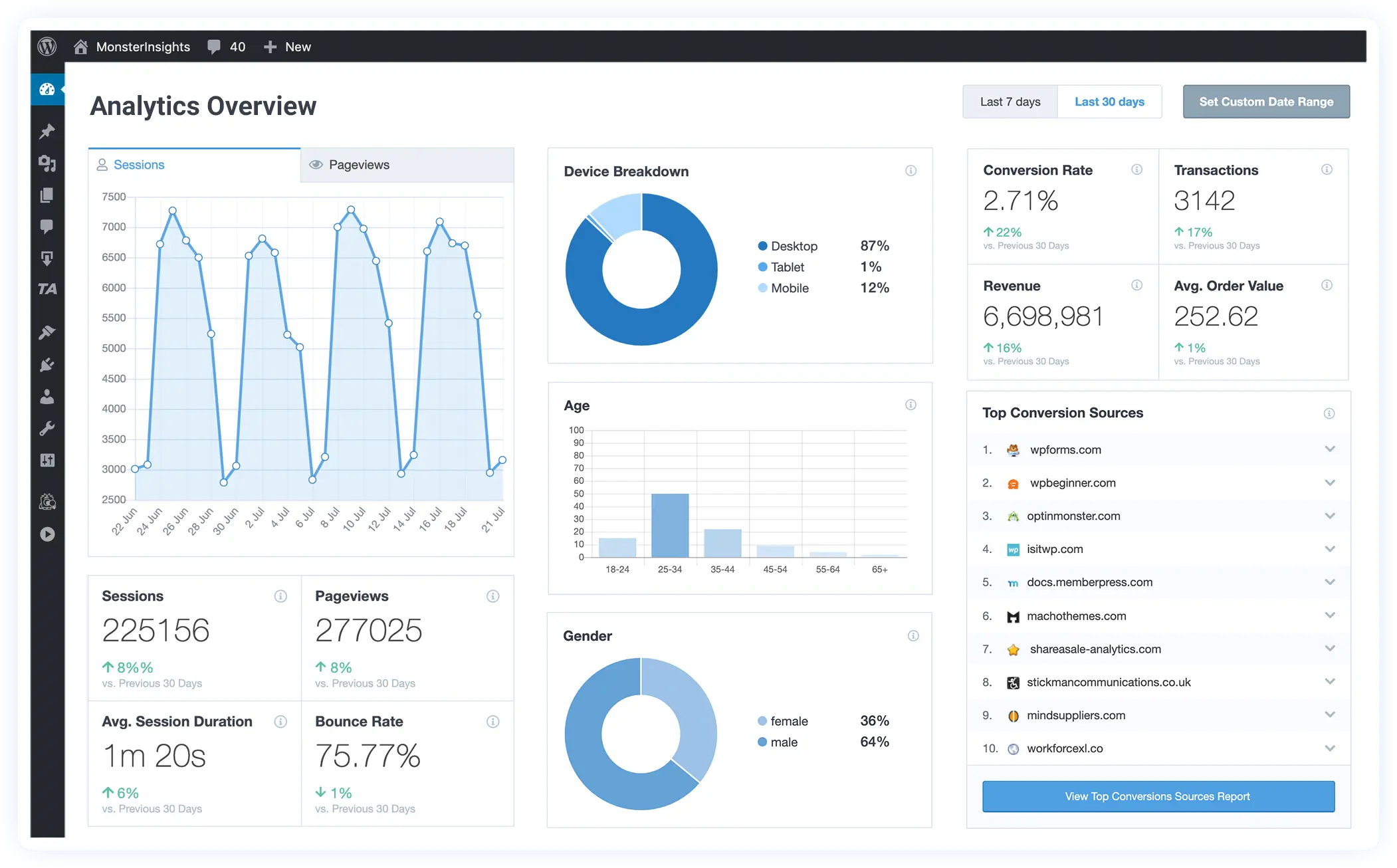 You can succeed in eCommerce business unless you track your website traffic and their behavior on your site accurately. MonsterInsights is one of the best WordPress analytics plugins with in-built eCommerce tracking features and WooCommerce compatibility.
It seamlessly integrates with your Google Analytics Account and configures it as per your need with a custom tracking feature to track important metrics and KPIs for your business. The best part is that it displays all your website traffic statistics on your WordPress dashboard in a beautiful visual format.
MonsterInsights has a free plugin but for enhanced eCommerce tracking, you will need its premium plugin, which starts at $99.50/year.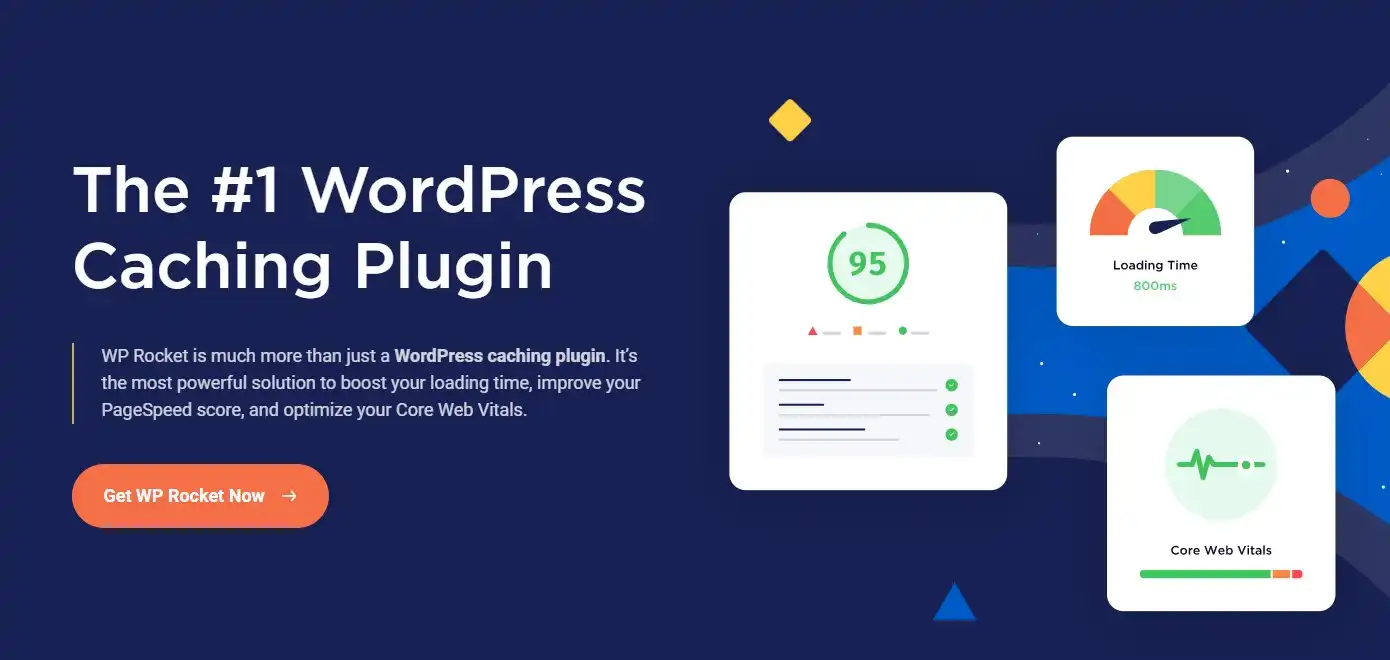 Since eCommerce websites are packed with high-quality product images, the website loading speed can be slower, resulting in a poor shopping experience and low conversion rates. This is where you can use WP Rocket.
WP Rocket is the best WordPress cache plugin that can help you improve the loading speed, and optimize overall Core Web Vitals for your website. Since web vitals are one of the crucial ranking factors for Google, it can significantly give a boost to your site rankings on SERPs.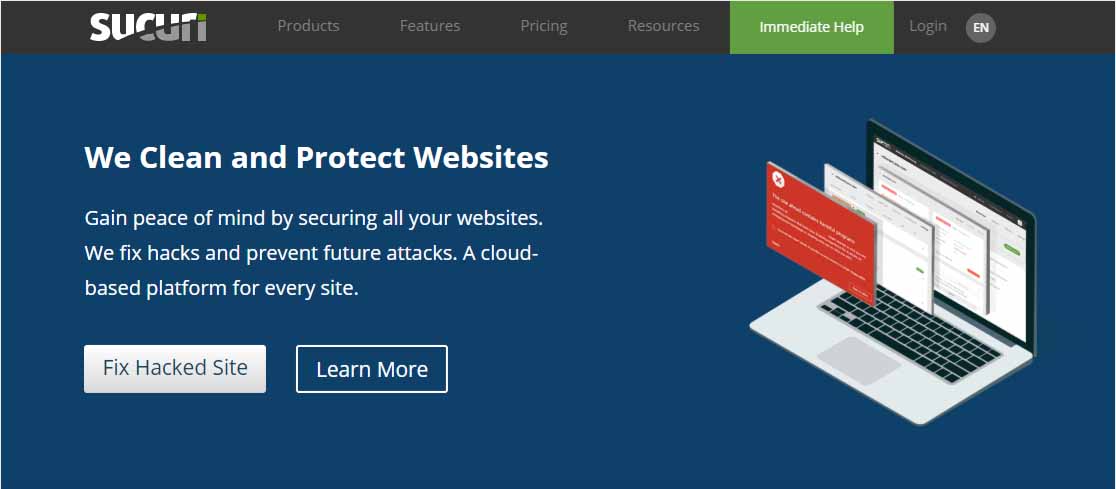 WooCommerce is an open-source eCommerce platform, which makes it highly prone to brute attacks and hacks. A good hosting service takes optimal security measures to protect your website, but you should rely entirely on them for your site's security.
Sucuri is one of the trusted WordPress security plugins that you can use to consistently scan your website and get malware removed quickly. It also provides a 24/7 security team whom you can reach out anytime to fix any security issues you discover yourself.
Wrapping Up
WooCommerce is one of the best eCommerce platforms for dropshipping. It comes with thousands of plugins and extensions that you can use to add functions and features to streamline your operations. This makes it an ideal platform for small businesses and beginners to start dropshipping at a minimal investment.
In this article, I walked you through some of the best WooCommerce dropshipping plugins that you can use to find quality products and reliable suppliers for your store. Additionally, I have also suggested a few other plugins that you may require to build and grow your dropshipping store.
I hope this article has been helpful in guiding you to the right dropshipping plugin for your needs. Here are a few hand-picked articles that you might want to read next –