Do you want to start a print-on-demand business on Shopify? If so, you're in the perfect spot. Keep reading!
Print on demand is a popular eCommerce business model that anyone can start without any upfront investments in inventory, machinery, or warehousing – you just need a website to showcase your products and take orders. Rest is managed entirely by a print-on-demand service provider.
This is where Shopify and Printful come into the picture. These two platform makes it super easy to set up a fully functional online store and outsource order fulfillment of printed products.
In this guide, we will walk you through every step of setting up a print-on-demand business on Shopify and share best practices and tips to grow it successfully.
Why Choose Shopify for Print-on-Demand Business?
There are numerous eCommerce platforms that support print-on-demand businesses, but Shopify is the best one because it offers numerous advantages that can significantly enhance your overall eCommerce experience. 
Here are some of the key advantages that come with Shopify –
Easy store setup: Shopify provides a user-friendly interface with a wide range of customizable templates and themes. You can quickly set up your online store without the need for extensive technical knowledge or coding skills.
Integration with POD apps: Shopify has a vast ecosystem of apps and integrations that specifically cater to print-on-demand businesses. These apps allow you to seamlessly connect your store to POD providers, making it effortless to offer a diverse range of customizable products.
Secure and reliable: Shopify takes care of security and hosting, ensuring your customers' data is protected, and your online store remains operational with minimal downtime.
Payment gateways: Shopify supports multiple payment gateways, giving your customers various options to complete their purchases securely and conveniently.
Marketing and SEO tools: Shopify provides built-in marketing and SEO tools to help you optimize your store for search engines, attract more traffic, and improve your overall online visibility.
Analytics and reporting: With Shopify's analytics tools, you can track your store's performance, monitor sales, and gain valuable insights into customer behavior. This data allows you to make informed decisions and refine your marketing strategies.
Overall, Shopify's comprehensive features and ease of use make it an excellent choice for entrepreneurs looking to start a print-on-demand business and succeed in the competitive e-commerce landscape.
8 Steps to Start a Shopify Print-On-Demand Business
So, if you are ready, let's start with setting up your online store on Shopify.
Step 1: Create Your Shopify Account
If you already have a Shopify account, feel free to skip this step. Otherwise, head over to Shopify.com to sign up for a free trial. During the signup process, you'll be prompted to provide some basic information, such as your domain name and email ID.
Once you've provided all the details, you'll be taken to your Shopify admin dashboard, from where you can create and manage your online store.
Before we move to the next step, you should set up a basic structure for your Shopify store. Here's a short checklist to get started –
Choose a theme: Shopify offers a diverse selection of professionally designed themes that can be easily customized to align with your brand's identity.
Customize the Store: Make your store unique by uploading your logo, selecting colors that resonate with your brand, and attractively organizing your content.
Create important pages: Add pages like About, Contact, Privacy Policy, and other crucial pages required by regulations.
Set up payment methods: A smooth checkout process with secure payment methods is crucial for a successful print-on-demand business. Shopify supports various payment gateways like PayPal and Stripe, making it easy to configure suitable options and start receiving payments without hassle.
You can also refer to our beginner's Shopify tutorial for a step-by-step guide to creating a fully functional store. 
Step2: Add a POD Provider
To set up a print-on-demand business, you will need a reliable supplier who can manage product manufacturing and order fulfillment on your behalf.
Fortunately, being a Shopify merchant, you have access to hundreds of print-on-demand apps. Among all, Printful is one of the best print-on-demand apps that have a range the products you can choose from.
It provides you with all the essential tools and services you need to create product designs and sell from your store. You can read our detailed Printful review to learn everything about its features and offerings.
For now, head over to the Printful website or click the button below to create your free account. 
After you complete the registration process, you will be taken to your Printful Admin Dashboard from where you can import your products and manage orders seamlessly.
Now, to connect your store with Printful, go to your Shopify admin to install the Printful app from the app store. Once you've installed the app, you'll be prompted to either log into your Printful account for integration.
Step 3: Choose Products to Sell
From T-shirts, hoodies, and mugs to home décor items, Printful has 400+ products that you can choose from to sell in your store.
However, you must do your own research to choose the right print-on-demand products to sell. Consider doing market research, trend analysis, and competitor research to make your product decision.
Once you have made your decision, head over to the Stores section from your Printful Dashboard & click the "Add Product" button, as shown below.

Next, you will be taken to Printful's product catalog from where you can select one product at a time to customize and import it to your store.
Step 4: Create Product Designs & Mockups
Once you find a product you wish to sell from your Shopify store, it's time to add a design that you want to be printed on that specific product.
Printful provides you with a free Design Maker tool that enables you to add design to your product and customize it as you want. You can add texts, or clipart, or choose one of their pre-designed graphics from the Quick Designs tab.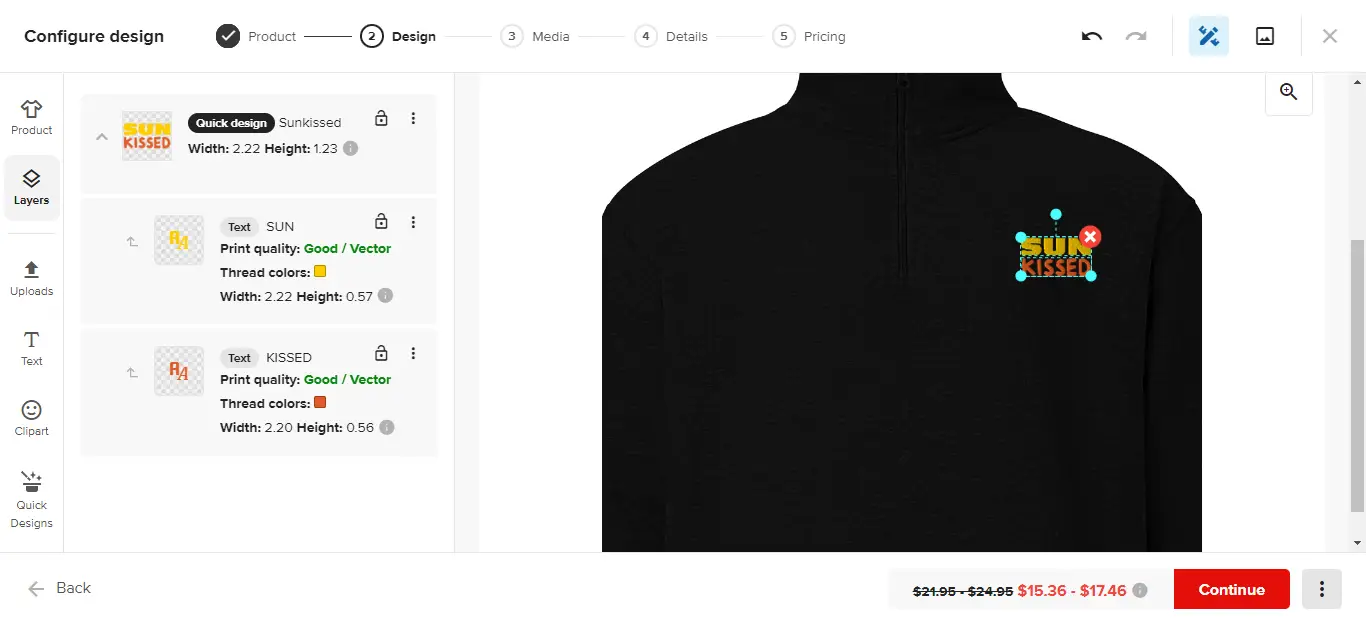 If you want to add your custom designs, Printful allows that too. To import your designs, go to the Uploads tab from the left sidebar and click on the Upload new file button to add your design.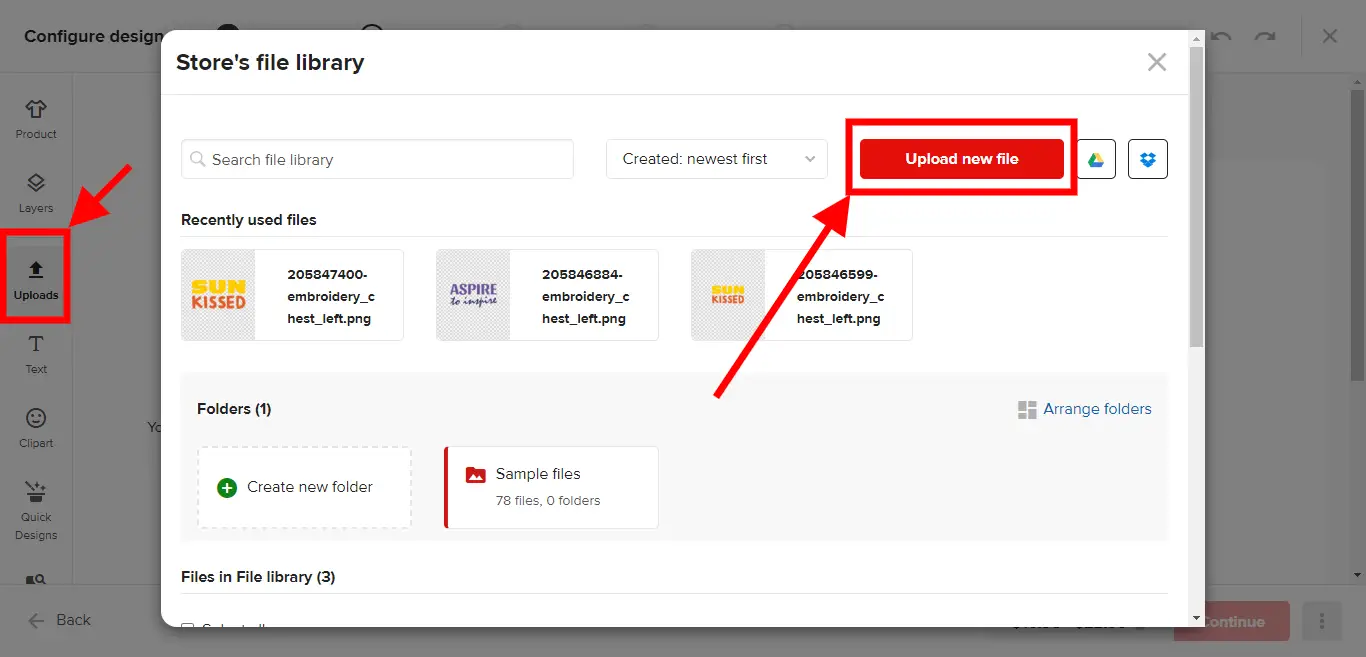 You can upload multiple designs and select the one you want to be printed. You can adjust the dimensions and placement of the graphics to ensure it is printed in the right way.
Once you finalize a design, click the Continue button to create your product mockups. You can either choose Basic mockups or create custom ones with creative backgrounds. Here's what a basic mockup would look like –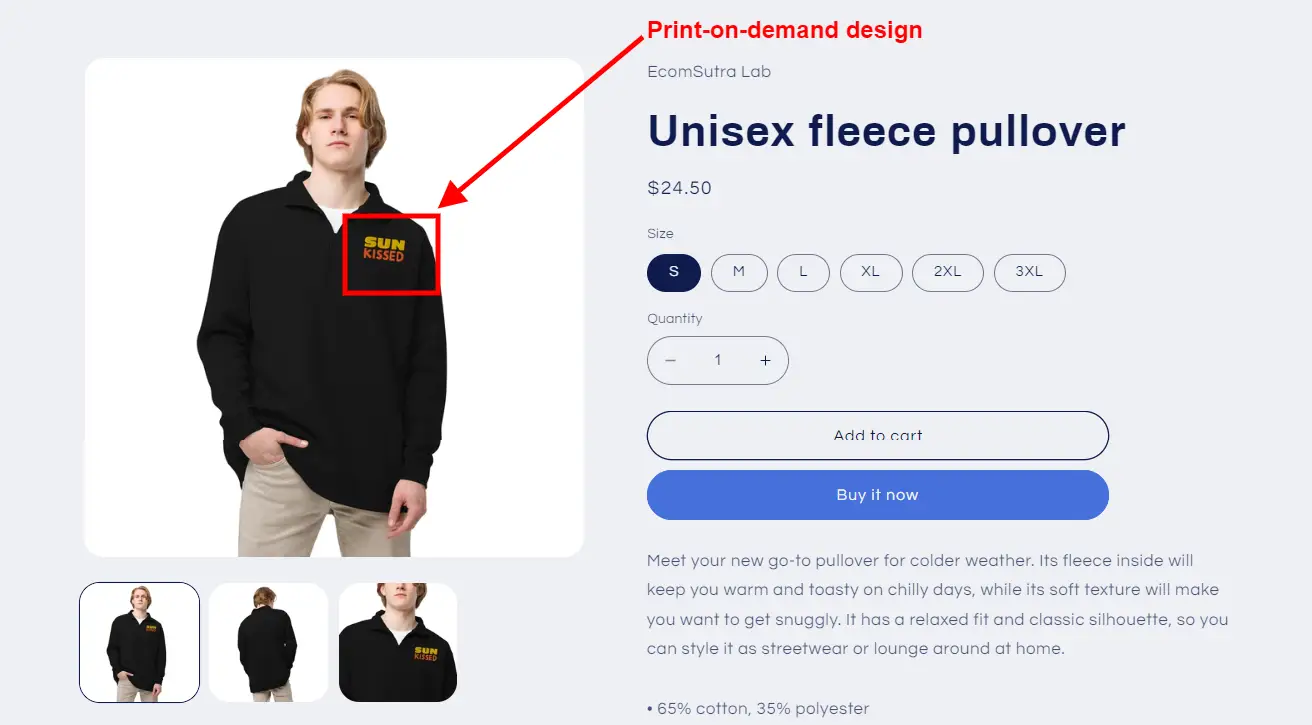 You need mockups for the product pages. So, make sure you choose the best ones that match your brand values and enhance the user experience.
Step 5: Add Products to Your Shopify Store
Next, Printful will prompt you to add or edit product details such as product titles, descriptions, and more. However, you don't necessarily have to edit the details right there. You can update these details from your Shopify admin as well.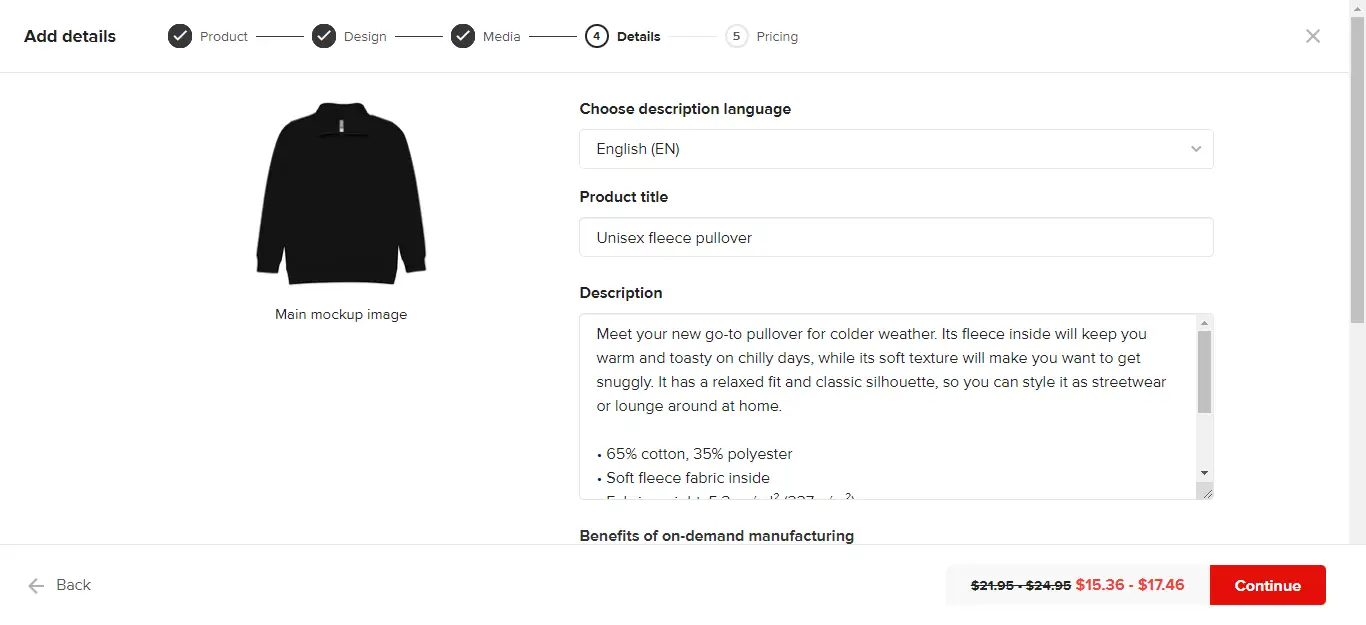 Next, click the Continue button and set the retail price of your products.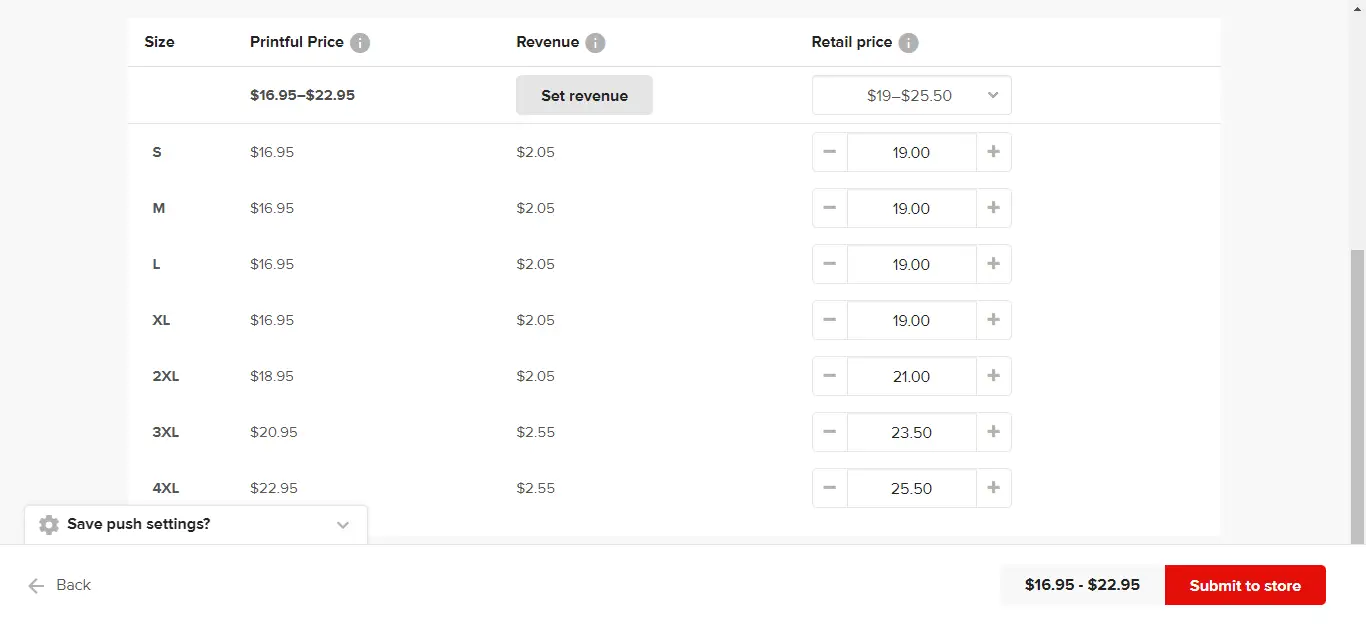 While pricing your products, make sure that you consider other expenses such as marketing, shipping, taxes, etc., so that you can book a higher profit margin.
Once you have updated all the product details, click the "Submit to store" button to import the products directly to your Shopify store. Afterward, head over to your Shopify admin and go to Products to view all the imported products and manage product details.
Step 6: Optimize your Store Pages
Now, that you have products on your Shopify store, we recommend taking some time to optimize your store pages for a better shopping experience which can lead to higher conversions and increased sales.
Supercharge Your Product Pages – Product pages are the heart of your online store – customers make their purchasing decisions on these pages. So, spend quality time optimizing your product pages by providing clear and enticing product descriptions, captivating images, and easy-to-navigate layouts.
Elevate Your Category Pages – Organize your products into well-defined categories, making it effortless for customers to browse and find exactly what they're looking for. Streamlined category pages enhance the overall shopping experience, encouraging visitors to explore more and fill up their shopping carts.
Offer Seamless Checkout Experience – A smooth and hassle-free checkout process is crucial for securing conversions. So, optimize your checkout pages to eliminate any roadblocks or distractions that might deter customers from completing their purchases.
Although Shopify's theme editor enables you to easily customize the pages, you can use Shopify page builder apps like GemPages to create more visually appealing pages for higher conversion rates. Moreover, it comes with various page templates that allow you to create new pages with ease without any hassle.
Step 7: Launch Your Store
Now, your Shopify print-on-demand store is ready to go live. However, before you launch it, we recommend you –
Order product samples – Ask your POD provider to send some product samples to check product quality. Printful allows you to place a sample order at a 20% discount, so make sure you utilize it.
Test the order process – Do a test run for your store by placing an order to check if the payment gateway is working fine and the order is synced to Printful.
Test for mobile responsiveness – To provide an excellent shopping experience to your customers, you want to ensure that the store pages are responsive on mobile devices.
And, ask your friends, family, and colleagues to try your Shopify store and share their feedback.
Once you are convinced with your store functionalities, choose your preferred Shopify pricing plan, add payment details, and make your store live for the public.
Step 8: Drive traffic to your POD Store
Congratulations, your Shopify store is now ready to take orders!
But to drive traffic to your store website and take orders, you need to work on an effective marketing strategy to promote your products among your target audience.
Here are some proven strategies to rev up your store's visibility to attract customers and generate sales –
Optimize for Search Engines: Keywords are your best friends in the digital realm. Research high-ranking, relevant keywords, and seamlessly weave them into your product titles, descriptions, and blog posts. This ensures your store appears prominently in search engine results, giving you an edge over competitors.
Leverage Social Media Marketing: Leverage the power of social platforms to reach a wider audience and showcase your products. Create eye-catching visuals, post consistently, and interact with your audience. Each 'like' and 'share' acts as a gateway for potential customers to explore your store.
Collaborate with Influencers: Partner with influencers like content creators, bloggers, and YouTubers to endorse your store to their followers. Seek influencers whose values align with your brand for authentic promotion.
Run Email Marketing Campaigns: Build an email list of interested customers and keep them in the loop with newsletters and promotions. A well-timed email can drive traffic to your latest product launches or limited-time offers.
Invest in PPC Campaigns: Invest in PPC advertising campaigns, such as Google Ads or Facebook Ads, to display your store to users actively searching for similar products. With careful targeting, you can maximize your ad spend for optimal results.
Host Giveaways & Contests: Team up with complementary brands for giveaways or contests. This cross-promotion can introduce your store to a fresh set of eyes and incentivize potential customers to explore your offerings.
By implementing these tactics, you'll pave the way for a steady influx of visitors to your Shopify store and generate more sales. Here are a few guides that you might find helpful to get started –
Ready to Start Your Print On Demand Business with Shopify?
Shopify is a top-rated platform to start a print-on-demand business. Its user-friendly interface and direct integration with Printful and other POD service providers make it easier for anyone to set up their shop online. And, by following this step-by-step guide, I hope you've also learned how to set up your online store and integrate Printful.
However, that's not enough, you will need more apps to manage your Shopify store seamlessly and grow it to new heights. So, check out our list of the must-have Shopify apps for some of our top recommendations in different categories.
The print-on-demand market offers a vast array of opportunities which also makes it a highly competitive market. So, invest in creative designs and explore various products to keep customers interested in your brand. And, finally, when your store is ready, follow our Shopify launch checklist to ensure everything works fine before going live.
Shopify Print on Demand Business FAQs
How much does it cost to start a print-on-demand business on Shopify?

The cost to start a print-on-demand business on Shopify includes expenses such as Shopify's monthly subscription fee (starting at $39/month), design tools (if you're creating your own designs), and any marketing costs.

Rest, you don't have to pay for product manufacturing and fulfillment until a customer places orders. So, you can start a print-on-demand business on Shopify for as low as $39/month. And, you can also check Shopify latest offers for better deals.

Do I need coding skills to start a print-on-demand business?

While coding and design skills are helpful, they are not mandatory. You can hire a freelancer to help you with it or simply use visual page builder apps to create high-converting store pages without coding. Moreover, it comes with various page templates, so you don't have to design the pages from scratch.

How are orders fulfilled in a print-on-demand business?

When a customer places an order on your Shopify store, the order details are automatically sent to your chosen print-on-demand provider. They will then print, pack, and ship the product directly to the customer on your behalf.

Can I customize the products beyond just design?

Yes, many print-on-demand providers like Printful offer a range of customizable options, such as different product colors, sizes, materials, and more. You can often personalize aspects like text and images to create unique products.

Can I integrate my print-on-demand store with other sales channels?

Yes, Shopify allows you to integrate your print-on-demand store with various sales channels, such as social media platforms, Amazon, eBay, and more. This can help you reach a wider audience and increase sales.

What happens if a customer receives a damaged or incorrect product?

In such cases, work closely with your print-on-demand provider to ensure that issues are resolved promptly. Having a clear return and exchange policy helps manage these situations effectively.