The digital landscape is continually evolving, and so too is the world of eCommerce. With the advent of ChatGPT, eCommerce enterprises are tapping into the transformative power of generative AI to enhance online operations, making them more cost-effective, scalable, and sustainable.
From store designing, marketing, and customer service to inventory and order management, you can deploy AI tools in every aspect of your eCommerce business to enhance your business efficiency and provide an excellent shopping experience to your customers.
In this article, we will be unveiling some of the most remarkable AI tools for eCommerce, designed to supercharge your business by crafting personalized customer experiences, offering intelligent product recommendations, and adding substantial value to your customer's buying journey.
So, without further delay, let's dive right in.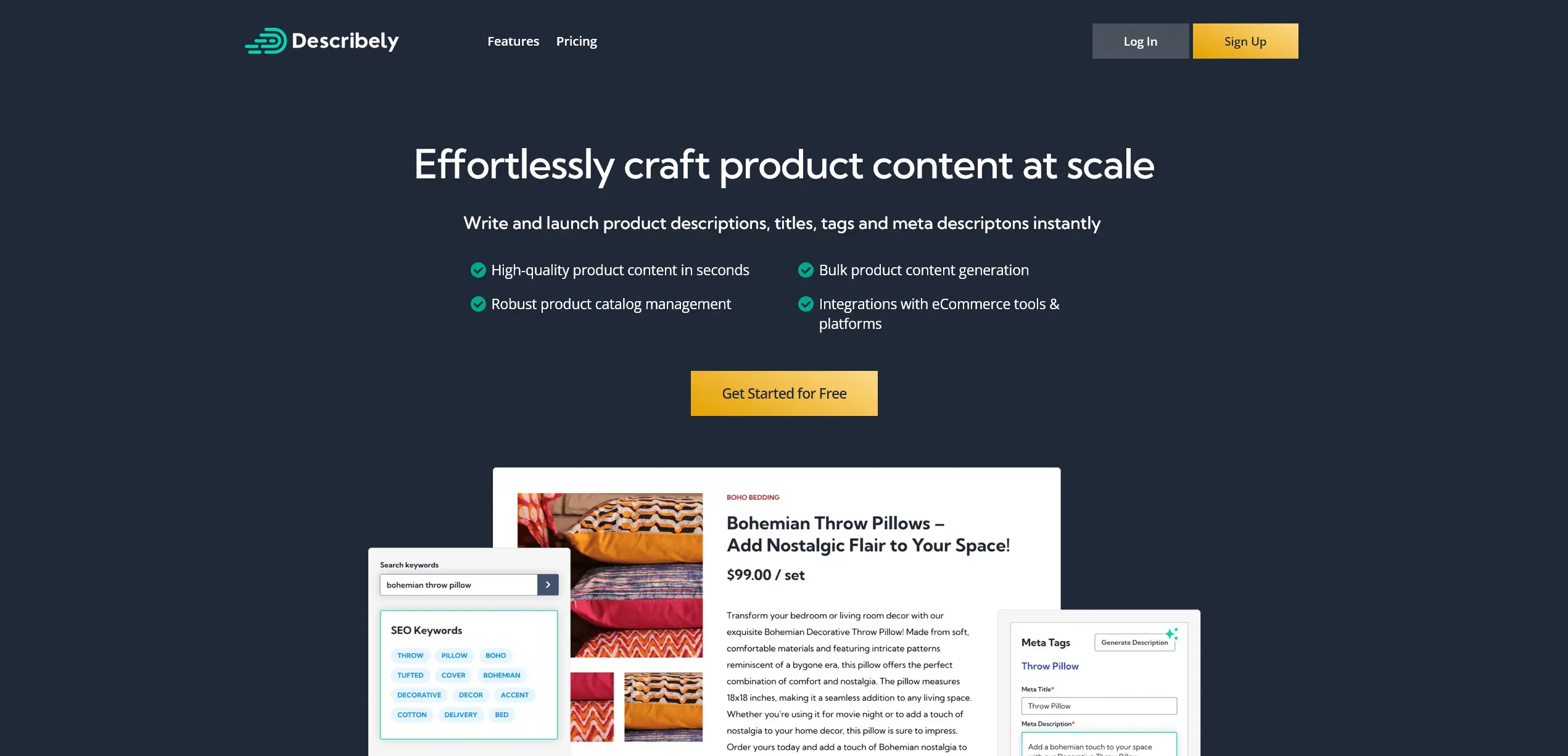 When it comes to eCommerce websites, product pages play a vital role in driving traffic and sales. And, content is a cornerstone for ensuring the pages rank well on search engines.
This is where you Describely comes into the picture. It is a powerful AI copywriting tool designed to help eCommerce businesses create high-quality product copy within seconds.
With Describely, you can effortlessly generate product titles, descriptions, tags, and meta descriptions for your entire product catalog with its bulk content generation tool.
The best part is that it has direct integration with Shopify, WooCommerce, and other eCommerce platforms, allowing you to update the content in real-time, without copying and pasting.
Key Features –
User-friendly interface, no prior copywriting experience needed
Update product content in real-time
Built-in SEO optimization tools
Unlimited Plagiarism Checks
Seamless integration with eCommerce platforms like Shopify, WooCommerce and others.
Pricing Plans – Describely has a free plan that allows you to generate content for up to 5 products, and the paid plan starts at $90/year, allowing unlimited copy generation and access to all its features.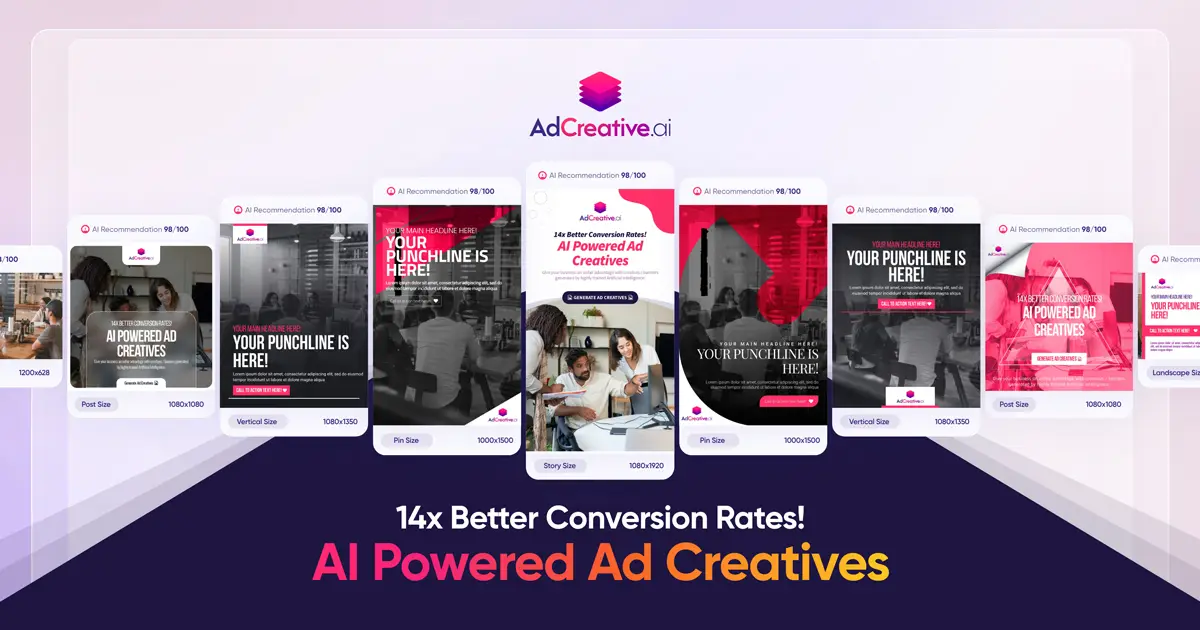 Advertising plays a crucial role in elevating the online presence of your eCommerce venture. AdCreative.ai simplifies the creation of ad creatives, a task often considered complex. Savvy marketers understand that to optimize PPC campaigns, testing multiple versions is essential to find what resonates best with the audience.
AdCreative.ai streamlines this process, enabling instant generation of creatives, headlines, text, and social posts for high-volume A/B testing. Designing your catalog becomes a breeze with easy steps, saving both time and money, whether you have one product or a vast inventory.
Simply provide professional images of your products, upload them to the tool, and swiftly receive custom designs tailored to your product type. No need for a graphic designer or prolonged wait times.
Key Features –
Generate conversion-focused ad creatives that sell
Supports creatives of all size requirements and advertising platforms
Detailed insights into the performance of every creative
Unlimited Free Stock Images
Seamless integration with Facebook Ads, Google Ads, and other advertising platforms
Pricing Plans – AdCreative.ai gives you 10 free credits that you can use to download creatives created on the platform. The paid plan starts at $29/month with 10 monthly credits.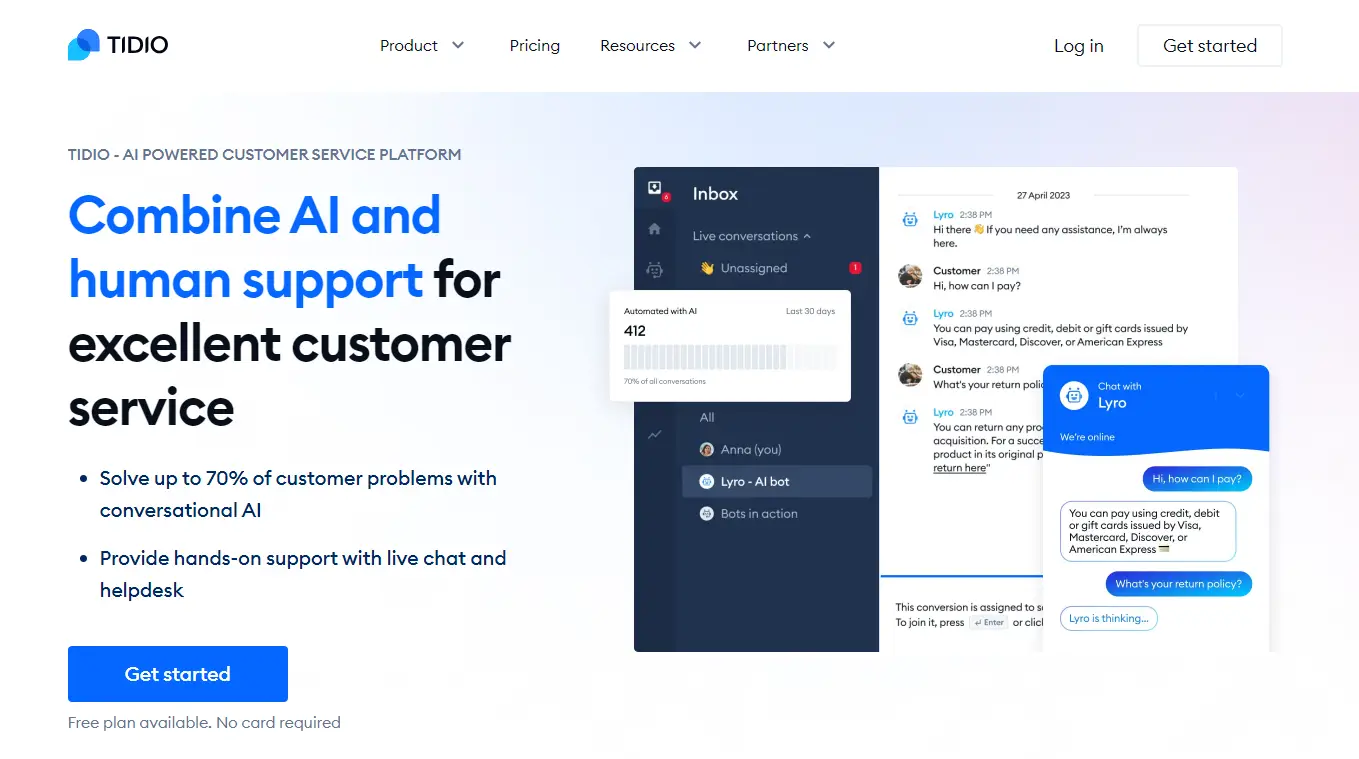 Customer service is an integral and unavoidable part of successful eCommerce businesses. Tidio is a popular eCommerce customer service software that provides both live chat and chatbots, packed with a range of AI-powered features designed to efficiently manage customer support processes and elevate the overall shopping experience for your customers.
Tidio offers Lyro, an AI response bot that can respond to customers for some of the common queries based on your FAQs and knowledge base content. It has the potential to answer up to 70% of customer questions and provide personalized support, saving you a lot of time and expenses on support staff.
Beyond this, you can also create custom chatbots for different stages of the customer journey to engage with customers and boost your sales. For instance, you can create chatbots for abandoned cart recovery, post-purchase upselling, etc.
You can read our detailed Tidio review to learn more about its features and functionalities that you can leverage for your eCommerce business.
Key Features –
Easy to set up and beginner-friendly user interface
Provides response suggestions to live agents for quick response time
Delivers human-like personalized responses
Allows managing customer support from multiple channels
Stay connected from anywhere via mobile apps
Seamless integration with popular eCommerce platforms
Pricing Plans – Tidio has a free plan that gives you access to all its features. However, for AI-powered features, you will have to subscribe to Lyro, an addon, costing $39/month.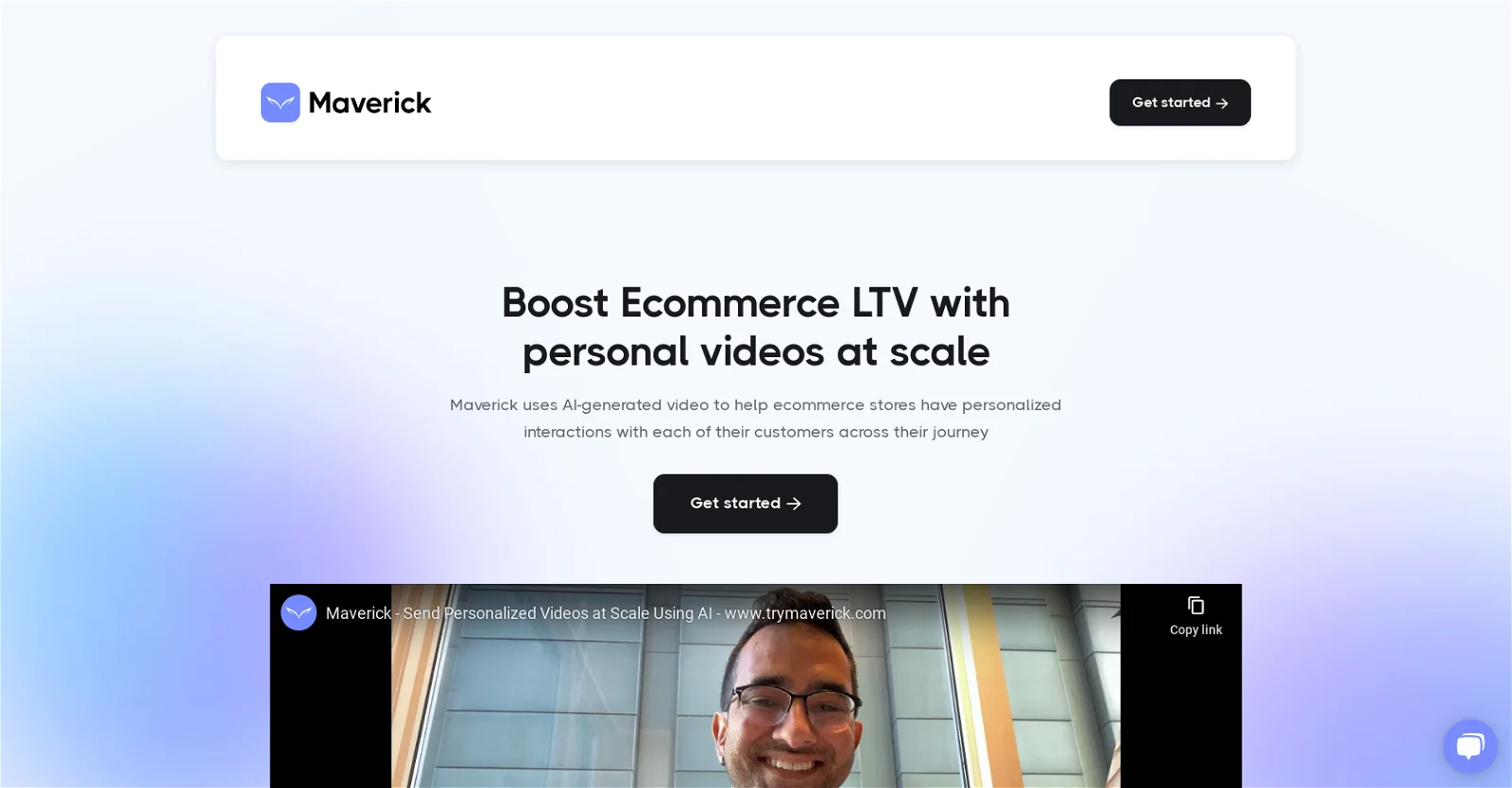 If you've ever yearned to send a personalized welcoming or gratitude video to your customers, Maverick might be the perfect solution for you. It is an eCommerce AI tool that enables you to send personalized videos and emails to your customers.
With Maverick, you just have to record a video with your desired message, and it will personalize the message for every recipient. You can even record multiple videos for different stages of the customer journey (for instance, a thank you video or an abandoned cart video) to delight customers with personal video messages and boost your sales.
The process is straightforward: record your video, add a script, and let Maverick take care of the rest.
Key Features –
Pre-built scripts and templates
Branded video landing pages
Deliver videos via personalized emails and text messages
Provides detailed analytics reporting on video performances
Seamless integration with CRM and email marketing tools
Pricing Plans – Maverick has two pricing plans based on monthly video send limits. The Starter plan costs $100/month for up to 1,000 monthly video sends.
No list of best eCommerce AI tools would be complete without mentioning ChatGPT, a tool that has elevated the concept of generative artificial intelligence to new heights.
Generative AI tools like ChatGPT prove invaluable for enhancing the online visibility of eCommerce stores. It enables you to generate SEO-optimized product descriptions, page titles, and various other content formats within seconds.
In eCommerce, you can use ChatGPT for,
Creating product descriptions
Generating SEO titles
Generating Product FAQs
Write email copies
Response to customers' reviews
And much more…
ChatGPT emerges as a potent addition to the roster of eCommerce AI tools thanks to its ability to engage in natural language interactions, provide creative writing prompts, and, notably, handle both text and images. Noteworthy is the AI model's training methodology, which leverages Reinforcement Learning from Human Feedback (RLHF).
Key Features –
Responsive to natural language queries
Proficient conversational abilities
Ideal for brainstorming creative ideas
Generates creative writing prompts
ChatGPT 4 possesses the capability to process both text and images.
Pricing Plans – ChatGPT is free to use with access to the GPT 3.5 version. The paid plan costs $20/month, with access to the GPT 4 version and other advanced features.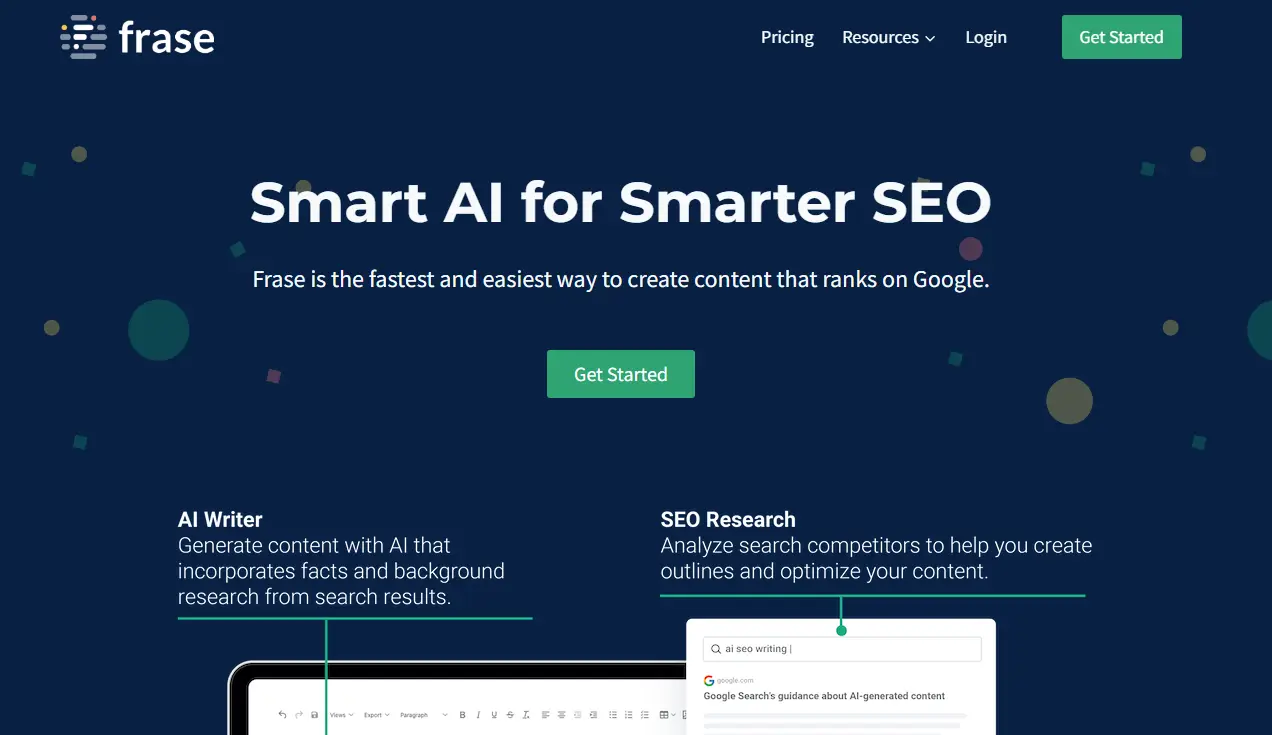 Frase.io is another AI tool for content creation tool that can help you generate high-quality, SEO-optimized content that can boost your eCommerce website's organic traffic and visibility on search result pages.
It analyzes top-ranking pages on Google for the given topic and provides you with useful insights such as word counts, headings, target keywords, etc., that you can utilize to produce optimized full-length articles.
Frase.io provides a clean user interface where you can research your topics, create content, and optimize it to outrank your competitors' pages on SERPs.
Key Features –
Generate content enriched with facts and background research
Analyze SEO competitors' content in the research panel
View key SERP metrics like word count, domain rating, and heading count for competitor sites
Provides intuitive Outline Builder to create blog outline
Compare your content's keywords with your top competitors.
Pricing Plans – Frase.io offers a convenient 5-day trial for just $1, and the paid plan starts at $14.99/month, giving you access to all its features and allowing up to 4 articles/month.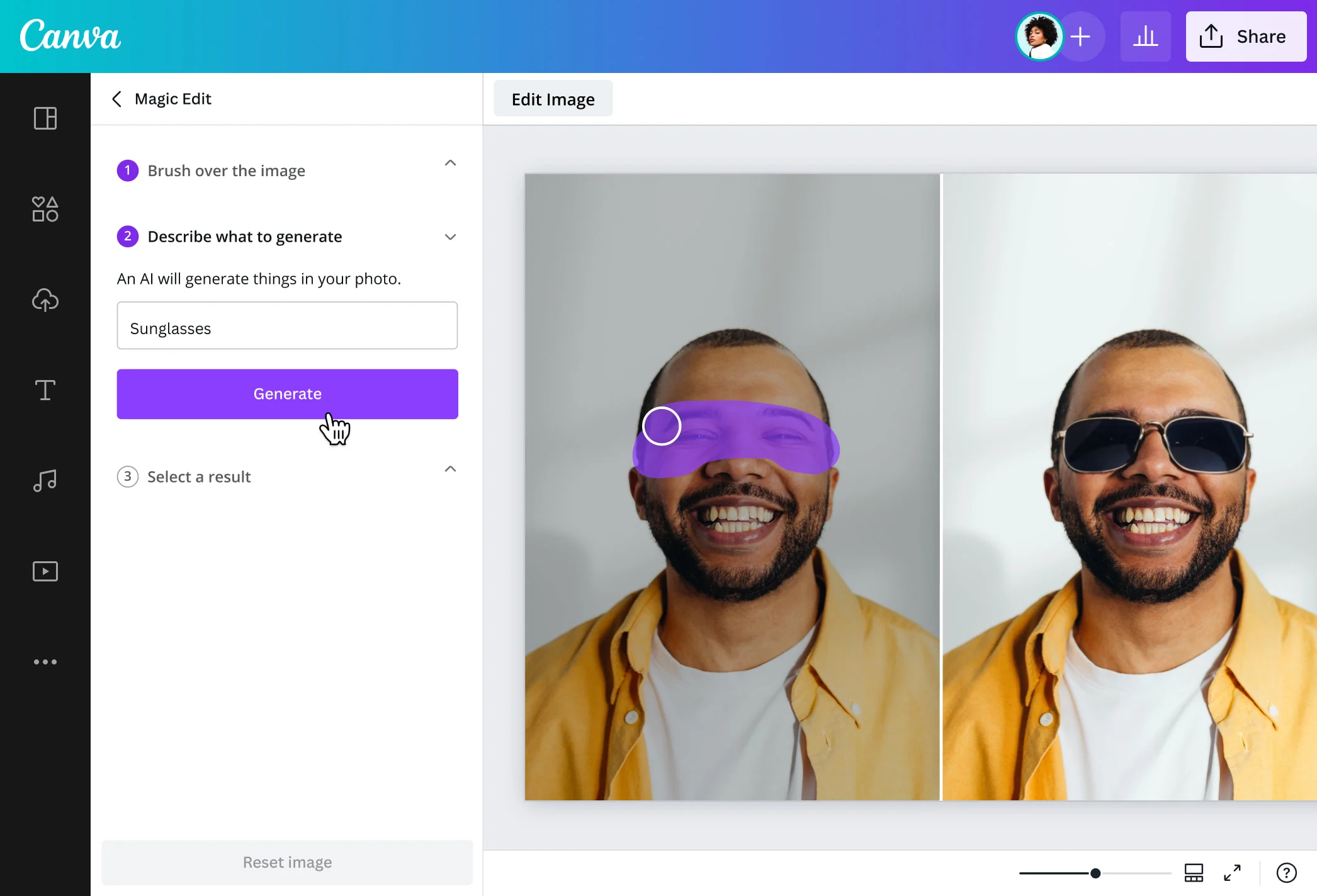 Canva stands as a potent graphic design platform, now enhanced with AI-powered photo editing tools, enabling you to effortlessly create a wide array of content, from social media posts and videos to presentations, brochures, drawings, and more.
Canva comes with an extensive selection of pre-designed templates, which you can easily customize using its intuitive drag-and-drop editor. Moreover, it gives you access to tons of stock images, which you can use for free.
Canva's new AI design tool, Magic Design, empowers you to generate custom design templates based on your text prompts, which you can customize further. It also provides AI-powered tools to easily remove images, generate images from text, and more.
Key Features –
The abundance of customizable pre-made templates
Easy to use drag-and-drop editor
Various editing and styling options for customization
Easily remove clutters from your photos with Magic Edit
Generate new images with the Text to Image tool
Generate custom templates using Magic designs
Access to free stock images and videos
Pricing Plans – Canva is free to use with limited access to stock images and AI-powered tools. The paid plan starts at just $14.99/month, giving you access to everything.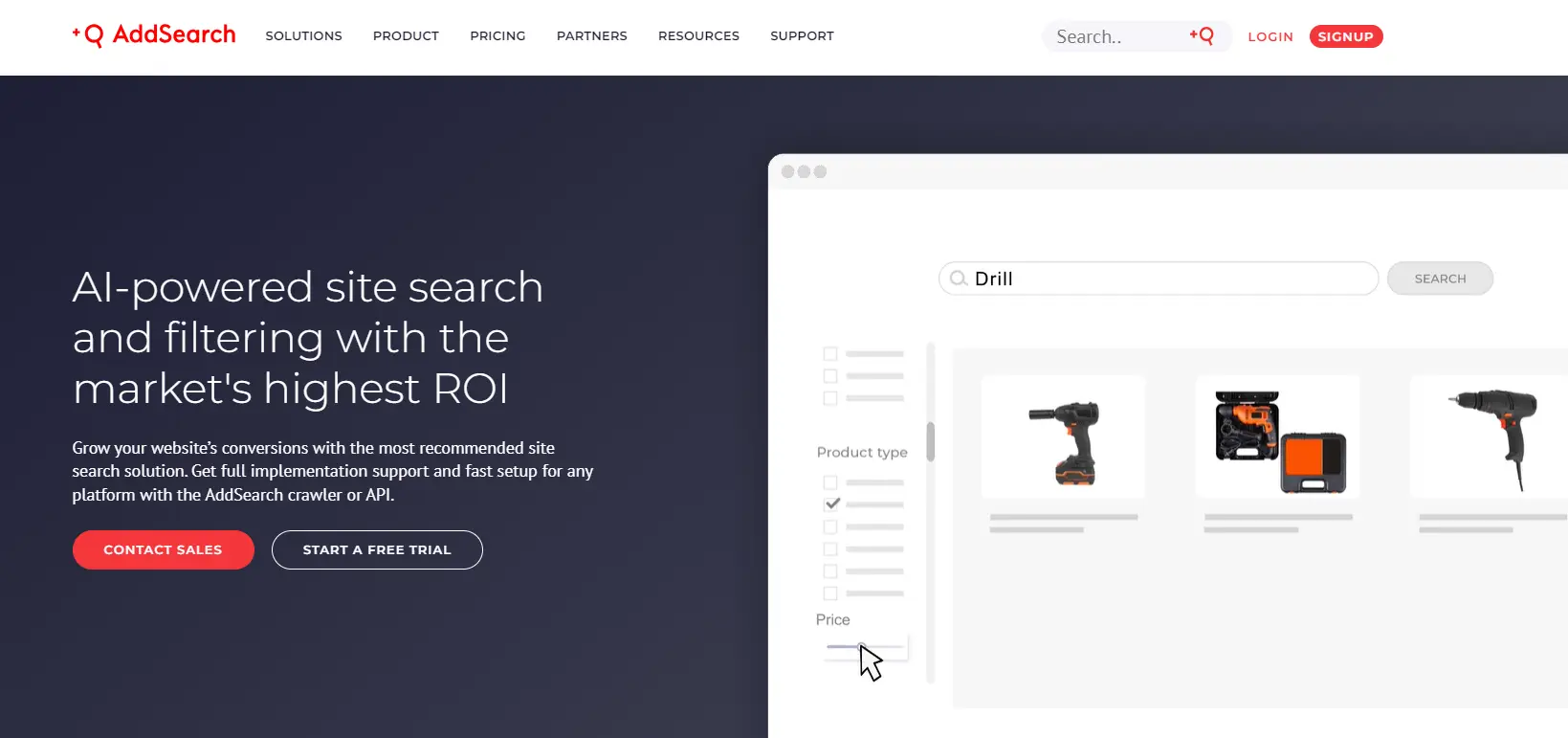 AddSearch is a versatile search tool that enables you to add powerful AI-powered on-site search engine to your eCommerce websites and mobile apps. It enhances the search experience for your customers by delivering accurate search results for entered keywords.
Using this tool, you can provide Google-like search suggestions, which helps customers easily find the products they are looking for and enhances the shopping experience for customers, resulting to higher conversion rate and sales for your store.
Notable features of AddSearch include real-time reporting of website visitors, multilingual support, mobile capabilities, and unlimited access to your analytics history. It offers a swift setup for various platforms and comprehensive implementation support using the AddSearch web crawler or API.
Key Features –
User-friendly design and search capabilities.
Easily implementation process
Display relevant search results based on user history and intent.
Maintain control over content and search result order for an enhanced user experience
Provides advanced analytics reporting on search performance
Provides extensive documentation for precise guidance on integration
Pricing Plans – AddSearch offers a 14-day free trial with access to all its features and the paid plans start at $99/month if paid annually.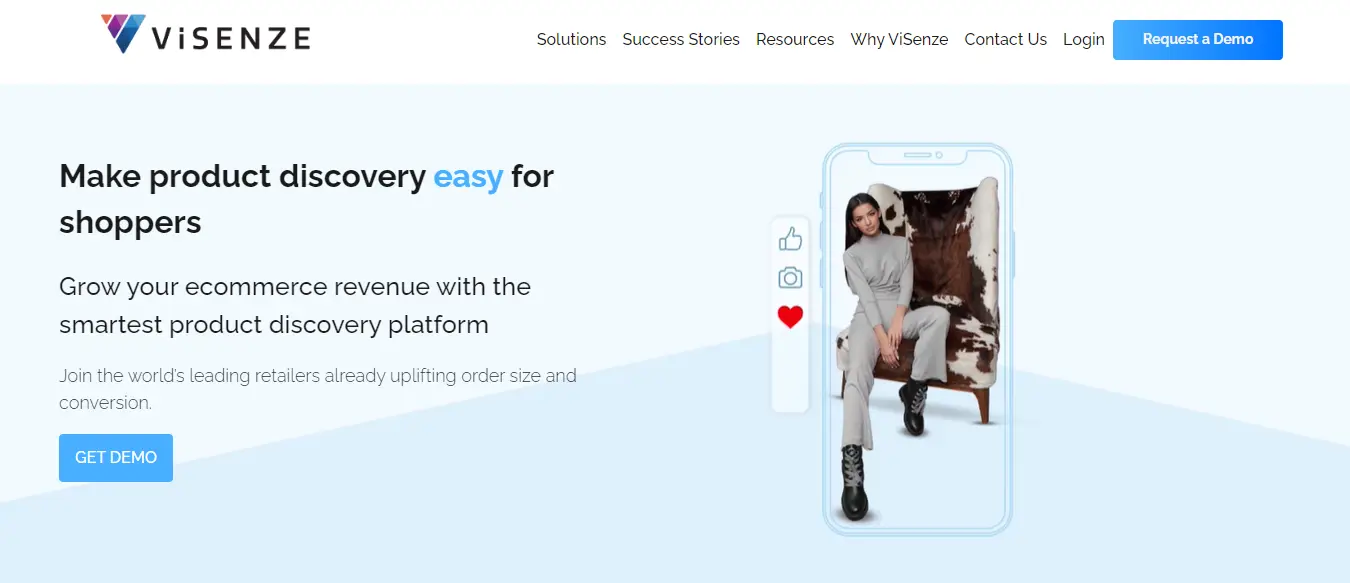 ViSENZE is another AI software that simplifies product discovery for online shoppers on your website by adding advanced search features on your site. This software helps you optimize your product catalog with accurate tags to improve the performance of your product search engine.
Using this app, you can also allow your customers to search for products using a photo, saved image, or screenshot. In short, you can add an image search engine to your store.
It leverages machine learning to provide smart product recommendations based on what shoppers are seeing and their behavior, resulting in increased customer satisfaction, average order value, and overall revenue.
It also provides you insights into customer shopping preferences, and upcoming trends based on their search and browsing behavior, which you can leverage to optimize your website, manage inventory, and update recommendations for more sales and conversions.
Key Features –
Add an image search engine to your online store
Improve product tagging for better search visibility
Provide real-time personalized product recommendations for all visitors
Detailed insights into product performance and customer behavior
Seamless integration with Shopify, BigCommerce, and other major eCommerce platforms
Pricing Plans – ViSENZE provides custom pricing based on your requirements and business scale.
The final addition to our list of eCommerce AI tools is Prisync, a dependable ally for elevating your sales and profits. It provides real-time data on your competitor's prices, stock availability, and other relevant data on a single dashboard.
It enables you to add dynamic product pricing rules to automate the pricing management, which allows you to book a higher profit margin. Most importantly, it relieves you of manual price adjustments and saves you time to focus on other important aspects of the business.
Thanks to its agile system and comprehensive suite of services, Prisync can help you take your eCommerce business to the next level using advanced technologies that you might not find elsewhere.
Key Features –
Utilizes distributed technology to manage prices, profits, and competitive positioning effectively.
Allows batch data import for large product catalog stores
Tracks and monitors pricing worldwide in different currencies
Utilizes undetectable bots that remain under the radar of your competitors.
Provides detailed analytics reporting on price history, product performance, and more
Pricing Plans – Prisync offers a free 14-day trial for all its paid plans, starting at $99/month and going up to $399/month with access to advanced features and unlimited competitor tracking.
Wrapping Up
The world of eCommerce is undergoing a transformative revolution, driven by the integration of AI software tools. These advanced technologies are empowering eCommerce businesses to optimize their operations, enhance customer experiences, and ultimately, drive revenue growth.
From AI-powered content generation tools like Describely and Frase to Tidio's AI-powered customer service and Maverick's personalized video messaging, there is a wide array of AI tools for different eCommerce use cases.
Today, customers increasingly seek personalized and convenient shopping experiences, which you can deliver efficiently only with the proper implementation of AI tools. However, before embracing these AI tools, you must understand how AI will shape your eCommerce business and take a strategic approach to its implementation.
I hope this article gave you an overview of some of the popular AI tools used in the eCommerce landscape. If we have missed a tool that you think should be listed here, feel free to drop us a message and we will take it into consideration.