Want to start an eCommerce loyalty reward program for your store? Are you looking for the best loyalty software for your eCommerce business?
Loyalty programs motivate your existing customers to constantly return to your store to shop more and earn more rewards. It also helps build trust and credibility for your brand, and as a result, you get loyal advocates for your brand.
In order to reap its full benefit, you need to design a loyalty program that is exclusively made for your customers. The process of gaining loyalty points, and redemption must be simple to the core.
And, to help you start such a loyalty program for your store, I have selected some of the best eCommerce loyalty software that you can use to create an engaging loyalty reward program for your store.
Ready to dive in? Let's get started.
1. Stamped.io – Best Ecommerce Loyalty Software
Stamped.io is one of the best eCommerce loyalty software that boosts your store conversions by implementing attractive loyalty rewards programs. 
Types of loyalty programs offered by Stamped.io –
Point-based with rewarding systems.
VIP Tier programs
With a point-based program, you can reward your customers with points for taking actions like signing up for the program, making purchases, and social sharing. The best part is that it allows you to automatically reward your customers on special occasions like birthdays.
Once customers earn sufficient points, they can redeem their points in exchange for attractive offers and discounts like –
Percentage discount
Dollar discount
Free products
Free shipping
Next, with VIP-based loyalty programs, you can nudge your customers to take a step ahead as they can enjoy premium and exclusive benefits on reaching new tiers.
Besides the loyalty program, Stamped.io also enables you to set up a referral program, allowing existing customers to refer new customers to the store and earn attractive rewards in exchange. You can read our detailed Stamped.io review to know more about it.
Key Features –
It integrates seamlessly with popular eCommerce platforms like Shopify, WooCommerce, BigCommerce, etc.
It provides a dedicated rewards page to introduce your rewards program to customers.
It is mobile-optimized and 100% responsive.
It is multilingual, available in English, French, German, and 15+ languages
It seamlessly integrates with Facebook Ads, Omnisend, Gorgias, and various sales and marketing tools.
2. Growave – eCommerce Loyalty App for Shopify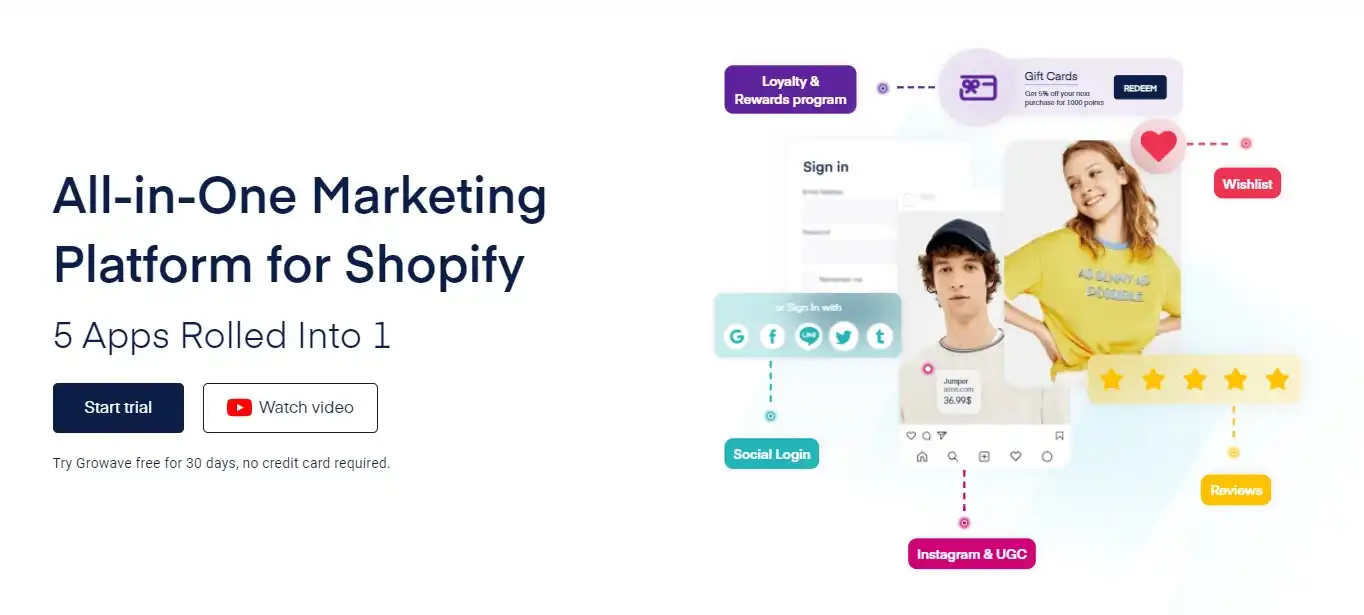 Growave is the best loyalty program app for Shopify stores. It is in fact an all-in-one marketing platform that gears up your Shopify store with loyalty reward programs, wishlists, social login, and product review features.
It enables you to create an attractive loyalty program that allows you to reward your customers for a variety of actions they perform in your eCommerce store. Creating an account, writing product reviews, sharing your store on social media, and following you on different platforms are some of the potential activities for which you can reward points to customers.
Types of Loyalty Programs offered by Growave –
Point-based with multiple rewarding systems
VIP-based loyalty program
You can allow your loyal shoppers to redeem their reward points in any of the following forms –
Gift cards
Free products
In-store cash/dollars/
Sweet percentage discounts
Set up flexible discounts that allow your customers to redeem the exact number of points you wish.
When it comes to VIP-based loyalty programs, you have the freedom to create as many tiers as you want. Growave lets you set up criteria for your customers to reach the next level and reward them with cash, discounts, free shipping charges, etc.
An added advantage is that you can quickly convert the points and redeem the discounts availed by your customers with the help of Shopify POS integration. With this, you can easily turn the hard-earned points of customers into conversions for your eCommerce store.
Want to know more about it? Read our in-depth Growave review for more details.
Key Features –
It enables you to send personalized emails to your customers regarding the loyalty programs you can engage with.
It allows you to send dynamic reminders that make your existing customers enroll in any loyalty program, redeem points, etc., which contributes to high customer engagement.
It provides in-depth analytics on the performance of your loyalty program, which helps in optimizing your conversion rates.
It offers complete control to customization as you can design mesmerizing loyalty programs that enhance your store's branding.
3. Smile.io – Robust eCommerce Loyalty Software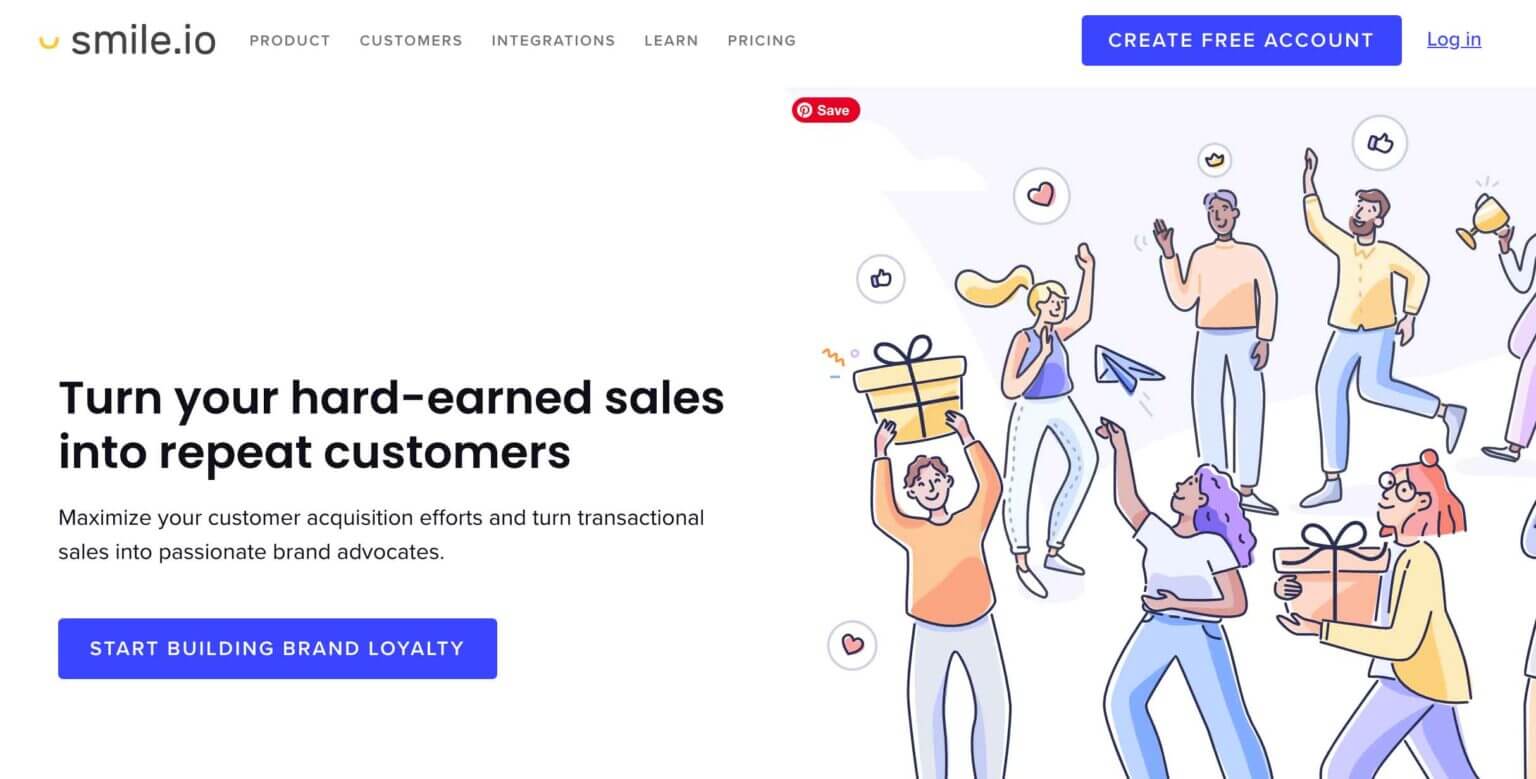 Smile.io is a dedicated loyalty software that turns your existing customers into indelible loyalists by rewarding them in the best way possible. It offers an intuitive and easy-to-use interface that helps you craft on-branded loyalty programs for your eCommerce store.
Types of Loyalty Programs offered by Smile.io:
Point-based loyalty program
VIP-based loyalty program
It enables you to reward points for certain customer actions like posting reviews, account sign-up, social sharing, and much more. This encourages them to take more action and earn more points, thus improving customer engagement and boosting sales.
Smile.io provides 100% control over the rewarding options. You can set up rules on what are the minimum points required to redeem, how many points customers can earn per action, the amount spent, and many more.
Key Features –
It allows you to remind your customers to utilize their points before expiry by sending timely emails.
It enables you to decide how often your customers should get rewarded for their actions.
It allows you to choose whether your customer's VIP status is based on their activities for a particular time or lifetime.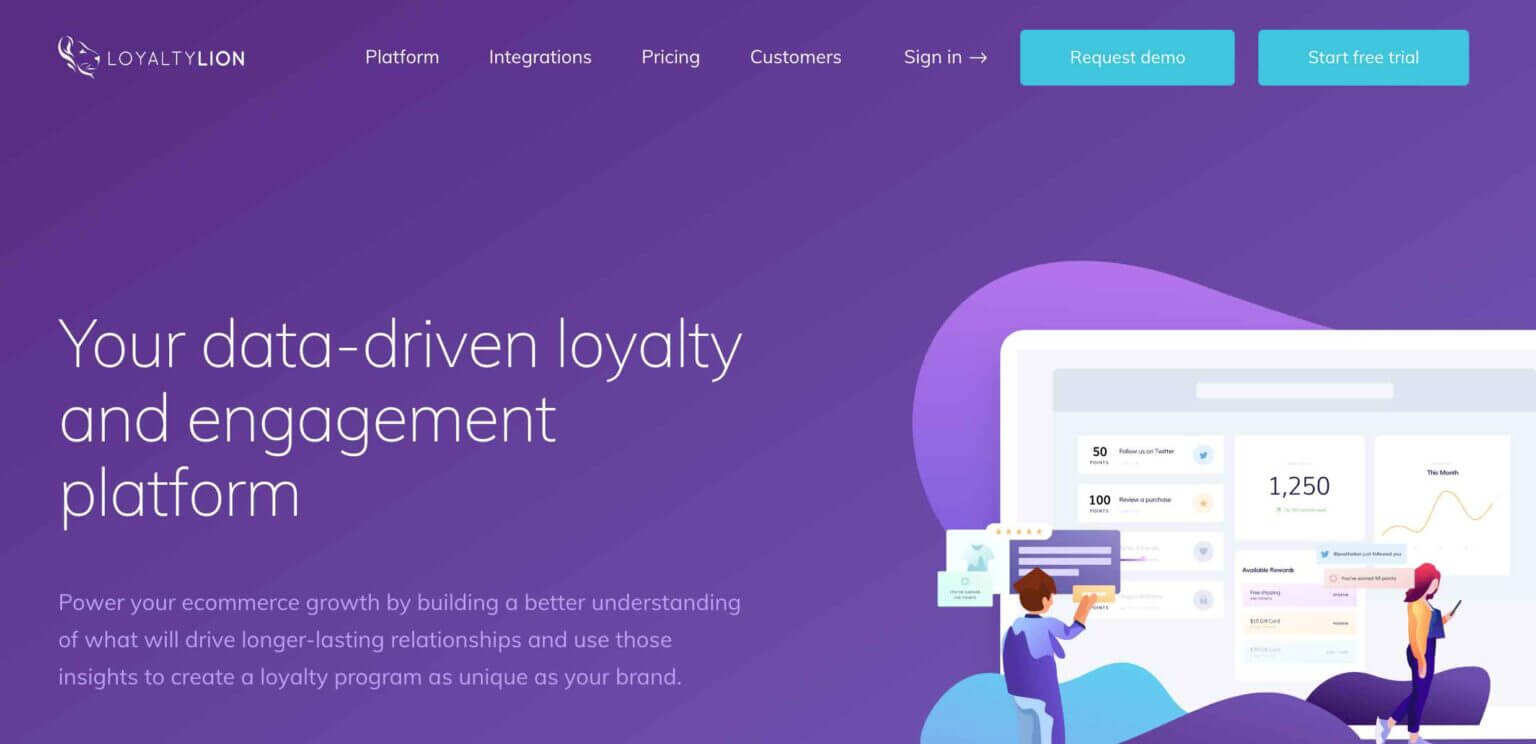 Wouldn't it be awesome if you ran a loyalty program backed with robust data that intensifies customer engagement and conversions? That's where LoyaltyLion shines as one of the best loyalty program software for eCommerce stores.
LoyaltyLion helps permanently retain your existing customers by rewarding them when they perform specific actions like the number of dollars spent, visiting your eCommerce site, liking/tagging on social media, and much more. 
Types of Loyalty Programs offered by LoyaltyLion:
Loyalty Points
Tiers
Rewards
LoyaltyLion facilitates building a meaningful loyalty program by segmenting your customers based on their behavior. This way, you can deliver highly targeted loyalty-based incentives, making your customers feel very happy and exuberant to the core.
Key Features –
It gives access to your customers to claim their rewards anywhere in their buying journey.
It allows you to send on-site loyalty notifications and send beautiful loyalty emails to make them come back again.
It enables you to embed loyalty components on the product pages or post-purchase pages.
It allows you to test different loyalty program variants and choose the best one using A/B testing.
Open Loyalty is a robust loyalty program software that helps develop a loyal community base for your eCommerce brand across multiple channels. It gives you complete authority as you can set various rules for earning points for your customers.
It lets you set two different types of earning rules for the loyalty program:
Transactional earning rules – define how many points can be earned by your customer based on their transaction details.
Behavioral earning rules – define how your customers can be rewarded based on their interaction level.
Types of Loyalty Programs offered by Open Loyalty:
Multiple loyalty levels
Loyalty Tiers
OpenLoyalty provides numerous rewarding options for your customers like discount coupons, value codes, special offers, cashback, and physical rewards. Also, with advanced reward targeting, you can configure who will be able to see, and redeem the reward and when it can be redeemed.
The best part of using OpenLoyalty is that it uses multi-tenancy loyalty features to define and manage reward programs for multiple stores or brands. So even if you have multiple online stores, you can seamlessly manage all the loyalty programs in one place.
Key Features –
It allows you to segment your customers based on their purchase history, profile qualities, or based on customer behavior.
It enables you to reward your customers based on any type of custom event.
It helps in developing highly customized loyalty programs for your eCommerce brand to connect to various platforms.
It enables you to introduce various user roles in the loyalty software so that you can define rights for browsing, modifying, or adding data to the loyalty program.
Rise.ai helps in creating a strong emotional relationship with your customers by offering store credits and attractive gift card options. It offers a multi-channel capability wherein you can send gift cards across different stores, whether it might be online or a point-of-sale purchase.  
Types of Loyalty programs offered by Rise.ai:
Gift cards
Loyalty cards
Rewards Program
This renowned loyalty software boosts repeat purchases by offering targeted single-purchase rewards that deliver high discounts or cashback amounts when your customer's total spent amount increases.
When you notice that your customers are not satisfied with your product and try to return it, you can use this chance to convert it into a fulfilling customer experience by providing them with store credits. With this, you add the incredible value of not leaving any potential customers and making them permanently stay hooked with you.
Key Features –
It enables your customers to send branded gift cards and vouchers to their loved peers via email, along with instructions on how to redeem them at the checkout.
It allows you to automate the conditions for your reward programs on different parameters like card spending, status, order amounts, etc.
It allows your customers to easily earn and spend store credits with the help of powerful loyalty cards.
It helps you design beautiful and customizable gift card product pages that can be either scheduled or sent in bulk to your customer's peer groups.
Which is the best eCommerce loyalty software for you?
Implementing a customer loyalty program is more than about driving repeat purchases and conversions. As an eCommerce store owner, you might conduct loyalty programs to generate sales, but for your customers, it is an emotion that voluntarily brings them back to you. So, make sure you win their hearts by offering better discounts and benefits.
With the help of these best customer loyalty program software, you can start creating customer-friendly loyalty programs that blast your brand reputation and strictly enhance your customer experience. If you are looking for more eCommerce tools to grow your store, here are a few of our articles, you should check –