As a Shopify store owner, starting a reward program for your store has never been as easy as it is today. You have tons of apps that you can simply add to your store and get an attractive referral program live.
Shopify referral apps enable you to create and manage referral marketing campaigns smoothly by automating tasks like reward payout, email reminders, and most importantly fraud protection.
So, if you want to start a referral program for your Shopify store, we have picked some of the best Shopify referral apps that you can use to make the best out of referral marketing.
Here are the top 5 Shopify referral apps –
Now let's dive deeper into these apps.
1. ReferralCandy – Best Shopify Referral App
ReferralCandy is the best Shopify referral app that lets you leverage more sales via attractive referral programs. It removes your burden by sending payouts automatically to your customers so you can concentrate on other important tasks.
You can customize rewards for both referring customers and referred friends. The rewards include:
Percentage discount
Dollar discount
Cash
Custom gifts like free shipping
ReferralCandy lets you design on-branded referral programs for your Shopify store. You can upload logos, banners, apply your branding colors, and everything will be set on time.
Another important aspect is that you'll get notified when there is any suspicious activity. This lets you prevent referral fraud activities so you can offer rewards only to legitimate customers.
Pricing Plans – It offers a 30-day free trial and the premium plan starts at just $49/month.
2. Growave – Popular Shopify Referral App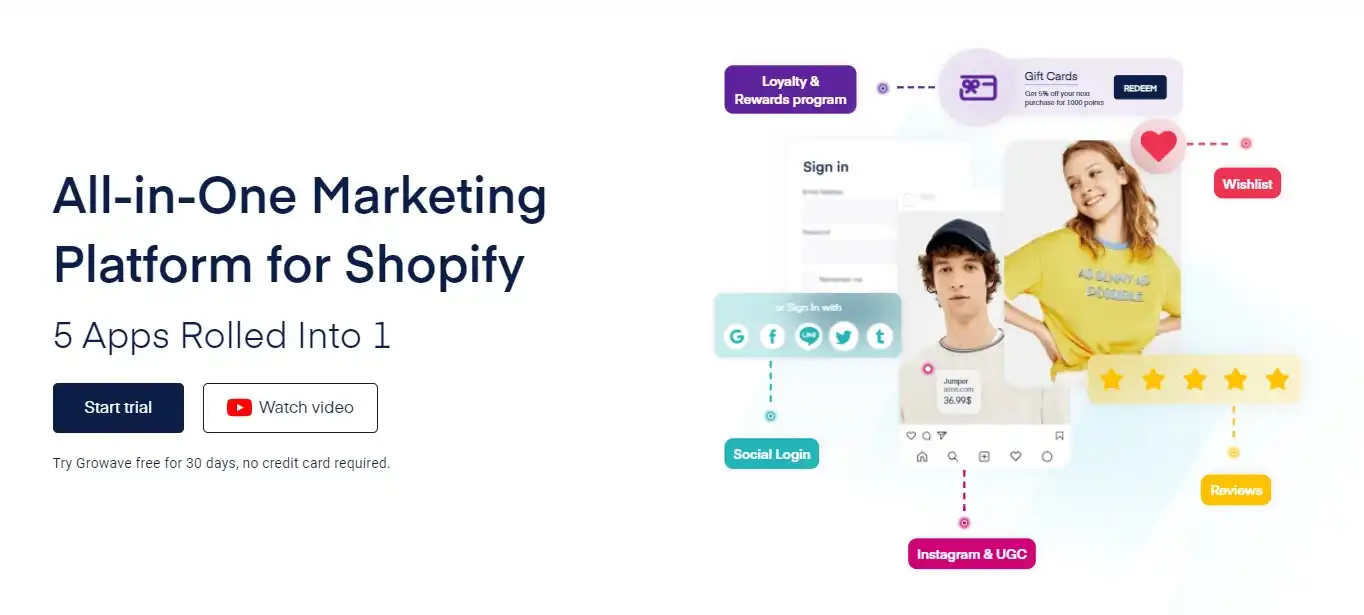 Growave is an all-in-one Shopify marketing app that lets you run loyalty programs, referrals, enables one-click social login, boosts credibility via reviews, and promotes social selling via Instagram.
Talking about its referral program, it's relatively easy to implement. It potentially rewards both the referrer and the referrals, which leads to effective monetization of word-of-mouth marketing.
The multiple rewarding options for your referral program are as follows –
Gift cards
Discounts on their subsequent purchases.
Points on every purchase made by the referred customers.
Growave enables your customers to share a unique referral link via email, social media, and other reliable platforms. You can also keep track of your analytics and monitor how your referral sales grow over time.
Pricing Plans – It offers the most affordable plans to start a loyalty program. Its basic plan starts at just $19/month with all the features and goes up to $299/month, providing advanced rewarding features and integrations.
3. Stamped.io – Top-rated Shopify Referral App
Stamped is a powerful Shopify referral app that turns your potential customers into free marketers. It boosts repeat purchases by letting you implement a customizable referral program which eventually increases word-of-mouth marketing.
You can create exciting referral incentives based on your requirements with multiple reward types. They are as follows:
Accelerated earning points
Free Shipping discount.
Fixed amount discount.
Percentage discount
The lifeblood of a referral program lies in providing numerous options to spread the word about you. With Stamped.io, you can enable customers to share the referral program in Messenger, WhatsApp, Facebook, Twitter, email, and SMS.
To understand how well your referral program works, Stamped.io lets you track three key metrics. They are top advocates, total referrals, and referral traffic with which you can uncover the reasons for optimizing your referral campaigns.
Apart from the referral programs, Stamped also enables you to create loyalty programs and gather customer reviews. If you want to get a complete overview of it, you should check our detailed Stamped Review.
Pricing Plans – Stamped has a free plan for stores with up to 100 orders/month. The Paid plans start at just $39/month and scale up to $479/month for growing stores with up to 3,500 orders/month.
A conjured referral is a quick and easy-to-use referral marketing app of Shopify that enables a "Refer-a-friend" marketing strategy to boost sales. It allows you you customize each step of the referral marketing campaign to suit your business needs.
The app helps you create simple and automated referral programs that automatically a referral link for each customer that they can share with their friends and acquaintances to promote your store.
And as a merchant, you can offer rewards to the referrer and referred customers in the following ways –
Discount Vouchers
Promo Coupons
Conjured referral app lets you monitor your referral program analytics right from the Shopify dashboard which saves time and enables you to focus on other crucial things to upgrade your store.
Pricing Plans – The app has 3 paid plans with a 14-day free trial. Each plan has a cap limit on monthly referral revenue. For instance, the Intro plan costs $29/month and allows up to $500 referred revenue/per month. For unlimited referral revenue, you can choose its highest plan which costs $299/month.
5. UpPromote – Referral & Affiliate Program App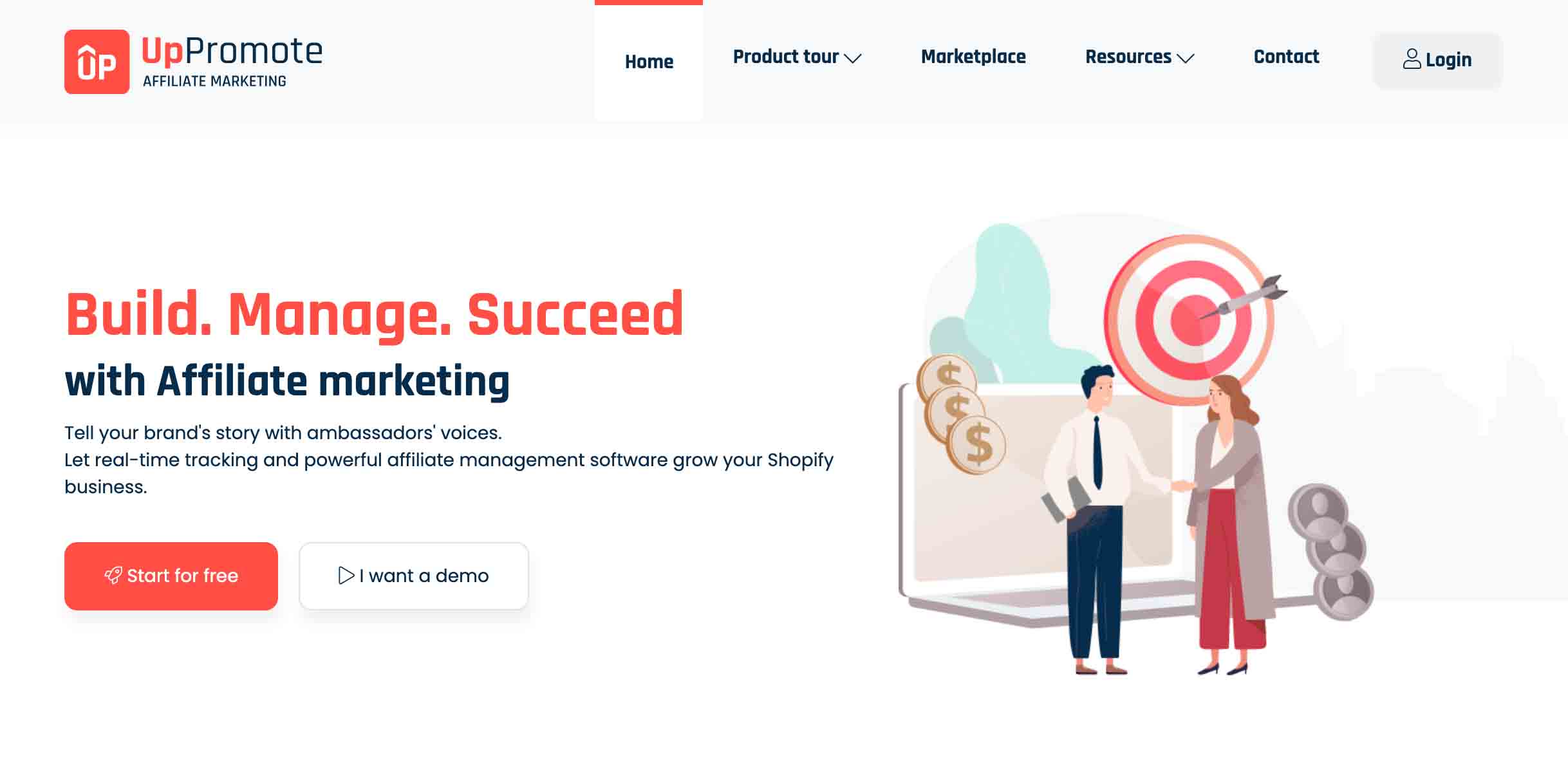 UpPromote is another powerful affiliate/referral marketing solution compatible for Shopify stores. It enables you to build a professional affiliate campaign and easily approach potential affiliates with Uppromote Marketplace.
With UpPromote, no technical knowledge is required. You can easily build a professional affiliate campaign by generating unlimited commission programs. Also, you can quickly create and assign coupons/ referral links for affiliates/ influencers with complete customization flexibility to match your brand.
Apart from this, it provides a reliable tracking process that enables you to track every click, order from your referral partners and avoid fraudulent transactions.
Pricing Plans – If you're a starter, UpPromote has a Free plan with all basic features to help you build a professional affiliate campaign. Besides, depending on your business size, the plan ranges will be from $21.99/mo to $139.99/mo. UpPromote offers 14 days free trial for all pricing plans.
6. Retainful – Referrals & Abandoned Cart App
Retainful is a sales optimization app that primarily focuses on reducing cart abandonment. Its referral program feature is designed to turn your customers into brand advocates and to acquire new customers at a low cost.
Starting a referral program with Retainful is super easy – you can make it live within just a few minutes. It has three reward options, namely –
Flat discount
Percentage discount
Free shipping
Your customers can share via Facebook, Twitter, and email to boost visibility. It contributes to increasing sales by setting up purchasing thresholds to attain rewards. This motivates them to spend more so they can enjoy your exclusive benefits.
Retainful automatically enrolls customers into the referral program and generates a unique referral link after the first purchase. Also, you can send automated reminders to customers regarding the program and encourage them to take desired actions.
Pricing Plans – Retainful has a pricing plan based on the number of contacts. It offers a free plan, allowing up to 300 contacts. However, to start a referral program, you will have to opt for one of the paid plans, starting at $15/month and going up to $159/month.
Once you reach the contact limit, the plan will be automatically upgraded to the higher plan to ensure continuous tracking for referrals.
7. Smile.io – Popular Shopify Referral App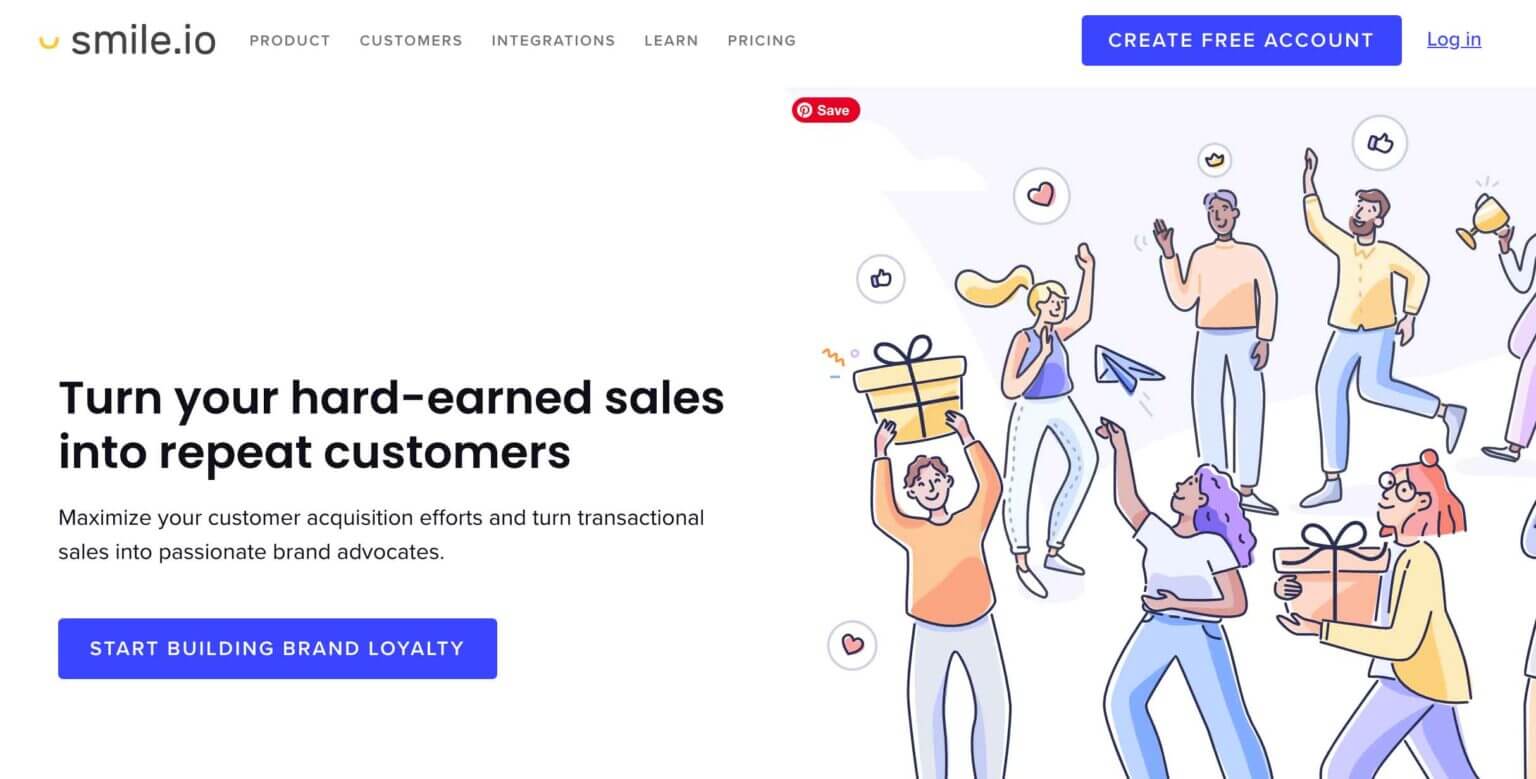 Smile.io is one of the top-rated Shopify referral apps that help grow your community by launching attractive referral programs. It makes it easy for your customers to claim their rewards as all they have to do is enter the email and hit the send button.
You can promote sharing activities by awarding points for referrals and social sharing. The four different types of referral rewards that you can offer to your customers are:
Free product
Free shipping
Percentage discount
Dollar discount
While providing unique referral links, you can enable customers to share it instantly across Facebook, Instagram, Twitter, etc., with predefined messages.
Pricing Plans – It offers a free plan with very limited features. The Paid plans start at just $49/month and go upto the Enterprise plan.
8. Bamboo – Simple Shopify Referral App
Bamboo is a simple yet impactful Shopify referral app that helps in generating free influencers for your Shopify store by providing stunning referral programs. It lets you monetize your customer's efforts by offering coupons, points, and free products that ignite the advocacy trait hidden in them.
Bamboo is a simple yet impactful Shopify referral app that generates free influencers via stunning referral programs. Starting from the referral page to the checkout popup, you can optimize your referral flow to boost engagement levels.
It offers built-in templates to create eye-catchy referral programs. You can offer them the following rewarding options to add value to their efforts:
Percentage discount
Dollar discount
Free product
Bamboo ensures that you run profitable programs as it lets you reward customers only after they make the referral. It also enables you to send timely notifications to bring more referred customers to complete their first purchase.
It also provides a detailed analysis of all your referral marketing efforts. This Shopify referral app presents key statistics like your referrer's identity and source. You can also compare your performance with the industry benchmarks to witness where you stand in this eCommerce competitive field.
Pricing Plans – The pricing is based on your contact size. The Pro plan starts at $29/month for 100 contacts, and to access more features, you can upgrade to the Enterprise plan.
9. Rise.ai – Shopify Gift cards and Referral App
Compared to other Shopify referral apps, Rise.ai is slightly unique. Instead of offering a flat discount, free products, dollar discounts, etc., it rewards customers with store credits.
You can allow your customers to accumulate store credits every time they successfully refer you to their peers. With store credits, customers can instantly make any purchase which improves their overall shopping experience.
Additionally, you can reward bloggers, influencers, and brand ambassadors who refer your store to their network. Even you can encourage VIP influencers to promote your brand by offering customized referral links and tags that boost your brand's credibility.
Pricing Plans – It offers a 7-day free trial, and the Starter plan starts at just $19.99/month.
Choose the Best Shopify Referral App
Shopify is undoubtedly one of the most powerful eCommerce platforms and as a Shopify store owner, you must create a loyalty and referral program for your store.
A loyalty program helps you stay connected with your existing customers, increasing the customer lifetime value (LTV) and Referral programs encourage your existing customers to promote your products and bring in new customers for your store.
Loyalty and referral programs are a win-win strategy for both the parties – customers & store owners which makes it one of the successful marketing tactics in the eCommerce space.
And I hope this article helped you pick the app to start an engaging loyalty & referral program for your store. If you are looking for more tools to improve your Shopify sales, you should check out these hand-picked articles –