From setting up an online store to sales and marketing, there are thousands of eCommerce tools that you can choose from for your eCommerce business. But, trying every tool yourself to find what works and what does not can be tiring and a waste of time and resources that can be used to grow your business.
So, if you are looking for the right tools and software to start your eCommerce business, this article is for you. In this article, I have compiled a list of the expert-recommended eCommerce tools that you can use for your business.
To make it easier for you to find the tools for specific requirements, I have listed the apps in different categories, which are as follows –
Website Tools
To set up an online store you need a reliable eCommerce website builder that you can use to provide a clean storefront and smooth shopping experience for your customers. Here are some of the best eCommerce tools that you can use to build your website.
Shopify is a self-hosted eCommerce platform that enables anyone to build an online store without any technical hassle. It is beginner-friendly and doesn't require expertise to set up a basic store which makes it an ideal choice for small businesses with a limited budget.
From drag-and-drop builder and built-in marketing tools to product management and checkout system, Shopify is packed with everything you need to run an eCommerce business.
Moreover, you get hundreds of free and premium Shopify themes that you can easily customize per your store branding and start selling in no time. To add more features and functionalities to your store, you can install apps directly from its app store, where you will find both Shopify-built and third-party apps.
Further reading –
WooCommerce is an open-source WordPress plugin that enables you to add eCommerce functionalities to WordPress sites. So, if you are looking for a free eCommerce website builder, WooCommerce might be your best pick.
To build an online store, you will need a dedicated WooCommerce hosting platform and design your store using page builder plugins. You can also use one of the pre-designed WooCommerce themes and customize it as per your requirements.
Although WooCommerce is free to use, you may have to invest in a few add-ons and WordPress plugins to add features and functionalities to the store.
Further reading –
Sales & Logistics Tools
Once you build your eCommerce website, you will need tools to help you with sourcing products from vendors and delivering orders to customers. Hence, here are a few eCommerce tools that you can use to set up a sales and logistics system for your store.
If you want to start a dropshipping business, Spocket is one of the best platforms to find reliable dropshipping suppliers for your products. It mainly lists the suppliers for the USA and Europe, which ensure quality products with faster worldwide delivery services compared to major dropshipping suppliers.
Spocket is compatible with almost every eCommerce platform including Shopify and WooCommerce. The best part is that on this platform, you can find a variety of products at a reasonable price to sell in your store at a higher profit margin.
You should read our in-depth Spocket review for a detailed analysis of its features and functionalities.
If you want to sell custom printed merch on your eCommerce website, Printful would be the perfect print-on-demand software for you. From printing the products to warehousing and order fulfillment, it helps you with everything you run a successful POD business without any upfront cost to you.
On Printful, you will find 400+ different types of products that you can design and sell from any eCommerce platform. The best part of Printful is that it allows you to use your custom branding on product packaging, which can help you build a brand identity for your store.
Further reading –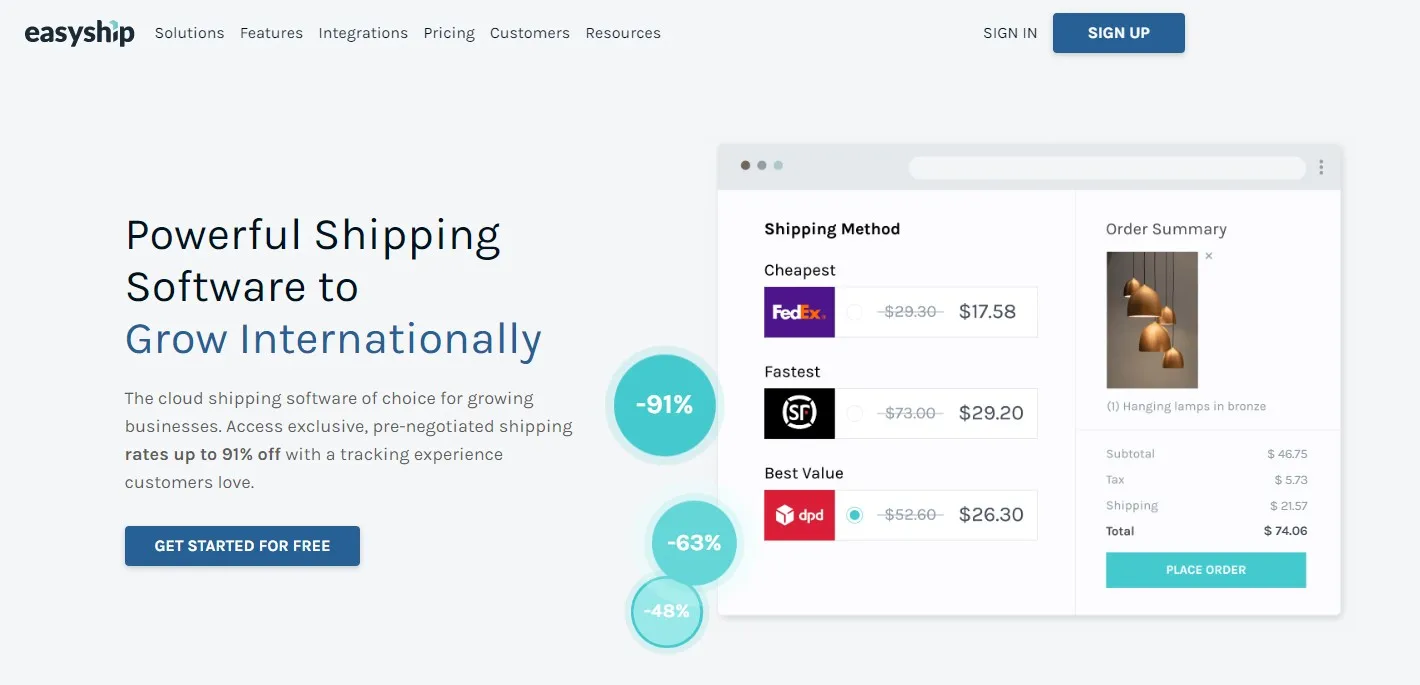 Easyship is a global shipping and order fulfillment service provider with direct integration with major eCommerce platforms and marketplaces like Amazon, eBay, and others.
With over 250 international courier services from DHL, USPS, DHL, and others, it enables you to ship your products anywhere in the world at the most affordable price. In fact, Easyship claims to offer up to 91% off shipping rates compared to other platforms – you will have to check it yourself, of course!
However, the best part of using Easyship is that it provides pre-determined duties & taxes for international orders so that you know exactly how much to pay and ensure smooth customs clearance and product delivery.
It also provides a shipping tool to track and manage all your orders from one dashboard. You can also send delivery notifications via email and curate a delivery tracking page for your customers.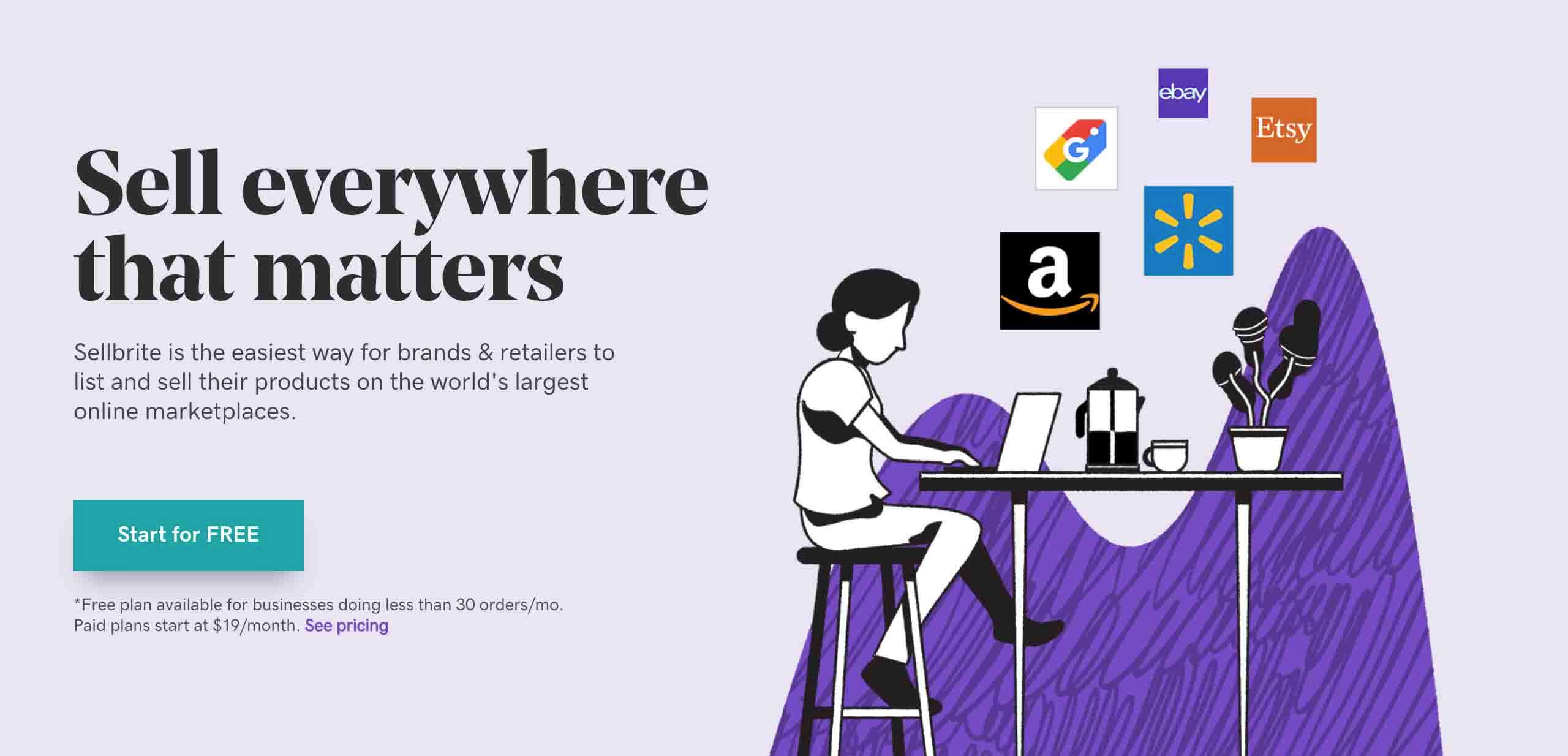 Sellbrite is a multi-channel selling tool that integrates seamlessly with branded online stores social media, marketplaces, and others sales channels. It enables you to list your products to multiple channels and sync data to automatically adjust inventory data to avoid over-selling any item.
With Sellbrite, you won't have to manually manage each sales channel for your eCommerce business. You will get a single interface from where you can track and manage all your orders.
So, if you are planning to sell products from multiple stores on different platforms, you may want to consider using Sellbrite for seamless and smooth operations.
Marketing Tools
To drive traffic to your website and engage existing customers for repeat purchases, you need effective marketing tools. Here are some of the best eCommerce tools that you can use to automate your marketing.
Klaviyo is by far the best marketing automation tool for eCommerce businesses. It empowers with powerful email and SMS marketing tool that integrates seamlessly with major eCommerce platforms.
It provides advanced email segmentation and behavior-based automation that enables you to send the right email and sms campaigns to the right person at the right time for higher impact. Moreover, it also provides conversion-friendly email and SMS templates for various purposes that you can easily customize per your store branding.
Overall, Klaviyo is an all-in-one eCommerce marketing automation tool that you should use to automate your marketing campaigns for more sales and revenue.
Further reading –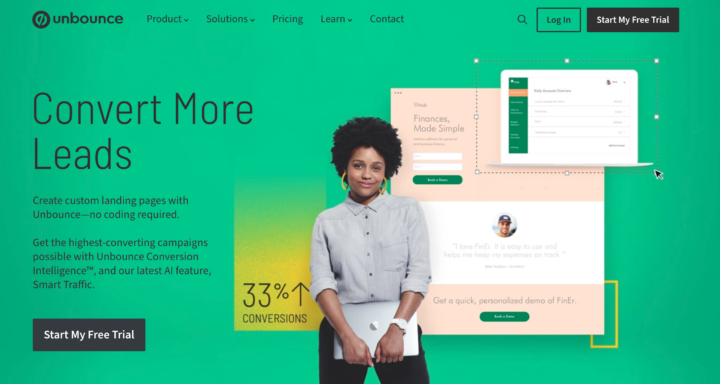 Unbounce is one of the best landing page builders with seamless integration with major eCommerce tools and software. Your storefront is perfect for selling products, but if you are launching new products or a sales campaign, you will need landing pages to drive traffic and convert them into customers to subscribers.
Unbounce comes with various stunning templates and a drag-and-drop editor to help you create high-converting landing pages without any coding or designing skills.
The best thing about Unbounce is that it helps you personalize your landing page text based on traffic sources, locations, and other factors to ensure higher conversion rates for your business. Apart from landing pages, you can also create popups and sticky bars for your eCommerce website to grow your email list and promote offers.
Further reading –
Customer reviews and loyalty programs are two important elements of any eCommerce business to win customer trust and retain them to grow your revenue. Stamped is one of the best eCommerce tools to collect customer reviews and set up a loyalty program for your store.
The stamped review enables you to automatically send a review request email and showcase them beautifully across your store website. It allows customers to upload product photos and videos for review, which you can use as UGC for your marketing campaigns.
Going ahead, Stamped loyalty helps you build an engaging loyalty program that rewards customers for purchases, reviews, referrals, and more. Using this app, you can set up a point-based or tier-based reward program for your store.
Further reading –
Sprout Social is a social media marketing software that is perfect for any eCommerce business. From scheduling future posts, engaging in comments managing inboxes, and in-depth analytics reporting, it lets you manage everything from a single dashboard.
Using this tool, you can also analyze and uncover what people are talking about your brand and products. You can also use this insight to understand customers' experience with your brand and how it can be improved.
Overall, if you want to leverage social media to grow your brand awareness and build an engaging community around your brand, Sprout Social can be an ideal social media management tool for your eCommerce business.
Further Reading –
Most online shoppers start their shopping journey with a Google search. So, if you want to grow your eCommerce business, you can't exclude SEO and search ads from your marketing strategy. Semrush is one of the best SEO tools that empowers you with a lot of data and insights to grow your organic traffic.
You can use it to conduct keyword research to find out what people search on Google for products like yours. You can also use it to find the best keywords for your PPC campaigns to drive high-quality traffic with higher ROI.
Semrush can also provide insights into your competitors' websites, from their high-traffic driving keywords to backlinks, you can find everything and use it to create an effective SEO strategy for your eCommerce site.
Bottom line? If you want to rank higher on Google search result pages for relevant keywords and drive organic traffic to your site, Semrush is a must-have SEO tool in your eCommerce toolkit.
Further reading –
Analytics Tools
E-commerce is a game of numbers – you need to track every possible metric so that you can make data-backed decisions to grow your business. Here are a few analytics tools that you can use to track your store performance and customer behavior.
12. Google Analytics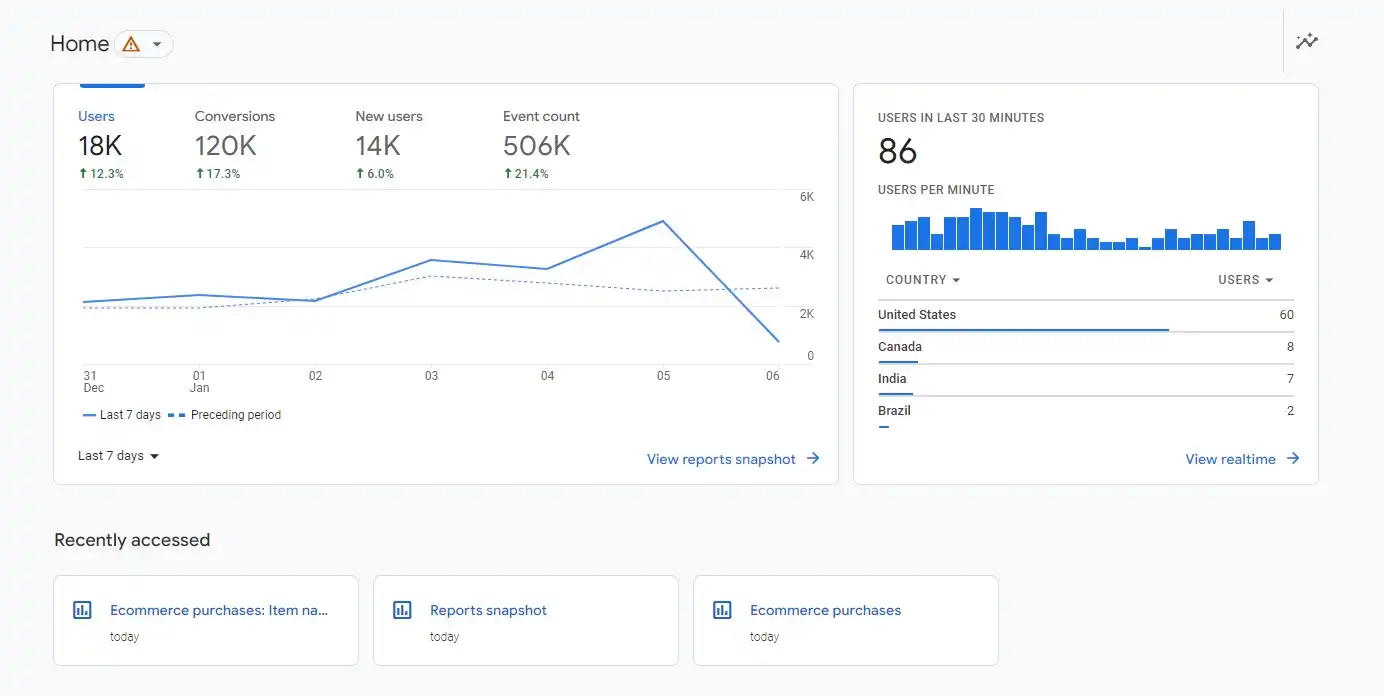 Google Analytics is a free analytics tool that almost every company uses to track and analyze their website traffic and user behavior – you can use it too. It turns all the data into visual reports, which makes it easy for anyone to analyze it and gather insights into store performance and user behavior.
Using this analytics software, you can track various shopping behavior such as purchases, discounts, cart abandonment, etc on your site – you just have to set up eCommerce events for every metric you want to track.
If you are not aware of how Google Analytics work, Google offers free training to help you master the tool. You can also contact us to hire a Google Analytics expert.

With Google Analytics, you can view the numbers on how your business is performing but you can't see how users are interacting with your website. This is where you need the website heat mapping tool, Hotjar, which shows how visitors interact with every element on your website.
Using Hotjar, you can also view real-time recordings of users on your site which you can leverage to analyze the user experience and optimize it for better conversion rates and engagement.
With this software, you can also conduct surveys and collect feedback from your website visitors to understand what they think about your site and make decisions accordingly.
If you are not aware of what heat mapping is and how it works, you should read our complete guide on website heatmaps.
Customer Service Tools
As an eCommerce merchant, you can ignore customer queries if you want to grow fast and bigger. So, Here are some of the best eCommerce tools that you can use to provide excellent customer support to your website visitors and customers.
Gorgias is a dedicated customer service tool for online stores. Currently, it supports integration with Shopify, Magento, and BigCommerce only. We are looking forward to its expansion to other eCommerce platforms as well, including WooCommerce.
Gorgias enables you to provide customer support via social media, text messages, and live chat on your website. You can even interact with potential customers asking about your products on social media ads. While chatting with customers, you can view their complete details on your screen and edit orders if needed. 
Although it doesn't offer a chatbot, you can set up auto-responders for some of the common queries such as "Where is my order?" and close the ticket automatically.
Overall, if you have a large customer base with a lot of customer queries, you should consider using Gorgias as your help desk software. You can read our comprehensive Gorgias review to know more about it.
If you are looking for customer service software with a robust chatbot system, Tidio might be a good alternative to Gorgias. It integrates seamlessly with Shopify, WordPress, and other popular eCommerce tools and software that enables you to provide excellent customer service.
It enables you to automate most of the repetitive tasks from creating tickets to answering common queries. The best part is that you can set up a Tidio chatbot for lead generation and pre-sale conversations to convert visitors into paying customers for your store.
The only limitation that comes with Tidio compared to Gorgias is that it doesn't enable you to provide support to customers and prospects available on social media. Rest, you can read our detailed Tidio review to learn more about its features and functionalities.
Wrapping Up
When you are starting an eCommerce business, you need to pick the right tools and software that enable you to operate your business smoothly and grow it. This short list of eCommerce tools and software can help you build and run your online store.
However, if you are a growing business, you may also want to look into this curated list of eCommerce tools –