Are you struggling to retain customers for your eCommerce site? Do you want to improve customer retention in your store?
If so, you need an effective customer retention strategy to re-engage with your existing customers and get them back to the store to shop more.
In this article, I will share some of the proven eCommerce customer retention strategies that successful online stores are using, and you can use it too.
1. Start an engaging loyalty program
A customer loyalty program is one of the best customer retention tactics in the eCommerce space. It is a win-win strategy for you & the customers – customers can earn loyalty points to get heavy discounts & you get loyal customers who will come to shop again and again to earn rewards.
However, to keep the loyalty program members returning to your store, you need to make it exciting & beneficial for customers.
Here are a few key points you can consider to create an engaging loyalty program for your store –
Create a tier-based loyalty program where customers earn more points to reach the next tier and enjoy extra benefits.
Make the reward redemption process quick and easy.
Offer multiple ways to earn points like social sharing, leaving reviews and ratings, etc.
Treat your loyalty program members like premium users and offer them additional offers & discounts over non-members. 
Make the signup process for loyalty programs easy.
To get started with a loyalty program, do check out my guides on –
2. Offer personalized rewards and discount rates
If you don't have a budget or resources to create a loyalty program, there's another way to bring back loyal customers to your store.
The idea is to offer your customers unique and personalized offers based on their past purchasing behavior and interaction on your site. You can use the concept of RFM (Recency, Frequency & Monetary) to identify your loyal customers and reward them accordingly.
Some of the best rewards that you can offer are as follows –
Heavy discount on a future purchase
Free shipping (if you charge additional shipping fees)
Buy One Get One offers ( customers love this!)
Early access to new & limited edition products
3. Send personalized product recommendations
Once a customer purchases from your store, you can collect enough data about their likes, dislikes, spending capacity, and more based on their purchasing behavior.
Using these data, you can send them a unique and personalized product recommendation they will most likely purchase. You can suggest products which are –
Related to their last purchase
Similar products in different colors or style
Purchase frequently together with their last product purchased.
Popular in the product category
Added to customers' wishlist or shopping cart.
By sending personalized recommendations, you don't only bring customers back to your store but also make them feel that you care about their interests, which is an added advantage to building a lasting relationship.
There are several email marketing tools like Klaviyo, Omnisend, and others that allow you to embed product recommendations in the email body and define a logic to add recommended products. 
You should check –
4. Provide personalized shopping experience
In the last two points, I have insisted on using personalization tactics to customers in your marketing communication and offerings. But one thing that most ecommerce brands neglect is the on-site personalized shopping experience.
This retention strategy aims to create a unique shopping experience for each customer throughout the journey using real-time website personalization, behavior-triggered emails, and advanced product recommendations.
Have you ever shopped from Amazon and then returned to the homepage where you see completely different products in the feed? This is an example of website personalization.
Similarly, you can offer each customer a unique product feed and content on your site based on their real-time engagement, traffic source, geographic location, weather, browsing device, and other attributes.
Just take a look at this example of weather-based personalization. Here's one version of the homepage for sunny days: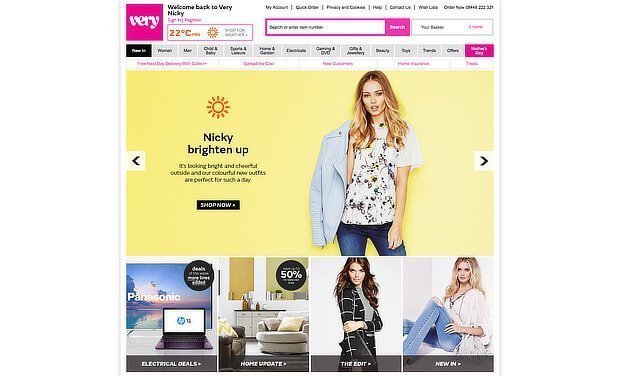 And here's another for cold weather: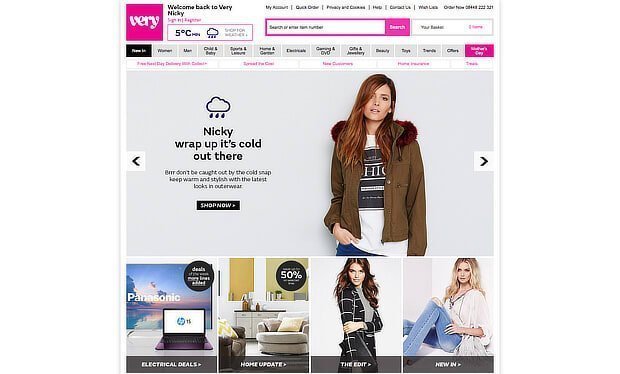 5. Improve customer support service
Do you know that 60% of consumers stop doing business with a brand due to poor customer support?
As an online store owner, you must understand that your customer might face challenges and may need your assistance with selecting the right product, claiming an offer, or during the checkout. In such situations, an active help desk or chat support system enables you to communicate with consumers and resolve their issues.
Remember, with good customer support, you can turn an unhappy customer into a loyal and repeat customer. So, focus on enhancing customer support by providing multiple channels to connect with you, including email, WhatsApp, social media, live chat & chatbot.
For Further Reading –
6. Encourage social engagement
Whether it is a customer acquisition or retention strategy, social media is an excellent medium for eCommerce brands to stay connected with their new and old customers.
You can encourage your customers to follow your official pages on social platforms like Facebook, Instagram, Pinterest, and YouTube to stay updated with upcoming collections, sales, and discount offers.
It is said that if an eCommerce brand succeeds at engaging their audience on social platforms, they are more likely to build a loyal and repeat customer base than inactive on social media.
That being said, focus on creating an effective social media marketing strategy to build an engaging follower base and engage them to generate more sales.
7. Retarget your customers on social media
Retargeting is the best thing that happened in the marketing and advertising world. It enables you to reach your customers on their preferred marketing channel with personalized communications.
In previous sections, we have talked about sending personalized product recommendations and offers to customers via email and SMS marketing. You can do the same via retargeting ads on social platforms like Facebook & Instagram.
You can run retargeting campaigns for your customers based on their past interactions on your site. Retarget your customer to –
Remind them about the products in their shopping cart
Show offers and discounts on their previously visited products
Show products related to their last purchase
Show products from their wishlist
Show discount or stock level of products
This strategy aims to be where your customers are and stay on top of their minds by updating them about the products they are most likely to purchase.