Shopify is one of the best eCommerce platforms that enables you to start a store to sell anything online, including services.
Yes, Shopify isn't just for selling physical products, you can also sell services and digital products. So, whether you're a consultant, coach, freelancer, or offer any type of service, you can easily set up an online store to sell services on Shopify from anywhere in the world.
The best part is that Shopify is easy to use and packed with powerful features that make it easier for anyone to set up a store and grow it exponentially without any technical hassle of coding or designing.
In this article, we will show you how to set up your Shopify store to sell services and grow your business to the next level.
What services can you sell on Shopify?
On Shopify, you can sell a wide range of services across various industries. Here are some examples of services that can be effectively sold on the platform –
Remember, these are just a few examples, and the possibilities are not limited to this list. Shopify provides flexibility and customization options to cater to a wide range of service-based businesses.
6 Steps to Selling Services on Shopify
In this section, we will walk you through every step of setting up a Shopify store and selling services successfully. So, if you are ready, let's get started.
Step 1: Set up your Shopify store
First things first, if you already have a store, you can skip this step or visit Shopify.com to create your account for a free trial. In the process, you will be asked to enter your store name and provide other details about the store.
Once you land on your Shopify admin dashboard, you can follow the following steps to set up your store –
If you need detailed guidance with best practices, you can also follow our Shopify tutorial for a step-by-step guide to setting up a fully-functioning online store.
Step 2: Add your services as products
Similar to product listings, go to Products > Add product from your admin dashboard and clearly describe what you offer, including service name, pricing, and images to add your services.
Make sure to use compelling images and provide detailed descriptions of the services to showcase the value of your services.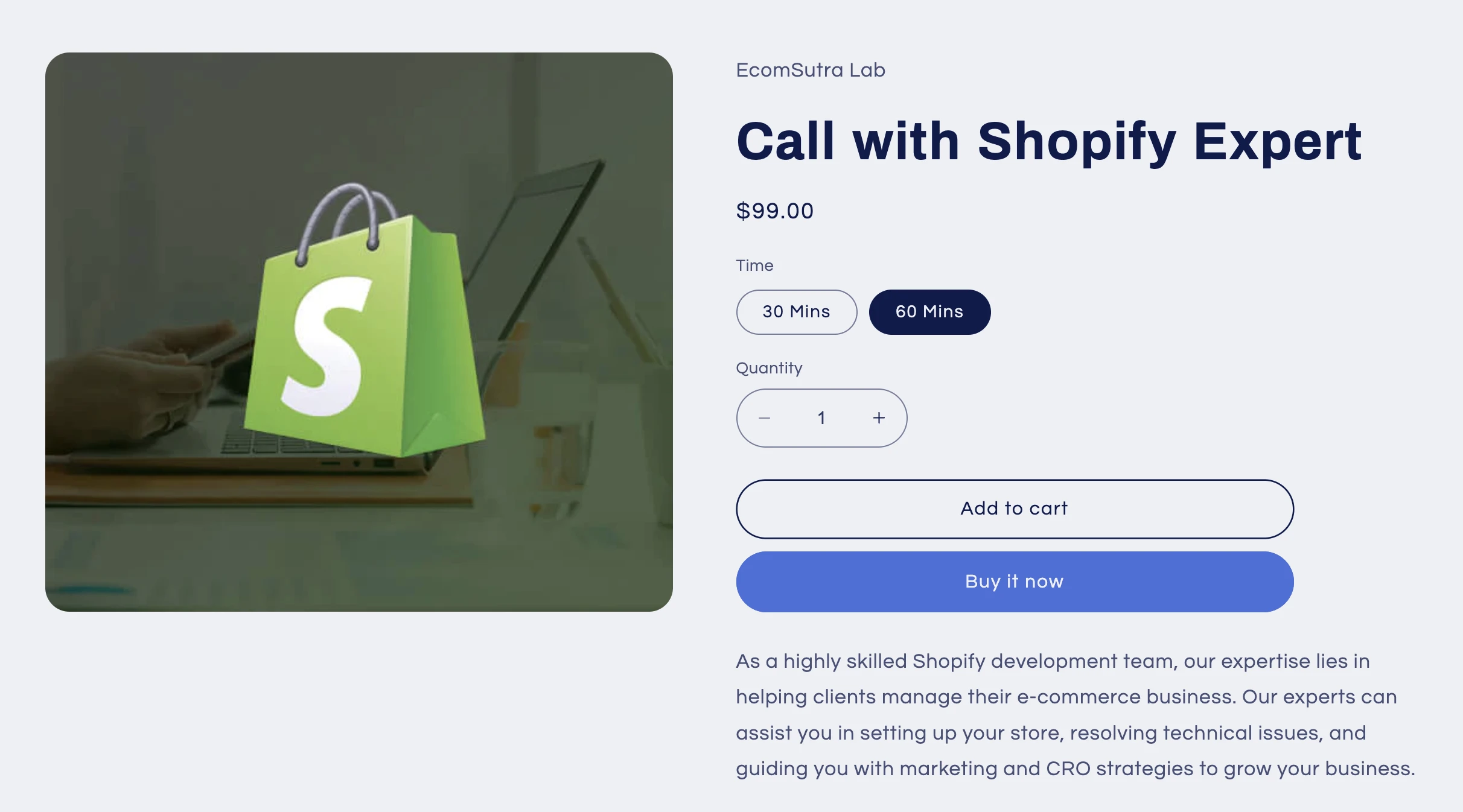 You can create multiple variants to offer different purchasing options for your services. For instance, in the above image, we are offering two call duration options as variants.
Also, since you are selling services, ensure that you select the "Digital product or service" option from the Shipping section, as shown below.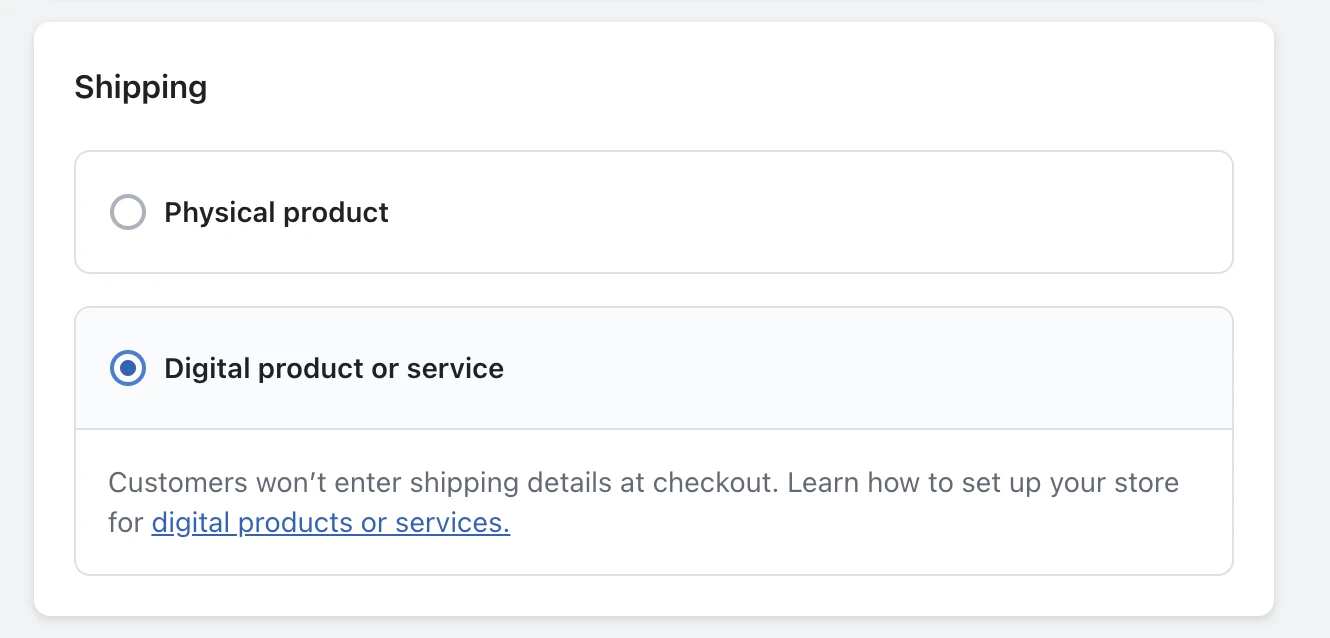 Once you fill in all the details of your services, set the status to Active and save it to make it live on your store.
Step 3: Install an appointment booking app
Next, if your services require appointments, you will need to install an appointment booking app that enables customers to choose their preferred time based on your availability and book sessions directly from your website.
Easy Appointment Booking is one of the best Shopify apps that you can use to add appointment booking options on your service pages. It integrates directly with Google Calendar and Zoom to help you manage the booking seamlessly.

It also allows you to send automated reminders to customers via email and SMS and let them reschedule the sessions on their own. To install the app, you can use the button below and get started with a 7-day free trial.
Step 4: Create Booking Events for Services
Once you have installed the app in your store, you will be directed to the app's page from where you can create bookable events for your services. To get started, click the "Create your first event" button.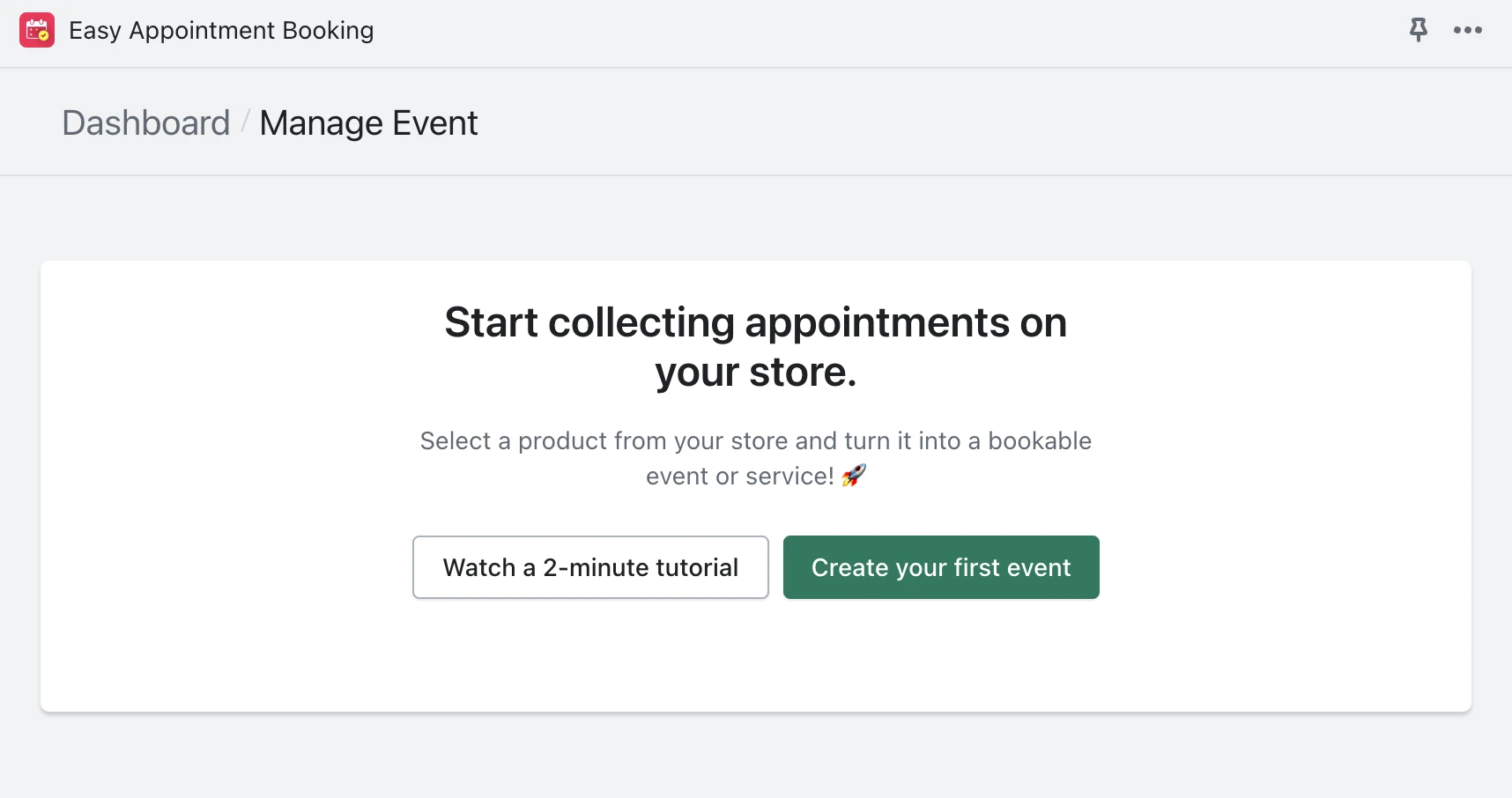 Next, select the product (service, in your case) for which you want to take appointments, and click the "Create an event for [Your Product Name]" button.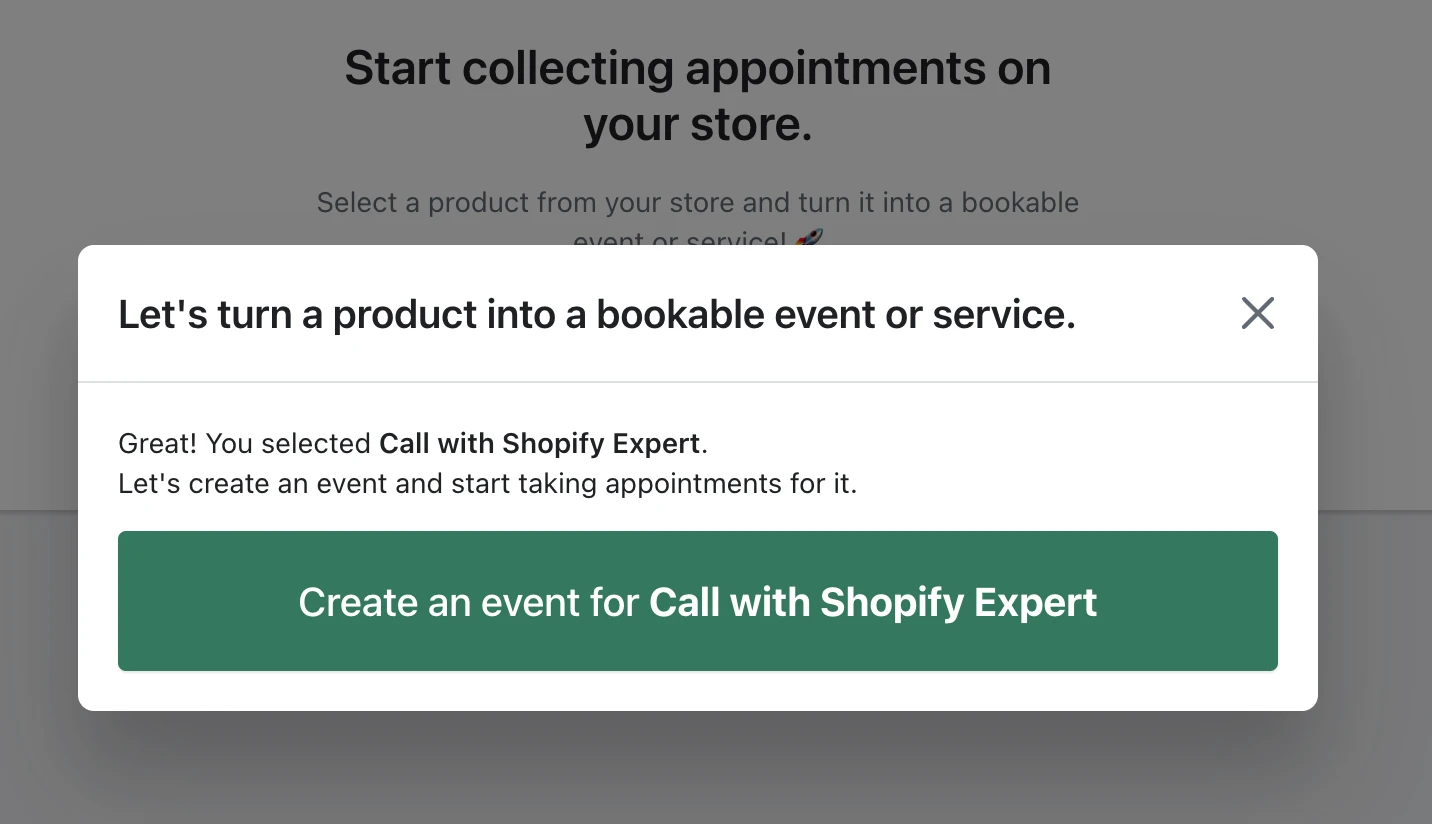 Now, enter your event details like session duration, number of attendees, and more. Click the " Continue to next step" button, set your schedule and publish.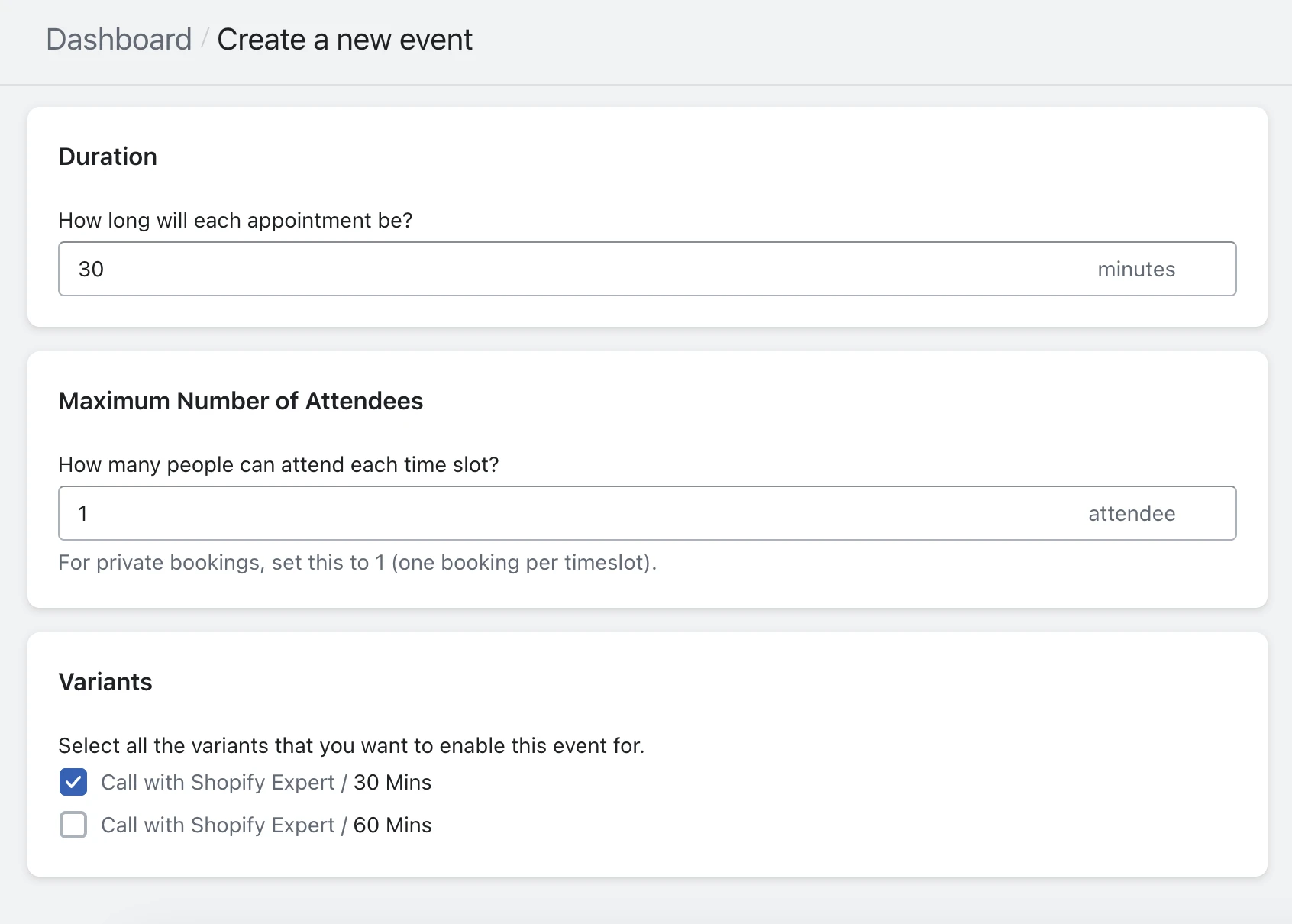 Now, the "Add to cart" button should be replaced with the "Select a time" button on the product page for the selected service, as shown below.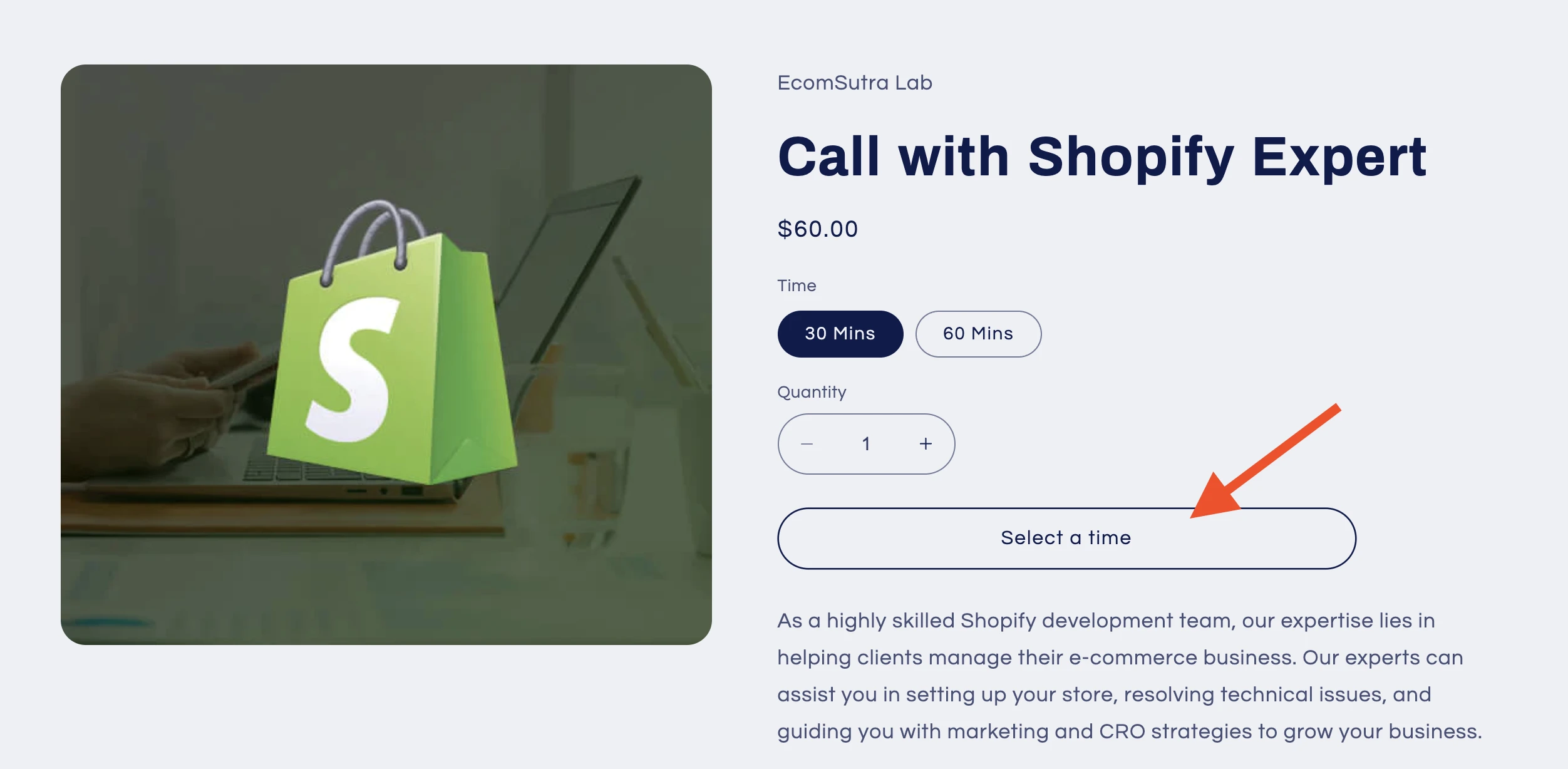 That's all! Now, you can repeat these steps to create bookable events for all your services and start taking appointments from your customers.
Step 5: Optimize & Launch your service store
By now, you should have completed your service listings and created events for the appointment-driven services. Now, you should revisit your store pages and optimize them to ensure a higher conversion rate.
You should also cross-check the checkout process, taxes, and other settings to ensure the store is ready to take orders for your services.
Finally, when you are ready, make your store live for your customers and move to the next step to drive traffic and generate sales.
Step 6: Market & promote your services
Once your store is live, you need to step up and start promoting your services to create awareness among your target audience.
You can also invest in paid campaigns across social media platforms and Google Ads to reach a more targeted audience and boost your growth rapidly. However, if you are just getting started, we highly recommend picking 1-2 marketing platforms at a time and making the best use of them instead of spreading your wings thin across all platforms.
Further reading –
Ready to sell services on Shopify?
Selling services on Shopify opens up a world of opportunities for service-based businesses to reach a wider audience, expand their online presence, and increase revenue. By following the steps outlined in this article, you can set up a professional and user-friendly Shopify store that effectively showcases your services and attracts potential customers.
From creating an enticing storefront to customizing service listings, implementing booking systems, and utilizing marketing strategies, Shopify provides access to all the essential tools to sell your services with ease.
So, whether you're a consultant, coach, freelancer, or offer any type of service, don't overlook the potential of Shopify as a powerful platform to take your service-based business to new heights.
Last, but not least, once you set up your store, follow our Shopify launch checklist to make sure the store is ready to go live & here are a few hand-picked articles that you might want to read next –