Want to set up a loyalty program for your Shopify store? If so, this is a step-by-step tutorial for you. Keep reading!
A customer loyalty program is a proven strategy for eCommerce businesses to boost customer retention and generate more sales. If you are struggling with building a loyal customer base around your Shopify store, a loyalty program can be an effective growth tool for you.
By implementing a strategic loyalty program, you can improve the shopping experience for your customers and encourage them to shop more to earn points, discounts, and other attractive rewards.
Having said that, in this article, we will walk you through a step-by-step guide to setting up a loyalty program for your Shopify store and share best practices to leverage it to drive more sales.
What is a Loyalty Program?
A loyalty program is a strategic marketing approach online stores employ to nurture and incentivize their most valued customers to foster customer loyalty and improve retention rates.
It typically involves offering loyalty points to customers for shopping and allowing them to redeem them for attractive discounts and offers on future purchases.
Some of the common perks offered by loyalty programs are as follows –
Exclusive percentage or flat discounts on products
Free or discounted shipping.
Granting early access to sales and offers
Prioritizing customer service.
Extending membership perks.
Extending invitations to exclusive events.
In essence, eCommerce loyalty programs are specifically crafted to acknowledge and appreciate loyal shoppers for their ongoing support and loyalty, thereby increasing the likelihood of their repeat visits and more spending on your store.
5 Steps to Create a Shopify Loyalty Program
Now, let's start with setting up a robust loyalty program for your Shopify store.
Ready? Let's get started.
Step 1: Define your goals & KPIs
Before embarking on setting up a loyalty program for your store, you should clearly define what you want to achieve from it and how you will measure its performance.
While establishing your goals, you need to ensure that it is aligned with your overall marketing and business objectives. And, it should be specific, measurable, attainable, relevant, and time-bound.
Here are a few examples of defining goals –
Increase year-on-year customer retention by 25%
Increase CLV by 15% within the next 12 months
Drive 10% of repeat purchases through a loyalty program
Being specific with numbers gives you a clear picture of what you are targeting to achieve and can compare the performance from previous campaigns or time periods.
Based on your goals, you should also select some metrics that will help you with tracking and analyzing the performance of your loyalty program. Here are some of the important ones that you can consider –
Member Acquisition Rate: An essential KPI to evaluate the effectiveness of a loyalty program is the number of new members acquired.
Churn Rate: The churn rate represents the percentage of customers who cease to make purchases from a particular brand.
Loyalty Redemption Rate: The loyalty redemption rate reflects the level of customer engagement with a brand's loyalty program.
Retention Rate: It measures the number of customers who continue to make repeat purchases, indicating the effectiveness of retaining existing customers compared to acquiring new ones.
Repeat Purchase Rate: The repeat purchase rate is a self-explanatory KPI that emphasizes the importance of loyalty programs in enhancing the overall shopping experience.
Customer Lifetime Value: Customer lifetime value (CLV) is a crucial metric that predicts the revenue a business can generate from loyal customers throughout their lifetime.
Average Order Value: Average order value is a loyalty program KPI that provides insights into future revenue by considering both macro and micro-level factors.
Step 2: Decide on your loyalty program structure
Once you have defined your goals and KPIs, it's time to focus on designing the structure of your loyalty program. There are various types of loyalty programs implemented by brands, but the most common ones among Shopify stores are –
Points-based programs: This is one of the most prevalent types of loyalty programs. Customers earn points for every purchase they make and can redeem these points for discounts, free products, or other rewards.
Tiered programs: In tiered programs, customers are categorized into different levels or tiers based on their spending or engagement levels. As customers move up the tiers, they unlock additional benefits such as exclusive discounts, early access to new products, or personalized services.
You can either choose one of these types or create a hybrid program with more options to earn and redeem rewards. Speaking of rewards, you will also have to decide on the perks and benefits you are willing to offer your loyalty program members.
Some of the common reward options among Shopify merchants are as follows –
Discounts on future purchases
Free or discounted shipping
Free products or services
Free gift cards
Based on your program structure, you can choose to offer one or multiple reward options. However, make sure the rewards are exciting enough to entice customers to join your program and shop more to earn their rewards.
Step 3: Add a loyalty app to your store
Next, you'll need to add a loyalty app to your store that enables you to create and manage the loyalty program seamlessly. There are several loyalty apps in the Shopify app store that you can consider using, but Growave is one of the best loyalty apps that come highly recommended for Shopify stores.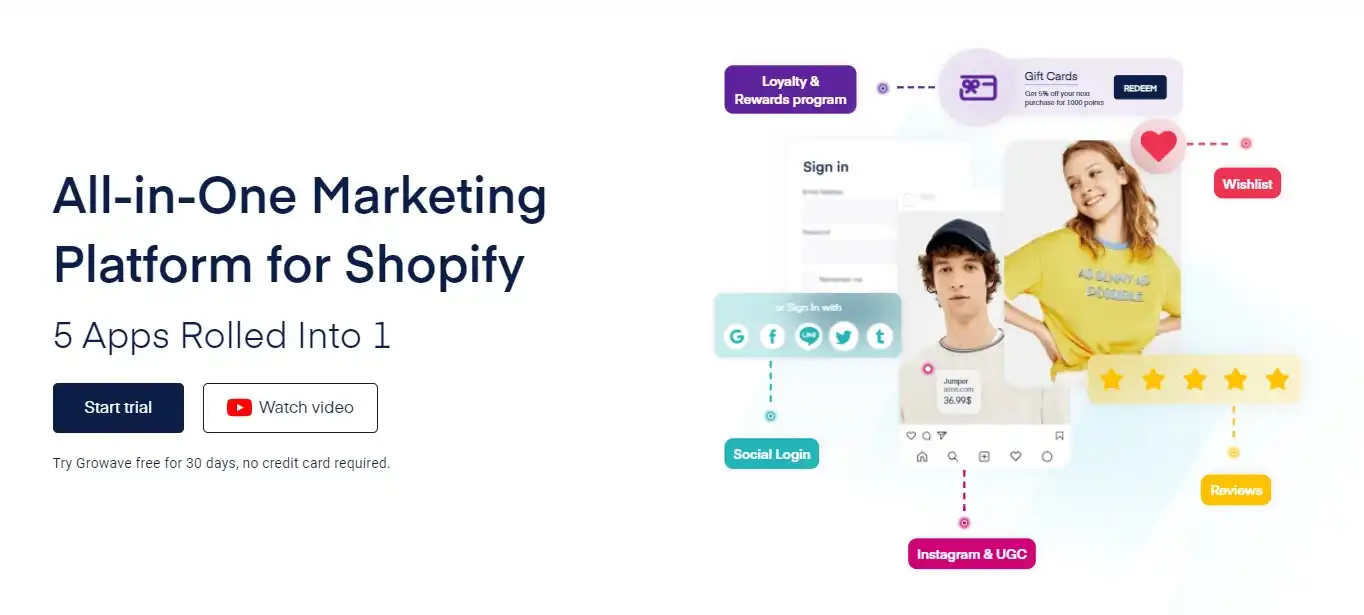 It is packed with powerful features, enabling you to easily set up a loyalty program within minutes. You can set up point-based and tier-based loyalty programs, and allow customers to earn points for different types of actions such as social sharing, product reviews, shopping, etc.
Moreover, it comes with a built-in wishlist, social login, product reviews, and other tools, replacing several apps with one. Overall, it is an amazing Shopify app that you must consider using for your store. You can read our detailed Growave review to learn more about its features and offers.
Now, to install the Growave app, you can click the button below and you'll be taken to the apps page on the app store.
Next, click the Add App button to install the app and connect it to your Shopify store.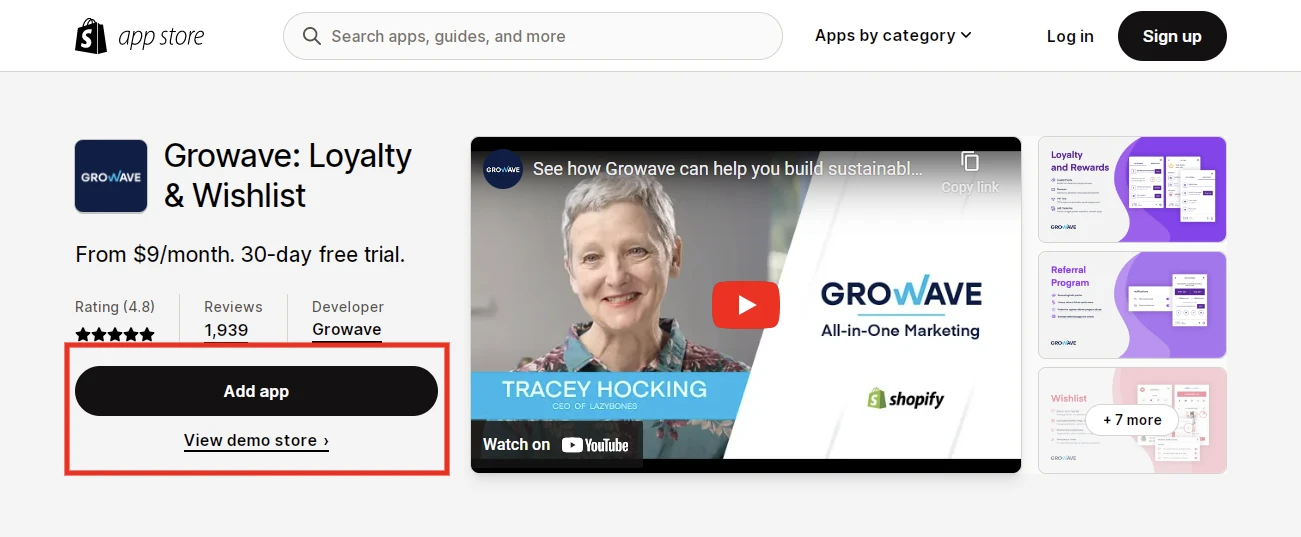 Once you've successfully connected Growave to your store, it's time to configure the app per your loyalty program structure.
Step 4: Configure your loyalty app
Now it's time to configure the loyalty program application as per your business goals. To access the app settings, select the Growave option from the sidebar under the Apps section.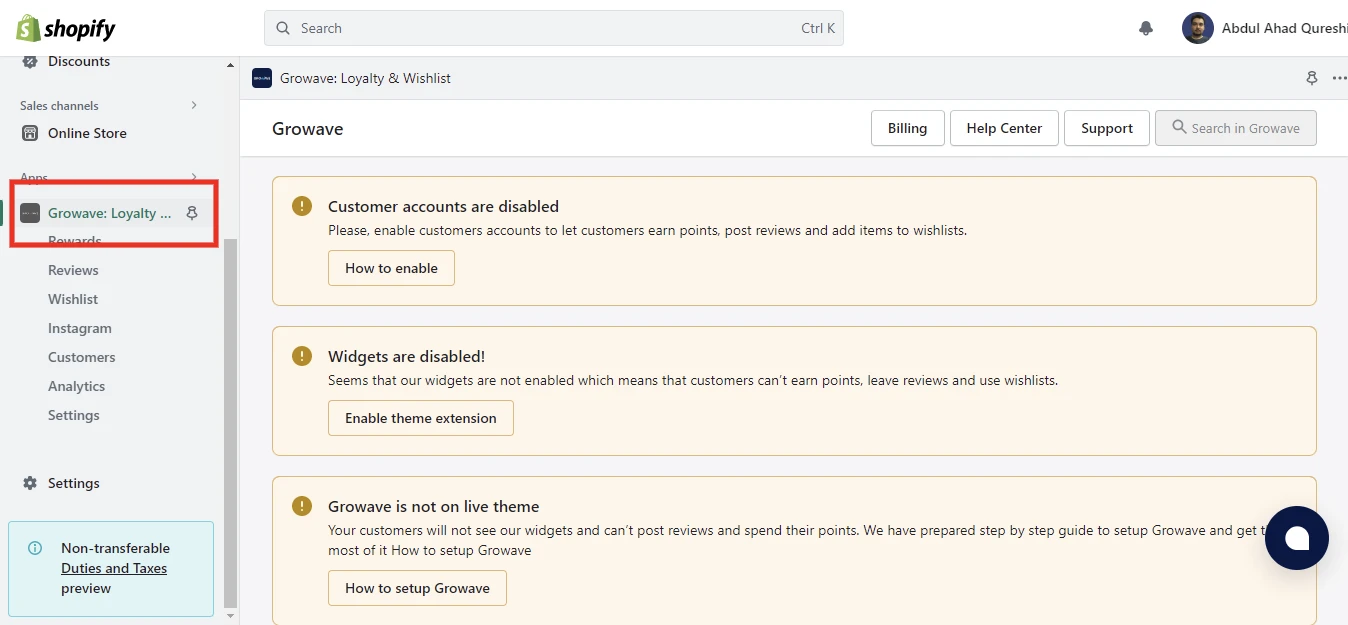 Step 4.1: Enable Customer Accounts
Enabling customer accounts is necessary to utilize some of Growave's key features such as Rewards, Reviews, and Wishlists. These features are designed to create a better shopping experience for your customers, improve retention rates, and increase sales.
To enable the customer accounts, log in to your Shopify admin and go to Settings > Customer accounts. Then, click the Edit button as shown below.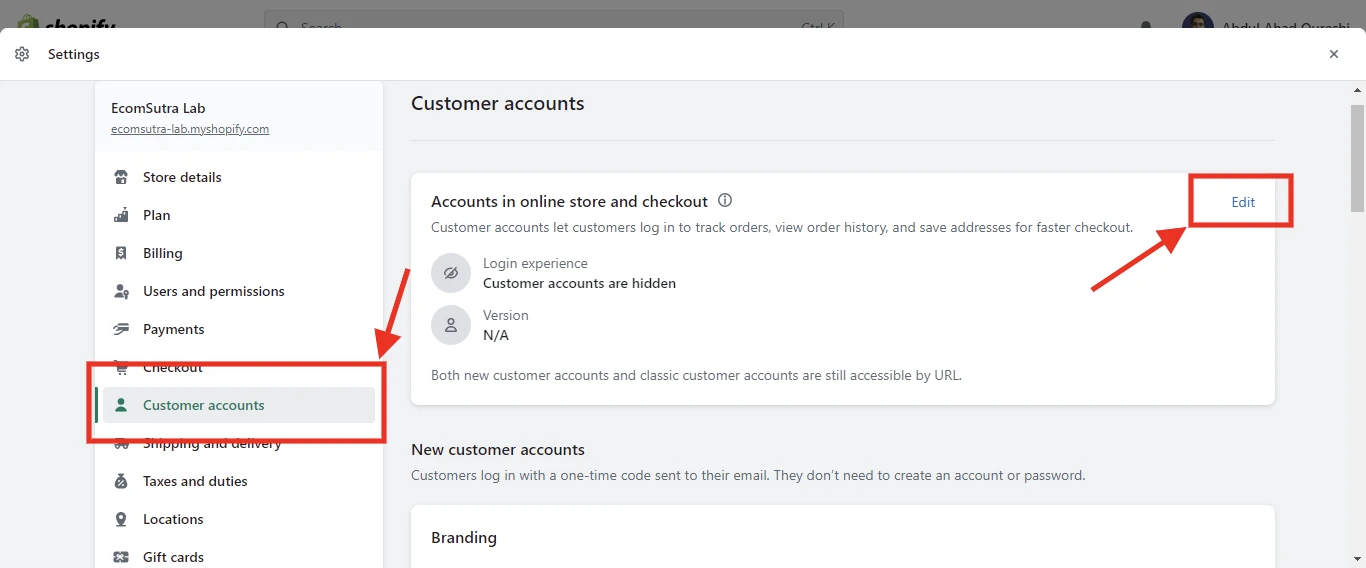 Next, click on 'Show login link in the header of online store and at checkout' → select the 'Classic customer accounts' option.

Step 4.2: Define loyalty program rules
Once the onboarding process is complete you're ready to create rules for earning and redeeming points within your loyalty program.
You can access the admin panel of the Growave application from the left side menu under the Apps section.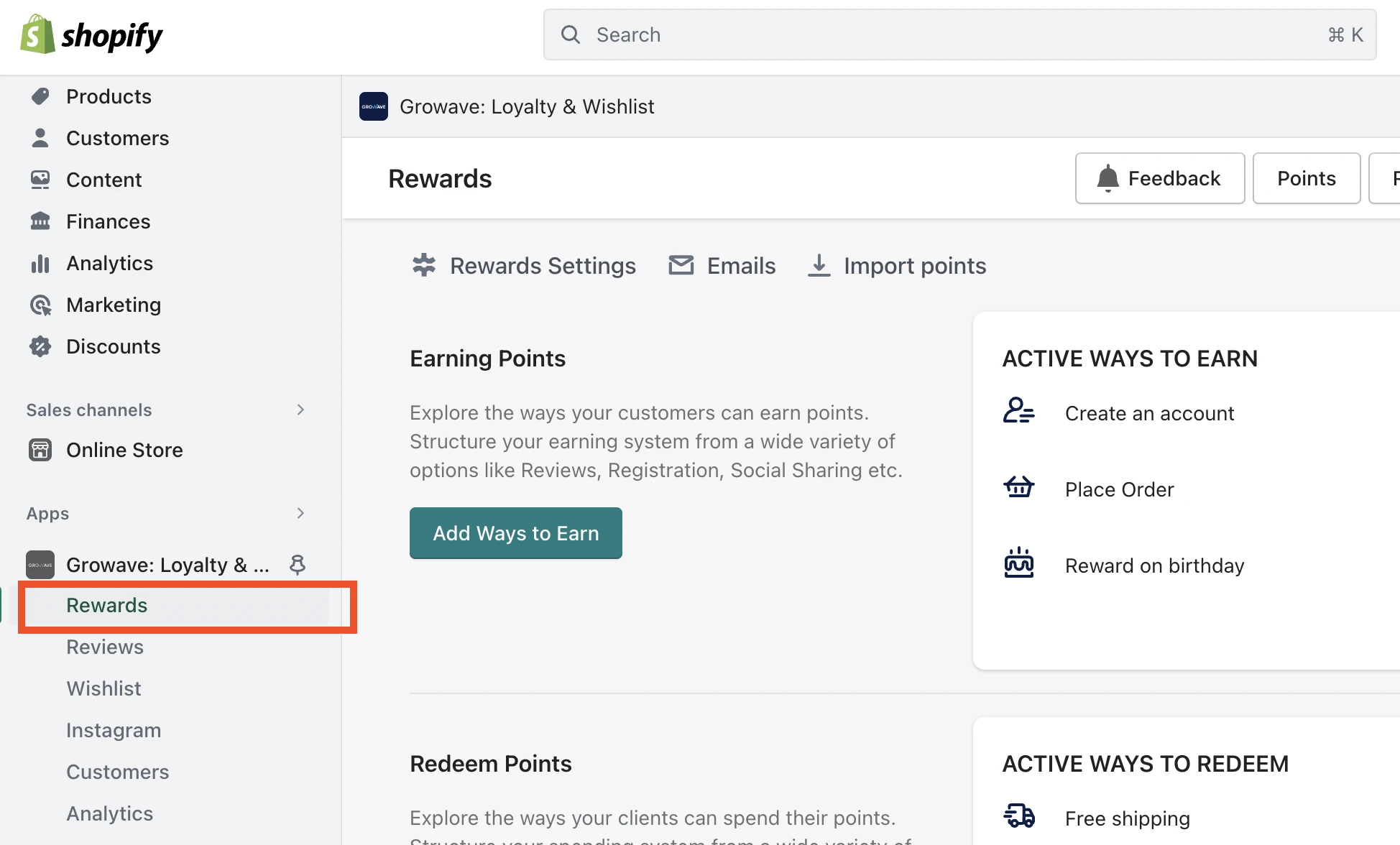 To access the general admin panel of the application, click on the 'Rewards' option. There you'll see three types of reward programs,
Points
Referral program
VIP Tiers

Select the reward program type and you'll see the fields accordingly. Here, we are setting up a points-based loyalty program and the followings are the rules and reward options you can configure –
Earning Points
Here you can structure your earning system from a wide variety of options like Reviews, Registration, Social Sharing, etc.
From the Earning Points section, you can allow the customers to earn points for performing a few tasks. For instance, reward customers on their birthday, create an account, place orders, and many more.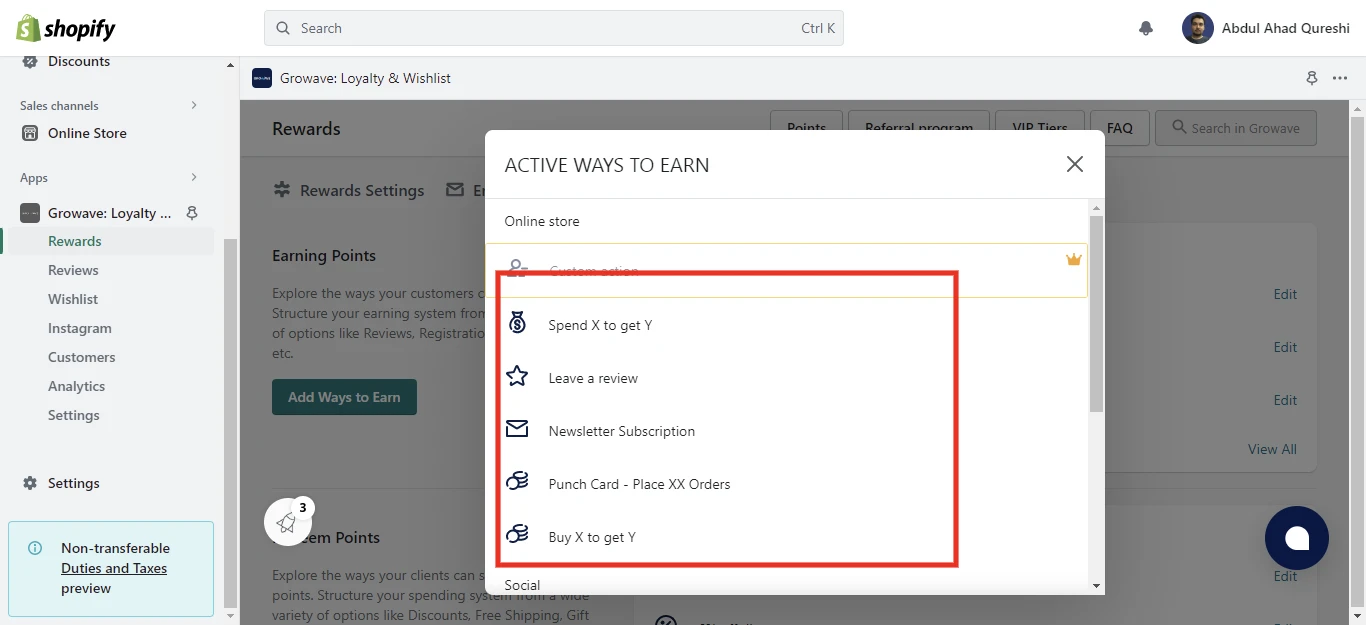 You can also create custom conditions for rewarding customers but that's a paid feature.
Redeem Points
From the Redeem Points section merchants can structure their customers' spending system from a wide variety of options like Discounts, Free Shipping, Gift Cards, etc.
To configure this section click on the Add Ways to Spend button and you'll see the following options that allow customers to redeem their points:
Cash Discount
Percentage Discount
Free Shipping
Free Product
Gift Cards
Boost Campaigns
This section lets you run time-limited offers to boost activity in your store by giving extra points for placing orders. To create a campaign click on the 'Start boost campaign' button and perform the following steps:

Firstly, enter a point multiplier. During the campaign, the reward points will be multiplied by this multiplier and will be awarded to your customers.
Secondly, enter the start and end date of the campaign.
Lastly, enter the start time and the end time for the campaign.
So this is how you can set up the basic structure of your loyalty reward program, where you define how the loyalty points will be rewarded and how they can be redeemed by your customers.
Similarly, if you want to offer a more gamified loyalty program, you can create a VIP Tiers-based program with different levels of membership and higher reward options.
Step 5: Promote your loyalty program
Now that you have a fully functional loyalty program for your Shopify store, it's time to create awareness about it among your existing customers and encourage them to join the program.
You can start by creating a landing page where customers can learn about the loyalty program and join it. You can use page builder apps like GemPages to easily create compelling landing pages without coding.
Make sure to include the link to the loyalty program landing page on the checkout page, thank you page, and other strategic locations on the website. You can also leverage email, SMS, and other marketing channels to spread the word about the program.
Finally, a loyalty program can also be a great promotional element for customer acquisition. So, make sure to leverage it to attract reward-loving customers and drive more sales.
Ready to Launch Your Loyalty Program on Shopify?
Setting up a loyalty program for your Shopify store is a powerful strategy to nurture customer loyalty and drive business growth. By following the steps outlined in this article, you can create a compelling loyalty program that can enhance the customer shopping experience and boost your store for rapid growth.
By using a trusted Shopify app like Growave, you can expand the functionality of your Shopify store to set up a loyalty program that not only fosters customer retention but also attracts new customers.
Finally, if you are looking for more apps to improve store performance and generate more sales, here are a few hand-picked articles that you can check next –