If you have landed here, I guess you already know about Ecwid and chose to start your eCommerce business. However, for any reason, if you don't know about it, you should read our in-depth Ecwid review before going ahead.
Creating a website from scratch and maintaining it is a huge task. As a small business owner, it may not even be feasible. To make it easier for everyone to bring their business online, Ecwid takes care of the website creation and maintenance process. It offers tools and a platform to help you get your site up and running in no time.
At the same time, they take care of your website and keep it running smoothly. As a result, you could focus on expanding your business instead of spending time fiddling around with the website.
Sounds interesting? If so, let's create a free eCommerce site on Ecwid.
8 Step Ecwid Tutorial to Set up an Online store
Conventionally, you require a CMS (Content Management System) to build an online store from scratch. CMS helps you create, manage, and modify a website. However, it is cumbersome and requires you to know how to build a website.
If you want an easy solution to create an online store, you can use one of the paid eCommerce platforms that manage all your backend requirements and provide you with tools to create a website with little to no technical knowledge. These platforms manage and maintain your online presence while focusing on your products or services.
Lastly, we have Ecwid, which provides lucrative free and paid plans.
If you are a business owner who wants to start an online store for free without much technical hassle, Ecwid is the perfect eCommerce platform for you to get started.
When you start using Ecwid, you do not only get a website to tell your customers about your product, but you also get an in-built store to help you sell the products or services.
Ecwid doesn't require any kind of coding skills or technical knowledge. Add your products to the website and details about your business, and you are ready to sell online.
There is a high chance that you already have a website, but you want to start selling products or services on your website. In that case, a simple plugin or extension from Ecwid would help you turn your website into an online store. This plugin works perfectly with most common website-building platforms, including WordPress.
That being said, let's get started with creating an online store on Ecwid.
1. Create your Ecwid Account
The Ecwid starter site is free of cost that you can avail upon signing up. So, go to Ecwid.com and click on the "Get started for Free" button on the top-right corner of the page.
Now, the first thing that you need to do is enter your basic details.
The step is simple, you need to enter your name, email id and create a password. It should take you less than a minute to complete it.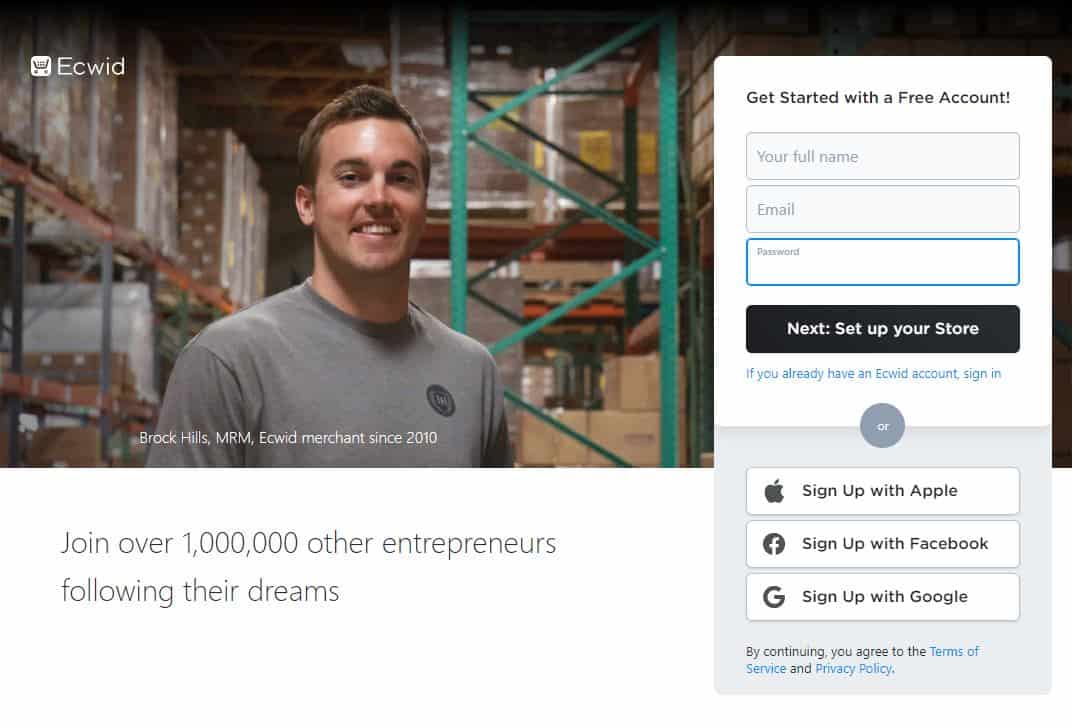 Click the "Next: Set up your store" button to go to the second step.
Now, you will have to go through the four-step process to complete the registration. Here's how the process goes –
Step 1: Add your store name and details
Every store must have a unique name that reflects the nature of its business. As such, the next step is to add your store's name and country and currency.
Don't worry! Ecwid allows users to go back and change the store's name at any time later.
Step 2: Add Company Address
The third step of the signing up process entails adding your company address. You need to add the city, city, and zip/postal code of your company's region.
It is an important step because this address will be used for verification (if needed) and the payment process. If you don't have a company address yet, you can enter an address from where you will be shipping your orders, like your residential address.
Step 3: Answer Simple Questions
Now Ecwid will present you with three simple questions that will be used to assist you with the store setup in later stages. If you are already following these steps, you may have already seen the question.
If you are just going through the article, here are the three questions asked by Ecwid –
Do you already have experience with selling online?
What type of products will you be selling?
Are you setting up a store for someone else?
You can surely ignore these questions, but it is a good practice to follow each step if you are doing this for the first time.
Step 4: Add or Create a Website:
Before you finish signing up and proceed to your dashboard, Ecwid asks you if you have an existing website.
If yes, you can select your website platform from the dropdown. You don't have to integrate right now.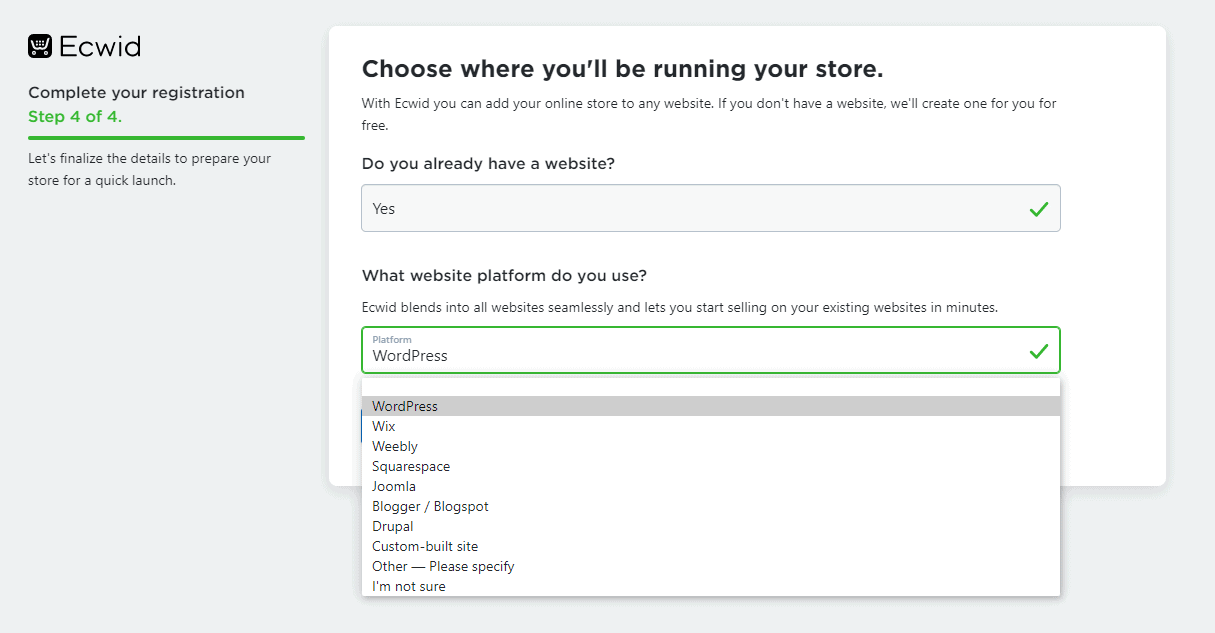 If not, you have to choose a domain address for your store. Ecwid will make you one at no extra cost.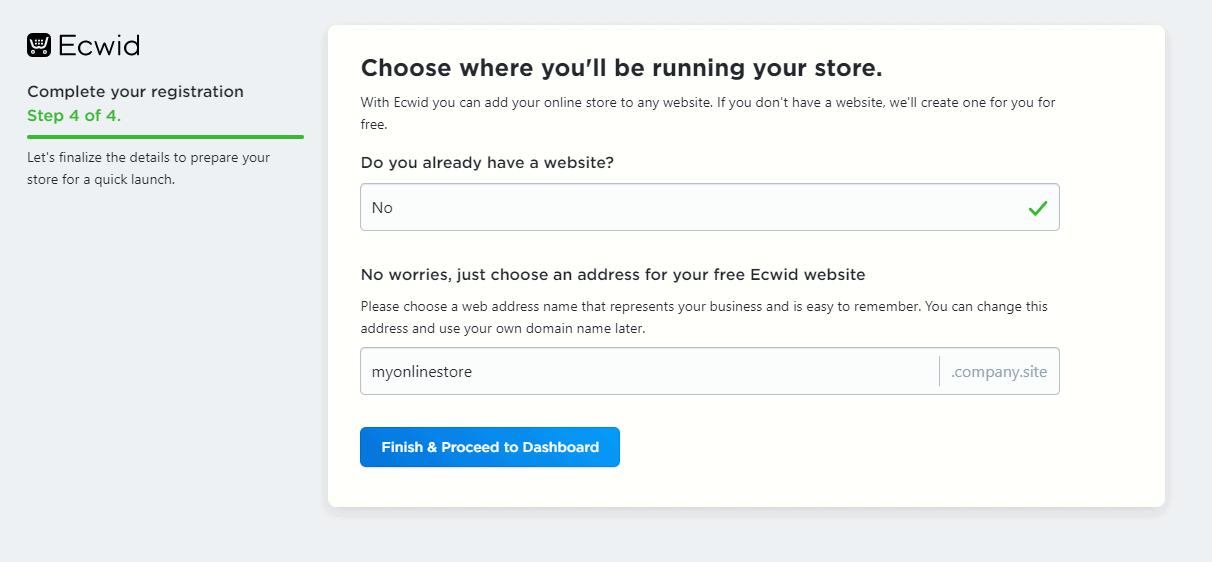 Click the "Finish and Proceed to Dashboard" button to go to the Ecwid dashboard.
2. Add products to your store
Once you are done with setting up your Ecwid store, you will be directed to your dashboard.
Then select the "Catalog" option in the left sidebar under the store management section to populate the website with the products or services you want to sell in your store.

Next, remove the sample products and click "+Add New Product" button to add your products to the store.
While adding a product to the store, make sure that you don't miss the following details to add about products –
Images – You can add as many product images as you can. Among all the first images in the list will be used as the main image. You can drag the image to change the placement.
Name – Add the name of the product that defines the product and avoid adding unnecessary detail in the name field.
SKU – It stands for Stock Keeping Unit. it is a unique code consisting of letters and numbers that identify characteristics of each product, such as manufacturer, brand, style, color, and size.
Weight – If you are selling a physical product, ensure that you add the product's weight, which will be used to calculate the shipping cost for you and your customers.
Product Description – Product description helps customers know more about the products and is also a great place to add keywords for SEO.
Price – Add the price of your product. You can also compare and discount pricing if you upgrade your Ecwid account to a paid plan.
Attributes (if any) – Attributes are the additional information about products that users can see on the product page. Attributes can be like brand name, color, size, etc.
Related products – it is a good practice to add products related to others. These products appear on the product page under the "Related products" section.
If you get a paid plan for Ecwid, you can also customize the metadata of the page title and description to improve the SEO ranking of your online store.
3. Update General Settings
The next step is to update your general settings. Go to the Settings option in the left bar, and under the "Store Profile" section, you can check/change your store name and add other data such as your Company name (if your online business operates under a different company name). You can also link your social media pages here.
In the "Regional Settings" section, you can update/ change your regional information, wherein you can change your currency, language and define how product price will be displayed.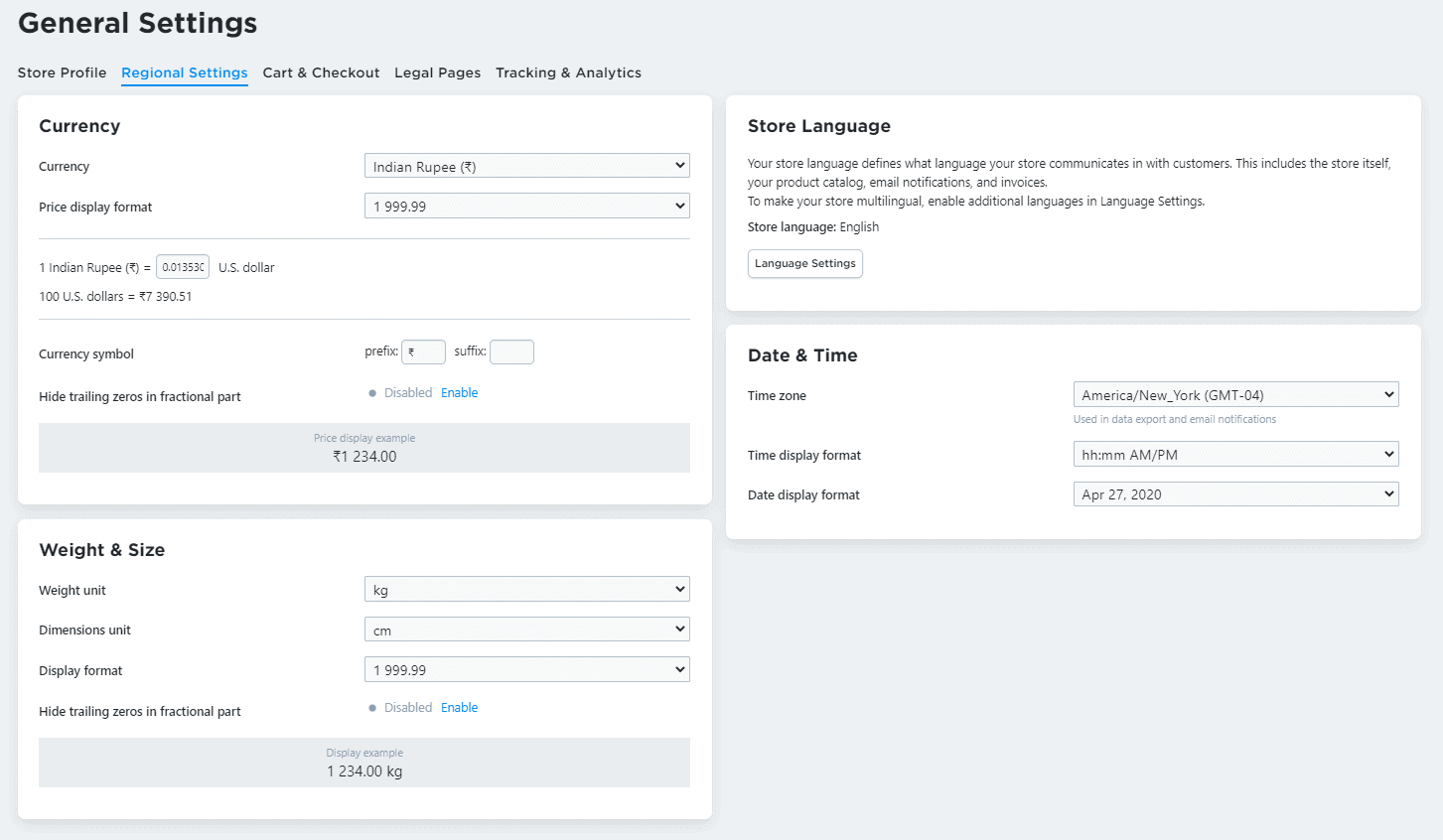 Similarly, in the "Cart & Checkout" section, you will be asked to update the information regarding product display, checkout options, and a lot more.
In the"Legal Pages" section, you can add (or enable) legal pages like terms & conditions, privacy policy, return policy, shipping, and payment info for your Ecwid store.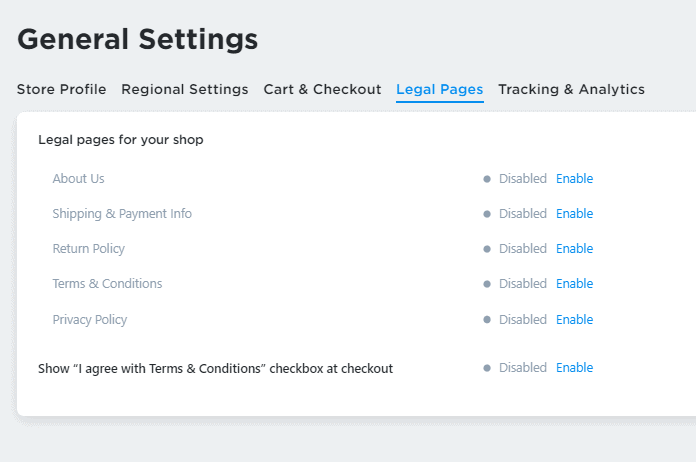 Finally, "Tracking & Analytics" allows you to connect your Ecwid store to essential tools, including Google Analytics, Facebook Pixel, Pinterest Tag, Snapchat Pixel, Google Ads Tags, etc. Adding these tools can be extremely beneficial in implementing remarketing strategies along with understanding the buyer persona of your prospective customers.
You can also enable the GDPR cookie consent banner, which displays a dialog box on your site that explicitly asks if your visitors are okay with their activity being tracked. Visitors who opt-out of being tracked do not count in statistics gathered by Google Analytics and Facebook Pixel.
4. Add Shipping method and cost:
If you want to sell physical products, the next step should be to add the shipping method for your products. Head over to the "Shipping and pickup" option from the sidebar.
To add a Shipping method, click the "+Add Shipping" button and select how you want to ship your goods. Ecwid automatically shows the most popular Shipping service providers in your country.
Here's how it appears if your country is India.
Select or add your shipping method and set up the rates for delivery based on how much your shipping partner costs you.
5. Add Payment Method
The next step is to select how you want your customers to pay i.e. you have to select the payment method for your store. Ecwid offers a wide range of payment gateway options based on your region.
So, this again depends upon payment services available in your area of business. You can set a payment method as per your country/region's regulations.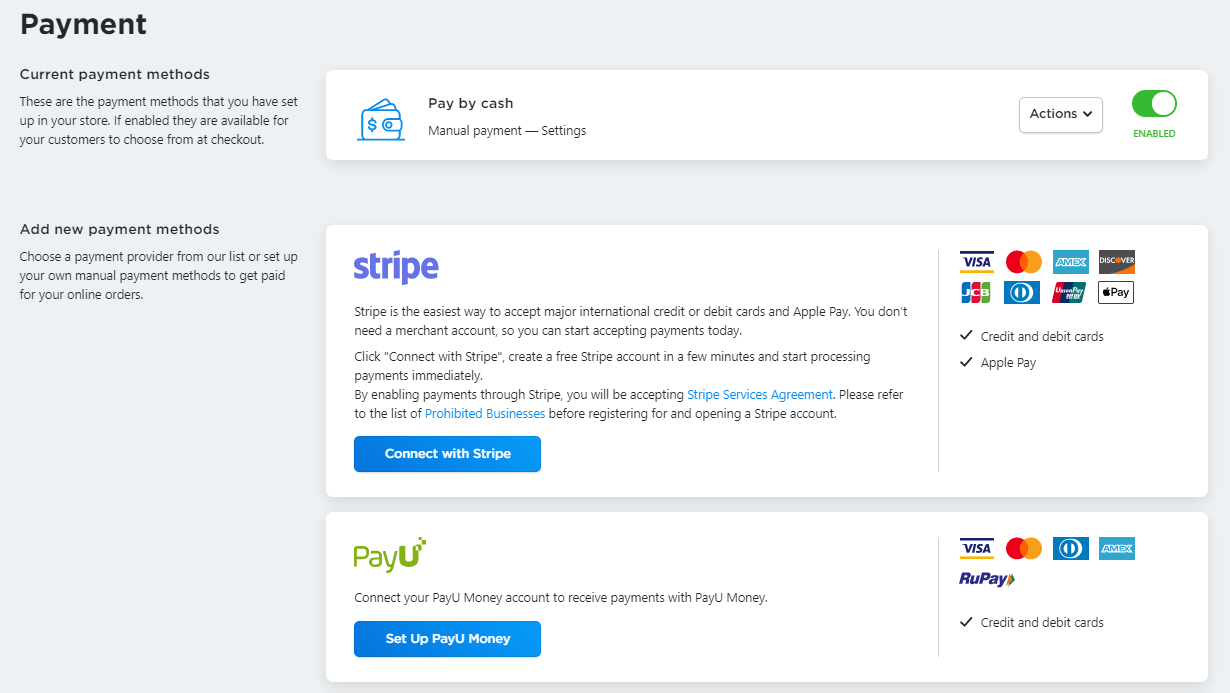 You can provide the option of paying by cash or add other methods and payment gateways such as Stripe, Paypal, PayU, etc.
6. Customize your store design
Your free Ecwid store might not look as you expect it to look. So, Ecwid offers you the option to customize it. To change your website's look, select the "Design" option from the sidebar.
Once you select this option, you will see a window where you can edit your website's design.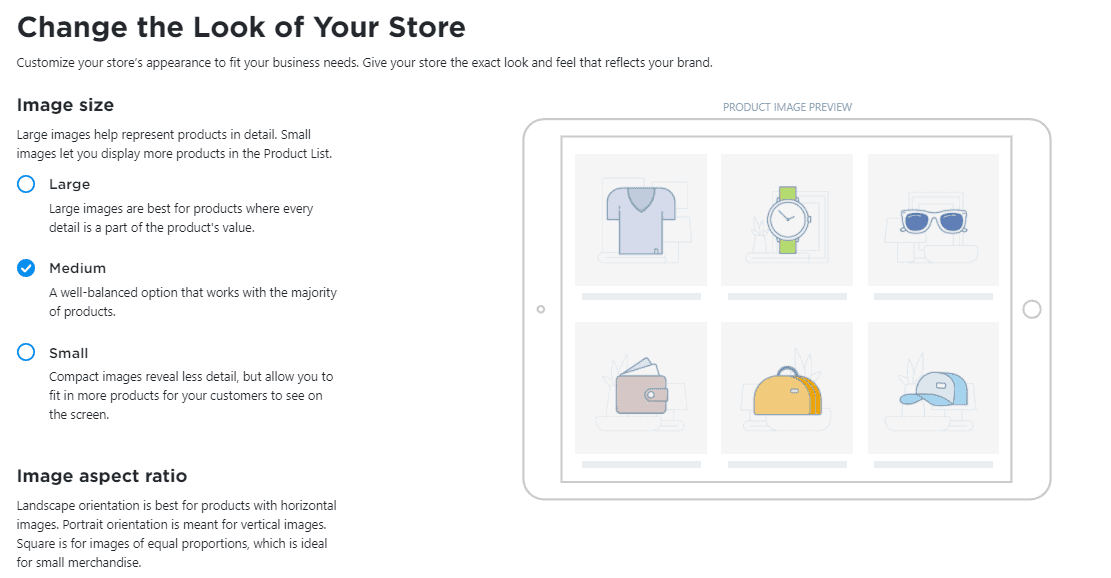 You can change the layout of your online store and decide how it appears to your prospective customers. From changing the product image size, font, to alignment and details that appear to customers on the page.
Note: Ecwid doesn't provide any theme or many customization options if your store is hosted on the Ecwid platform only. However, if you connect this store with your existing website on WordPress, Wix, or other platforms, the look and feel of the store will be changed based on the theme of your existing website.
8. Launch your Store
Once you have added all the necessary details, it is now time to get your store live. However, after the store is live, you may also want to focus on invoice design, store labels, and tax settings.
You can continue with a free Ecwid online store or upgrade based on your requirements.
However, if you have more than 10 products or you want to sell digital products from your store, you'll need to upgrade the plan to any of the paid plans because, in the free plan, you can add up to 10 products only.
How much does Ecwid's paid plan cost?
If you talk about creating a website using a CMS, you would require a web developer who might charge you anywhere between $50 and $250 per hour to create the website. The process might take a week or two to get finished. As a result, it is not a good way to take your business online, especially if your business is small.
A more affordable option involves hosting and web developing platforms. These services allow you to create a website with the help of easy-to-use tools and maintain it for you. If you use such a service, you will pay around $30 to $300 a month to run your online store.
Ecwid comes with a better offer. Just take a look at its pricing and plans –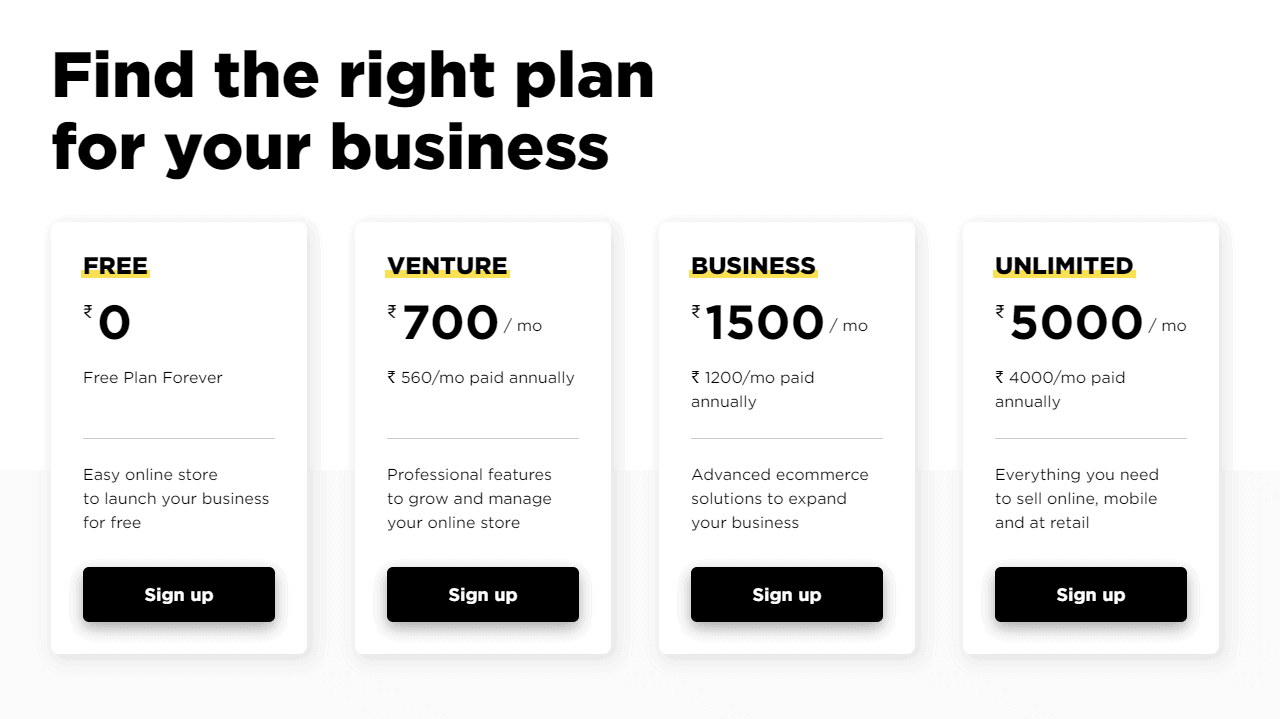 Ecwid gives you an e-commerce platform, regardless of your plan. It means you will get an e-commerce platform for free. You can choose paid plans to get additional features on your store but what's important here is that you can start your online business for FREE.
Above that, the process to create the store is simple: you register on Ecwid for free, add your product details and your business details, and your online store is ready to take orders.
Ready to Start Your Ecwid Store?
Today, everyone wants to increase the reach of their business. As a result, business owners are turning to online platforms to sell their products. The 2020 pandemic has ensured that online shopping will stay and keep growing over time.
Research indicates that as many as 2 billion online purchases were made in 2021. So, if you are one of those people who want to start an online store, here is a complete guide on how to start an online store on Ecwid.
In today's world, having an online presence is a must if you want your business to grow. To facilitate this, platforms such as Ecwid are coming up with solutions that allow a business owner to create attractive websites in under an hour. You don't need to pay a huge sum for a web developer or a hosting service. Ecwid requires you to sign up, add your details, and it will give you an eCommerce website in the blink of an eye.
Once you set up your online store, you may want to check out these hand-picked articles for more tips to grow your online store –