Do you want to automate the marketing activities for your business? Are you looking for the best marketing automation software for your business? If so, this article is for you.
Marketing automation software is a set of tools designed to streamline marketing communication across multiple channels & automate some of the tedious, repetitive & time-consuming tasks in sales and marketing automation roles.
In simple words, marketing automation tools let you send the right message to the right set of people at the right time on their preferred channel, without any manual interference.
Marketing automation software plays a vital role in lead generation, nurturing, reselling, and upselling. In the next section, we will look into some of its basic use cases.
In this article, I will show you the best marketing automation tools that you can use to automate the entire customer journey of your customers and generate more sales for your business.
However, before we start with the list, let me tell you what are marketing automation tools and how they can help your business grow.
6 Top Marketing Automation Software
There are tons of marketing automation software available in the market, but to make it easier for you to decide, we will look into these five marketing automation software –
Ready? Let's get started.
1. HubSpot – All-in-one Marketing Automation Software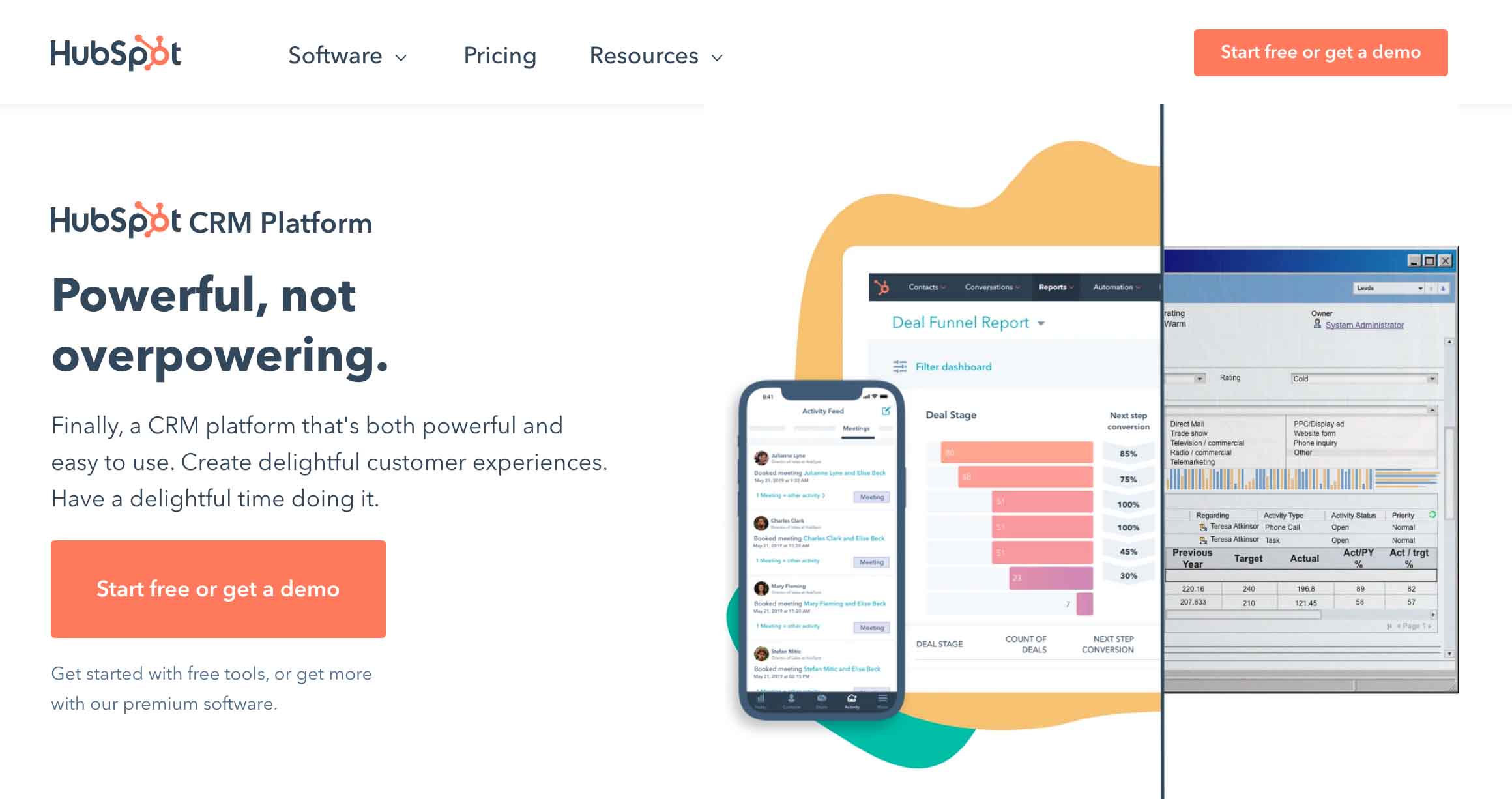 HubSpot is a pioneer in the marketing automation space as it offers a complete set of tools and integrations you need to run a successful automated campaign. The best part about HubSpot is that it provides a free CRM that includes many essential features, including email marketing and live chat.
Since most small businesses and entrepreneurs can't afford to invest in costly marketing CRM software, HubSpot empowers them with great features that can help them grow exponentially.
Key Features of HubSpot-
Automation Workflow: It enables you to personalize your workflows, automate daily tasks, and schedule lead nurturing campaigns on autopilot.
Segmentation: It allows you to segment your subscribers based on static or active contact lists and apply contact scoring to determine the current status of the leads.
Integration: It has a robust app marketplace where you can find apps to connect your other sales and marketing software and services.
Website Tracking: It tracks your visitors using browser cookies, which lets you target relevant content based on their behavioral activities.
Landing Pages: It enables you to build dynamic landing pages optimized for mobile devices and highly convertible.
LiveChat & Chatbot: It offers a free live chat tool and chatbot builder that engages with your visitors and collects all the needed information to set up automated workflows.
Sales Pipeline Management: It enables you to create new deals easily, customize the pipeline to match your requirements, and also monitor the progress of your pipeline.
Plans and Pricing – HubSpot starts with a free plan that offers free CRM and other essential tools for sales, marketing, and service teams. You can opt for the premium plan for more advanced marketing automation features, which start at $45/month.
2. Omnisend – Best eCommerce Marketing Automation Software
Omnisend is an email and SMS marketing automation platform tailored exclusively for eCommerce businesses. It also offers a web push notification feature that allows you to nurture or notify your subscribers via their browser.
Omnisend enables you to create a fantastic omnichannel consumer experience by reaching them where they are available with the right message at the right time. Next, you can read our in-depth Omnisend review to get a complete overview of the platform.
Key Features of Omnisend –
Automation Workflows: It offers stunning pre-built automation workflows for cart abandonment, welcome series, etc, that create a win-win situation for your eCommerce business.
Segmentation: It enables you to target different types of customers by segmenting them based on engagement, lifecycle stages, transactional events, purchasing behavior, etc.
Integration: It offers a wide range of integrations in numerous categories like customer support, eCommerce platforms, onsite engagement, Shipping, Loyalty, etc.
Website Tracking: It lets you view what anonymous and known visitors are browsing on your site in real-time and target them with relevant automated emails.
Landing pages: It allows you to build beautiful and on-branded landing pages that enable easy customization and high conversions.
SMS Marketing: It offers pre-built SMS automation workflows or combines automated texts and email and push notifications into a single workflow that guarantees high consistency and relevancy.
Retargeting On Google and Facebook: It synchronizes your lists and segments with Google Ads and Facebook custom audiences to retarget them on numerous channels that ignite your conversion rates.
Plans and Pricing – Omnisend offers a free plan allowing up to 250 contacts and sending 350 emails/month. The Standard plan starts at $16/month for up to 500 contacts and offers essential automation features, and the Pro plan starts at $59/month, allowing unlimited email sending, and SMS automation with other advanced features.
If this sounds suitable for your business, you can use our Omnisend coupon to get a 10% off on paid plans for the first 6 months.
3. Brevo – Most Affordable Marketing Automation Software
Brevo ( previously Sendinblue ) is the most affordable marketing automation platform on the list. It comes with all the essential features and tools that a small business needs to automate the customer journey.
Sendinblue offers quite powerful automation features like lead scoring, website tracking, Facebook Ads, and SMS marketing which is quintessential for a small business to get started with marketing automation.
It is a perfect marketing automation solution for anyone who is just getting started with marketing automation and wants to try their hand before investing in powerful automation tools like ActiveCampaign.
Key Features of Sendinblue –
Automation Workflow: It provides a visual automation builder that lets you build meaningful workflows that get triggered when the contact performs a specific action.
Segmentation: It readily filters your email contacts based on demographics, transactional criteria (e.g., purchase history), behavior (e.g., interaction, link clicks)
Integration: It offers integrations with major platforms like eCommerce, payment platforms, lead generation & forms, helpdesk, etc.
Website tracking: It can effectively track all of the pages on your website visited by your contacts by installing the tracking code.
CRM: It provides a centralized interface to manage your leads, organize them based on various characteristics, assign tasks to teammates and automate list management.
Landing Pages: It lets you build beautiful custom landing pages from various templates and adds a follow-up page to nurture potential leads.
SMS Marketing: It enables you to promote special events using bulk messaging campaigns and creates personalized messages using segmentation and dynamic contact attributes like first name, last name, etc.
Facebook Ads: It allows you to implement conversion-friendly Facebook ads by retargeting a specific contact list or using the contact list to find new people similar to the existing ones using the lookalike audience feature.
SendinBlue Chat: It offers a user-friendly chat box that engages with the visitors in real time and lets you view the page they are currently browsing on your site.
Plans and pricing – Brevo offers a free plan that allows you to send up to 300 emails/day and has all the features to get started. Its basic plan starts at $25/month, but you will need to opt for the Premium plan, which starts at $65/month, to access its marketing automation features.
4. ActiveCampaign – Advanced Marketing Automation Software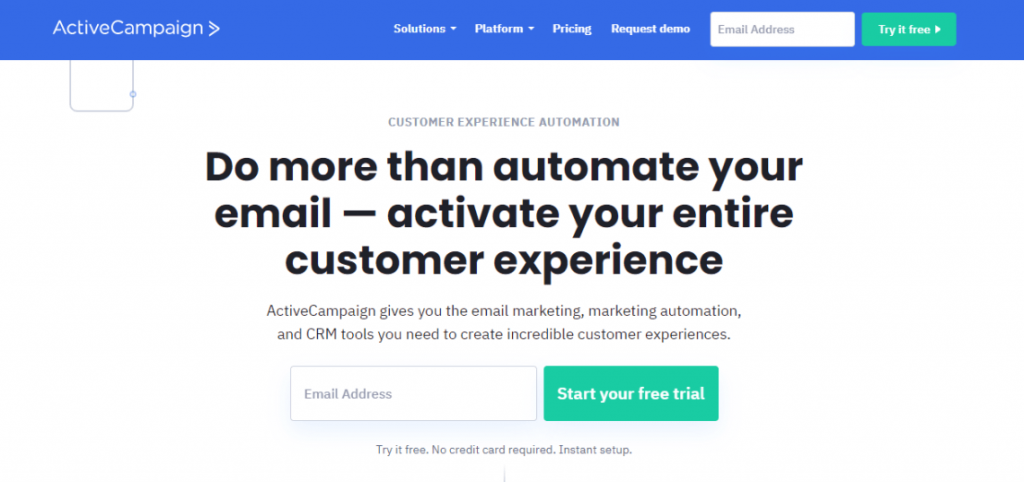 ActiveCampaign is a complete power-packed marketing automation software that has an in-built CRM. It provides incredible automation features that help in the dynamic nurturing of leads, and trigger prospects under multiple conditions that fit your customers in different stages of the funnels.
Along with email marketing, it also provides incredible text messaging and chatbot features that enable you to engage and nurture your leads and customers via multiple channels.
Key Features of ActiveCampaign –
Automation Workflow: It ensures that your sales team is notified whenever there is a new prospect, creates and manages tasks, updates/modifies the deal's status, and decides the winning probability of captured leads.
Segmentation: It enables you to segment your contacts based on contact details, custom fields, interaction levels, locations, on-site activities, etc, and apply conditional logic to precisely filter your email subscribers.
Integration: It offers more than 850 app integrations ranging from accounting, and analytics to CRM and CMS, and also you can use Zapier to connect ActiveCampaign with other tools.
Website Tracking: It allows you to monitor your site visitors' activity and map that data to trigger automation or apply lead scores to build the sales pipeline.
Landing Pages: It offers a good range of templates to build unique landing pages to drive potential leads.
CRM guarantees high efficiency as you can proactively collaborate with the team members, create new tasks, update the deal's status, and nurture leads automatically with targeted follow-ups.
Text Messaging and Chatbots: It provides a centralized platform that manages all your email, webchat, and Facebook messenger conversations parallelly. Also, you can send automated text messages like flash sale notifications, appointment reminders, coupon code delivery, etc.
Lead Scoring: It lets you assign scores by either adding or subtracting points if the conditions being set by you are satisfied by your customers.
Plans and Pricing – ActiveCampaign offers a 14-day trial for each plan. Their most basic plan, the Lite plan starts at just $15/month for up to 500 contacts, and the Plus plan starts at $70/month with a wide range of features.
And to access the split automation and win probability feature, you will need to upgrade to the Pro plan, which starts at $159/month.
5. GetResponse – Easy-to-use Marketing Automation Software
GetResponse is an all-in-one marketing platform that offers robust marketing automation tools. With GetResponse, you can automate the entire customer journey using Webinars, email marketing, social media ads and build a conversion funnel to track the conversion and revenue in-flow.
It is an ideal marketing automation software for bloggers, eCommerce, or any small business that want a basic and easy-to-use automation platform.
Key Features of GetResponse –
Automation Workflow: It enables you to create automation based on selected conditions, filters, customer behavior, etc.
Segmentation: It allows you to segregate your email contacts based on various conditions and automatically assign scores based on engagement levels.
Integration: It offers more than 100 integrations in different categories like CRM, eCommerce, CMS, etc., and also provides native integration with Zapier.
Landing Pages: It lets you build high-converting landing pages that are readily optimized for desktop and mobile versions.
Advanced Targeting: It lets you nurture new visitors, recommend suitable products based on purchase history, and automatically remind customers about their incomplete checkout process.
Retargeting: It enables you to create Facebook ads and Google ads to retarget your customers to specific landing pages.
Webinar Builder: It allows you to conduct free and paid webinars besides paving the way to nurture leads with automated emails.
Conversion Funnel: It offers three types of funnels, namely lead magnet funnel, standard opt-in funnel, and webinar funnel, which narrows down your customer journey in different stages.
Plans and Pricing – GetResponse offers a 30-day free trial and has 4 major pricing plans: Basic, Plus, Professional, and Max.
The Basic plan starts at $15/month for up to 1500 contacts which offer unlimited landing pages and automation templates. The Plus plan starts at $49/month, enabling contact scoring, tagging, and allowing up to 3 users.
6. EngageBay – Marketing Automation Software For Small Businesses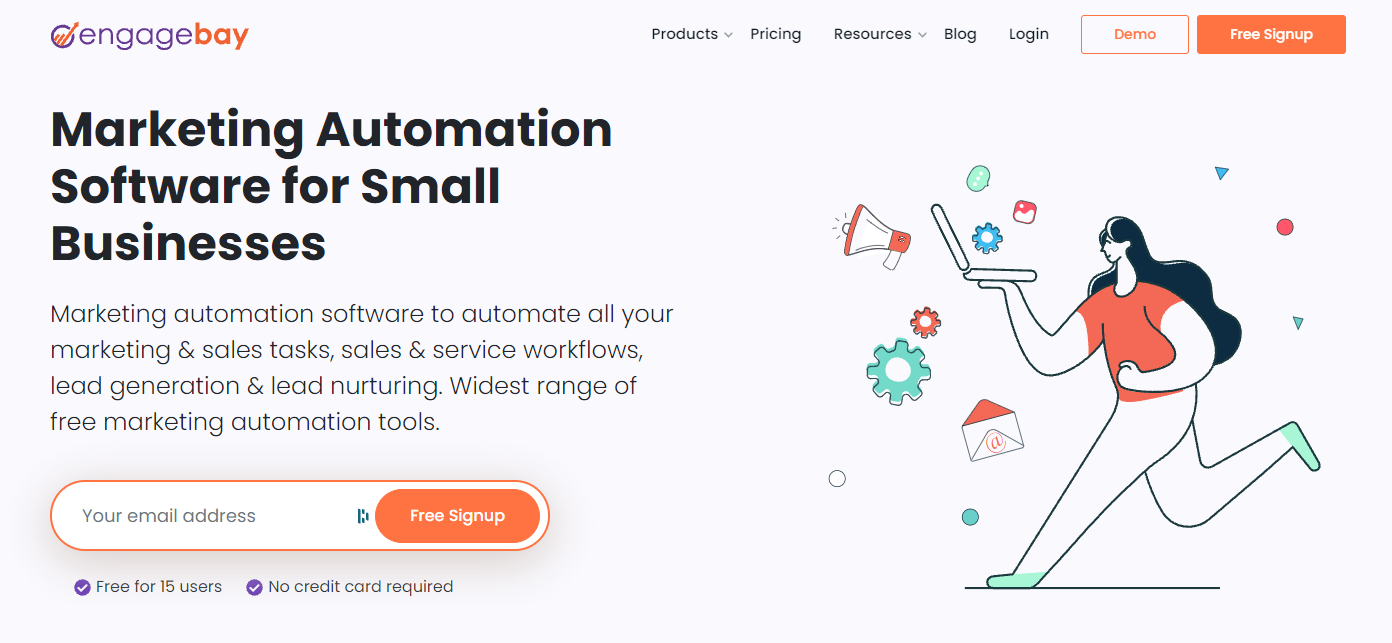 EngageBay is a marketing automation software with a set of free marketing automation tools to automate all of your marketing, sales, lead generation & service workflows, helping you save hundreds of hours every year.
Use it to automatically send email drip series, customize referral programs, capture leads from any website or app, and much more.
With EngageBay's seamless Marketing Automation Hub, you can create contacts or leads that are automatically tagged, triggered by certain conditions, automatically added to lists, and intelligently converted over time.
Key Features of EngageBay-
Email Marketing: It allows you to create beautiful newsletters and launch targeted campaigns that grow your subscriber list.
Landing Pages: No technical ability required, no coding skills even required. Create your landing pages by simply dragging and dropping blocks into place.
Lead Generation: It'll help you build a powerful online presence, and create a pipeline of qualified leads to send to your sales team.
Contact Management: It allows users to achieve exceptional overall contact management functionality by utilizing smart data management techniques.
Appointment Scheduling: It's a free, simple, and smart web-based appointment scheduling solution with multiple integrations to make it even easier for your customers and partners to schedule appointments and deliver more revenue and resources for you.
Drip Campaigns: Create, monitor, launch, and manage all your social drip campaigns right from one powerful, easy-to-use dashboard.
Customer Segmentation: EngageBay provides a suite of tools to engage, track and communicate with customers while generating measurable ROI. EngageBay integrates with your current platform and processes.
Lead scoring: Multi-use lead scoring and management platform that gives you the power to easily turn your website traffic into sales with lead scoring and intelligent action sequencing.
Track & Analytics: It provides you with a set of tools that enhance visitor engagement and conversion, and that increase your sales revenue.
Plans and Pricing – EngageBay is an all-in-one CRM software that has different pricing plans from Service and Marketing features. It also has a free plan which allows you to explore the essential features and upgrade the plan as the business grows.
The paid plan for marketing automation starts at just $12.99/month which comes with a landing page builder, lead scoring, SMS marketing, and access to 3rd-party integration along will all the features from the free plan.
Why do you need Marketing Automation Software?
Not every company or marketing team can operate their marketing activities effectively – it is not as easy as it may sound to you.
However, it can be easier for you to get started if you know how exactly marketing automation tools can help you.
Here are a few primary use cases of marketing automation –
To identify the engaging visitors and turn them into potential customers.
Build a sales pipeline that nurtures leads in every single stage.
To bring customers into different stages of the buying journey.
Automatically segment leads based on real-time activities.
To trigger certain conditions that work when your customer performs a specific action.
Organize all the internal workflows that contribute to high productivity and reliability.
Identify what your customer likes and dislikes and then provide the needed information.
To deliver a personalized experience by sending relevant messages at the right time.
There are many such use cases, but these are the most basic ones that you must keep in mind while selecting the right marketing automation software for your company.
Which is the best marketing automation software for you?
The right marketing automation software entirely depends on the level of automation you want to execute, your budget, and objectives.
For instance, if you are in eCommerce and just want basic text and email automation, try Omnisend, and for an advanced marketing automation tool, ActiveCampaign would be the best option for you.
Similarly, if you want complete automation software for sales, marketing, and customer service roles, HubSpot should be your first choice.
These marketing automation solutions offer all the essential tools you need to run effective marketing campaigns, but if you want to explore the best tools for different marketing activities, check out these articles-