Do you want to create product recommendation quizzes for your Shopify store? Are you looking for the best Shopify quiz app? If so, this article is for you.
One of the best ways to provide personalized product recommendations to shoppers in your Shopify store is by creating interactive quizzes. With quizzes, you can take inputs from visitors to know their preferences and the types of products they are looking for.
Based on the data collected, you can provide a personalized shopping experience by showcasing the most relevant products in which the shoppers are most interested. This way, shoppers will be able to find their desired product easily and most likely complete the purchase instantly.
The best thing about using quizzes is that the shoppers feel involved in the process of curating the product recommendations, which entices them to take further action and complete the purchasing process, thus improves the conversion rate for your store.
With the right Shopify Quiz app, you can easily create powerful quizzes for your Shopify store and provide unique product recommendations based on their needs.
So, in this article, I have collated some of the best Shopify quiz apps from the app store and reviewed them to help you pick the best one based on your business needs.
Ready? Let's get started.
1. Octane.AI – Product Recommendation Quiz & Surveys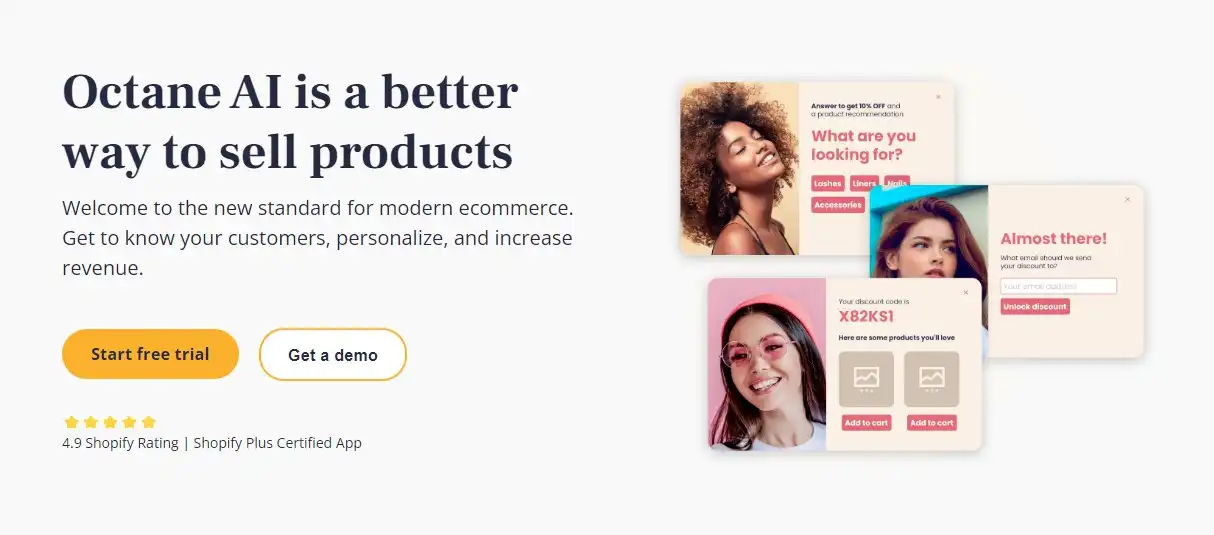 Octane AI is a powerful Shopify quiz that enables you to create different types of product recommendation quizzes for your store and provide a personalized shopping experience by showing the right products based on their quiz inputs. You can also create quizzes from customer insight surveys, educational conversations, and gift findings.
The app is easy to use as it provides a drag-and-drop quiz creator. It also comes with various quiz templates, which you can easily customize per your business needs by changing the quiz design, and layouts to match your branding.
The app integrates with popular email marketing apps, which allows you to grow your email list and send personalized product recommendations via email campaigns to drive more sales & conversion.
Key Features –
Drag-and-drop editor
Customizable quiz templates for various niches
Fast loading speed
Grow email and SMS lists
Smart popups to display quiz results
Offer discounts on recommended products
Powerful customer analytics reporting
Direct integrations with Klaviyo, Gorgias, Justuno, etc.
Pricing Plans – Octane AI offers a 14-day free trial on its two paid plans, starting at $50/month for stores with less than $1 million annual revenue.
2. Shop Quiz – Product Recommendation Quiz App

Shop Quiz is another powerful Shopify quiz app designed specifically for product recommendations. It lets you create quizzed with targeted questions and based on the inputs, you can either display the recommended product right on the website or email them directly.
With Shop Quiz, you can create easily create complex quizzes using its advanced conditional logic and forking options. The app collects all the data about quiz participants and provides detailed insights about them, which you can leverage to create effective marketing strategies.
You can also connect it to your email or CRM software to collate all the customer data and use it for personalized marketing campaigns and generate more sales.
Key Features –
Easy to install and set up
Customizable quiz design themes
Create unlimited quizzes & questions
Advanced quiz analytics reporting
Create a custom audience with Facebook Pixel
Direct integration with Klaviyo, Omnisend, HubSpot, etc.
Pricing Plans – Shop Quiz has a free plan that allows creating unlimited quizzes but is limited to only 100 responses/month. The paid plan starts at just $39/month, which allows more responses and advanced customizations.
3. Presidio – Product Recommendation Quiz Kit

Presidio is a simple Shopify Quiz app that comes with a complete quiz kit to create stunning product recommendation quizzes. It is easy to use with basic yet powerful logical conditions and display controls.
The app comes with pre-designed templates for quizzes and result pages that you can easily customize to match your brand look and feel. Based on its templates, the app seems ideal for apparel, food, and health-related Shopify stores.
Presidio allows you to offer discount codes on the result page to encourage shoppers to buy the recommended product immediately and thus helps you boost the conversion rate for your store.
Key Features –
User-friendly and easy to use
Lightweight with the fast loading speed
10+ customizable quiz templates
Customizable result page
Offer discounts on the result page
A/B testing of result pages
Advanced analytics reporting
Integration with Klaviyo, Mailchimp, Facebook Pixel, Omnisend, etc.
Pricing Plans – It offers a 14-day free trial on its 3 paid plains which are mainly based on the number of quiz engagements and access to advanced features. The basic plan starts at just $59/month, allowing up to 500 monthly quiz engagements. However, for personalization and other advanced features, you will have to opt for the middle or advanced plan, costing $129/month and $249/month respectively.
4. Jebbit – Multipurpose Shopify Quiz App
Jebbit is more than just a product recommendation quiz builder app, it let you build any kind of interactive experience for your Shopify store that can help you build email lists, boost conversion rate and average order value & recover abandoned carts.
With Jebbit, you can build any kind of quiz, including personality quizzes, trivia, and lookbooks. You can even set up live polling and voting to create contests and gather insights from customers.
You can assign different attributes to customers based on their answers and create segments, which you can leverage to deliver personalized email and SMS campaigns that can result in better ROI with higher customer satisfaction levels.
Key Features –
50+ pre-made templates
No-code quiz builder
Realtime analytics reporting
Direct integration with Shopify for product synchronization
Powerful integration with Klaviyo, HubSpot, Mailchimp, and other marketing apps
Pricing Plans – Jebbit has a free plan that allows up to 500 total lifetime engagements. The paid plans start at $49/month with a 14-day free trial, allowing up to 200 monthly engagements.
5. Quizell – Simple Product Recommendation Quiz App

Quizell is a simple product recommendation quiz app for Shopify stores, with probably the best user interface to design product recommendation quizzes. It comes with a drag-and-drop editor that lets you create beautiful starting pages and result pages to provide a unique user experience.
Although you will see very few merchant reviews for this app compared to others on the list, it is quite useful if you are looking for a simple quiz app that lets you easily create quizzes and also compliments your store's look and feel.
Key Features –
Easy-to-use interface
Read-made quiz templates
Drag-and-drop editor
Multilanguage support
Reporting on every answered question
Seamless integration with Klaviyo, Mailchimp, HubSpot, Omnisend, etc.
Pricing Plans – Quizzel has 3 paid plans with a 7-day free trial. The plans are based on the number of monthly engagements, starting the Lite plan with 500 Engagements/month.
Found the best Shopify Quiz App?
Finding the right quiz app for your Shopify store entirely depends on the complexity of your quizzes and how you wish to use the data. If you want to just ask few questions and display product recommendations, you can use any of the above-list apps.
However, if you want to use complex conditional logics and use the data to create personalized user experience, you should consider using Octane AI or Shop Quiz. These are the most powerful Shopify quiz apps that lets you create complex quizzes and use customer responses to provide personalized product recommendation or even extent the journey to email and SMS marketing.
I hope this article helped you find the best quiz app for your Shopify store to create product recommendations. If you are looking for more apps to enhance your store's conversion rate, here are few handpicked articles that you might want to read next –