If you are a Shopify merchant and not using popups to engage with your customers, you are possibly losing a lot of sales opportunities for your store.
Popups are one of the effective marketing tools for eCommerce businesses to boost conversions and generate more sales. Whether you want to build email lists, promote special offers, or upsell products to shoppers on your Shopify store, popups can help you grab their attention and encourage them to take the desired action immediately.
With the right Shopify popup app, you should be able to create high-converting popups that display at specific times or based on certain rules that ensures that the right message appears at the right time, to the right customer for impactful results.
But with so many Shopify popup apps available in the Shopify app store, it can be challenging to determine which ones are the best fit for your business. That's why I've compiled a list of the top Shopify popup apps and ranked them based on factors like ease of use, customization options, and effectiveness.
So if you are ready, let's get started.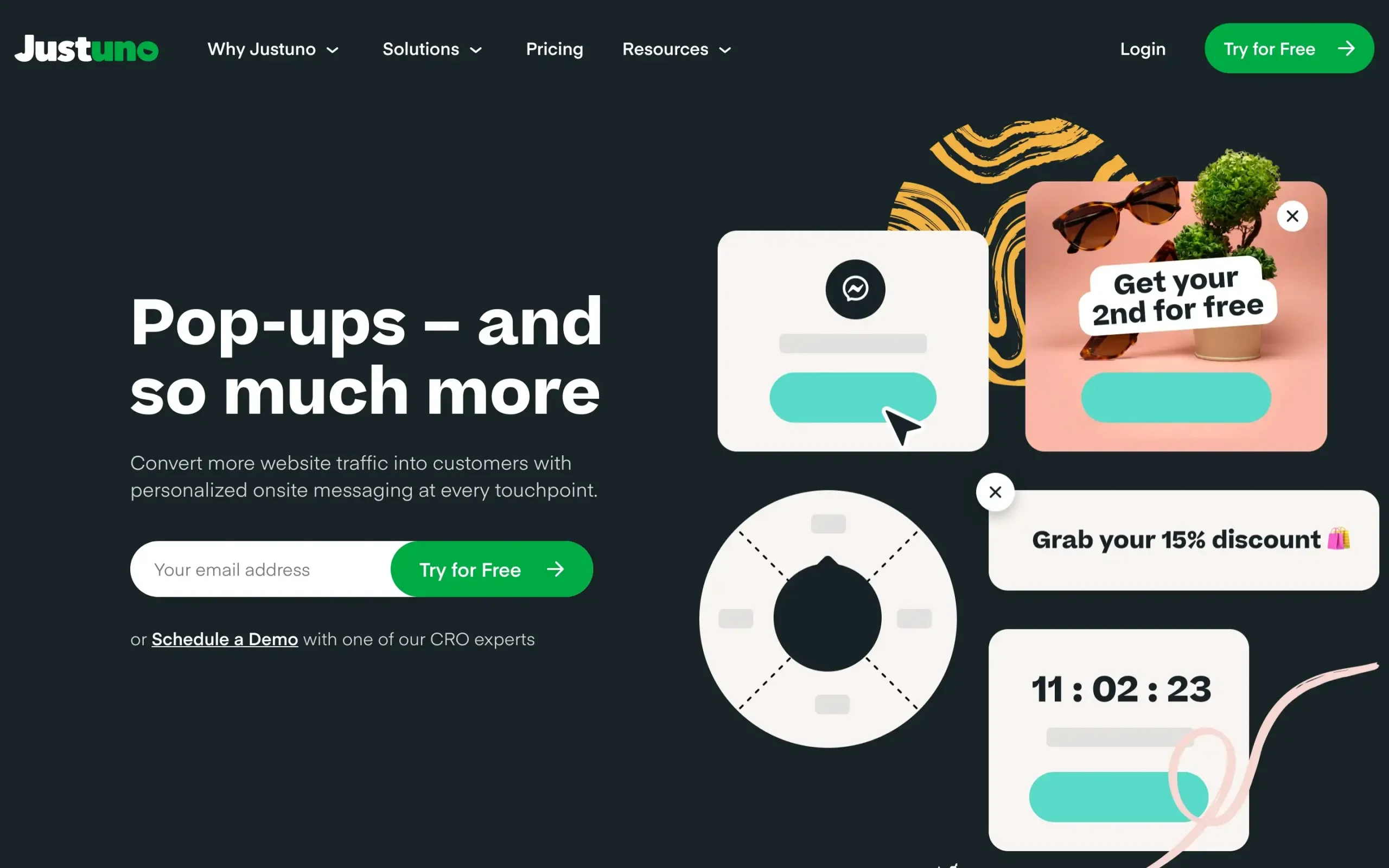 Justuno is a powerful Shopify popup app that enables you to create highly targeted popups with unique messages for every visitor and customer. It enables you to provide a personalized shopping experience by displaying relevant messages based on visitor behavior.
For instance, you can trigger targeted popups for repeat customers with product recommendations based on their past purchases. Similarly, you can create popups for upselling, recovering cart abandonment, email subscription, and other types of popups to boost your conversion rate and generate more sales.
Overall, if you want to go beyond using blanket popups for every visitor to displaying personalized popups based on visitors' behavior, Justuno might be the perfect popup app for you.
Key Features –
Designer popup templates
Customizable gamification popups
80+ advanced targeting rules
Robust visitors segmentation
A/B test popups
Sync audience with Facebook & Google Ads
Integrates with Klaviyo, Postscript, and other apps
Powerful conversion analytics reporting
Pricing Plans – Justuno has two paid plans, starting at $39/month for up to 5,000 monthly visitors. The plan comes with a 14-day free trial with no credit card required.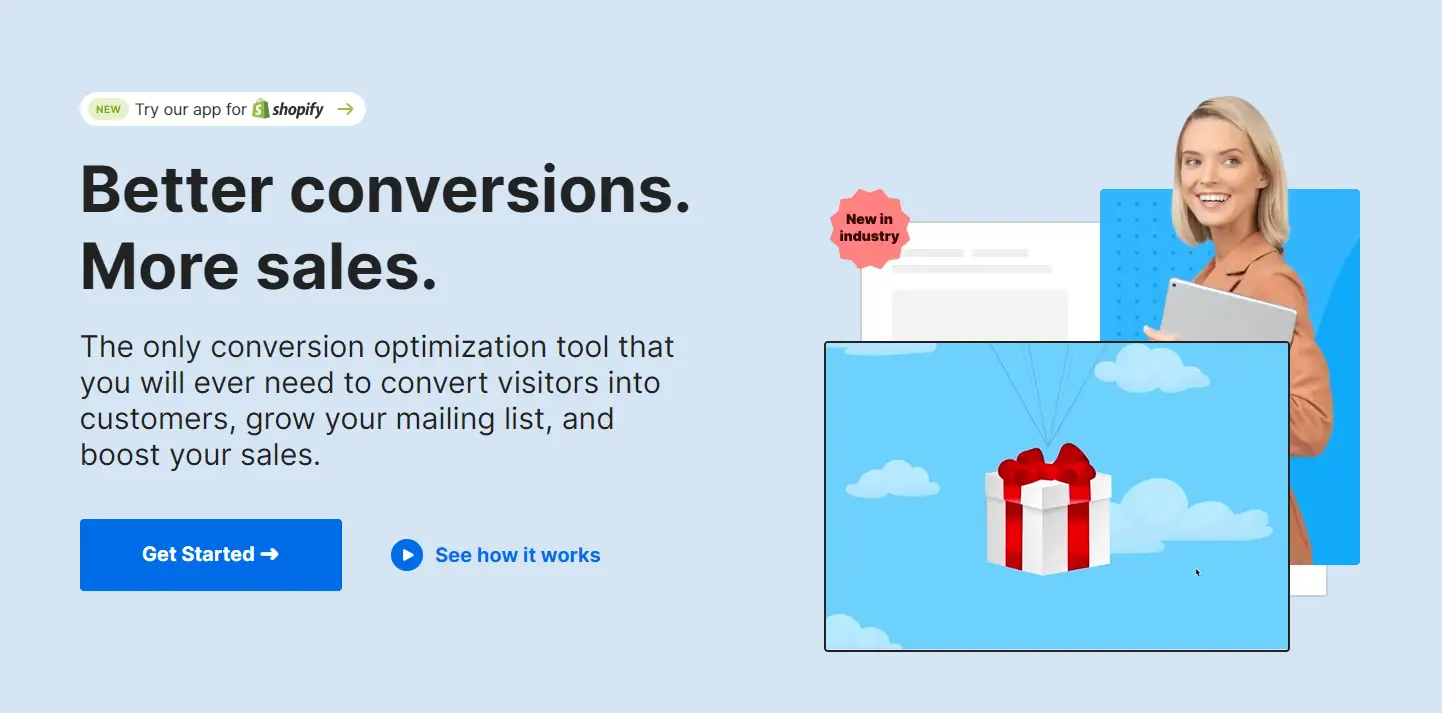 Adoric is another amazing Shopify popup app that has an easy-to-use design editor that you can use to create popups, slide-in displays, and floating bars from scratch. It also comes with several popup templates that you can easily customize per your needs.
It lets you create various types of popups to boost your store's conversion rate but it is best known for its gamified popups which you can use to engage visitors for a chance to win discounts with games like spin-a-wheel, falling gifts, etc.
To make your popups impactful, it allows you to segment visitors based on several factors like traffic sources, geo locations, browsers, etc., and target them using advanced trigger options such as time frame, page scroll, exit intent, and more.
Finally, if you are looking for a cheaper but effective alternative to Justuno to create attractive popups and deliver personalized user experience for your store visitors, you should consider trying Adoric.
Key Features –
Drag & drop popup builder
10,000+ free graphic elements
Pre-designed popups layout templates
Effective audience segmentation and display rules
A/B test popups & campaigns
Detailed analytics and summary Reports
Direct integration with Mailchimp, HubSpot, Klaviyo, and other apps
Pricing Plans – Adoric has a free plan for Shopify stores with less than 1,000 monthly pageviews and allows basic targeting rules. The paid plans start at just $9/month and allow advanced targeting with access to additional features.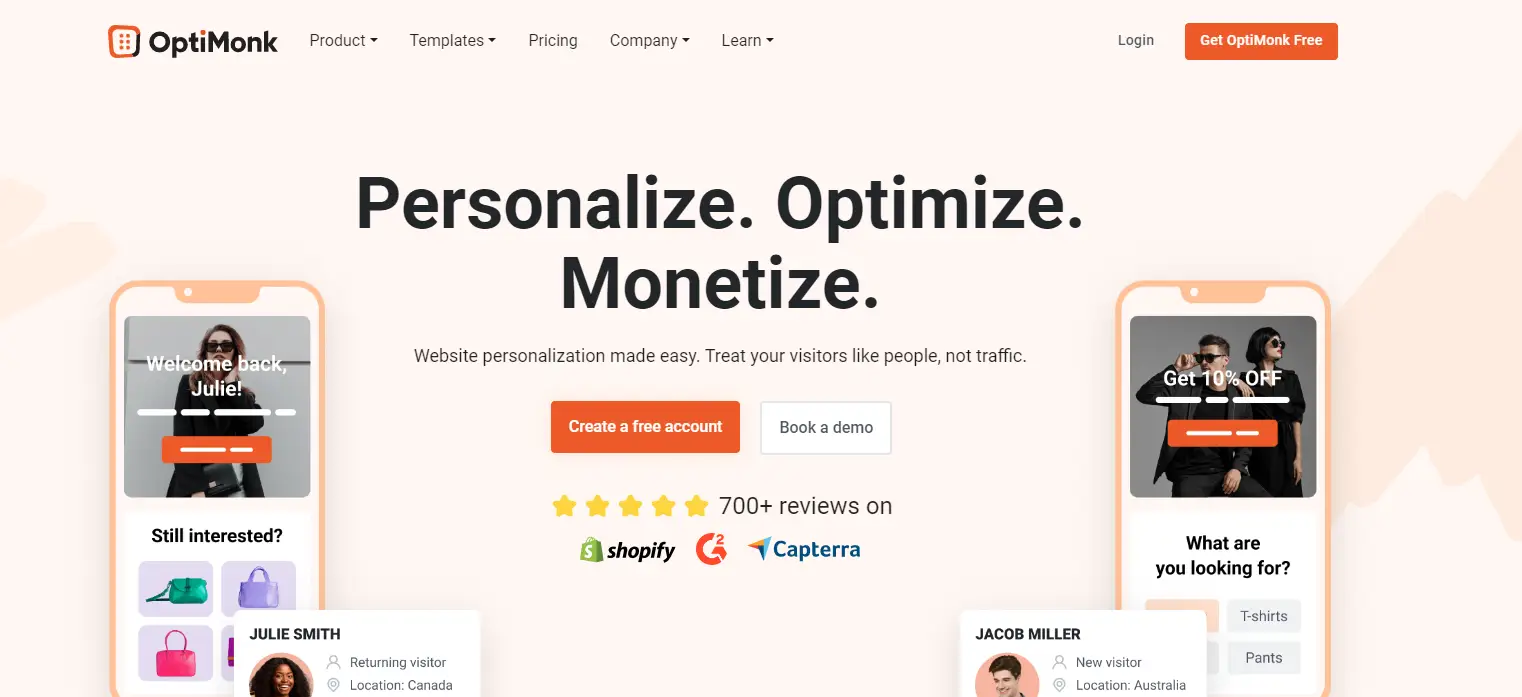 OptinMonk is probably the oldest popup builder app for Shopify with advanced features to convert new visitors and boost sales for your store. From the smart welcome, spin-to-win, and quiz popups to upselling and thank you popups, you can create various types of popups using OptinMonk.
With OptinMonk, you can level up the shopping experience by displaying recently viewed products, and personalized product recommendations. You can target popups based on products, cart value, geo-location, and other factors, allowing you to offer the right message with unique offers that visitors will most likely interact with.
Like JustUno and Adoric, OptinMonk also comes with tons of popup templates, which you can easily customize to match the look and feel of your brand.
Key features –
No-code visual popup builder
300+ premade popup templates
Auto-generated coupon codes
Personalized dynamic product recommendations
Advanced targeting options based on cart value, device, location, etc.
A/B test popup designs and targeting rules
Dashboard with detailed campaign analytics and insights
Seamless integration with Klaviyo, and all major marketing apps
Pricing Plans – OptinMonk has a free plan for stores with up to 15,000 monthly pageviews but with no A/B testing or personalization features. The paid plans start at $39/month, allowing up to 30,000 monthly pageviews and connecting 2 domains.
POWR Popups is a simple Shopify app that lets you create and use popups for basic functions i.e., email list building and offer promotions. It lets you display popups in several positions, including center, full screen, or corners.
The app also comes with several popup templates for different use cases, which you can easily customize per your needs. You can consider POWR popups as a cheaper alternative to Adoric, lacking personalization features but can help you grow your email list and grab visitors' attention to new discounts and offers.
Key Features –
Easy-to-use templates
Eye-catching entrance animations
Several popup triggers
Integrates with Omnisend, Mailchimp, Google sheet & more.
Pricing Plans – It has a free plan that allows you to create unlimited popups, but won't be able to collect email addresses. The paid plans start at $5.49/month, giving you access to all its features.
Privy is a marketing app that comes with a robust popup builder. It enables you to use popups along with email and SMS marketing to drive more sales and grow your Shopify store.
Unlike Justuno or Adoric, Privy's popups are simple and dedicated to email and SMS list building. It provides various popup types with customizable templates, which include flyouts, top bars, exit-intent, spin-a-wheel, and more.
All-in-all, if you are looking for a complete marketing suite with a built-in popup builder to grow your lists, Privy might be the perfect Shopify popup app for you.
Key features –
Drag-and-drop popup builder
Various popup types, including Spin-to-Win
Targeting based on device, location, device, and URL
Combined with email and SMS marketing automation
Analytics dashboard with basic reporting
Pricing Plans – Privy has a free plan that provides access to all popup types. However, its plans are based on email and sms usage, starting at $30/month.
Omnisend is another powerful Shopify marketing app that comes with a built-in popup builder. Unlike dedicated pop-up apps like JustUno, Omnisend popup builder is mainly built to convert visitors into marketing list subscribers.
Since Omnisend is an email & SMS marketing platform, you can use its popup to grow your email and SMS list and send automated marketing communications right from the dashboard.
Bottom line, if want to leverage marketing automation for your store, you can consider using Omnisend as it comes with everything you need to grow your email and SMS lists and nurture them with advanced marketing tools.
Key features –
Beautiful popup templates
Various display options, including exit intent
Variety of targeting options
Built-in SMS and Email marketing tools
Detailed popup conversion reporting
Pricing Plans – Omnisend has a free plan that allows unlimited popups. However, since it is a marketing platform, its pricing plans are based on the number of contacts you have. Read our detailed Omnisend review to learn everything about it.
Found the best Shopify Popup App?
Popups are undoubtedly the most powerful onsite marketing tool that you can use to convert unknown visitors into a subscriber or paid customers. However, to make the best use of it, you need to be very strategic with its implementation.
Personalized product recommendations, and showing relevant offers for new and repeat customers are some of the few strategies that you can use to drive more conversions and generate more sales via pop-ups.
Having said that, here's a quick overview of the above-list apps –
If you want to deliver a highly personalized shopping experience for your customers, you can consider using Justuno or OptinMonk.
If your goal is to build and grow your email list and promote offers to website visitors, you can use Adoric or POWR popups for simple popups.
Finally, I hope this article helped you pick the most suitable popup app for your Shopify store. To learn more about using popups, you should read out comprehensive guide on how to use popups in eCommerce websites.
If you are looking for more apps for your store, here are few handpicked articles you might want to check next –