As internet users are growing worldwide, WhatsApp has emerged as a powerful and influential marketing platform for businesses to connect with their audience, leaving competitors like WeChat, Facebook Messenger, and Telegram in the dust, according to Statista.
With the vast user base and business-friendly features, it's no wonder that businesses are trying to harness the power of WhatsApp marketing to engage customers effectively. However, you can't use it as you do for your day-to-day conversation with friends and family – you need to automate the process to ensure that the right message reaches the right audience at the right time.
That's where WhatsApp Marketing Software comes into play. It facilitates seamless integration with WhatsApp Business API and provides a user-friendly interface to send messages, manage contacts, and set up automation without any technical hassle.
There are hundreds of WhatsApp marketing software in the market. However, you should always opt for Official WhatsApp Software solutions that comply with WhatsApp's policies and terms of service. This is essential to avoid the risk of your WhatsApp account being suspended or banned.
In this article, we have compiled some of the best WhatsApp marketing software trusted by successful brands, including eCommerce ones. So, keep reading till the end to pick the right one that matches your business needs.
Ready? Let's get started.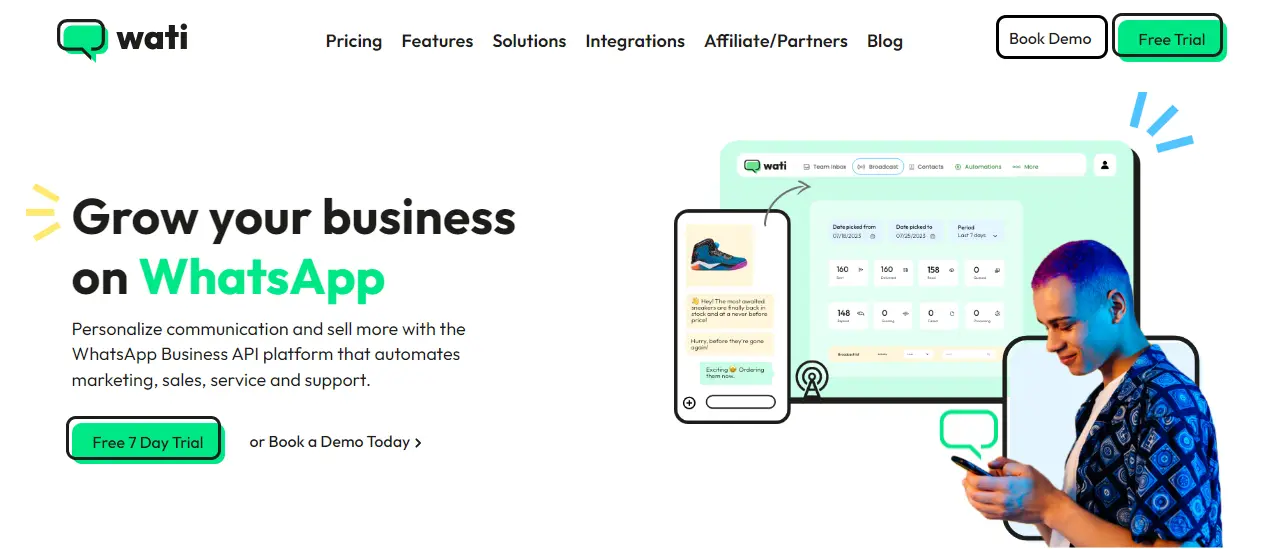 WATI stands out as a versatile and comprehensive WhatsApp Marketing Software that empowers eCommerce businesses to elevate their sales, marketing, and customer support efforts to new heights. As a WhatsApp Business Solutions Provider (BSP) and a customer support tool under the umbrella of Clare.ai, WATI provides a seamless gateway to access the WhatsApp Business API and harness its full potential.
WATI's primary focus revolves around WhatsApp, offering a robust and specialized platform for businesses seeking to harness the power of this messaging giant. For those who prioritize advanced features for running WhatsApp campaigns within a dedicated ecosystem, WATI proves to be an invaluable resource.
It not only facilitates WhatsApp campaign management but also simplifies customer communication and collaboration, enabling businesses to provide exceptional service and make lasting impressions.
Key Features –
Get WhatsApp green verification tick for your business
Seamlessly run Click to WhatsApp Ads on Facebook & Instagram
Design and message with personalized offers at scale
Recover abandoned carts with personalized offers
Use pre-approved message templates for broadcast messages
Seamlessly add a WhatsApp chat widget to your website
Efficiently personalize messages with contact segmentation
Enhance customer support with prompt responses
Detailed performance tracking and reporting
Direct integration with Shopify, WooCommerce, HubSpot, and other tools
Pricing Plans – WATI offers a 7-day free trial on its paid plans, starting at $49/month. It doesn't charge any setup fee and you can save 25% on each plan if paid annually.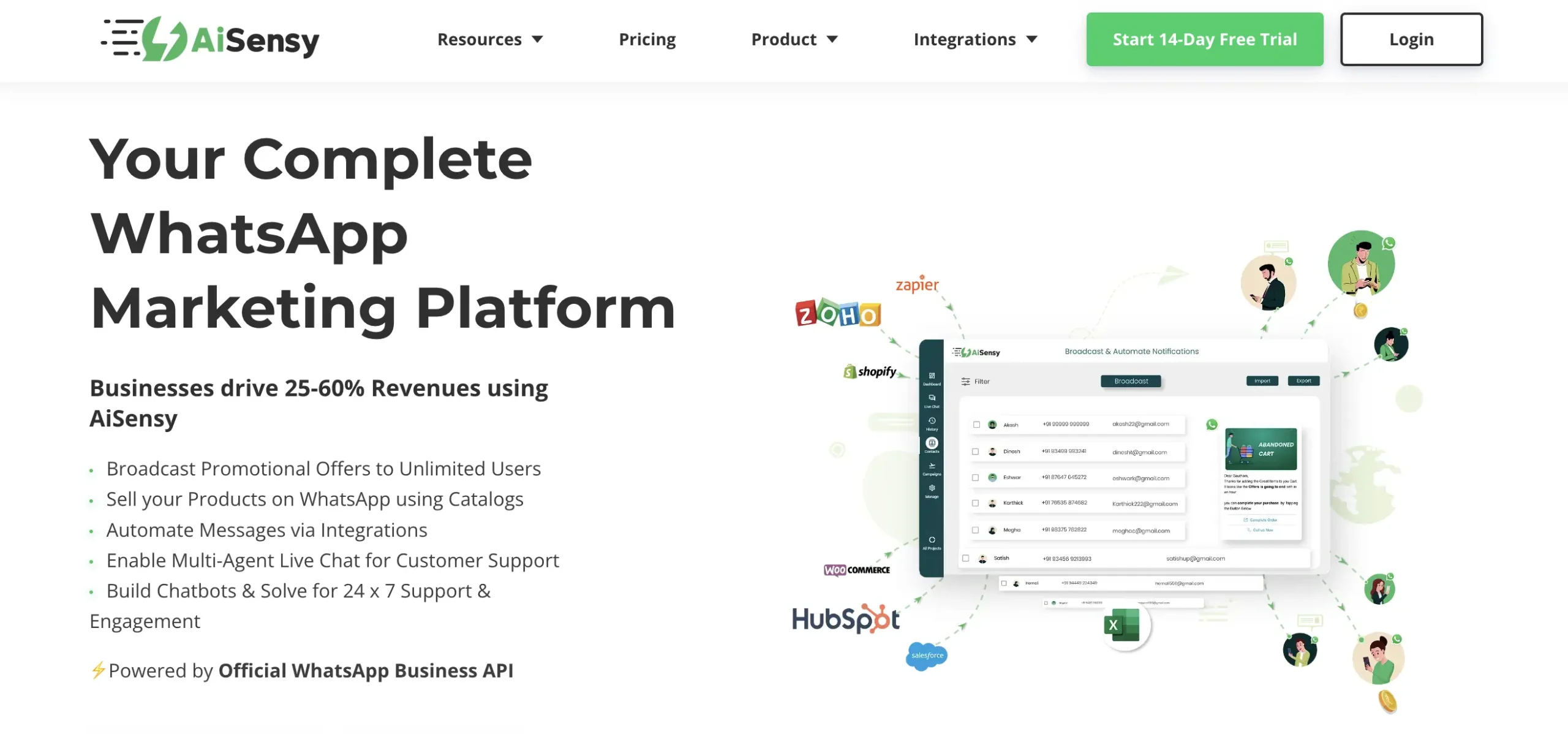 AiSensy stands as one of the most intelligent options on this list, built upon official WhatsApp Business APIs, empowering businesses to harness WhatsApp's potential on a grand scale. This robust platform allows you to create chatbots and utilize a multi-agent shared inbox for seamless team collaboration.
Moreover, AiSensy facilitates the sending of promotional WhatsApp marketing messages using official APIs. It's more than just a WhatsApp marketing tool; it's a complete WhatsApp Engagement Suite enriched with smart platform features like WhatsApp Retargeting Campaigns and comprehensive customer support accessible via phone calls, WhatsApp, email, or Google Meet.
Key Features –
Run Click to WhatsApp Ads on Facebook and Instagram
Send WhatsApp Broadcasts to unlimited users
Seamlessly accept payments via WhatsApp Pay
Automate Messages for abandoned carts, order confirmations, and delivery updates
Run retargeting campaigns to customers and leads
Build WhatsApp Chatbot 24/7 customer support
Enjoy active customer support through calls, Google Meet, and WhatsApp.
Pricing Plans – AiSensy offers a 14-day free trial for all its plans, starting at $20/month. You can save 10% with an annual subscription.
Zoko emerges as a complete WhatsApp marketing solution tailor-made for eCommerce businesses. What sets Zoko.ai apart is its sleek, user-friendly interface, designed to cater to multiple facets of conversational commerce. From WhatsApp Broadcasts to automation, cart recovery, and beyond, Zoko serves as a versatile tool that seamlessly connects businesses with their customers.
The distinguishing feature of Zoko is its intuitive UI, which simplifies WhatsApp messaging for businesses of all sizes. It enables the automatic collection of product reviews and ratings, allowing customers to place orders, track shipments, and check order statuses directly through WhatsApp.
Additionally, Zoko streamlines communication within teams, enhancing accountability and facilitating interactive customer engagement through WhatsApp buttons.
Key Features –
Secure the green verification badge alongside your business name
Automatically gather product reviews and ratings
Enable customers to place orders, track shipments, and check order status on WhatsApp
Trigger abandoned cart notifications automatically
Verify Cash-on-Delivery (COD) orders before dispatch
Pricing Plans – Zoko pricing starts at $34.99/month for access to its user interface and automation features. With each plan, you get 1000 conversations free.

NovoChat represents a robust WhatsApp marketing software that harnesses the full potential of conversational commerce, making it a vital asset for eCommerce enterprises. Positioned as a multichannel chat marketing platform, NovoChat takes WhatsApp marketing to the next level, offering a comprehensive suite of features designed to enhance customer engagement and support.
NovoChat's key advantage lies in its ability to seamlessly manage customer support across multiple messaging platforms, including WhatsApp, Messenger, Telegram, and LINE, all from a shared inbox. One of its standout features is the WhatsApp Broadcasting feature, which deftly navigates WhatsApp's stringent guidelines, including session windows, recipient limits, and template rules.
NovoChat also streamlines bulk messaging with personalized touches, making it a versatile tool for eCommerce businesses aiming to excel in WhatsApp marketing.
Key Features –
Broadcast highly-targeted & personalized messages
100+ ready-to-use WhatsApp message templates
Manage Facebook Messenger, and other live chat apps from a single dashboard
Send automated abandoned cart reminders, order confirmations, shipping updates, etc.
Facilitate multiple live human chat support on a single number
Provides ROI-based performance reporting
Seamless integration with Shopify & EasyStore
Pricing Plans – NovoChat offers a 7-day free trial on its paid plans, starting at $40/month.
SendApp emerges as yet another robust eCommerce WhatsApp marketing software, providing businesses with the capability to dispatch personalized promotional broadcasts to their chat contacts. This user-friendly platform boasts simplicity and accessibility, requiring no advanced technical skills.
What sets SendApp apart in this realm is its cost-effective and scalable nature, making it an invaluable asset for business growth. With a comprehensive set of features and an intuitive interface, SendApp streamlines the process of reaching and engaging with your target audience through the immensely popular WhatsApp platform.
Key Features –
Send mass messages to numbers, even if they're not in your contacts.
Import contacts from files or establish your directory.
Utilize the built-in editor for image editing within your messages.
Access DeaStock, an integrated platform offering millions of royalty-free graphics resources.
Gain insights by reviewing sent message reports to optimize your contact list.
Program mass message sending without time constraints.
Pricing Plans – SendApp has one-time subscriptions, starting at €90 and you can explore the platform with a free 7-day trial.
Formerly known as Whatso, Growby emerges as a potent cloud-based WhatsApp marketing platform that encompasses a dedicated WhatsApp and SMS marketing platform. The Growby WhatsApp API, a product of the company, empowers small businesses to dispatch transactional messages at a manageable scale. This unofficial API allows you to send up to 100 messages per day for free with the Whatso extension installed on your device, without incurring any setup fees.
For those seeking greater scalability, the WhatsApp API enables the sending of up to 100,000 broadcast messages per day, subject to Meta's approval. This feature-rich platform, coupled with its intuitive interface, empowers businesses to efficiently manage their WhatsApp marketing campaigns and engage effectively with their target audience.
Key Features –
Send announcements, updates, and offers to multiple customers simultaneously.
Personalize messages with greetings and customer names.
Easily import contacts from CSV or TXT files, or simply by copying and pasting.
Extract contacts from WhatsApp groups and schedule messages.
Filter contacts for targeted marketing and send messages with various multimedia formats.
Utilize automation and chatbots to effortlessly connect with customers.
Pricing Plans – Growby has unique pricing plans, which are as follows –
Standard: $69 Yearly
Professional (Yearly): $79 Yearly
Professional (Lifetime): $129 Yearly
Wrapping Up
In eCommerce email, SMS, Social media, and Push notifications are widely accepted marketing channels to promote offers and engage with customers. However, as WhatsApp has become the go-to messaging app for billions of users worldwide, businesses also need to leverage it to reach their consumers boost engagement, and improve marketing performance.
With the right WhatsApp marketing software in your arsenal, you can seamlessly connect with your customers, offer personalized experiences, and drive higher conversion rates for your eCommerce store. It's all about delivering relevant messages without inundating their WhatsApp feeds with spam.
In this article, we have shown you some of the best WhatsApp marketing software options tailor-made for eCommerce entrepreneurs like you. These tools open up a world of possibilities, allowing you to engage your customers, share promotions, and provide exceptional customer support without getting banned on the platform.
Now, it is your turn to pick the right WhatsApp marketing software that aligns with your eCommerce goals and start setting up WhatsApp marketing campaigns and automation for your online stores.
Finally, if you are new to eCommerce or looking for tips and tricks to grow your business, here are a few hand-picked articles for you –