Do you want to increase sales for your WooCommerce store? Are you looking for best abandoned cart recovery plugins? If so, this article is for you.
In the eCommerce business, we rely heavily on customers completing their checkout process, but sometimes they abandon their carts midway through the transaction, resulting in loss of potential sales and revenue.
This is one of the most common and frustrating challenge for online store owners, but with effective cart recovery strategy, you can bring shoppers back to turn their abandoned carts into successful sales for your store.
If you are using WooCommerce for your online store, then you can use abandoned cart recovery plugins to send automated emails to shoppers who have left items in their cart, encouraging them to complete their purchases.
In this article, we will explore some of the best WooCommerce abandoned cart recovery plugins available, their features, and how they can benefit your WooCommerce store.
Why do you need Abandoned Cart recovery Plugins?
Cart abandonment refers to the situation where a customer adds products to their online shopping cart but leaves your website without completing their purchase. And, there can be any number of reasons why they do so.
But the most common ones are as follows –
Hidden costs: If customers find unexpected costs, such as high shipping fees or taxes during checkout, they may get spooked and leave your site without completing the transaction.
No Free Shipping: A lot of online shoppers don't want to pay extra fees for shipping. So, either they add more products to be eligible for free shipping or abandon the cart entirely.
Comparison shopping: If you are not the only one in the market selling the products, customers often add items to their cart and then leave the website to compare prices or products on other websites.
Lack of discounts: A lot of customers look for discounts and if they don't find any offer or discounts on their cart value, they may abandon their cart for later.
Technical issues: Technical issues such as slow-loading pages, website errors, or a checkout process that is too complicated can frustrate customers and lead them to abandon their cart.
And there can be many such reasons why shoppers abandon their cart. Although you may not be able to bring all of them back to complete their purchase, but you need to try to bringing the most likely ones back by solving the above problems.
This is where a good WooCommerce abandoned cart recovery plugin can come handy to communicate with cart abandoning customers, allowing you the opportunity to recover lost sales by addressing their issues or just giving them a gentle reminder to complete their purchase.
Top 5 WooCommerce Abandoned Cart Recovery Plugins
In this section, I will show you some of the best cart recovery plugins that you can use for your WooCommerce store to reduce cart abandonment and increase your sales.
Ready? Let's get started.

YITH WooCommerce Recover Abandoned Cart is a feature-rich plugin that offers a user-friendly interface, robust email customization options, automated follow-ups, and real-time tracking.
This cart recovery plugin provides a comprehensive solution to tackle cart abandonment and helps you recover lost sales by sending personalized emails to customers who have abandoned their carts, enticing them to come back and complete their purchases.
Key Features –
Provides real-time tracking of abandoned carts for monitoring and analysis of abandonment patterns
Provides a comprehensive list of all abandoned carts and their information
Easy to use and highly customizable
Set up automated follow-up emails at specific intervals after cart abandonment to increase conversion chances
Detailed reports and analytics
Supports recovery of abandoned carts with variable products
Pricing Plans – The plugin costs $74.99/year that include 1 year of updates and customer support.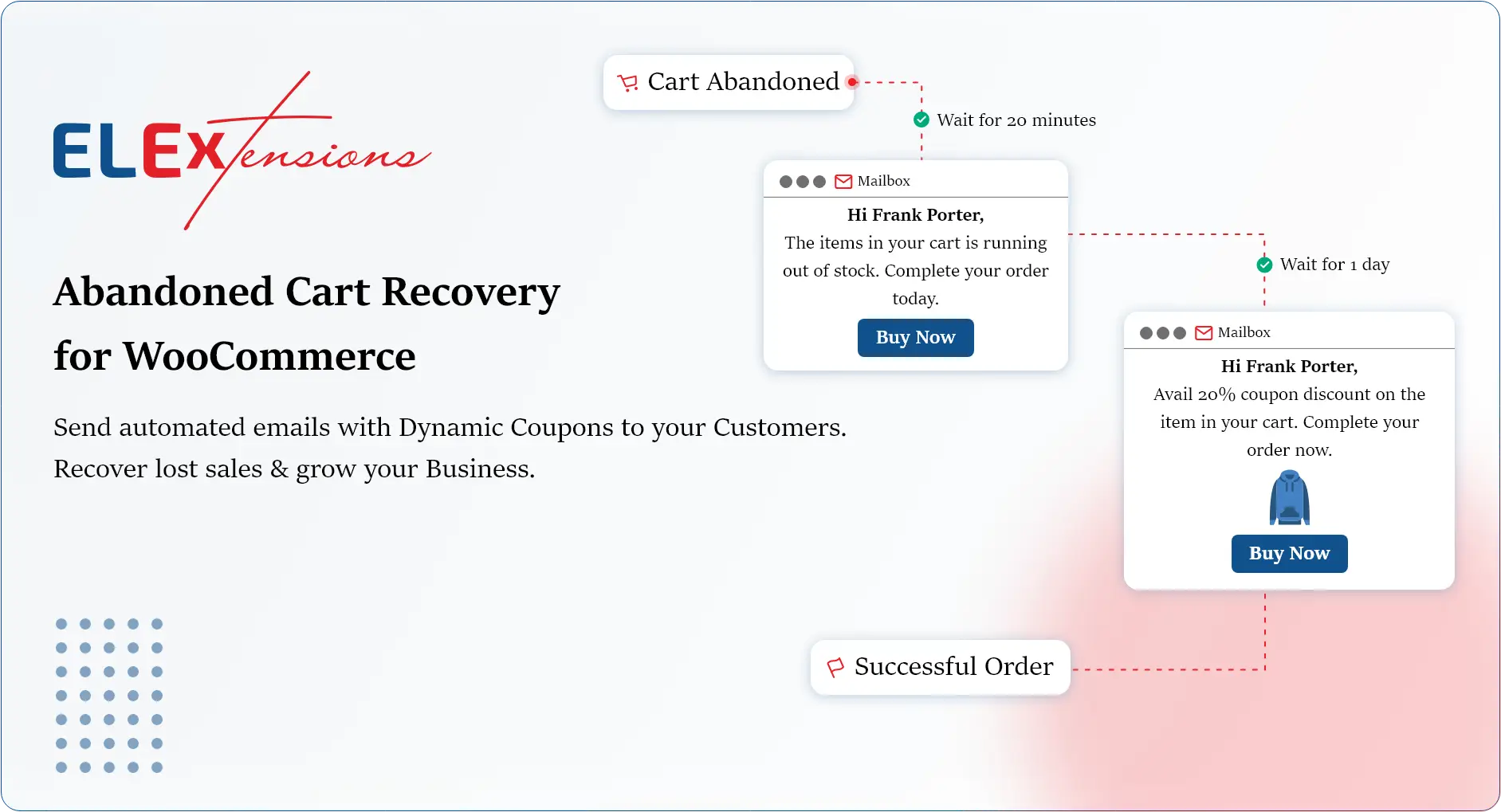 The ELEX WooCommerce Abandoned Cart plugin helps recover incomplete orders in your store by sending customizable email reminders at specific intervals.
It includes features like Smart Discount coupons, configurable trigger rules, email templates, abandoned cart list management, logs and reports, and exclusion options for specific email IDs, IP addresses, and domains.
Key Features –
Recover unfinished orders with an email follow-up system
Trigger reminder emails at intervals to encourage order completion
Dynamically generate Smart Discount coupons to incentivize purchases
Allow customization of email templates and configuration of trigger rules
Provide logs and full reports for tracking abandoned carts
Provide an option to set a minimum cart value for sending the abandoned cart recovery emails
Pricing Plans – The plugin costs $39/year for a single site, $119 for 5 sites and $199 for up to 25 sites.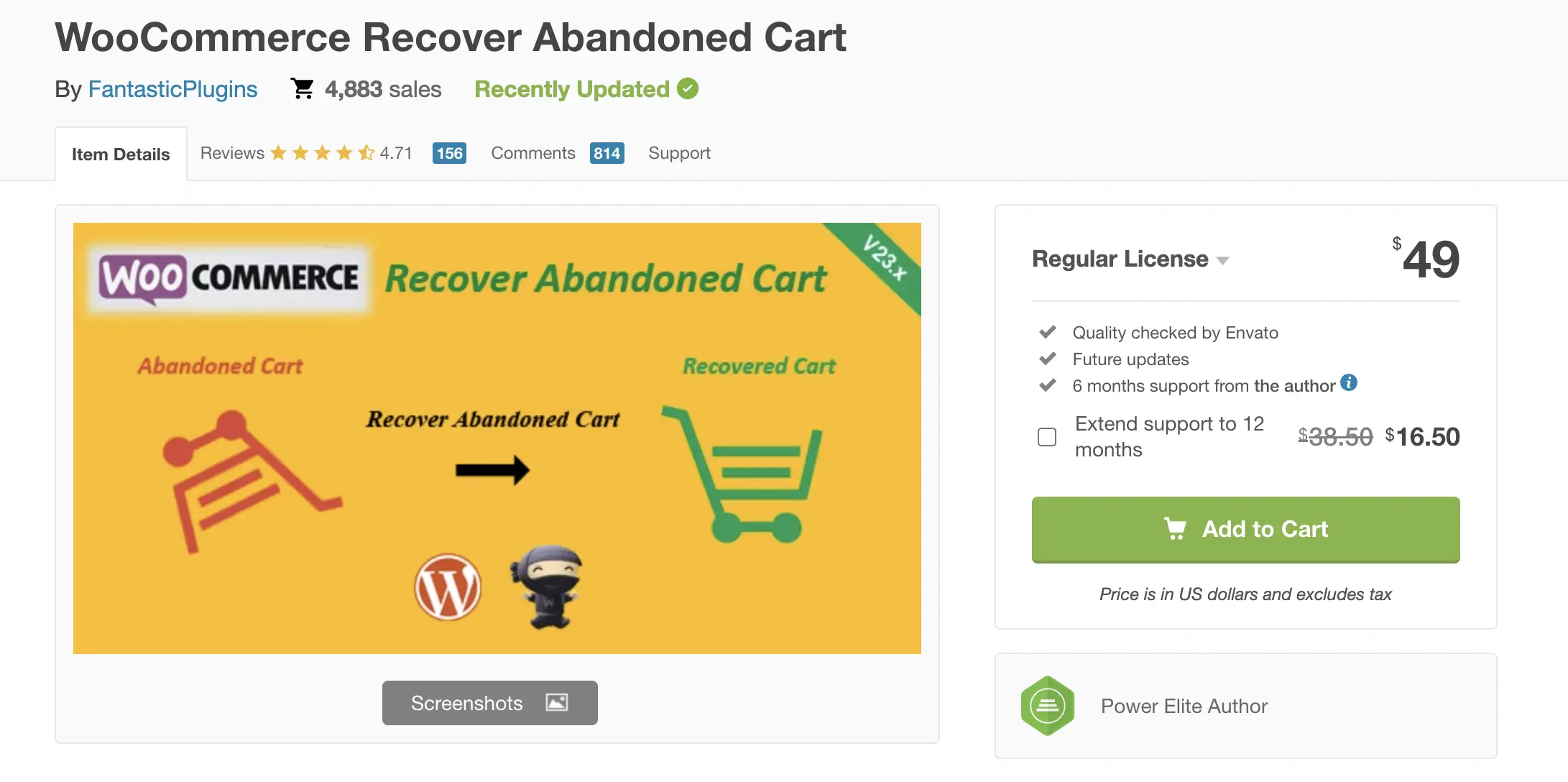 The WooCommerce Recover Abandoned Cart is a powerful plugin that monitors and recovers abandoned carts to increase sales. It automatically sends emails with customizable templates at specified times to recover carts and includes the option to insert the cart link and offer coupon codes to entice buyers.
This plugin works for both members and guests and tracks purchases using cookies.
Key Features:
Monitor abandoned carts by both members and guests
Send automated follow-up emails at specified intervals to recover abandoned carts
Allow insertion of cart link and setting up of multiple email templates with or without coupon codes
Track buyer purchases using cookies
Works for both members and guests
Option to track recovered sales and abandoned cart statistics.
Integration with Mandrill, SendGrid, and other SMTP services for better email deliverability.
Pricing Plans – The plugin costs only $49 on Envato market with 6-month support from the developer.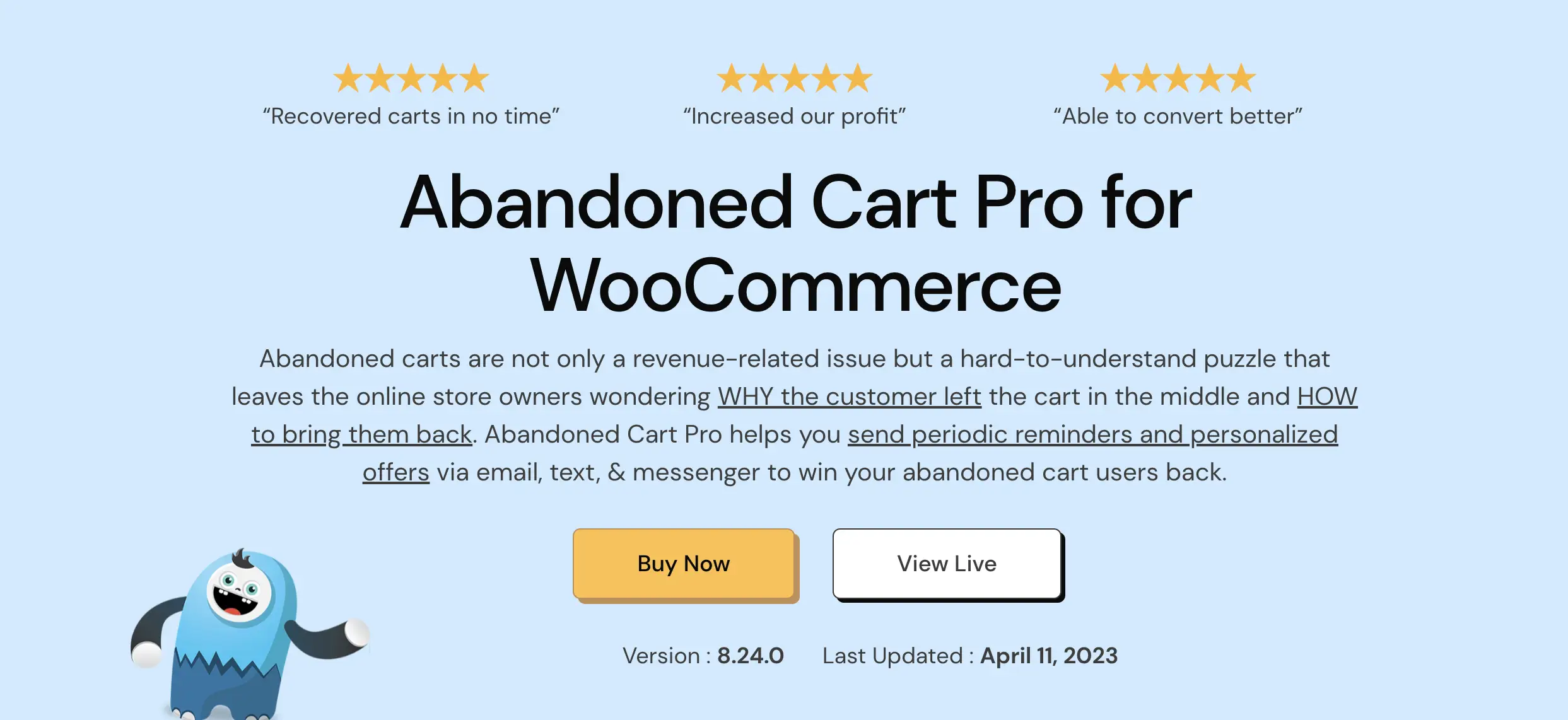 Abandoned cart pro is a powerful cart recovery plugin that allows you to approach cart abandoning customers via email, Facebook messages and text messages too. It lets you capture email of both guests and registered users at checkout page and before add to cart, enabling you to communicate effectively with them.
You can also enable exit-intent popups to stop users from abandoning the cart. You can also add dynamic coupon codes to the popups and follow-up emails to entice shoppers to complete the purchase.
The best part is that the plugin comes with pre-built automation workflows and templates of popups and emails, making it easier for anyone to set up abandoned cart recovery campaigns in minutes.
Key Features –
Automatic tracking of abandoned carts for guests and registered customers
Send reminder to customers via email, SMS and Facebook messages
10+ abandoned cart recovery email templates with custom content and coupon codes
Ability to manually add or remove items from abandoned carts
Option to disable abandoned cart tracking for specific products or categories
Supports seamless integration with popular eCommerce email marketing software like Klaviyo & Drip.
Detailed reports and statistics on abandoned cart recovery
Pricing Plans – The plugin has 3 paid plans, starting at $149/year, offering free updates for a year and customer support.
With WooCommerce Abandoned Cart Recovery, you can capture abandoned carts and send follow-up emails to customers, reminding them to complete their purchases.
This plugin also allows for the customization of email templates and the addition of discounts or incentives to encourage customers to complete their orders. By reducing cart abandonment rates, Abandoned Cart Recovery can increase sales and revenue for online stores.
Key Features –
Customization of email title, body, and coupon code (fixed or percentage)
Personalization of emails using variables such as name, cart link, coupon, etc.
Ability to set the time period after which a cart is considered abandoned
Option to enable/disable recovery emails for pending orders
Restriction of pending cart recovery emails based on user roles
Exclusion of specific products from recovery emails
Abandoned cart recovery emails can be enabled for guest users
Modal popup to capture guest email
Abandoned carts can be automatically deleted after a specified time
Pricing Plans – The plugin costs $4.92/month or $59 annually.
Wrapping Up
As an eCommerce business owner, you can neither ignore nor avoid cart abandonment – that's the truth you need to live with and optimize your strategies accordingly. Fortunately, as a WooCommerce user, you have access to some of the best cart recovery plugins that can help you automatically re-engage with cart abandoning users and bring them back to complete their purchasing journey.
Now, it is your turn to pick the most suitable ones from the above-listed WooCommerce abandoned cart recovery plugins and increase your store's sales and revenue.
Finally, before you leave, here are few hand-picked articles that you might want to read next –