While setting up a clothing store on Shopify is extremely easy, choosing the right apps to manage the store can be a bit challenging for new store owners. You may try multiple apps for different functions to pick the most relevant one for your store.
So, to help you with this challenge, I did the leg work for you and picked some of the best Shopify apps you'll need to run a clothing store.
Ready? Let's get started.
1. Omnisend – Email Marketing
Omnisend is one of the best email automation apps for Shopify stores. It lets you send personalized emails, automated SMS messages, create conversion-friendly sign-up forms, etc., all aimed at igniting your conversion figures.
You can readily optimize your customer retention rates by sending hyper-relevant product recommendations that trigger a repurchase. Besides, with the help of pre-built automation, you can send abandoned cart messages that pull your customers to complete their checkout process. If you want to learn more about Omnisend, you should read our detailed review here.
Key Features –
Perform A/B testing to optimize your form copies to capture highly convertible leads.
It offers the best segmentation capabilities that let you send tailored messages to your customers based on their interests and behavior.
It enables you to collect customers' phone numbers via forms and at checkout to keep them posted about regular updates.
Allows you to sync your customer's data to build Lookalike audiences for Facebook and Instagram ad campaigns.
Pricing Plans: It provides a free plan, allowing up to 15,000 emails/month, and the premium plan starts at $16/month with marketing automation, A/B testing, and other advanced features.
2. GemPages – Custom Page Builder
GemPages is one of the best Shopify page builders that lets you design highly responsive and optimized pages for your clothing store on Shopify. It offers 70+ stunning templates that let you create high-converting product pages on the fly.
You can create unlimited pages for your clothing store, like coming soon pages, delivery/returns pages, about/contact us pages, and much more. It also enables you to grow your audience base by creating powerful sales funnels to capture potential leads that progress to the bottom of the funnel.
If you want to learn more about its features and functionalities, read our detailed GemPages review.
Key Features –
It offers pre-made sections, so you do not need to invest in building pages from scratch.
It enables you to optimize your blog posts to enjoy high organic traffic.
It seamlessly integrates with Google Analytics, Facebook Pixel, Klaviyo, Loox, etc., increasing your store's functionality.
It has in-built page analytics, providing data on how your pages perform, thus making strategic decisions.
You can create FOMO effects, upsell, and cross-sell campaigns that skyrocket your conversions.
Pricing Plans: It has a free plan that provides access to all its features but allows only 1 publishable page. It has three paid plans starting at $29/month, allowing you to create unlimited pages in any 3 types. For unlimited page types and A/B testing campaigns, you can opt for the Optimize or Enterprise plan starting at $59/month.
Our friends at GemPages are offering an exclusive discount to our users. You can use our GemPages discount code to get 30% off of all the paid plans for the first 3 months.
While shopping online, customers cannot touch or feel products to select clothes with the proper fitting. That's why you need to add size charts on product pages to help customers identify the right product size for their body.
Kiwi Size Chart is the top-rated size chart app for Shopify stores. It offers three different types of sizing-appropriate recommenders –
Advanced Apparel Recommender – Uses machine learning by asking simple questions and recommending the best fit.
Generic Table Recommender – Recommends body size for products we can't easily predict.
Custom Size Recommender – Creates size recommendations based on the logic that you set for your clothing store.
It offers complete freedom for customization as you can add multiple tables, images, and videos and create size charts that match a specific product. The best part is that it can automatically detect the unit from your customer's location and then show the size recommendations based on that.
Key Features –
It offers a flexible size chart editor to merge table cells, create height/weight across tables, and set various units.
It enables you to quickly import size charts from web pages, CSV, etc.; even if you run multiple stores, you can import size charts from another store and sync them.
It allows you to create floating size chart buttons so customers can easily view the available sizes for the clothing outfits.
Pricing Plans: It offers a free plan, and the paid plans start at $6.99/month, which lets you create unlimited-size charts.
4. AfterShip – Shipping Tracking & Alert
It is extremely important to deliver a remarkable post-purchase experience to keep customers coming back. AfterShip lets you accomplish this by providing real-time order tracking information that keeps customers updated on the delivery status of their desired product.
Aftership connects you with a whopping list of 700+ couriers worldwide, including UPS, DHL, USPS, etc. It also enables you to customize your tracking page by adding a logo, store URL, etc., improving your overall traffic rates.
Key Features –
You can automatically insert AfterShip's tracking link into your Shopify store, which helps customers track shipments easily.
It allows you to send delivery notifications to your customers via email and SMS.
It facilitates automated email delivery update workflows to auto-alert customers when the order status changes.
You can filter data by date, shipment type, devices, location, visits, etc.
Pricing Plans – It offers a 7-day free trial and a free plan allowing up to 50 shipments/month. The Paid plan starts at $11/month allowing for 100 shipments and goes up to the Enterprise plan, which offers 25,000+ shipments/month.
5. Loox – Product Reviews & Ratings
One of the best ways to leverage customer trust is by honest reviews, as it increases the credibility of your eCommerce business. One such excellent Shopify app for your clothing store is the Loox, as it automatically collects reviews with photos that instill confidence in the customer's mind.
It offers an intuitive UI that lets you create different review widgets like a grid, list, carousel, popups, and much more. To drive customers to write more reviews, you can also offer them discounts which is one of the easiest ways to garner more sales and conversions.
You can read our detailed Loox review to know more about its features and functionalities that you can leverage for your clothing store.
Key Features –
You can customize review request emails and schedule them at delivery or based on order status.
Review widgets are 100% responsive and look great on any device.
You have the power to decide which reviews need to be published.
It enables customers to submit the review without a photo with an option to submit it later.
It drives more organic traffic by displaying reviews on search results with rich snippets.
Pricing Plans – It offers a 14-day free trial. The Basic Plan starts at $9.99/month, in which you can send 100 review request emails. The Advanced Plan starts at $29.99/month, which lets you send 500 review request emails.
6. Growave – Loyalty Reward Program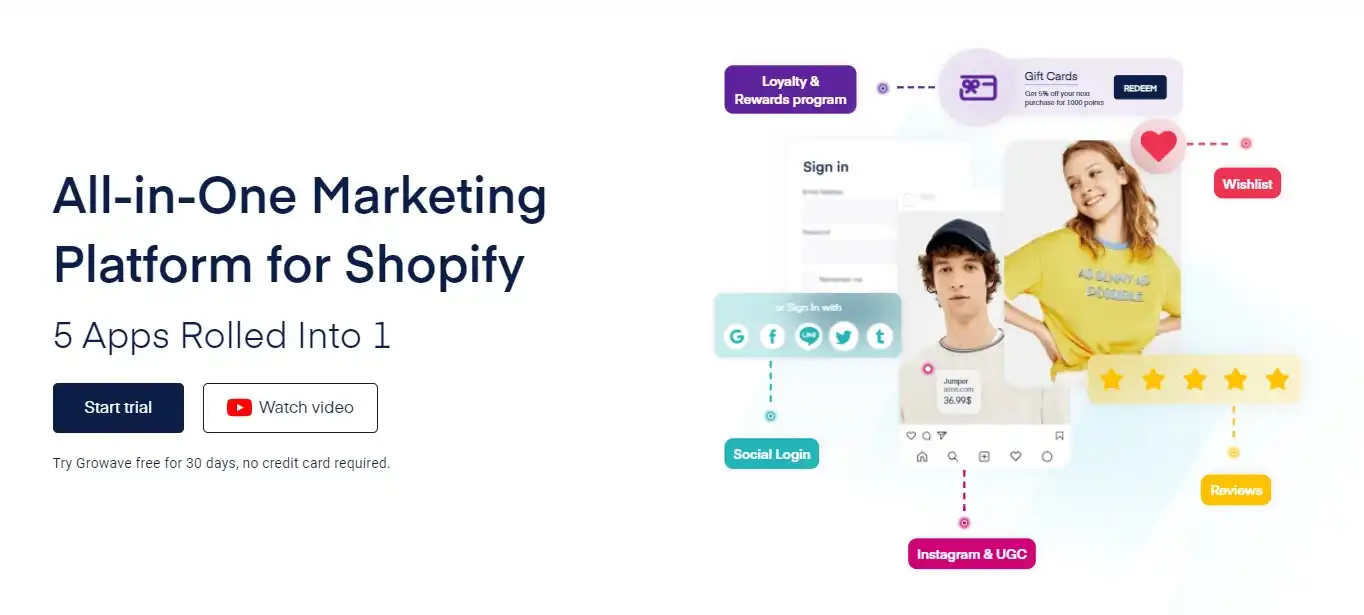 Growave is the best loyalty app for Shopify stores. It helps you boost the conversion rates for your store. It enables you to create loyalty reward programs, add wishlist features, and leverage trust with user-generated content like photo reviews.
With Growave, you can create a point-based loyalty program and reward customers with attractive discounts, and in-store cash and provide free products. On the other hand, you can acquire new shoppers by creating an attractive referral program. To learn more, you can read our Growave review.
Key Features –
Boost engagement by sending nudges and point expiration reminders to your customers.
Instantly collecting product reviews from your customers via autopilot lets you build trust for your brand.
Enables you to send back-in-stock reminders and recover abandoned shoppers in the best way that recoups lost traffic.
Send targeted emails when the products in the wishlist are on sale, running out of stock, etc.
Easily import reviews from popular review apps like Yotpo, Loox, Ali reviews, Judge.me, etc.
Pricing Plans – Growave has a plan for businesses of all sizes, from hobby stores to enterprise stores. The basic plan starts at just $19/month and goes up to $299/month for advanced features. It offers a 14-day free trial but using our Growave Coupon, you claim a 30-day extended free trial.
7. UpPromote – Affiliate Marketing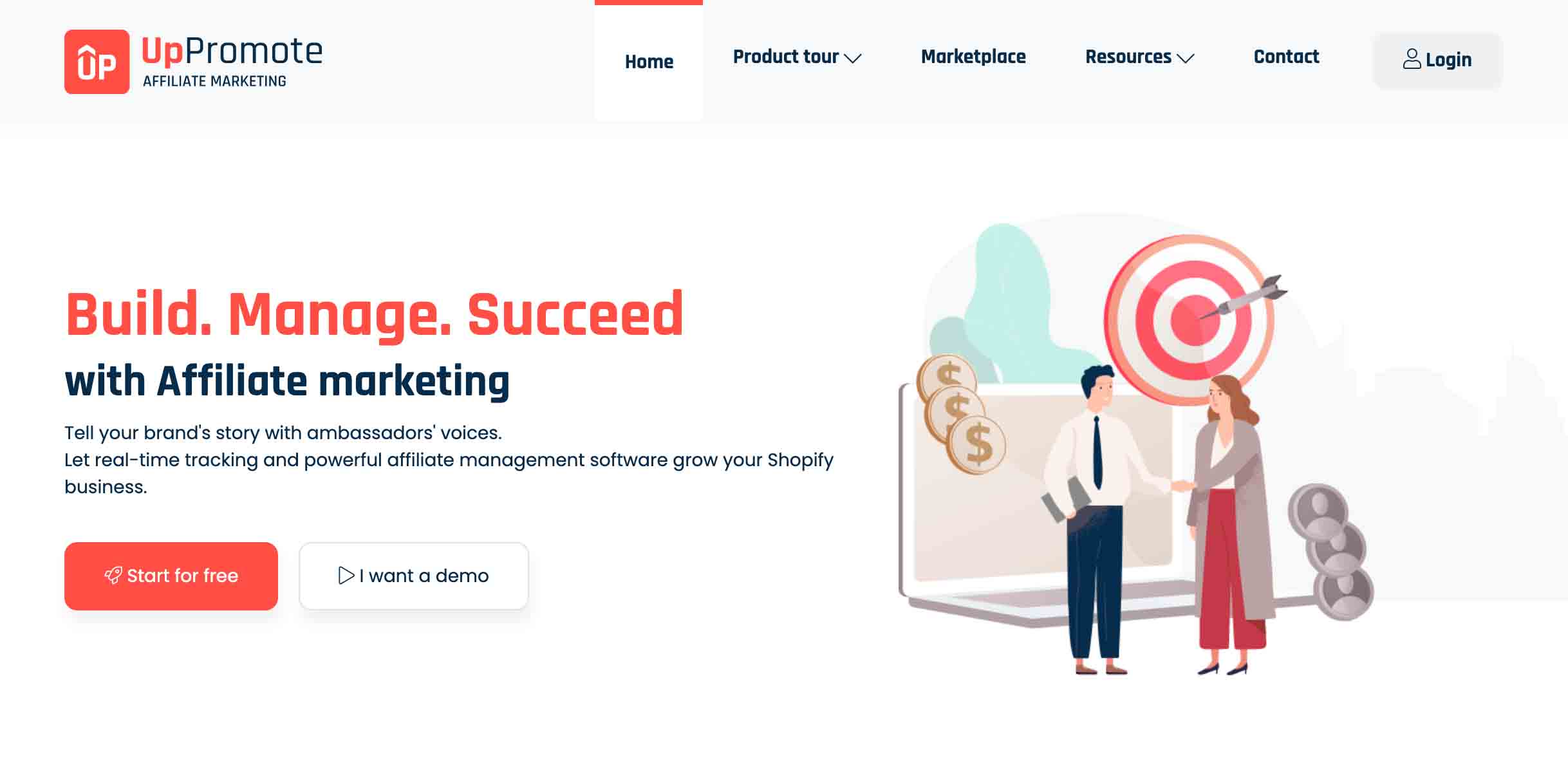 UpPromote is a popular Shopify affiliate marketing app that increases your business potential by partnering with influencers and bloggers to promote your products. It enables you to create unlimited offers, track affiliate metrics, and grow your team exponentially via multi-level marketing.
UpPromote makes it easier for you to find quality affiliate partners by listing your offers on its marketplace. There, affiliates related to your niche can find your offer and apply to join the program. Further, you can analyze their application and approve the relevant ones to become your partner.
Key Features –
You can offer different commissions like auto-tier commissions, commissions on order values, and more.
You can pay your team via PayPal, store credit, or manually.
For content promotion, you can provide promotional assets like affiliate links, coupons, creatives, etc..
It gives you flexibility in easily adding a bonus and adjusting the commission value for high-value partners.
Pricing Plans – It offers a 14-day free trial and a free plan allowing up to 200 monthly referral orders. The Growth plan starts at $19.99/month with 300 referral orders.
You can upgrade to the Professional plan starting at $59.99/month to access unlimited space and higher referral orders.
If you wish to implement a robust referral program to your Shopify clothing store, I would undoubtedly recommend ReferralCandy. It is the most popular Shopify referral marketing app that automates referral programs, and you can acquire new customers at a relatively low cost.
You can reward your customers with cash, percentage, or custom gifts, and it is entirely your choice. Also, thanks to its automatic rewards payout, the rewards will automatically be sent to the customers so that they can concentrate on other important tasks.
Key Features –
It provides an automatic fraud detection system that prevents customers from referring to themselves to claim the reward.
It seamlessly integrates popular Shopify apps like Kalviyo, Mailchimp, Google Analytics, PayWhirl, etc.
It offers a flexible theme editor with which you can design referral programs that enrich your store branding.
It provides meaningful insights into your referral marketing program's performance, which lets you optimize it for better conversions.
You can create a referral widget that pops up on your Shopify clothing store that motivates your customers to sign up for referral programs.
Pricing and Plans – ReferralCandy offers a 30-day free trial. The Premium plan starts at $49/month, allowing you to create unlimited referrals and have live chat support.
Further Reading – How to start referral marketing for eCommerce sites
9. Tidio – Live Chat and Chatbot
Being there when your customers need you is the best way to make them feel special. Tidio is a master in this and enables you to deliver a rich customer experience by empowering live chat, chatbots, and out-of-box automation capabilities.
It allows you to manage all the queries from multiple channels effortlessly so that you can respond in seconds, not minutes. It comes with numerous chatbot templates that you can easily customize per your business needs or create new ones from scratch using its visual chatbot builder.
Further, it has an AI-powered chatbot, called Lyro that you can utilize to respond to basic and common queries to free up your agents' time, allowing them to focus on more complex issues. You can read our Tidio review to learn more about its features and other offerings.
Key Features –
It identifies who is browsing your site so you can quickly start a conversation with them.
You can check where your visitors are coming from, with which you can create personalized offers and targeting.
You can create different kinds of chatbots for lead generation, welcoming new and returning customers, engaging with visitors before leaving the site, and much more.
You can also create a chatbot that truly matches your needs and requirements.
Pricing Plans – It offers a free plan with features suitable for micro and small-sized businesses. The paid plans start at $18/month, creating unlimited chatbots to interact with customers around the clock.
Nudgify is a social proof app that displays the real-time activity of your customers on your store. Using this data, you can create FOMO effects, urgency, scarcity, etc., that intrigue customers to perform a certain type of action.
With Nudgify, you can display different nudges like recent sales, low stocks, recently viewed, discount deals, etc. Also, you can engage with your customers at every single stage of their buying journey by choosing to place nudges at an optimized location on your site.
Key Features –
It allows you to create custom nudges to present product recommendations, useful tips, etc.
You can precisely target pages with a specific set of nudges.
It enables you to set a fixed total price for free delivery and nudge customers to add items to their cart.
It offers built-in analytics to track visits, views, interactions, and conversions.
Pricing Plans – It offers a free plan in which you can send 1000 nudges/month. The Plus plan starts at $9/month, allowing you to send 10,000 nudges, and goes up to the Enterprise plan, sending up to 5,000,000 nudges.
Unlock high sales and conversions by boosting scarcity and FOMO into your customers' minds with this powerful Shopify app. This countdown timer app is responsive and is used to amplify your clothing store sales, offers, events, or discounts during any special occasion.
You can create different countdown timers, such as event-based, auto-recurring, and daily countdown timers. Also, the great news is that with the help of the auto-scheduling feature, you can create as many countdown bars reserved for the future.
Key Features –
It enables you to create different countdown timers like a generic countdown, periodic countdown, and visitor session-based countdown.
It helps you drive tons of traffic to your product pages as you can embed call-to-action buttons in the timer.
It offers complete control such that you get the option to define countdown timers to be included/excluded in the pages you want.
You can showcase highly urgent visitor timers from your social ads like Facebook, Instagram, etc.
Make countdown timers highly interactive by inserting emojis that attract visitor attention.
Pricing Plans – It offers a free plan that enables you to create unlimited timers, active bars, etc. The Pro plan starts at $3.75/month, including all the free plan features and Geo-Targeting features.
Postscript is the top-rated Shopify SMS Marketing app that lets you send automated messages to your customers that instantly reach their fingertips. You can grow a fully-powered TCPA complaint subscriber base by collecting phone numbers via landing pages, checkout, popups, and QR codes.
You can boost your Shopify clothing store sales by sending highly personalized messages by segmenting customers based on their history. Also, you can make the messages lively and interactive by adding images and GIFs that foster high engagement levels.
Key Features –
Using its automation templates, you can send messages based on customer actions, bring back abandoned ones, maintain a regular follow-up, and schedule SMS campaigns for the future.
You can use the Safe-Send feature so that you will not bombard your customers with too many messages.
Customers who no longer wish to receive your messages can send STOP, and they will be immediately opted out.
Pricing Plans – It offers a 30-day free trial, and the paid plans start at $25/month, in which you can send 2500 messages/month.
Gearing up your Shopify clothing store for more conversions is crucial to your marketing strategy. Plug-in-SEO is one of the best Shopify SEO apps, you can witness bombarding traffic rates as your store will quickly get indexed on Google search results.
Plug-in-SEO readily fixes broken links, edits meta descriptions in bulk, offers periodic scan reports and lets you search keywords that drive natural traffic to your clothing store. This Shopify app also gets constantly updated as the rules of search engines change such that you always stay on top amidst competitors.
Key Features –
It enables you to perform SEO operations for blog posts, product pages, home pages, and collection pages.
You can easily set up 301 permanent redirects.
It provides the most comprehensive and updated schema markup for enabling rich snippets.
Pricing Plans – It offers a 14-day free trial, and the paid plan starts at $20/month.
Choose the Best Shopify Apps for Clothing Store
There are hundreds of apps in the Shopify store that can unlock new features and functionalities for your clothing store. However, you don't need every feature to grow your business – you just need to focus on providing the best shopping experience to your customers and generating more sales.
And I think all the apps listed in the article offer a complete solution from designing the store to retaining customers. Now, it entirely depends on you to try these apps and see if they are the ones you need.
I hope this article helped you find the best Shopify apps for your stores. If so, you are new to Shopify, you should check these articles next –