Do you want to take your brick-and-mortar store online? Or, do you want to grow your existing online store to the enterprise level? Whatever your reasons might be, if you are looking for the best enterprise eCommerce platform for your business, this article is for you.
The best enterprise eCommerce platform should offer highly integrated and reliable features to build and manage the store efficiently. You also want the platform to be highly secure and scalable to ensure your business keeps running as it grows.
Having said that, choosing the right enterprise eCommerce platform is very crucial for the success of your business. So, in this article, I have reviewed some of the best eCommerce platforms you can consider to build an enterprise online store.
Ready? Let's get started.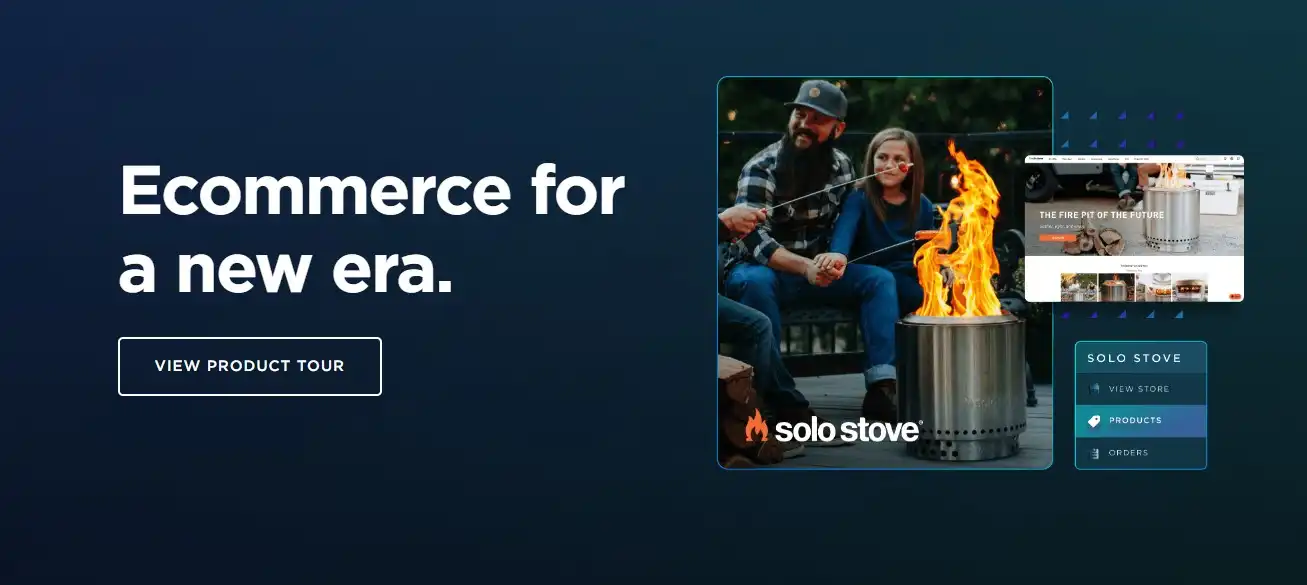 BigCommerce is a NASDAQ-listed eCommerce platform designed to offer Software-as-a-Service facilities to retailers online. With powerful built-in features and excellent customization flexibility, it is one of the best enterprise eCommerce platforms.
Like Shopify Plus, it is also a fully-hosted eCommerce platform with everything you need to set up an enterprise eCommerce site. From creating an online store, and managing inventory to a secure checkout system, it offers built-in features and tools with a simple user interface.
It also provides stunning themes which are highly responsive and easily customizable using its page editor. The best part is that you will find professionally designed themes for almost every kind of product, which makes it easier for anyone to start a store without needing design experts.
BigCommerce Enterprise provides 24/7 technical support to help you with solution architecting, supplemental account management, in-house catalog transfer facilities, and other issues in building the store or managing it.
Overall, BigCommerce Enterprise is a robust eCommerce platform designed to support large online stores. It provides all the essential features to help you build any kind of eCommerce site, be it headless commerce, mobile commerce, or a marketplace with multiple storefronts.
Key Features –
Powerful drag-and-drop page builder
No additional transaction fee — 0%
Built-in coupons and discount creation tool
Supports multiple sales channels (including eBay, Amazon, and POS)
Multi-layer security in its stores
Extended Functionality via App Marketplace
Actionable analytics reporting & insights.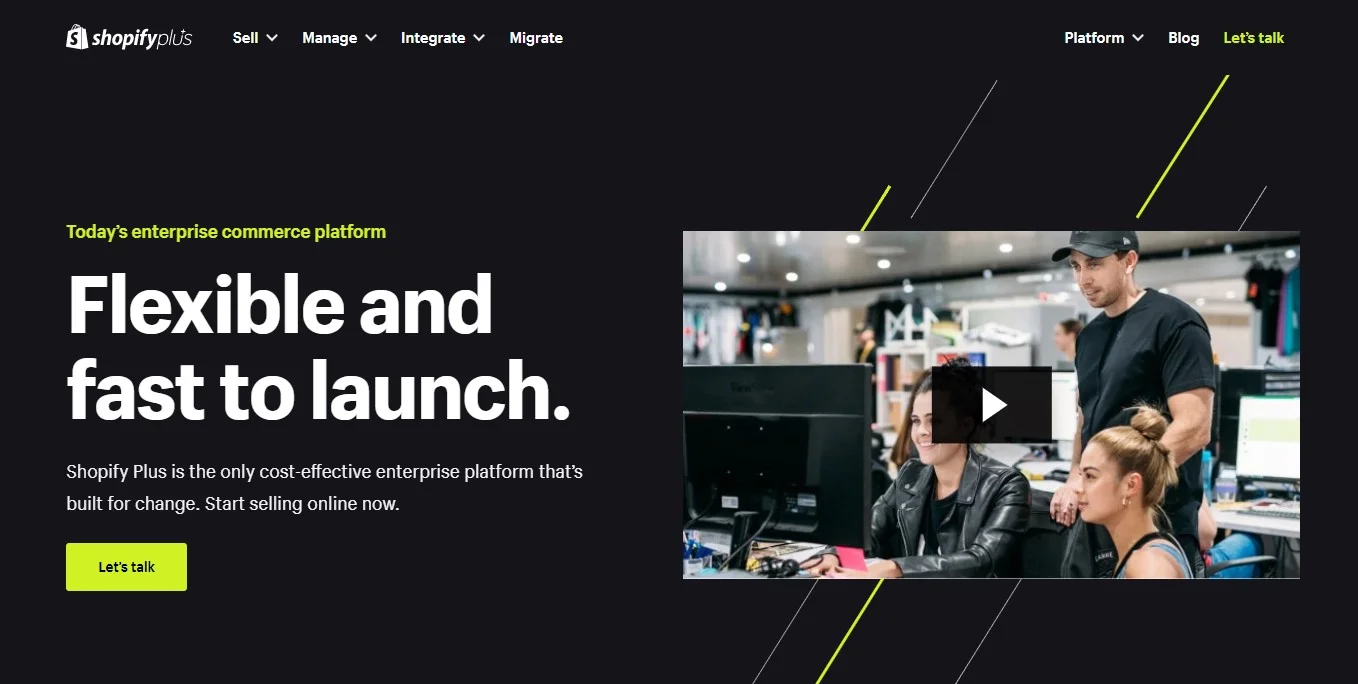 Shopify is one of the best eCommerce platforms, which has an enterprise version called Shopify Plus. It comes with highly scalable solutions and dedicated services that can help large eCommerce businesses grow faster without affecting the shopping experience of customers.
It is a self-hosted eCommerce platform, which means you don't need to worry about the technical hassle of setting up the server and managing it for your website – Shopify Plus will take care of it. Further, it provides seamless integration with major tools and software required for an enterprise retail business. From an ERP, or CRM to sales and marketing software you can easily connect it with your store using direct integrations or APIs.
Shopify Plus always tries to catch up with new technology and helps its merchants leverage it before other platforms do. For instance, it allows you to add AR, video, and 3D features on product pages. It even allows you to sell NFTs, which seems to be revolutionary for eCommerce and digital space.
The best thing about Shopify Plus is that even if you run a large eCommerce business, you will not need a team of technical experts to help you manage it – it is easy to use with a very user-friendly interface. Moreover, if you face any challenges, you can connect with your dedicated account manager who will help you resolve them asap.
Key Features –
Responsive and customizable themes & templates
Supports omnichannel sales, including offline stores
Dedicated account manager with 24/7 tech support
Customizable checkout options
Custom product recommendations
Supports AR, VR, and 3D technology
Custom automation using apps like Shopify Flow, Launchpad, & Scripts
Extensive Shopify plus apps library
Powerful APIs & SDK for 3rd-party integrations
Further reading – Shopify vs Shopify Plus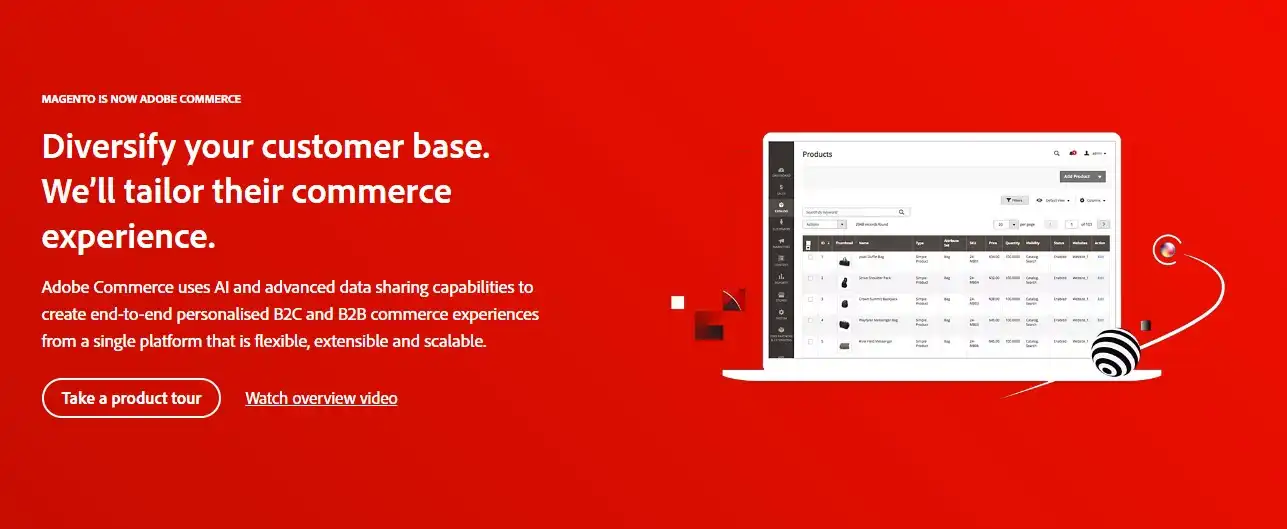 Adobe Commerce ( or Magento) is a powerful enterprise eCommerce platform that offers flexible and reliable ways to build and grow a large eCommerce business. It is an open-source software, which is now managed by Adobe.
The merchants can easily manage the operations and functionalities of their platform to promote their business. From search engine optimization strategies, and inventory management techniques, to reliable marketing tools, Magento offers plenty of enriched features to make your store user-friendly.
The software holds its own payment bridge termed Magento Secure Payment Bridge which is a PA-DSS-certified payment portal for secure transactions and better customer experience.
Overall, Magento is designed to escalate your eCommerce business by providing every feature required asking you to just trust their experts.
Key Features –
Efficient Headless eCommerce.
Track activities of administrator users.
Magento Administrator Interface for building marketing campaigns.
Effective Return Merchandise Authorization.
Dynamic rule-based product addition.
Effective promotion, marketing, and conversion tools.
Experts to resolve issues anytime.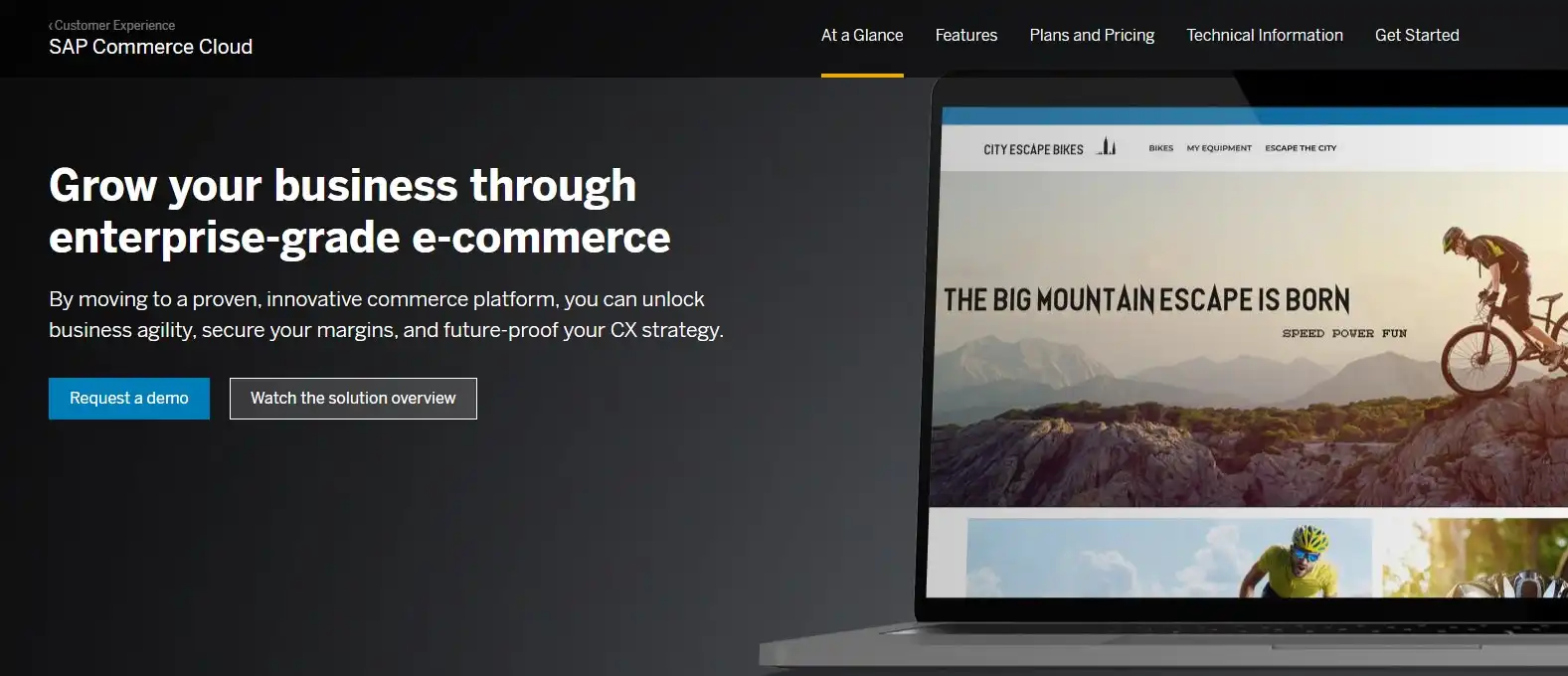 SAP Hybris, also known as SAP Commerce cloud is an enterprise eCommerce platform that allows businesses to perform merchandising across B2B and B2C markets.
It is an omnichannel eCommerce solution merged with an SAP cloud ecosystem to offer powerful ways to consumers to drive customer engagement. This eCommerce platform is especially meant to manage the B2B and B2C workload, making it a highly scalable and flexible platform for an enterprise.
Its access-control framework and customizable authentication make it a highly secure platform. The powerful features like dependency Injection (DI) and Aspect-Oriented programming make this enterprise platform flexible and extensible.
Overall, SAP commerce cloud is the best enterprise eCommerce platform that offers flexible, highly customizable, and all-in-one solutions for consumers to manage sales, marketing, transactions, data, and more.
Key Features –
Integration with salesforce to offer salesforce automation.
Performs Omnichannel marketing.
A rich partner ecosystem offering extensible eCommerce solutions.
Offers agility to transform customers' experience.
Offers cloud-based sustainability solutions.
WooCommerce is an open-source eCommerce plugin for WordPress with a powerful community behind it to make it one of the best platforms for enterprise stores. It is highly customizable and user-friendly for anyone to build a robust online store.
It adds all the essential eCommerce functionalities to a WordPress site and allows you to customize it without any limitations. One of the advantages of using WooCommerce is its active developer community which provides you with beautiful WooCommerce themes, which you can easily customize, and extended features using additional plugins.
Being a WordPress-based eCommerce platform, WooCommerce can have some security vulnerabilities, because of which it is not preferred among enterprise businesses. But with recent developments in WordPress and WooCommerce, it seems to be a great alternative to the above-mentioned platforms.
Key Features –
Thousands of customizable themes
Built-in sales and marketing features
Extensive library of plugins for additional features
Offers in-house payment gateway, WooCommerce Payments
Highly customizable by coding or page builder plugins
Supports multiple sales channels
If you prefer WordPress over other platforms, here are a few hand-picked articles you may want to read next –
Which is the best eCommerce platform for enterprise businesses?
Choosing the right eCommerce platform to build an enterprise online store depends entirely on your needs in terms of technical flexibility, features, security, etc., But what's most important is its compatibility with your technical skills and budget – you want a platform you or your team can manage within your budget.
Shopify Plus & BigCommerce are SaaS-based platforms that are easy to set up and manage without a complete squad of tech experts. If you use one of these platforms, web hosting and security won't be your concern as it is completely managed by their team.
Adobe Commerce and SAP Commerce Cloud are powerful platforms with high customization flexibility. But it is comparatively expensive and you will need certified developers to help you build and manage the store, which adds costs to your monthly business expenses.
Finally, if you want to avoid monthly subscription fees and technical hassle without compromising on flexibility in designing and scaling your online store, you may want to take another look at WooCommerce.
I hope this article helped you find a reliable enterprise eCommerce platform for your business. If you still have questions, feel free to drop us a message to book a meeting with our eCommerce expert who can offer your better advice based on your business specifics and requirements.
If you are looking for niche-specific eCommerce platforms, you should check our following lists as well –