Do you want to start a clothing store but struggling to find the right eCommerce platform to set up your store? If so, this article is for you.
There are several eCommerce platforms, but not all are suitable for a clothing store. You need a platform that enables you to manage your products easily and provide an excellent user experience to your customers.
Unlike electronics, books, or digital products, to sell clothing products, you want an eCommerce platform that allows customers to choose different variations of the product based on age, gender, material, color, size, etc.,
So, in this guide, I will show you the best eCommerce platforms you can consider for your online clothing business. Before that, let's learn the important features you should look for in an eCommerce platform to set up a clothing store.
How to Choose the Best Ecommerce Platform for Clothing Stores?
While choosing an eCommerce platform, you need to consider factors like your technical skills, business model, budget, etc. But more importantly, you want to ensure the platform is packed with features needed for building an online clothing store.
Here are some of the crucial features your eCommerce platform should have –
Customization Flexibility – If you are not a coder and can't afford to hire professional developers, you should be looking for a platform that offers high customization options with the visual builder to design the store pages.
Scalability – You don't want an eCommerce platform that can't keep up with your ambition and the growing business. You should pick a platform that offers higher plans and scalability options.
SEO-Friendly – Most online buyers start their purchasing journey with a Google search. So, you must ensure that the chosen eCommerce platform should have a robust onsite SEO and allows customization of meta tags and URLs.
Payment Options – Today, people use various payment methods for online transactions. So, you must keep up with their payment preferences by offering multiple payment options, including crypto, card payments, wallets, BNPL, etc., for which the platform should support popular payment gateway solutions.
Integration Capabilities – You can't run an eCommerce business solely based on your platform features. It should provide seamless integration with marketing, warehousing, shipping, and other service providers.
Analytics reporting – Data is gold in growing a business. So, you want a platform that tracks data and provides useful insights or should integrate with third-party analytics software like Google Analytics, Kissmetrics, etc.
Customer Support – The platform should provide active customer support to help resolve technical issues you may face while running the business.
If an eCommerce platform lacks any of these features, I highly recommend not considering it for your clothing store.
7 Top Ecommerce Platforms for Clothing & Apparel Stores
In this section, we will dive into some of the popular eCommerce platforms which are higher preferred by retail merchants to sell clothing products. I will highlight the important features of each platform to help you determine the right one for your online clothing store.
Ready? Let's get started.
Shopify is the most popular eCommerce platform that allows you to sell all kinds of products, including clothes and apparel. It is easy to use and scalable, which makes it ideal for anyone to set up an online store.
It provides you with stunning clothing themes, which can be easily customized as per your needs. Moreover, you will have access to hundreds of free and paid apps to add more functionalities and features to the store.
If you want to sell custom-printed clothes and other accessories, Shopify might be the perfect platform for you as it supports some of the best print-on-demand apps like Printful, Printify, etc.
Overall, Shopify is a robust platform that offers everything you need to start an online clothing store and helps you scale your business by allowing you to sell your products on Facebook, Amazon, eBay, and other sales channels.
Key Features –
Tons of customizable themes

Drag-and-drop page builder
Add Unlimited products
Search engine optimized
Seamless 3rd-party software integrations
In-house payment system with 0 transaction fees
Advanced analytics reporting
Mobile app for on-the-go store management
Pricing Plans – Shopify offers a 3-day free trial and lets you enjoy the platform for 3 months at just $1/month on any paid plan, which starts at $29/month, allowing unlimited products, 2 staff accounts, and 4 inventory locations. The highest plan costs $299/month, with the lowest transaction fees.
Further reading –
WooCommerce is an open-source plugin that lets you add eCommerce functionalities to WordPress sites. It is a powerful tool that provides you with everything you need to set up an online clothing store and run it smoothly.
It is compatible with almost every WordPress plugin, which gives you access to thousands of free and paid plugins to add features to the store. The best part is that you can easily find pre-built WooCommerce themes on platforms like Themeforest, which you can easily customize using page builder plugins or custom coding.
WooCommerce is 100% free, but you must invest in a trusted WooCommerce hosting solution and a few plugins to secure your website and manage it smoothly.
Key Features –
Community-driven, 100% customizable
Tons of clothing store themes
No transaction fees
Access thousands of plugins
Supports almost every payment provider in the world
100% translated into 24 languages
WooCommerce mobile app for iOS and Android devices
Further reading –
BigCommerce is a well-known eCommerce platform among clothing and accessories merchants. It has an intuitive interface that enables you to build a site with a shopping experience for your customers.
It comes with several pre-built responsive themes, which enables you to quickly set up the store without starting from scratch. It also has a drag-and-drop page builder, allowing you to design and customize the store per your requirements – without writing a single line of code.
Besides selling from your own eCommerce site, BigCommerce also allows you to sell on Amazon, eBay, and other marketplaces. You can even connect your BigCommerce store with your existing WordPress site.
Above all, it provides built-in tools to develop unique customer experiences and 70+ promotion rules that you can use to deliver personalized marketing communications via third-party tools.
Key Features –
Professionally-designed responsive themes
Robust drag-and-drop builder

0% transaction fees

App store for seamless integrations
Supports popular payment processors and digital wallets ( e.g., Apple Pay, Amazon Pay, PayPal, etc.)
Native POS system for a brick-and-mortar store
Sell across multiple marketplaces and sales channels
Supports integration with WordPress & Drupal
realtime analytics reporting
24/7 customer support via live chat and phone call
Pricing Plans – BigCommerce has 3 paid plans, offering a 15-day free trial. The basic plan starts at $29.95/month, allowing unlimited products with sales limit it $50k annually. For built-in sales and marketing tools and a higher sales cap limit, you will have to upgrade to the Plus or Pro plan, costing $79.95/month and $299.95/month, respectively.
Further reading –
Squarespace is another popular eCommerce website builder known for its creative finesse. If you want to sell clothes with creative designs and visuals, Squarespace can be the right choice for you.
With stunning store templates and an easy-to-use page builder, you can quickly set up a beautiful storefront for your clothing business. And its powerful inventory management system, flexible shipping options, automated tax complaints, and payment solutions make it a smooth ride for you to manage your business.
Overall, Squarespace is the perfect eCommerce platform for a creative person who wants to focus primarily on the look and feel of the store without getting into the technical aspects of coding.
Key Features –
Stunning artistic-centric templates

Built-in

marketing tools – popups, bars, SEO & email marketing
Supports popular payment processors (e.g., Apple Pay, PayPal, Stripe, etc.)
Supports major shipping services (e.g., UPS, FedEx, etc.)
Accept Offline & online payments with Square (POS for iOS)
Automated tax compliance options
Mobile app for inventory tracking & customer communication
24/7 customer support via email and live chat
Pricing Plans – Squarespace has three paid plans for eCommerce websites, starting at $33/month with 3% transaction fees. You can avoid transaction fees at higher plans, which cost $36/month and $65/month, with access to advanced eCommerce features. It offers a 14-day free trial on all the plans.
Further reading –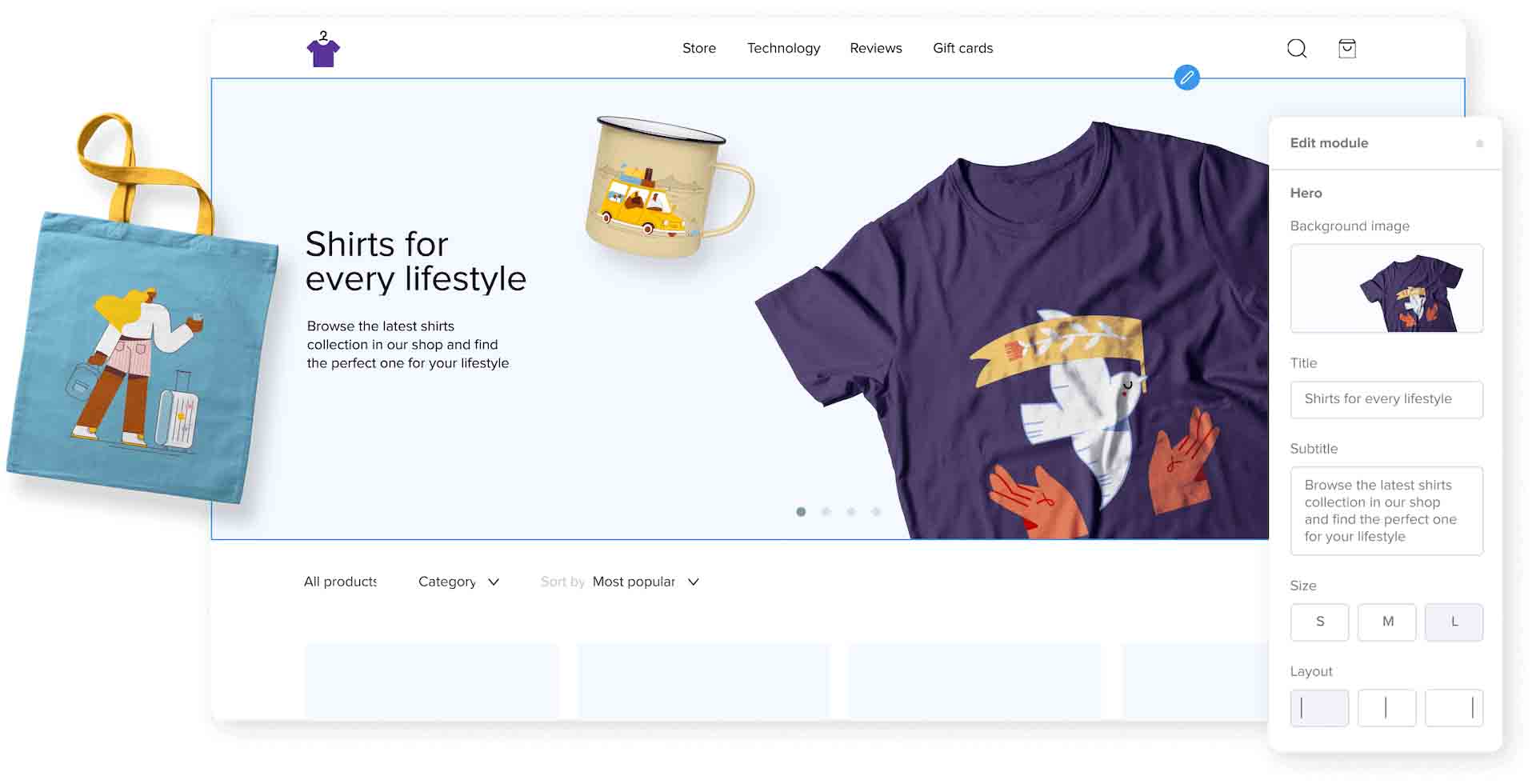 If you want to set up a print-on-demand clothing store, Sellfy is probably the easiest eCommerce platform to get started. With its user-friendly interface and customizable storefronts, you can swiftly set up your virtual boutique without any technical expertise.
Moreover, it provides you with various built-in marketing features, including discount codes, upselling, email marketing, and social media integrations, allowing you to promote your products to drive more sales and foster customer loyalty effortlessly.
Want to learn more about its features and functionalities? Read our detailed Sellfy review.
Key Features –
Intuitive customizable storefront
Mobile-optimized design for easy shopping
Secure payment processing through PayPal & Stripe
No transaction fees charged
Built-in Marketing tools to boost sales and engagement
Comprehensive analytics reporting on traffic and sales
Supports both physical products and digital products
24/7 dedicated customer support
Pricing Plans – Sellfy offers a 14-day free trial for its 3 paid plans starting at $19/month, allowing unlimited products with marketing features.
Wix is a popular eCommerce website builder with advanced features and tools to help you launch your online clothing store and grow it.
It comes with 500+ professionally designed themes, which you can quickly customize using its drag-and-drop page editor. You can also use its AI to help you create the store based on your answers to some questions.
Wix supports dropshipping businesses by providing seamless integrations with Modalyst, a trusted dropshipping supplier. You can also offer print-on-demand t-shirts, shirts, and other products via Printful and Printify.
Apart from these, it allows you to connect your Wix store with other sales channels like Amazon, eBay, Facebook, and Instagram to generate more sales and grow your business.
Key Features –
500+ responsive & customizable templates
Robust drag-and-drop builder
Built-in marketing & other business tools
Powerful SEO features
In-house payment system, Wix Payments
App market for one-click integrations
A professional mailbox
In-depth analytics reporting
Pricing Plans – Wix lets you create a store for free, but to make it live, you have to opt for one of its paid plans, starting at $23/month, which is perfect if you sell your own products. For dropshipping or POD products, you will need higher plans which cost $27/month and $49/month, respectively.
Further reading –
If you are tight on your budget to set up your online clothing business, Hostinger website builder might be the right eCommerce platform for you. It is the cheapest website builder available in the market, yet it beats major platforms in terms of features and ease of use.
It comes with 100+ responsive themes and a simple drag-and-drop page editor that lets you customize the theme to match your branding. It supports 70+ payment methods, including PayPal, Visa, Stripe, Mastercard, and more.
Even at such a low cost, the builder tends to help you automate your marketing campaigns by letting you run paid campaigns on Facebook and Google Shopping from the dashboard.
Overall, Hostinger website builder has everything you need to start your clothing store, from inventory management, automated taxation, and shipment tracking to secure payment processing and marketing. These features may not be the best in class but can give you a good start at a low-cost investment.
Key Features –
Beginner-friendly platform
Drag-and-drop builder
Free domain for 1 year
100+ customizable website templates
SEO-friendly options
Supports 70+ payment methods
Supports multi-channel selling
Manage Facebook & Google Shopping Ads from your dashboard
iOS and Android mobile apps to manage the store from anywhere
24/7 customer support
Pricing Plans – It pricing plan starts at just $2.79/month with web hosting included.
Which is the Best Ecommerce Platform for your Clothing Store?
Starting an online clothing store is much simpler than it used to be 10 years ago. Today, these above-listed eCommerce platforms took away almost all the technical hassle required in setting up an online store – from server management and inventory management to secure payment processing; everything is being taken care of for you by these platforms.
Shopify is hands down the best eCommerce platform to start a clothing store. It provides everything you need to build and manage the store. Moreover, in its app store, you will find all the apps and software for product sourcing, marketing, shipping to clothes size charts, variant listing, etc., to manage your store smoothly.
Rest assured, all the listed platforms are perfectly compatible with setting up an online clothing store. And the best part is that by using these online store builders, you can start a clothing store at just a fraction of the cost of what it would take to build a brick-and-mortar store.
Finally, I hope this article helped you find the best eCommerce platform for your clothing store. Now, it is your turn to set up your store and starting growing it. Having said that, here are few hand-picked articles that you might want to read next –