Do you want to start a Shopify subscription box business? Or, do you want to add a subscription feature to your existing Shopify store?
Whatever your reason might be, you will need to add subscription functionalities that enable customers to subscribe to their favorite products and also allow you to automatically collect recurring subscription fees.
If you want to add these functionalities to your Shopify store, you need the best Shopify subscription app to set up subscription plans for your products, receive recurring payments, and manage orders efficiently.
So, to help you with it, I have collected some of the best subscription apps and reviewed them to help you pick the right one for your store.
Ready? Let's get started.

Appstle is another popular and highly-rated Shopify subscription app that provides incredible subscription features and customization capabilities. It allows you to create bundles and product boxes that you can offer as subscription products or upsell with customers' chosen products.
The best thing about Appstle is its built-in loyalty feature using which you can offer tiered discounts, custom shipping, gifts, & more for their next purchase. This will help you boost the average order value for your store and increase repeat purchases.
Key Features –
Easy & quick setup with a simple interface
Customizable customer portal to self-manage their subscriptions
Create pay as you go & pre-paid subscription plans
Offer tiered discounts, custom shipping, gifts, & more
Dunning management to avoid failed payments
Direct integration with Klaviyo, Growave, PageFly & other apps
Can integrate with Shopify Checkout
Flexible APIs to create custom subscription experience
Detailed performance analytics reporting
24/7 live customer support
Pricing Plans – Apostle has a free plan that allows up to $500 monthly subscription sales. The paid plan starts at $10/month and goes up to $100/month for stores with up to $100,000 subscription revenue. Appstel doesn't charge any transaction fees and if your subscription revenue exceeds $100k, you can ask for custom pricing.

The subscription business is mainly about generating recurring revenue for the store and PayWhirl focuses on that to provide a seamless way to create subscriptions and set automatic billing to the subscribers.
With PayWhirl, you can easily add a subscription button on existing and new product pages with your chosen timing options. You can also offer discounts and discounts to encourage shoppers to buy your subscription plans.
Key Features –
Subscription widgets for products, cart, and checkout pages
Supports over 10 payment gateways
Accept all major credit and debit cards in 100+ currencies
Save payment methods automatic subscription billing
Provide a customer portal to manage their subscriptions
Integrates with any Shopify theme
Flexible APIs to customize subscription experience
Robust subscription analytics reporting
Pricing Plans – PayWhirl offers a free plan with access to its features and charges 3% transaction fees. The paid plan starts at $9/month and goes up to $249/month with varied transaction fees of 0.5% to 2% per sale – the higher the plan, the lower the transaction fees you will pay.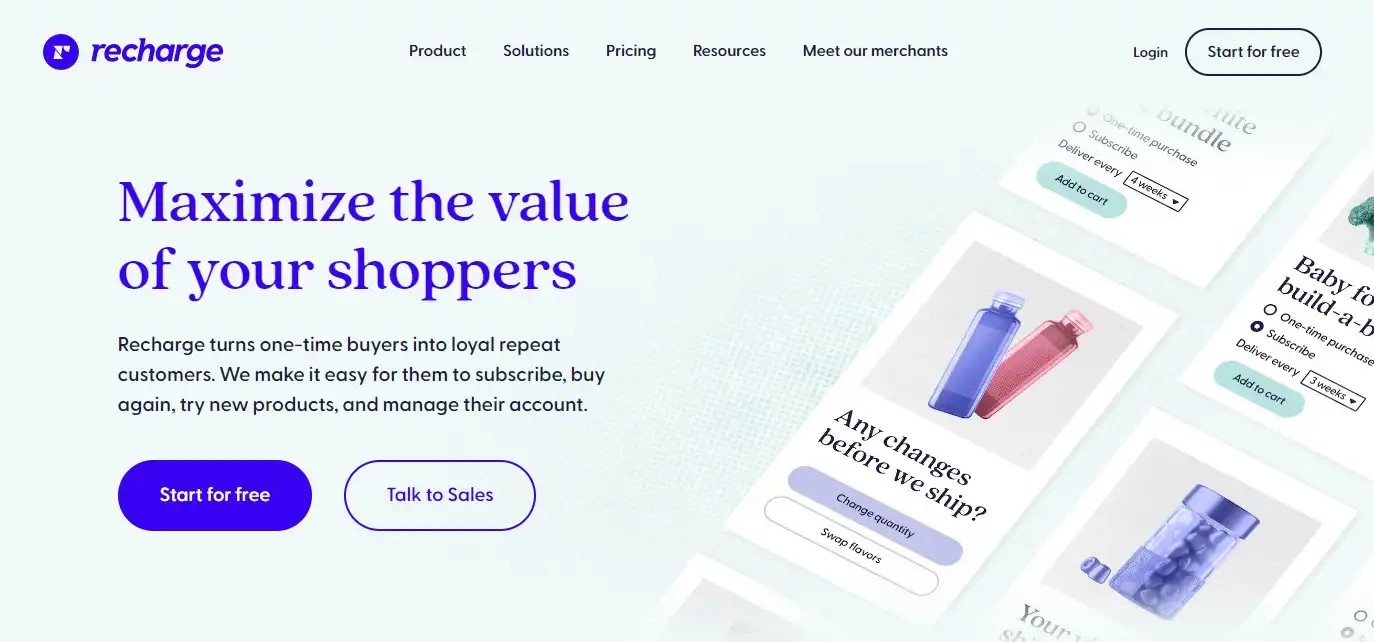 Recharge is probably the best Shopify subscription app for both merchants and customers. It allows you to add subscription options to specific products, create bundles and even let customers build their own bundles for subscription orders.
This way Recharge gives you complete flexibility in customizing the subscription option per your business model. You can also allow customers to pause their subscription orders or skip the next ones, which ensures that customers don't have to cancel their subscriptions and resume whenever they want.
Key Features –
Easy & quick setup
Customizable customer portal
Customers can create custom subscription bundles
Customers can also swap products as needed
Automatic notifications to keep customers informed
Subscribers to manage their orders with an SMS
Robust subscription analytics dashboard
Direct integration with Klaviyo & other popular Shopify apps
Robust APIs for high-level customization
Pricing Plans – Recharge has a free plan that charges 1% +10¢ per transaction and provides access to all the essential subscription features. For more advanced features and KPIs accessibility, you can opt for its Pro plan, costing $499/month and charges 1% + 19¢ per transaction.

Loop Subscriptions is another powerful Shopify app to create subscriptions and manage them efficiently to grow your sales and boost customer retention. The app provides complete subscription solutions with beautiful widgets that you can easily add to your product and other pages.
With this app, you can create your own subscription bundles or allow customers to build their own subscription boxes. You can also offer personalized discounts, gifts, or rewards to encourage customers to opt for long-term plans or add more products to their boxes.
Key Features –
Easy to set up
No-code automation workflow builder
Beautiful subscription widgets
Offer prepaid subscriptions or per-order payments
Customers can build their own subscription boxes
Allow customers to buy subscriptions as gifts for others
Mobile-friendly & fast-loading customer portal
Customers can pause, skip, or reschedule orders easily
Conduct cancellation surveys
Offer personalized discounts for reactivation
Seamless integration with Klaviyo, Gorgias & popular Shopify apps
Pricing Plans – Loop Subscription offers a free plan that allows up to 50 subscribers and 0% transaction fees. It has two paid plans with a 14-day free trial. The Growth plan costs $99/month and $399/month for the Enterprise plan with 1% & 0.75% transaction fees respectively.

Subify is an easy-to-use subscription app that enables you to add simple yet elegant subscription widgets to your product pages with multiple subscription options. Whether customers want to make a one-time purchase or subscribe with a fixed delivery frequency, the allows them to choose seamlessly.
As a merchant, you have the options to offer discounts on subscription plans based on delivery frequencies, which creates a win-win environment for you and your customers – they get discounts and you get a fixed recurring revenue for your Shopify store.
Key Features –
Easy to use with the quick set-up module
Create membership plans or subscription boxes
Customizable subscription widgets
Offer flexible discounts on different subscription plans
Seamless customer portal to manage their subscriptions
Supports PayPal, Stripe & Authorize.net for payments
Compatible with any Shopify theme
Active technical customer support
Pricing plans – Subify has a free plan that allows up to 10 subscriptions with access to merchant and customer portals. The paid plan offers unlimited subscriptions & orders with a 14-day free trial. It starts at $9/month and goes up to $99/month with 1% – 2% transaction fees.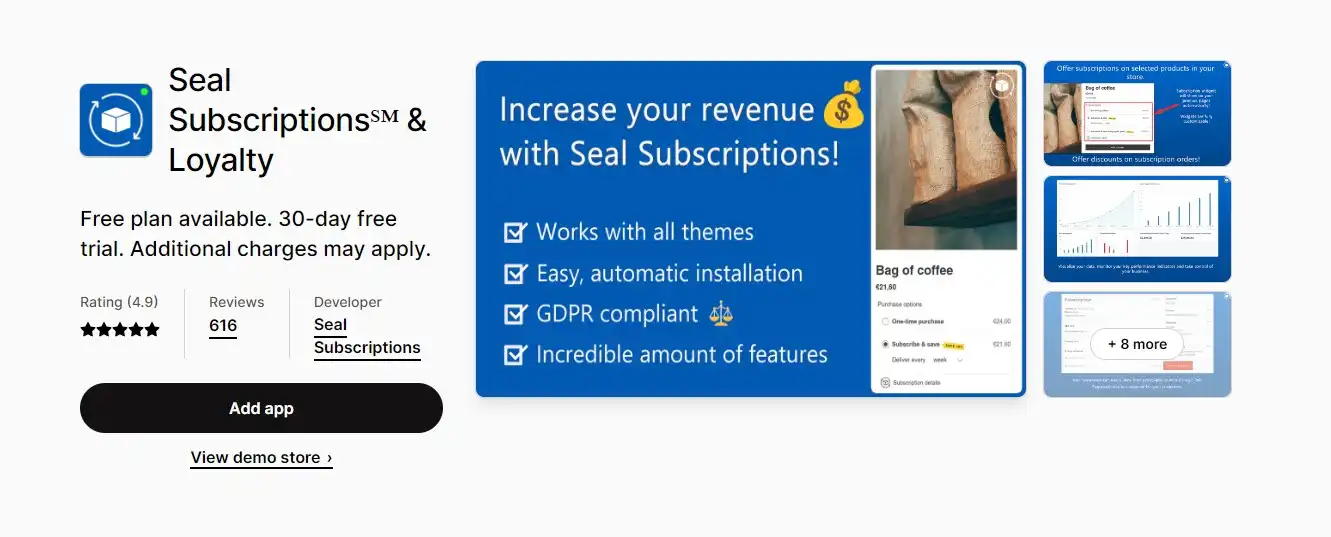 Seal Subscription is another simple and easy-to-use Shopify subscription app that provides everything you need to add subscription features to your store. With this app, you can offer prepaid subscriptions for a long-term plan with discounts or classic weekly, and monthly plans with automated billings.
The app comes with a built-in loyalty feature that allows you to offer discounts, custom shipping, gifts, & more to your loyal customers. This can help you build customer loyalty and reduce the churn rate for your stores. You can also create mix & match subscription bundles that customers can customize per their needs.
Key Features –
Easy to install and set up
No transaction fees
Compatible with every Shopify theme
Customizable subscription widgets
Offer discounts and a free trial on your subscription plans
Customers can manage their subscriptions via magic links sent to their email
Detailed analytics reporting with payment calendar & more
Flexible APIs & Webhooks for advanced customization
Supports integration with Klaviyo, PageFly, and other popular apps
Pricing plans – Seal Subscriptions doesn't charge transaction fees on any plan, It offers a free plan with up to 150 subscriptions and the paid plan starts at just $4.95/month, giving access to all its features.

Bold Subscription is an advanced Shopify subscription app packed with powerful features and customization flexibility that enables you to build and manage your subscription plans seamlessly.
Apart from selling subscriptions from your Shopify online store, the app enables you to sell them from your retail stores as well. The app provides powerful APIs and integrations that enable you to customize the subscription features to create a unique subscription experience for your customers.
Key Features –
Automatically install in your team to match your store branding
Offers advanced customization flexibility
Offers mixed cart, single product, or build-a-box features
Provides fully customizable customer portal
Allow customers to manage their subscriptions
Built-in subscriber email management
Seamless integration with Klaviyo and other popular Shopify apps
Powerful APIs & developer tools to build a custom subscription experience
Advanced credit card dunning management
Powerful analytics reporting
Pricing Plans – Bold Subscriptions offers a 60-day free trial on its paid plan that costs $49.99/month + 1% commission on subscription orders.
Which is the best Shopify Subscription app for you?
Shopify is one of the best eCommerce platforms to start an eCommerce subscription business – it provides everything you need to set up an online store and by using one of the above-listed subscription apps, you can easily add essential subscription features to your store.
The subscription business is one of the lucrative eCommerce business models for multiple reasons, but mainly because it enables you to build a loyal customer base that ensures regular recurring revenue for your store. So, it is very important that you focus on providing an excellent subscription experience by offering multiple subscription options, discounts, and loyalty rewards.
With a feature-packed subscription app in your Shopify store, you can easily make it possible and grow your business significantly. Rest assured, the listed Shopify subscription apps are some of the trusted ones in the market. So, try them and pick the best one that fits your business needs.
I hope this article helped you find the right subscription app for your Shopify store. If you are looking for more apps to build and grow your online store, here are a few hand-picked articles that you might want to read next –