Are you looking for the best free eCommerce platform to build your online store? Well, you are in the right place.
Unlike old days, today, several eCommerce platforms are free to use or offer cheaper options to start an eCommerce business. So, whether you are a beginner or an experienced retailer looking to set up an online store, in this article, I have compiled a list of the best free eCommerce software and platforms that you can consider to create free online stores.
Unlike other websites I came across during the research, I have not included any software with free trials. Here, you'll only find eCommerce platforms that are either 100% free or offer a free plan.
But before going ahead with the list, let's talk about why you should or shouldn't opt for free eCommerce platforms over the paid ones.
Should You Use Free Ecommerce Platforms?
When we add the term "free" before anything, it usually means that you cannot afford a premium version or are just trying your hands before making any investment.
And in most cases, it is true.
But, when choosing an eCommerce platform for your store, free doesn't necessarily mean you don't have to invest anything in building your eCommerce website.
Most of the free eCommerce platforms available are open-source platforms, i.e., you can get the software or platform where you can build the store at no cost but may have to pay for hosting, domain, themes, and other services involved.
Over that, if you don't have technical knowledge of website development, you will also have to hire a developer.
Yes, free eCommerce platforms are not exactly FREE!
So, why should you choose free eCommerce platforms to build your stores? Well, free platforms have their advantages and disadvantages over paid ones.
Let's talk about them, and then you decide what's better for you –
Pros of free eCommerce platforms-
You have more creative control over your store's design and features.
Open source solutions usually come with unique features earlier than paid platforms because they are continually being developed and improved by the community.
You have control over hosting, plugins, and themes that would go into your store.
Cons of free eCommerce platforms –
You must have the technical knowledge to build the store from scratch or customize themes.
You don't get customer support. So, you have to rely on the community for help.
Site maintenance like hosting, speed optimization, and security will be your headache.
It can be expensive to hire a developer to build your store.
Now, you know all about the free ecommerce platform. So, keep reading. You will know more about the platforms available and then decide if a free platform is what you need for your business.
Top 6 Free Ecommerce Platforms
Going ahead, your goal should be to find an eCommerce platform that you can use to set up your online store at the lowest possible cost based on your skills, experience, and the features you need for your store.
Keeping this in mind, let's look at the best free eCommerce platforms you can use to build and grow your online business.
1. WooCommerce – Best Free Ecommerce Platform
WooCommerce is a free eCommerce platform that runs on WordPress. Unlike other eCommerce platforms listed in the article, WooCommerce is a plugin that can add operational eCommerce features to your existing WordPress site.
It lets you sell anything: physical products, digital downloads, membership plans, dropshipping stores, or affiliate products, you name it, and you can sell it. It also offers its own payment system called, WooCommerce Payments which doesn't charge you any transaction fees. You just have to bear the transaction fees your payment service providers like PayPal, Stripe, or your bank charges.
If you are already familiar with WordPress, WooCommerce can be very easy to use. You have to add a WooCommerce plugin, add your products, and set your preferences, and your store will be ready. The best part is that there are thousands of pre-designed WooCommerce themes that you can use to set up your eCommerce website within hours, if not days.
You can also use WordPress plugins and WooCommerce extensions to customize the website and add more functionalities to your store. However, if you have no prior experience with WordPress, you may require assistance from a developer to set up your website and online store.
Pros of WooCommerce –
Easy to use
Free Themes
Best for SEO since it is on WordPress
Highly Customizable
Cons of WooCommerce –
No Customer Support
Need lots of extensions to add basic features, and it costs
Further Reading –
2. Ecwid – Simple Free Ecommerce Platform
Unlike the rest of the tools mentioned above, Ecwid is a SaaS-based eCommerce platform. You can create your online store on Ecwid within 10 mins – it is that simple.
The best part is that Ecwid doesn't charge any transaction fees, and once you start making profits, you can upgrade the plan and integrate with other marketplaces like Amazon and eBay.
However, you should know that Ecwid uses a block design system, which will not give you customization flexibility like other platforms listed. Using Magento, WooCommerce, and PrestaShop, you can build a store and add features as your business grows, but Ecwid is specifically built for small businesses.
So, if you are looking for a simple eCommerce platform without much designing and technical hassle, Ecwid might be the best pick for you. Its free plan allows you to sell up to 10 products, and you can promote your products on Facebook, Google, Pinterest, and Snapchat right from the dashboard.
Pros of Ecwid –
Zero Transaction Fees
Integrated advertising platforms
Mobile responsive site
Cons of Ecwid –
Not scalable
No themes
Very limited customization
Further Reading –
3. OpenCart – Free Open-source Ecommerce Platform
OpenCart is also an open-source ecommerce platform that is currently supporting over 300,000 ecommerce stores across the globe.
It offers many free and paid mobile responsive themes, which you can find in OpenCart's marketplace. It also provides 13,000+ modules that allow you to customize and add features to your store.
One of the best features of OpenCart is its Admin Dashboard – you can manage multiple stores from one dashboard. You can add the same products from different sources with different pricing and other variables. Isn't this cool?
OpenCart gives you control over how customers are charged for your products and services. So, if you plan to sell products by subscription or are simply breaking up payments into smaller portions, OpenCart is the way to go.
Pros of OpenCart –
Marketplace for themes and extensions
Integrated shipping methods
36 payment gateways
Active community of developers
Cons of OpenCart –
Technical expertise required
Paid support service
Further Reading –
4. PrestaShop – Popular Free Ecommerce Platform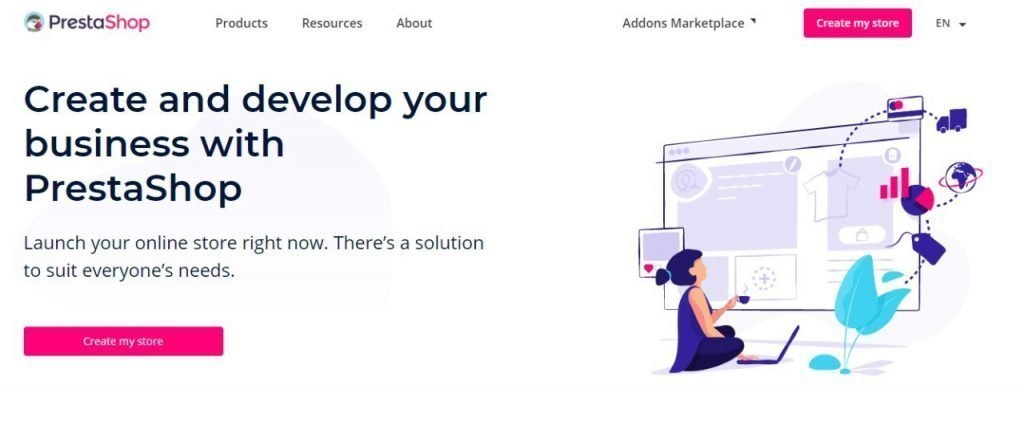 PrestaShop is an open-source eCommerce platform developed in collaboration with a community of more than one million users and contributors.
You can download the free PrestaShop software and build the store yourself. Also, to build the store on PrestaShop, you'll need at least basic knowledge of HTML, CSS, and JS.
PrestaShop provides thousands of mobile-optimized themes that you can use and customize the store or you can build it from scratch. It also offers 600+ features that you can include in your store.
But again, it is not like Shopify, where you can click and add new features, you have to configure it yourself using the modules provided.
Pros of PrestaShop –
Strong SEO
Customizable
Available in 75 languages
Strong community to help you
Cons of PrestaShop –
Limited Marketing Integration
Developer Skills required
No multi-channel integration
No customer support (have to rely on community response)
Further reading –
5. Magento – Enterprise-grade Ecommerce Platform

Magento is the most popular and trusted open-source platform for eCommerce. The brands like Nike, Ford, and Samsung use Magento for their online stores.
It is a fully mobile-optimized and customizable platform, but you'll need a trained developer or agency to build your store. Magento is so vast that you can customize as much as you can and add new features that no other store has ever seen – it gives you freedom without any limit to being innovative. But the only thing is, you will need developer skills to do anything on Magento.
Magento provides seamless checkout, payment, and other shopping modules that allow you to personalize the user experience on your site.
Pros of Magento –
Strong SEO
Scalable and highly customizable
Strong user and developer community
Huge marketplace for extensions and themes
Cons of Magento –
Expensive themes
Development costs can be expensive
No customer support
Further Reading –
6. Shift4Shop – Turnkey Free Ecommerce Platform
Being competitive for 20 years, Shift4Shop is another popular eCommerce platform. It is a feature-rich eCommerce platform that offers a flexible website builder, product & order management tools, a shopping cart, customer marketing tools, and more.
Shift4Shop offers 110 lucrative themes that are ideal for setting up any type of eCommerce store. All of them are SEO-optimized, mobile-friendly, and highly customizable. The best part is that they are entirely free to use.
As customer experience is the key to success, Shift4Shop lets you run your store from mobile. Its amazing mobile-friendly features include Google AMP-powered product pages, an Ajax implementation to reduce delay, and optimized code to increase your site speed.
In addition to this, you can easily accept mobile payments by connecting to 200 payment processors. Also, it helps in boosting cart conversions by offering an instant checkout experience with Apple Pay, Visa Checkout, Amazon Pay, and much more.
Pros of Shift4Shop –
100+ themes are being added every day.
AI-driven fraud prevention that makes your site secure.
Built-in marketing tools.
Scalability potential with the enterprise plan.
Cons of Shift4Shop –
Reporting features can be improved for better understandability.
Customer support is not consistent.
Which is the Best Free Ecommerce Platform for You?
Now, you know the best free eCommerce platforms that you can choose from, but there are many more that you can explore. If you want a robust eCommerce website with flexibility to design and scalability, WooCommerce would be my #1 pick. It is completely free to use and backed by an active community of theme and plugin developers.
However, if you are tight on budget or don't want to market early investments, you can consider Ecwid. With Ecwid, you can build and launch your store within 10 mins. Moreover, you don't need any technical skills to set up the store. You can also integrate the Ecwid store into your existing site built on platforms like WordPress, Wix, etc.
On the other hand, if you lack the technical skills to develop an eCommerce website on platforms like OpenCart and PrestaShop, you can consider one of the paid eCommerce platforms. Here are a few lists that you may want to check out next –