As the holiday season approaches, eCommerce businesses worldwide are gearing up for the biggest shopping events of the year: Black Friday and Cyber Monday. For Shopify merchants, these two days offer an incredible opportunity to boost sales, attract new customers, and secure a prosperous year-end.
However, with the increased competition and high customer expectations, it's crucial to have the right tools at your disposal to make the most of this retail frenzy. From optimizing your store's performance to automating marketing campaigns and managing inventory like a pro, you will need some of the best apps in your arsenal.
So, in this article, we'll unveil a curated list of essential Shopify apps that you can use during the Black Friday and Cyber Monday sales. These apps aren't just the cherry on top; they can be the backbone of your BFCM strategy, helping you streamline operations, enhance customer experiences, and maximize revenue.
If you are ready, let's get started.
During the Black Friday and Cyber Monday shopping extravaganza, your store's appearance and user experience play pivotal roles in converting casual shoppers into loyal customers – you want to optimize your website design to match the holiday shopping vibe.
That's where you can use GemPages, one of the best Shopify page builder apps that enables you to give your website a festive makeover, without coding. It provides a drag-and-drop page editor that you can use to easily create new pages or optimize existing ones.
You can also design eye-catching, mobile-responsive landing pages tailored to your BFCM promotions and product offerings. Whether you want to add countdown timers, pop-ups, or announcement bars, or simply enhance your site's aesthetics with a holiday touch, GemPages gives you the complete design flexibility and creative freedom you need to create high-converting pages.
Want to know more? Read our detailed GemPages review to learn more about its features and functionalities. You should also check our GemPages Discount for an exclusive deal.
2. Notify Me! – For Back-in-Stock Alerts
During the peak of your BFCM sales campaign, the last thing you want is to lose potential buyers due to product unavailability. That's where the Notify Me! app steps in as your reliable ally in this sales season battle.
It is a Back-in-stock alert app that lets shoppers subscribe to restock alerts for out-of-stock products and the app automatically sends the restock notification to subscribers via email, SMS and push notifications.
You can also use the app to book pre-orders for out-of-stock products. This way, you can keep the excitement alive for potential buyers, assuring them that the items they desire will eventually be back and they will be the first ones to get it.
Finally, by using this Shopify app, you can turn what could be a lost sale into a promise, strengthening customer loyalty and maximizing your BFCM revenue potential.

One key ingredient of a successful BFCM strategy is creating a sense of urgency. Shoppers need that extra nudge to make a purchase decision, and the Essential Countdown Timer Shopify app is here to help you do just that.
It lets you add countdown timers on your product page to display the remaining time for your BFCM deals on that specific product. It creates a feeling of missing out among customers and entices them to purchase the product instantly.
With this app, you can also add countdown timer bars to display the remaining time across your website. You can even enable it to display on the cart page so that shoppers can see the remaining time to complete the checkout process.
This app is a valuable addition to your BFCM toolkit, helping you maximize conversions and sales by leveraging the power of urgency. As the clock ticks down, customers are more likely to make a purchase, fearing they'll miss out on your incredible offers.
With so many products and offers during the sales rush, Shoppers want assurance that they're making the right choices by picking your products. Nudgify, the Shopify app designed to instill confidence and build trust, is your indispensable companion for achieving higher conversions this BFCM season.
Nudgify displays non-intrusive live notifications to highlight recent purchases, add-to-carts, and other actions taken by visitors and customers in your Shopify store. This real-time display of activity creates a sense of trust, encouraging potential buyers to make their own positive actions.
During BFCM, you can use this app to promote a discount and let shoppers apply it in 1-click. You can also display Low Stock and Selling Fast Nudges to create a sense of scarcity and enhance the desire to buy among visitors.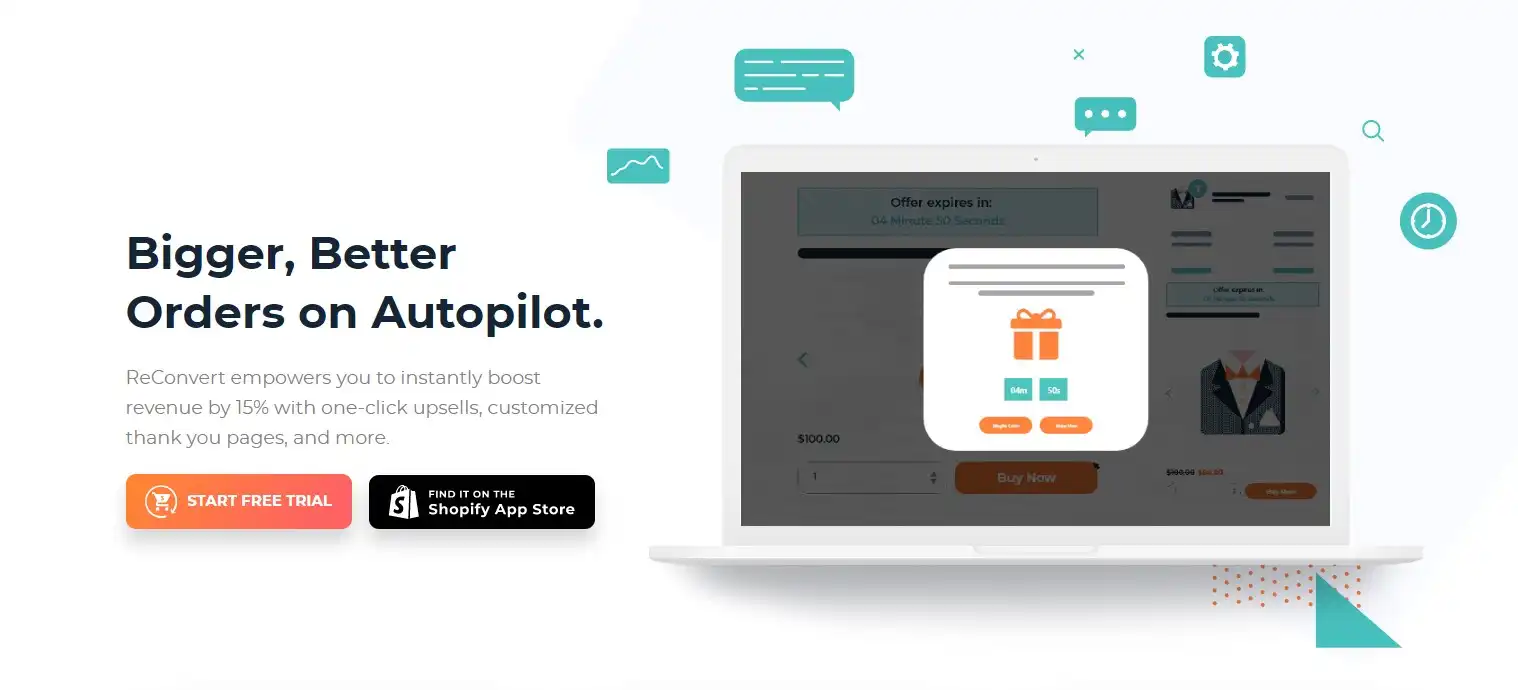 While you must have planned marketing strategies to acquire new customers, one often-overlooked strategy for increasing revenue during this critical shopping season is post-purchase upselling.
Enter ReConvert, one of the best Shopify upselling apps that enables you to create one-click upsells, post-purchase offers, and discounted upsells on your checkout and thank-you pages. This means that after customers have made a purchase and are at their peak engagement, ReConvert presents them with carefully curated offers they can't resist, all without the need to re-enter payment details.
This app even allows you to collect Birthdays and run post-purchase surveys, which you can leverage to offer birthday-special offers and improve your customer experience for more sales.
When it comes to the BFCM sales season, you need to stand out in customers' crowded inboxes to promote your sales offers. This is where Omnisend would be the perfect fit for your Shopify toolkit.
It is a powerful Shopify marketing app that lets you take an omnichannel marketing approach by combining email marketing with SMS and push notifications. It makes it easier than ever to send highly targeted campaigns on autopilot using its visual automation workflow builder.
It lets you segment your audience based on their behavior, purchase history, and preferences, which enables you to send personalized and relevant BFCM offers, increasing the chances of conversion.
Additionally, the app allows you to set up automated workflows for cart abandonment recovery, and product recommendations, ensuring that no potential sale slips through the cracks during this peak sales season.
You can read our comprehensive Omnisend review to learn more about its features, or just sign up for a free account to try it yourself. If you like it, you can use our exclusive Omnisend discount code to get a 10% discount on its paid plans.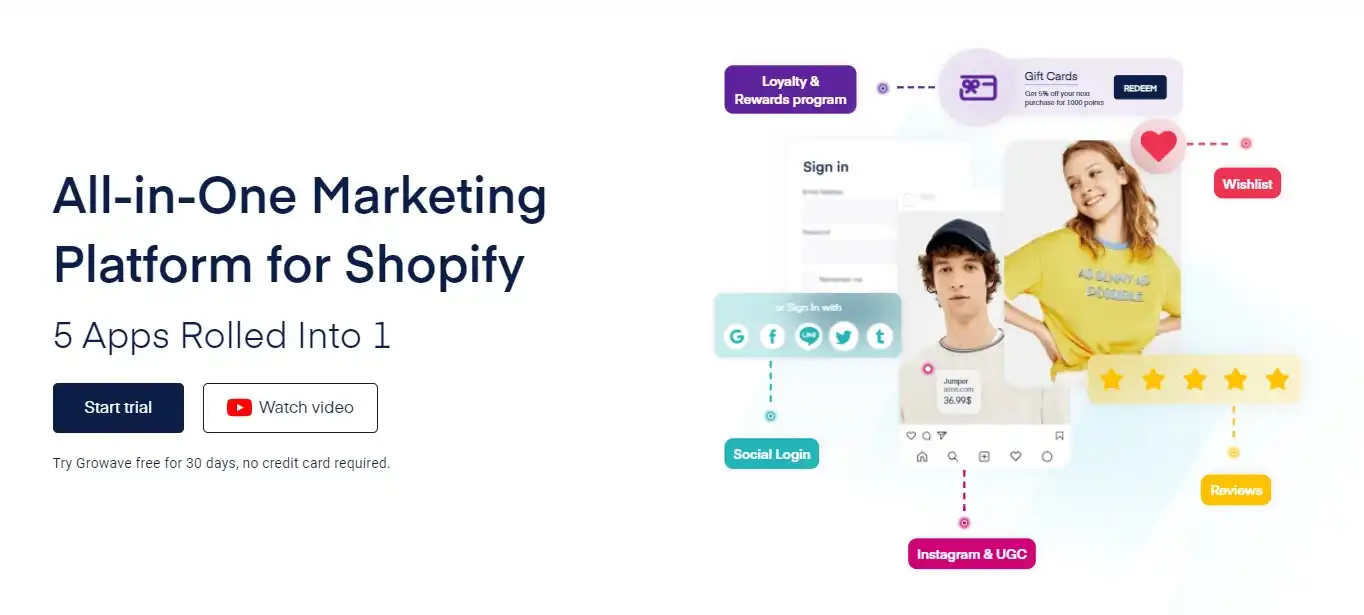 If you already have a loyalty reward program for your Shopify store, that's great. But, if you don't have one yet, you can use Growave. It is one of the best Shopify loyalty apps you can use to set up an attractive loyalty program that rewards your customers for their purchases, engagement, and referrals.
But Growave doesn't stop at loyalty. It offers a wishlist feature that lets customers save their favorite items for later, providing them with a convenient shopping experience. The social login option simplifies the account creation process, reducing friction during checkout and increasing conversions.
As BFCM approaches, you need to set up Growave so that you can leverage it during the sales by offering attractive rewards to your loyal customers and encouraging them to shop more by enhancing their shopping experience with social login and wishlists.
Sounds great? You should read our Growave review for more and check out our exclusive Growave Coupon code for an extended free trial.
During BFCM, when consumers are inundated with choices from various eCommerce brands, genuine product reviews on your website will give edge over others. And, if you display photo and video reviews, it will be the cherry on top to build your credibility with customers.
This is where you can use Loox, a powerful Shopify review app that allows you to collect and showcase customer reviews. Shoppers can easily submit their product photos and videos along with written reviews, which make new customers visualize real people enjoying your products, instilling confidence in your products.
The best part is that Loox lets you set up automated review request emails that keep your review pipeline flowing, ensuring a steady stream of fresh, engaging content for your store.
Moreover, its review widgets are SEO-friendly and integrate directly with Google Shopping and Meta shop, allowing you to display product reviews across channels and boost your sales during the Black Friday and Cyber Monday Sales bonanza.
Although Loox is known for its product review features, it also comes with a built-in referral program and post-purchase upselling features, which you can read about in our detailed Loox review.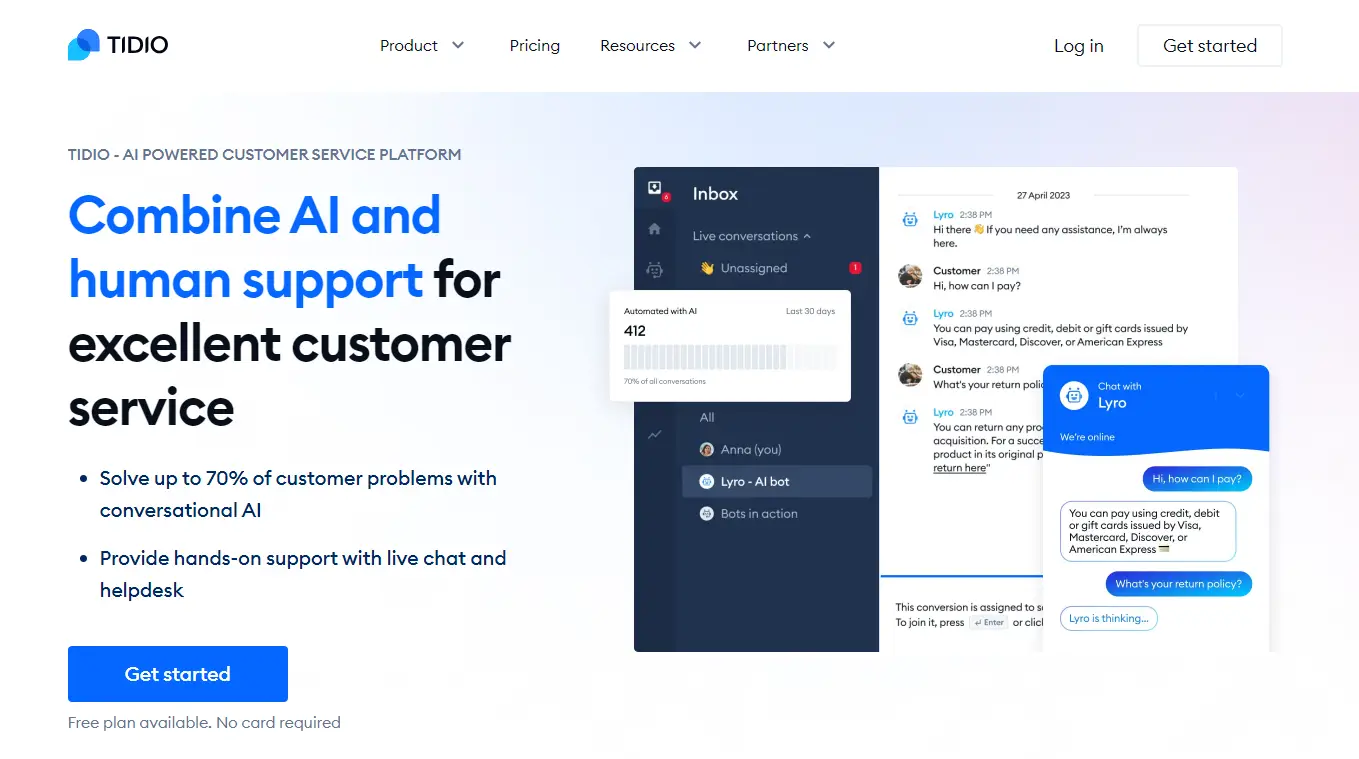 When it comes to BFCM or any sales season, every second counts, and providing excellent customer support should be your utmost priority to ensure that shoppers have a pleasant shopping experience on your site.
During the sales season, your customers may have questions about specific deals, offers, etc. With Tidio's live chat, you can ensure that your support team can respond promptly, and help them make quick purchasing decisions.
The best part is that it lets you create various chatbots for different stages of the customer journey. So, you can create a bot to engage with potential buyers, offering discounts, incentives, or personalized product recommendations to encourage them to complete their purchases.
Overall, Tidio is not just a live chat or chatbot tool, it is a complete helpdesk solution that can enable you to serve your customers better and drive more sales during BFCM sales.
Want to know more? Read our Tidio review where we have detailed its key features, pricing plans, and more.
The BFCM and holiday season marks that special time of year when shoppers seek out distinctive gifts for their loved ones. And what could be more fitting than personalized products as gifts, right?
As BFCM approaches, you can create special edition merchandise and exclusive designs to captivate your audience. If you want to offer such products for your store, you can use Printful, a popular Shopify print-on-demand app that offers a wide range of custom products, including apparel, accessories, home decor, and more, all featuring your unique designs or branding.
What sets Printful apart is its ease of use and fulfillment process. You can easily upload your custom designs and it takes care of printing, packing, and shipping the products directly to your customers. This means you can focus on marketing and driving sales, while Printful handles the logistics.
It is free to use and you will have to pay only for the after customers place their orders from your store. You can read our Printful review to understand how it works and everything it has to offer.
Wrapping Up
To ensure success during the Black Friday & Cyber Monday period, it's imperative to have the right arsenal of tools at your disposal. In this article, we've explored a selection of essential Shopify apps, each offering unique features designed to help you navigate and thrive during BFCM.
These apps collectively provide you with the means to create urgency, build trust, enhance the shopping experience, engage customers effectively, and streamline your operations. Whether it's through countdown timers, visual reviews, marketing automation, or custom merchandise, these tools are tailored to empower you during the high-stakes BFCM rush.
Now, as you gear up for BFCM, by leveraging the right tools, you can create a shopping environment that captivates customers, drives sales, fosters loyalty, and sets your online store apart from the competition.