Black Friday and Cyber Monday (BFCM) period is probably the most awaited weekend of the year for consumers to go on a Shopping spree. And, as online shopping is evolving, every brand tries to maximize their sales during BFCM sales season.
The BFCM period is not just a weekend; it's a retail phenomenon that brings D2C brands and consumers to achieve their goals and desires. Consumers get to purchase their desired products at discounted prices while brands get the opportunity to maximize their sales and overall revenue.
Now, as the BFCM season is approaching again, it is time for you to make the best out of this time and take your brand to the next level. In this article, we will be sharing some of the proven BFCM marketing strategies that successful eCommerce brands use to maximize their sales during the period.
Now, keep reading, and feel free to steal the ideas to grow your sales this Black Friday & Cyber Monday!
Ready? Let's get started.
1. Optimize Your Store Homepage
When people land on your site, they should get the vibe of Black Friday and Cyber Monday sales. So, make sure to update your store homepage to hook customers and encourage them to explore your BFCM offers.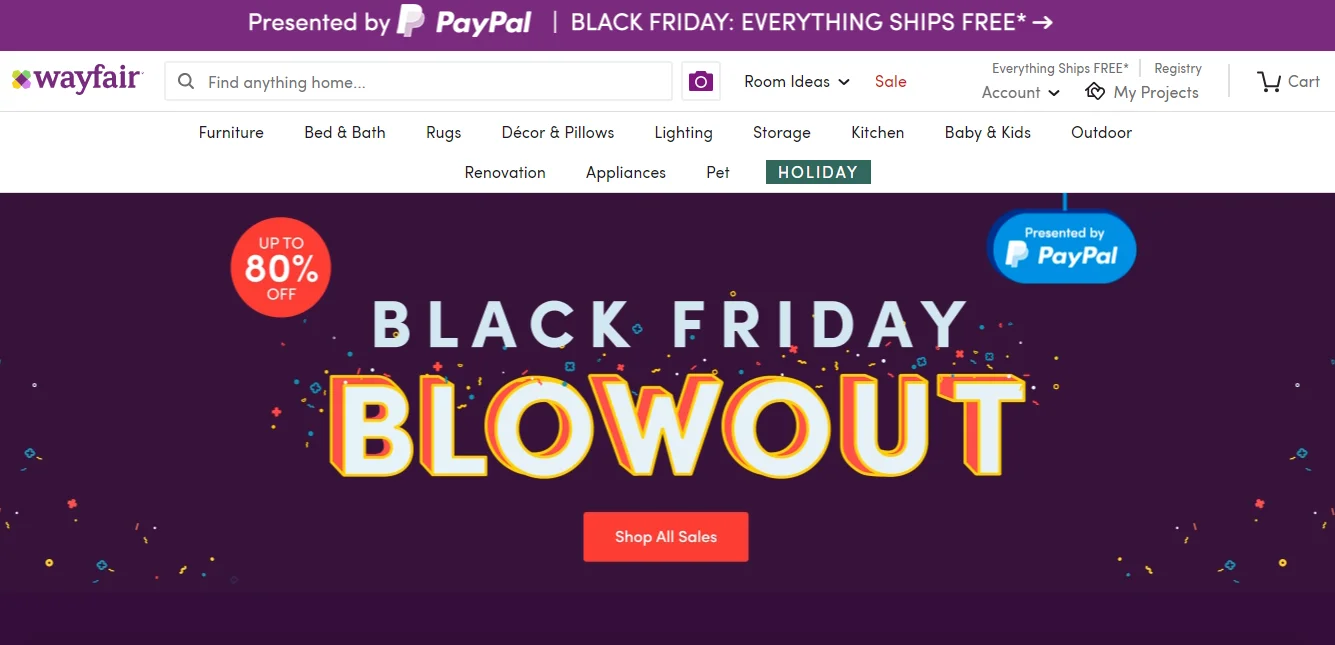 Here are a few design ideas you can consider –
Use BFCM-themed banners and hero images
Showcase your top BFCM deals prominently on the homepage
Create sections for different categories with their BFCM discounts
Use pop-ups & announcement bars to promote your BFCM deal
By strategically designing and organizing your store homepage, you can enhance the shopping experience for your customers which will result in maximizing engagement and conversions during the BFCM period.
2. Offer BFCM Exclusive Deals & Discounts
Of course, sailing through the BFCM season without some killer deals is like a ship without a captain. Whether you're aiming to keep your loyal shoppers satisfied or to rope in new ones, offering deals is your ticket to success.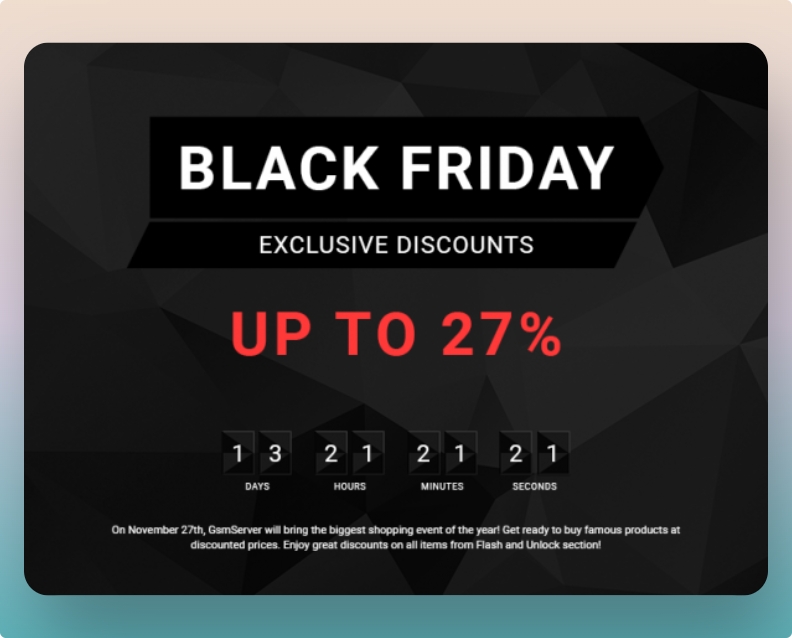 Most BFCM purchases are driven by that irresistible combo of discounts, timed deals, limited-time offers, and promotional offers that ignite a sense of urgency, all culminating in a shopping spree.
Here are a few deals and discount ideas you can use for your BFCM campaigns –
Product Bundles – One of the simplest tricks in the book is bundling products together. Not only does this provide extra value to your customers, but it also boosts your store's average order value – a vital ingredient to maintaining a healthy profit margin for your business.
BOGO Delights (Buy One Get One) – BOGO, is the beloved acronym that spells more sales magic. A report tells 67% of customers declare that BOGO is their favorite among all rebate promotions. Impressively, 95% admit to having benefited from BOGO deals at least once.
Percentage Discounts – Discounts are a trusty tool to nab customers and thrust your store into the spotlight. If you conjure up a compelling discount rate and wield discount strategies wisely, your business is set to attract new patrons and even retain old ones.
Free Shipping – According to a survey by Forbes, 77% of respondents clicked away from their carts due to dissatisfaction with shipping choices. And a staggering 84% sealed the deal when their purchase qualified for free shipping. So embrace free shipping to boost your sales during the BFCM frenzy.
3. Offer "Early Bird" Deals
Just like the previous year, the BFCM window is stretching out – it's getting an early start and lingering longer than before. Shoppers are diving into their holiday shopping way ahead of the calendar flip, with sizable chunks of them plotting their purchases even before November knocks.
To tap into this bustling market, you might want to kickstart your deals in advance. Pin down your lineup of early bird deals and kick off the promotion engine pronto.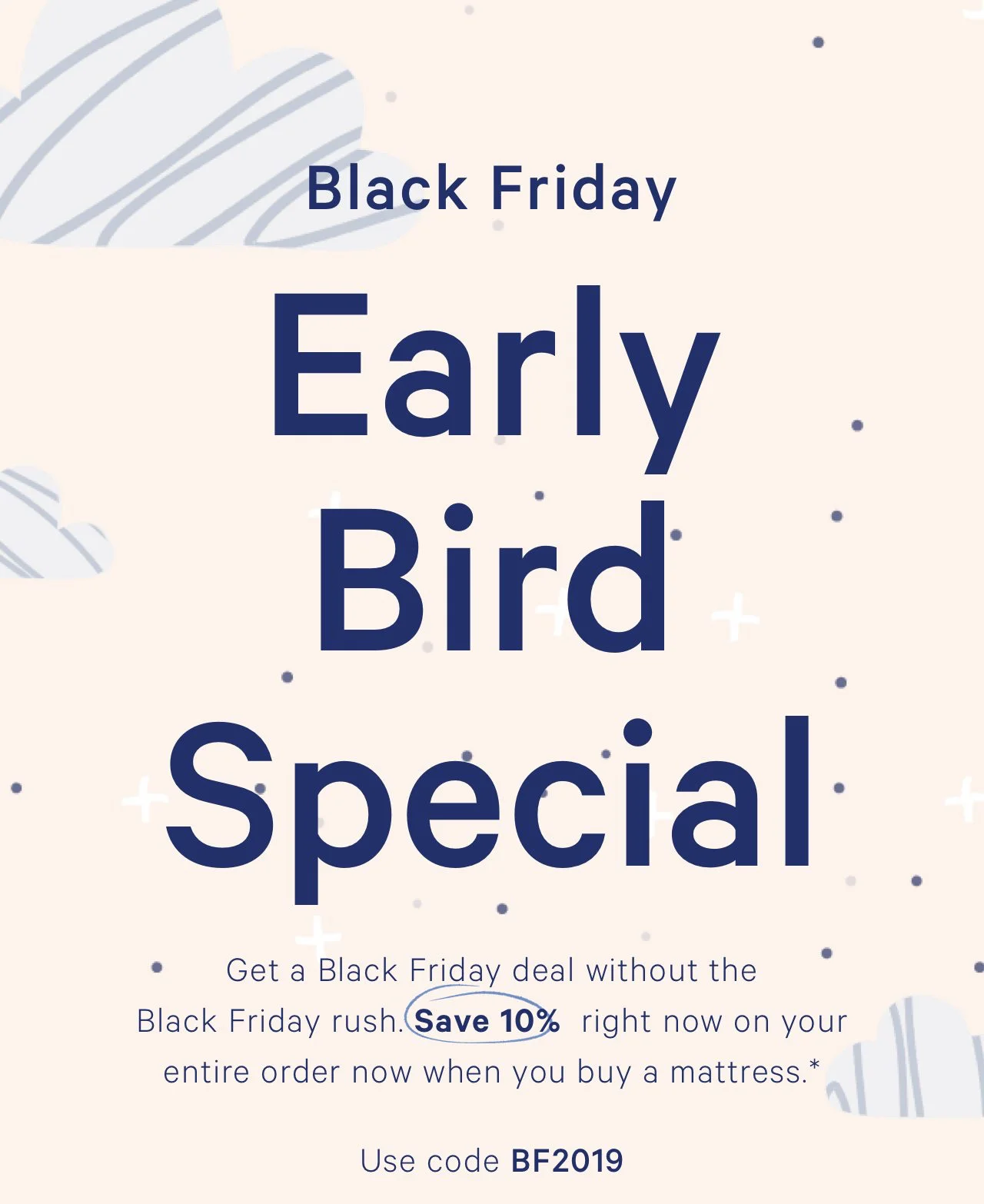 Follow the playbook of bigwigs like Best Buy and Target by embracing holiday price matching throughout the festive sales marathon. This nifty move involves reimbursing the difference for items bought ahead of time if their prices dip during BFCM. It's a great way to soothe shopper jitters about making purchases before the grand deals storm in.
4. Reward Your Loyal Customers
Black Friday and Cyber Monday present a golden opportunity to show appreciation to your loyal customers for their continued support and encourage them to make purchases during this busy shopping period.
You can offer exclusive discounts or coupon codes to loyal customers that are higher than the ones available to new customers. If possible, you should also send personalized offers based on their past purchase history and preferences.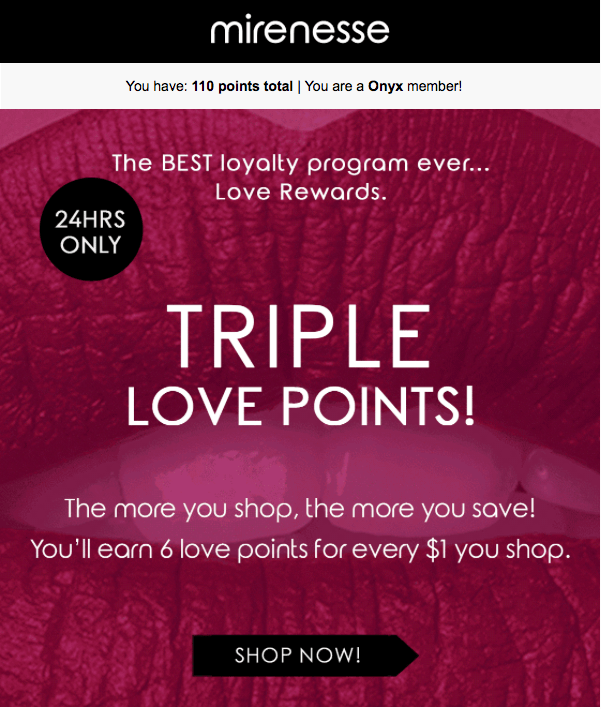 If you have a loyalty program for your online store, you can consider offering double or even triple rewards points for purchases made during the BFCM period.
You can also allow existing loyalty members to redeem their loyalty points for attractive discounts and offers. By doing so, you will enhance the loyalty experience for your customers and entice others to join for future offers.
Further reading –
5. Start Early with BFCM Lead Generation
You can start early for your BFCM campaign by rounding up a boatload of contact list of prospect customers in the weeks leading up to the grand event. You can start with adding a pop-up to invite visitors to join the SMS or email alert squad for updates.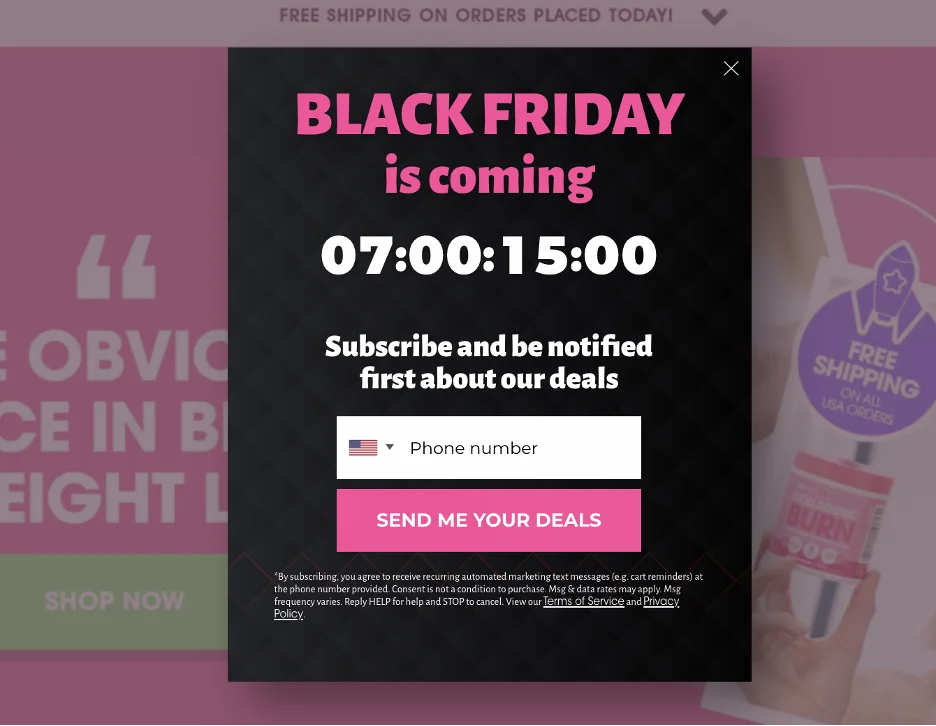 You can also consider using lead magnets to grow your subscriber list. There are other bunch of ways to reel in those sign-ups – think giveaways, loyalty rewards schemes, a solid presence on social media, and more.
Once you have enough subscribers, you can keep them updated with BFCM offers via email or SMS campaigns. You can also utilize the data to retarget those subscribers across social media via paid ads to bring them back to your store.
6. Leverage Email & SMS marketing
During BFCM, email and SMS marketing can greatly enhance your promotional efforts and drive more sales. With email and SMS campaigns, you will have complete control over your data, which empowers you to send personalized and targeted communications based on past purchase behavior, interests, and other factors.
To make your campaigns more effective, you can start early with teaser messages to build anticipation for your BFCM deals. You can also give your subscribers a sneak peek of the upcoming deals to create excitement among them.
By effectively utilizing both email and SMS marketing, you can create a multi-channel approach that keeps your audience engaged, informed, and motivated to make purchases during the BFCM period.
Further reading –
7. Send Push Notifications
Push notifications can be a powerful tool to engage your audience and drive sales during the Black Friday Cyber Monday (BFCM) period. When used strategically, it can help you deliver time-sensitive offers, updates, and reminders directly to your customers' devices.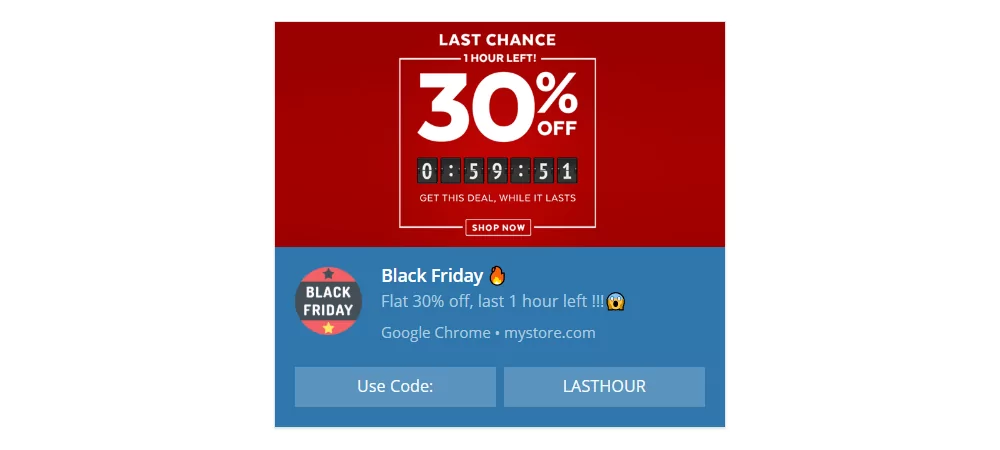 With push notifications, you can grab your customer's attention while they use their devices and encourage them to visit the shop immediately to take the required actions.
If used strategically alongside email and SMS marketing, push notifications can be another effective channel for you to communicate with customers to promote BFCM sales and offers.
Further reading –
8. Focus on Abandoned Cart Recovery
Although Shopping cart abandonment is common for eCommerce businesses, you may have to give special attention to your abandoned cart recovery strategy during the Black Friday Cyber Monday (BFCM) period.
During this time, every other brand tries to poach customers with attractive discounts and offers. So, many potential customers may add items to their carts but may skip the checkout process to look for better deals.
That's why you need to optimize your abandoned cart recovery strategy to stay on top of customer's minds and complete their purchases as soon as possible.
Here are a few things you can do to improve your cart recovery strategy for BFCM –
Update the email and SMS copies per BFCM campaign
Share ongoing BFCM offers to help them save money on their cart value
Offer BFCM-special discount codes
Offer product bundling with better deals
The idea behind this strategy is to ensure that customer knows about the best deals available for them and doesn't miss a chance to claim them. This way you will generate sales and avoid cart abandonment.
Further reading –
9. Launch a Referral Program
Referral Program is a savvy word-of-mouth marketing tool that's both pocket-friendly and powerful when it comes to scooping up new customers for your BFCM bonanza.
If you don't have a referral program yet, you should consider launching a BFCM-special referral program and offering compelling rewards for both the referrer and the referred customer.
With an attractive referral program, you will not just bring fresh faces to your store, but craft steadfast loyalty among your existing customers. In fact, it's a driving force behind the triumphs of eCommerce bigwigs and D2C brands.
So, this Black Friday Cyber Monday (BFCM) period, set up your referral program to leverage your existing customers to help boost sales and expand your customer base.
Further reading –
10. Enable Back-in-Stock Alerts
When running successful campaigns, it's possible that your products may go out of stock sooner than anticipated. To ensure that potential customers don't miss out on their desired items, you can enable back-in-stock alert notifications.
This strategy not only keeps customers engaged but also offers them a second chance to make a purchase. And, to maximize the result, you should consider utilizing multiple communication channels like email, SMS, or push notifications, depending on your customers' preferences.
This multi-channel approach would increase the likelihood of reaching customers promptly and capturing their attention. By delivering these alerts, you're not only notifying customers about product availability but also enticing them to revisit your store and complete their purchases.
Further reading –
11. Use FOMO Tactics
Black Friday and Cyber Monday is the time when people don't want to miss out on attractive deals and discounts, especially on their long-desired products. This is where you can use FOMO tactics to create a sense of urgency and encourage customers to purchase instantly.
Here are a few FOMO tactics you can use to your advantage –
Use countdown timers on your website and landing pages to show when the deals will expire.
Send out emails with countdown timers to remind customers of the remaining time to grab BFCM deals.
Highlight limited stock quantity for certain products.
Introduce short, unexpected flash sales with deep discounts to catch shoppers off guard and encourage immediate action.
Display real-time notifications of recent purchases on your website.
Remember that while FOMO tactics can be effective, you should use them responsibly and ethically. Be transparent about your promotions and create genuine urgency without misleading your customers. Ultimately, the goal is to create excitement and encourage action without compromising your brand's integrity.
Ready to Launch your BFCM Marketing Campaign?
As the Black Friday and Cyber Monday Sales frenzy approaches, you need to prepare your store and the team behind it to run a successful BFCM sales campaign and drive a huge number of sales. In this guide, we have shared actionable BFCM strategies that you can use for your eCommerce brand to boost sales this BFCM season.
Now, it is your time to act on these strategies with best practices to dominate the market this Black Friday and Holiday sales season. If you are a Shopify user, you can also check our list of essential Shopify apps for BFCM that you can use to implement these strategies.
And, if you are new to the eCommerce space and looking for more effective strategies and ideas to grow your business, here are a few hand-picked articles that you might want to check next –