While most people recognize Shopify as a platform for selling physical products only, the truth is that it opens the door to a lot of opportunities and possibilities by enabling the sale of digital products and services.
With its user-friendly interface and comprehensive features, you can easily create an online store for your digital products and start selling in no time – without writing a single line of code.
So, whether you're an artist selling digital art, a musician offering downloadable music, or an educator providing online courses, Shopify has all the tools and features you need to sell digital products and grow your business.
In this article, we will walk you through every step of selling digital products on Shopify successfully and explore strategies to maximize your sales in this market.
Ready? Let's get started.
What are the Best Digital Products to Sell on Shopify?
Here are some of the most popular forms of digital products that you can consider for selling on your Shopify store:
eBooks: Share your knowledge or passion through written content that can be easily distributed and read on various devices.
Graphics and Digital Art: Utilize your design skills to create and sell digital products like logos, design templates, stock icons, or original artwork.
Cloud Design App Templates: Capitalize on the growing popularity of web-based design apps by selling templates for platforms like Canva or VistaCreate.
Fonts: Meet the constant demand for new fonts by creating and distributing typefaces for use in web and desktop applications.
Music and Audio: Provide audio files that entertain, educate, or inspire, such as recorded lectures, musical samples, or audiobooks.
Photography: Sell high-quality photos to bloggers, website owners, and other online content creators who are in constant need of visual assets.
Video: Engage customers with informative or entertaining video content, such as online courses, stock footage, or product reviews.
Documents: Share your expertise and knowledge by curating useful documents like industry reports, templates, printables, or case studies.
Software: Tap into the vast software market by creating applications that cater to specific needs, such as plugins, mobile apps, or project management tools.
Spreadsheets: Cater to the widespread use of spreadsheets by offering templates and training courses to help individuals and businesses improve their skills.
Courses: Capitalize on the e-learning boom by creating and selling online courses, either as standalone offerings or as part of a comprehensive collection or membership.
Professional Services: Package and sell your expertise as fixed-price services or on a case-by-case basis, leveraging automation tools to streamline the process.
Tickets: Sell tickets for time-based events or admission to attractions through your website, allowing customers to conveniently purchase and receive them instantly.
… and the list goes on.
Steps to Sell Digital Products on Shopify
Now, let's delve into the step-by-step process of successfully selling your digital products with Shopify.
Step 1: Get ready with pre-requisites
Before we begin uploading our products and start selling we need to arrange some prerequisites that include the following:
A) Set up your Shopify store
If you already have a Shopify store, you can skip this step. Else navigate to Shopify.com and enter your email address to create your account and get access to a free trial ( Check the Shopify coupon code for the latest discounts and offers).
Once you land on your Shopify admin dashboard, you can start by choosing a suitable theme, adding necessary store pages, and optimizing store settings. You can follow your Shopify tutorial for a complete guide to setting up a store.
B) Install a Shopify Digital Product App
Shopify doesn't have a built-in feature to sell digital products. So, you will need a third-party app to make your digital product accessible to customers via a downloadable link.
Easy Digital Products is one of the best Shopify digital download apps that you can consider using for your store. It is free for up to 3 digital products and has easy to use.

Using this app, you can sell different types of products, including license-based software, pdfs, etc., and customers can easily download products from the orders confirmation page or emails.
Step 2: Add your products
Once you're sorted with the prerequisites you're ready to upload digital products to your Shopify. The procedure is quite similar to any other physical product and comprises the following steps –
Log in to your Shopify admin and click the 'Products' option on the left-hand side of the dashboard.
Now, click on the Add Product button, that'll open a screen where you can add information about your digital product such as product title, description, pricing, media files, etc.
Once, you've filled in the details, don't forget to select the Digital product or service option from the Shipping section at the bottom of your product screen. This option will appear only after installing the EDP – Easy Digital Product app or other similar app to your store.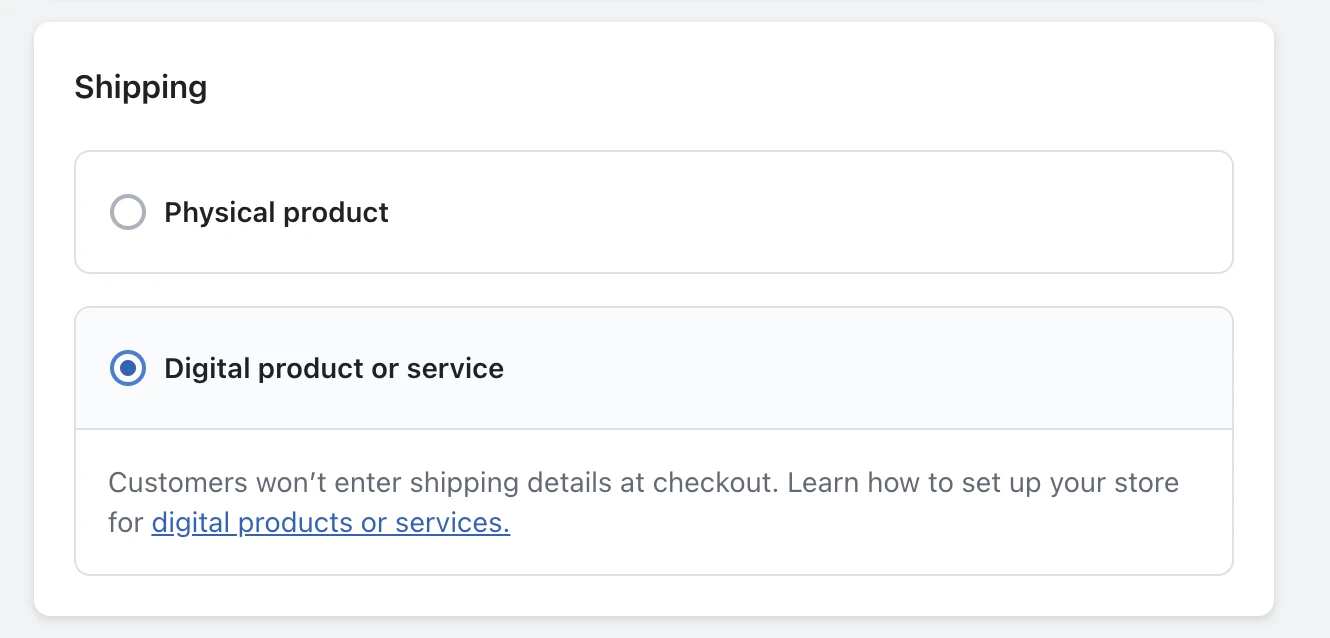 Now, once you have uploaded the product, it's time to configure it as a digital product from the EDP screen.
Step 3: Configure digital product delivery
Once, the product details are filled and saved click on the More Actions button from the top right corner of the product edit screen. Now, from the drop-down menu choose the Create Digital Product option.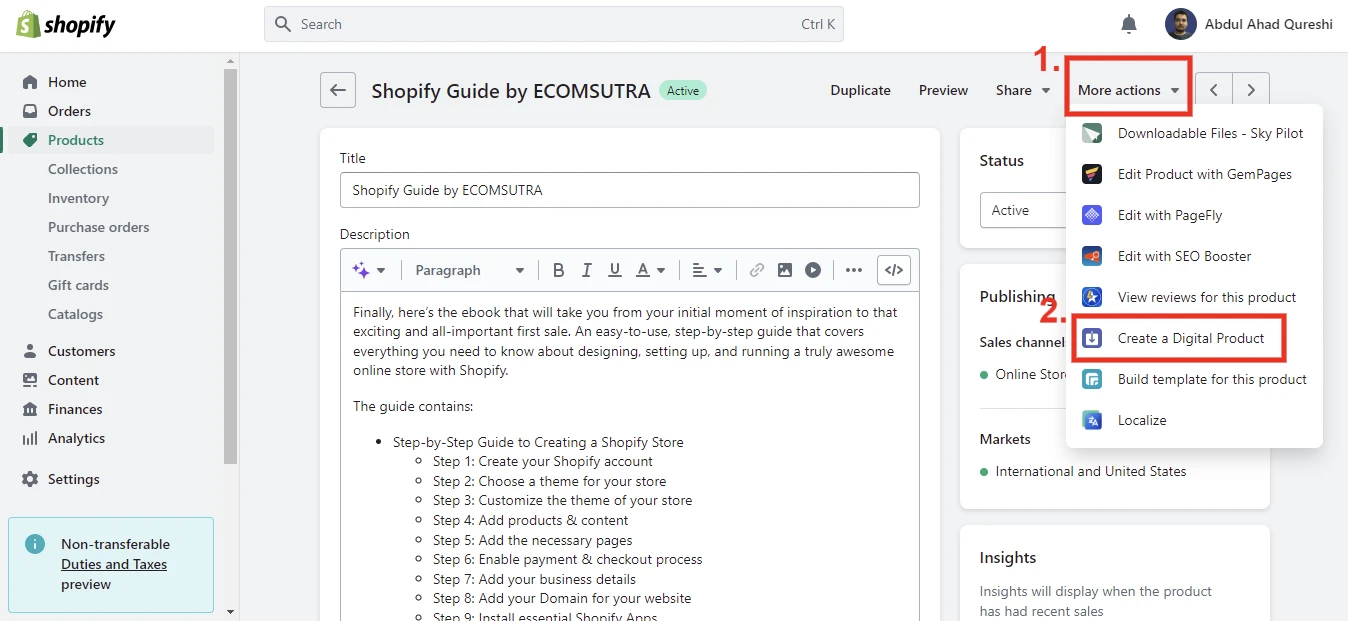 From here you'll be taken to the EDP's screen where you get configurations to change your product into a digital article.
EDP Screen Configurations
So on the EDP screen, you'll find the following options:
Add Files: Under the Upload File section, you need to downloadable deliverables that your customers will receive in exchange for the quoted price. You'll see 3 options for uploading the digital items that are:
Upload: Choose this option if you want to send your customer a simple digitally downloadable file for instance an eBook or an image. You can upload PDFs, media files, etc.
Add from URL: Choose this option if you want to add a product from a URL. Remember this is a paid feature.
No file: If you want to sell license keys to a software application or something similar go with the "No File" option. Choosing this configuration allows you to either "use randomly generated license keys" or "use your own keys".
Use License Key: Select this option as "Yes" if you have an associated license key for the downloadable product.
License Key Tag: If you have a license key that is tagged to a value, you can enter it in the text field below it.
Limit Downloads per Order: This is again an optional configuration that allows you to limit the number of downloads per order.
Limit Download in Time: This option lets you make the download button for your digital product for a specific period of time.
Short Description Text: This is a text field where you can add a short description next to the download button for better guidance.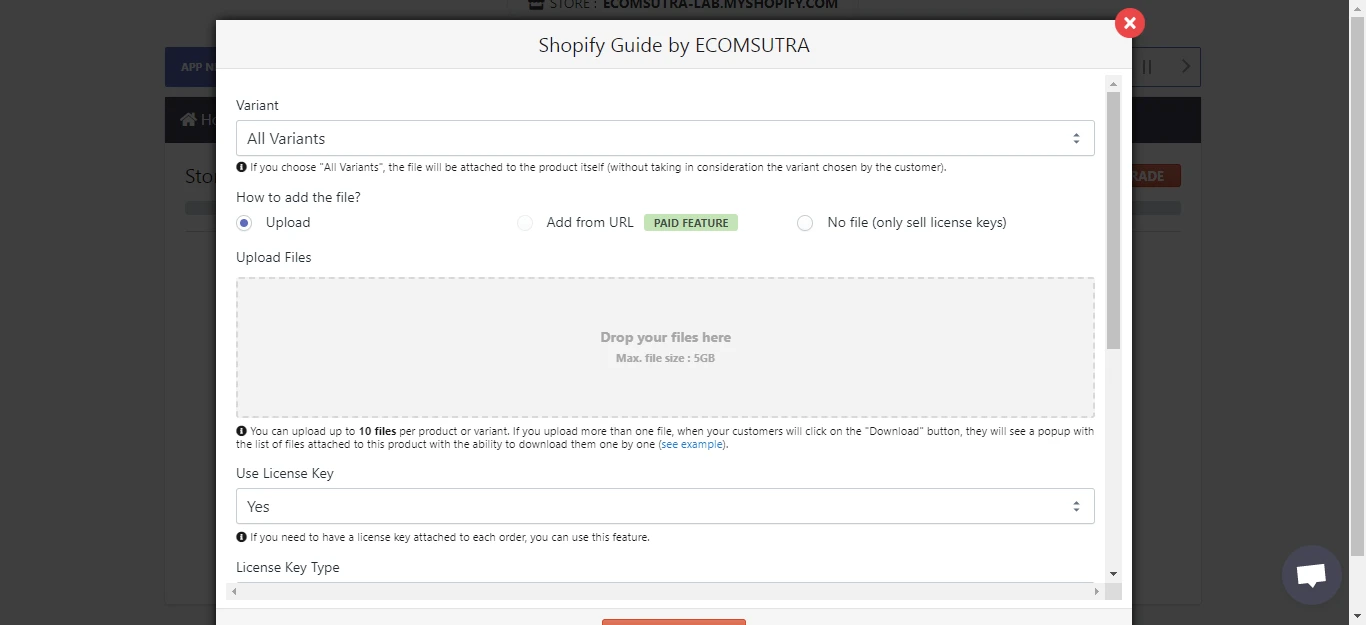 Once all the details are filled you can hit the UPLOAD & SAVE button to make your digital product live on your Shopify store.
If you are creating a new store to sell digital products, you may want to check our Shopify store launch checklist to ensure everything works fine before going live.
Step 4: Promote your products & store
Promoting and marketing your digital products is crucial for achieving success in increasing your eCommerce sales. Simply creating and uploading your products is not enough; you need to attract the right audience to increase your sales.
Here are some effective strategies to promote and market your digital products:
Focus on Audience Building: Prioritize building your audience before developing your product. Engage with your target audience to understand their needs, problems, and preferences. By building an email list and actively seeking feedback, you can tailor your digital product to meet their specific demands, ensuring a successful launch.
Pre-Launch Campaign: Generate excitement and anticipation for your digital product by running pre-launch campaigns. Utilize social media, your website, and your email list to showcase the benefits and unique value proposition of your product. Highlight how your target audience will benefit from it and create a sense of urgency to drive demand.
Collaborate with Influencers: Leverage the reach and influence of bloggers and content creators who cater to your target audience. Partner with them to promote your digital product through sponsored posts or affiliate programs. Their endorsement can significantly increase your product's visibility and credibility.
Host Online Challenges: Host an online challenge to engage your audience and build interest in your digital product. Create a contest where participants complete specific actions to win prizes related to your product. This helps you grow your email list and build a community around your brand.
Social Proof: Gather persuasive social proof to increase trust and credibility. Share testimonials, reviews, and success stories from satisfied customers to demonstrate the value and effectiveness of your digital product. This social proof reassures potential buyers and encourages them to take action.
By implementing these tips along with effective marketing strategies, you can lay a strong foundation for your digital products store and increase your chances of long-term success in this competitive online marketplace.
Ready to Sell Digital Products on Shopify?
Selling digital products has become a highly profitable venture, capturing the attention of aspiring eCommerce enthusiasts. And with Shopify, you will have everything you need to set up your store for digital products and make the distribution seamless.
With the ever-increasing demand for digital goods, the market presents a tremendous opportunity for earning money without the hassle of logistic management, inventory management, and storage costs that come with traditional eCommerce business.
However, it's important to note that the digital product market is highly competitive, with some products being offered for free. So, you will need high-demand products and effective marketing strategies to stand out in the market.
FAQs on Selling Digital Products on Shopify
Are digital compatible with Shopify?

Absolutely! Shopify fully supports the sale of digital products, and the setup process is straightforward.

All you have to do is create a Shopify account, add your product, install one of the Shopify digital download apps from the app store, and then upload your digital assets, attaching them to your Shopify product.

Do I need a license to sell digital products on Shopify?

No, you do not require a specific license to sell digital products on Shopify. As long as you are the rightful owner of the products or have obtained the necessary approvals to sell them, you can offer them on the platform.

Digital products have broad compatibility and are accessible for anyone to sell. However, it is crucial to note that compliance with legal regulations is essential. Selling prohibited or illegal digital goods can lead to legal issues.

Is SEO important for selling digital products?

It is not compulsory, but with effective SEO strategies, you can reach a more targeted audience looking for products like yours and boost your visibility for more traffic and downloads. You can use Shopify SEO apps to optimize your store for search engine rankings.

You should also refer to our Shopify SEO checklist to ensure that your site is optimized for search engines and ready to rank higher on SERPs.

How much does it cost to sell digital products on Shopify?

To sell digital products on Shopify, you will need a Shopify subscription, which offers various pricing plans ranging from $39 to $399 per month, depending on your requirements.

Additionally, you'll need an app to enable the functionality for selling digital products. The EDP app has a free version available, and there is also a paid version priced at $9.99 per month, offering additional features.
Finally, we hope this article gave you a complete overview of selling digital products on Shopify and helped you kickstart your journey. Here are a few handpicked articles that you may find useful for further reading –