If you are starting a new Shopify store, this is the complete Shopify store launch checklist for you to ensure everything works fine before you hit the launch button.
As the moment to unveil your Shopify store to the world approaches, meticulous preparation becomes the cornerstone for a successful takeoff. This is where a checklist can help keep track of important steps and considerations to ensure a smooth launch of the store.
In this Shopify launch checklist, we leave no stone unturned as we walk you through every crucial aspect of readiness. From pre-launch to post-launch, each point on this checklist is a vital step toward setting up a successful Shopify store.
So, if you are ready, let's get started.
Shopify Store Settings Checklist
By now, you should have created your Shopify store and ready to make it live. So, in this section, we will cross-check the important settings of the store.
1. Check Your Store Details
Before you stock up your store with products, you need to submit a few important store details such as your store name, description, etc.
You can edit your store details from the Settings → Store Details page.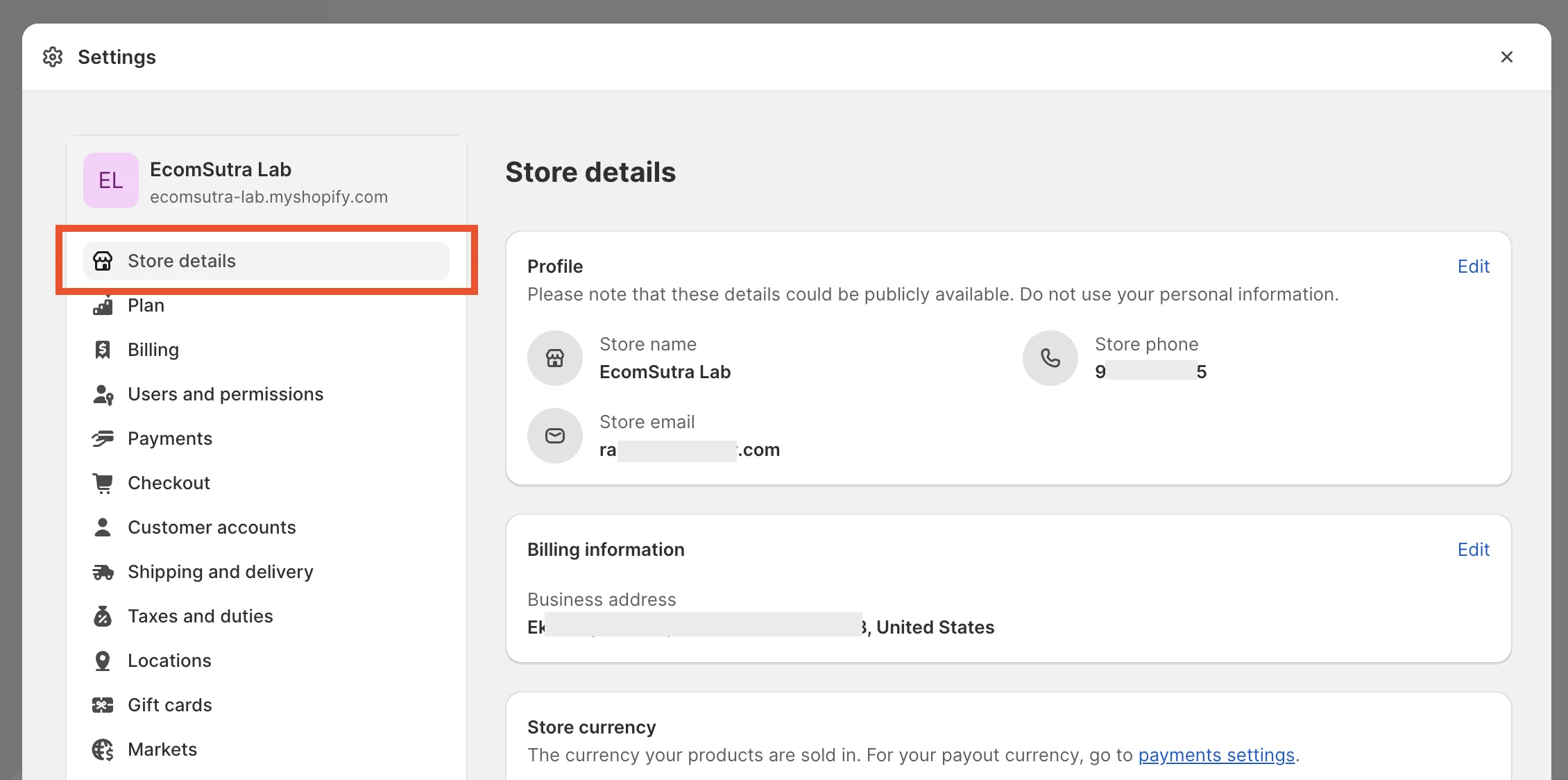 In addition to configuring the store name, you can also address other particulars such as the store's email, contact number, billing information, Store currency, and more. These elements play a pivotal role in brand building.
2. Add Your Staff Members
Running a successful business is not a one-man job, you need a team and Shopify extends the facility to merchants for the inclusion of staff accounts, enabling distinct logins for each user.
To initiate the incorporation of staff accounts, navigate to the Settings → Users and permissions section from your Shopify admin.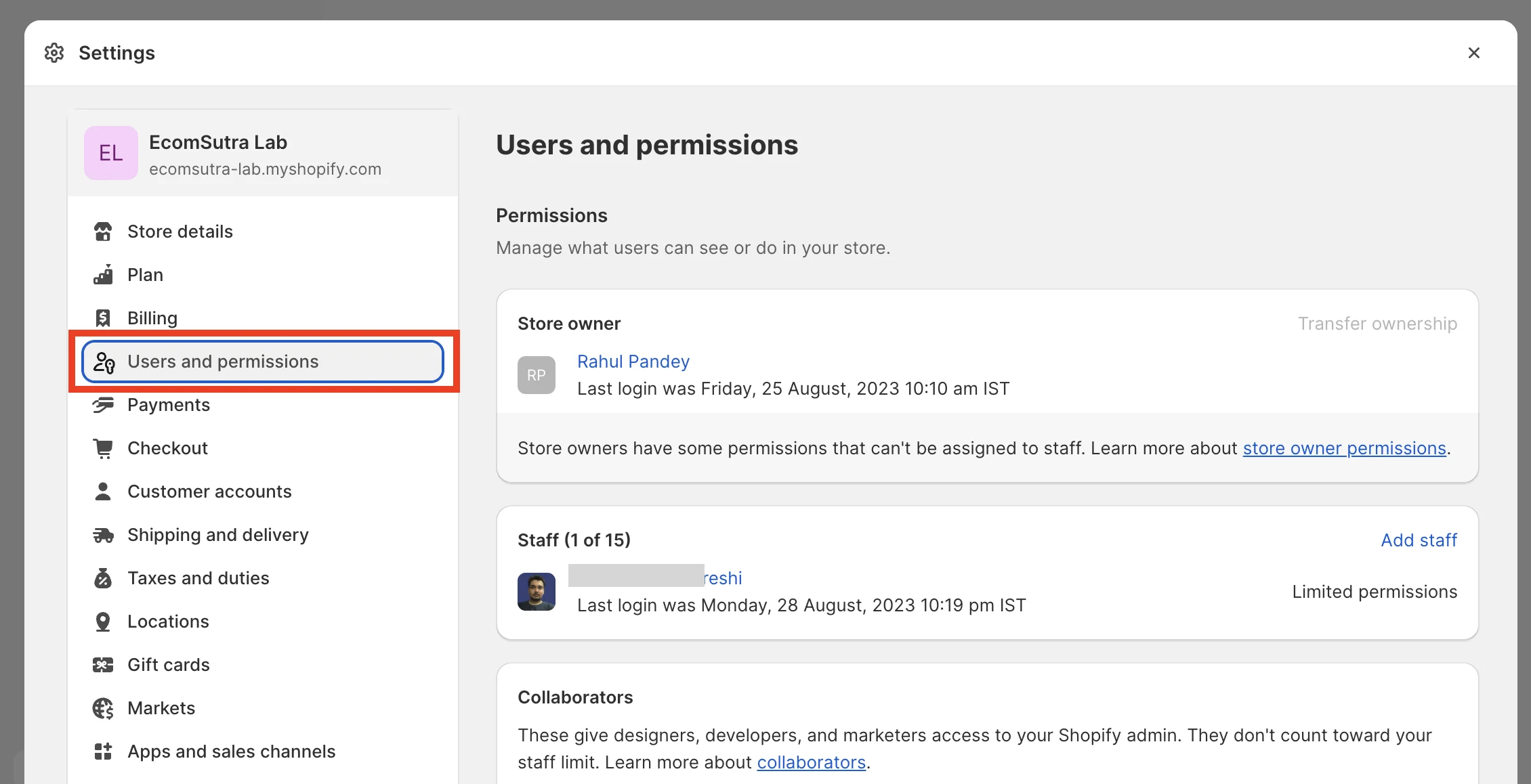 Click on the 'Add staff' option and input the complete name and email address of the team member. Proceed to designate the specific permissions you wish to grant the staff member, then finalize the process by sending the invitation.
3. Configure Payment Settings
In order to receive orders from your Shopify store, you will need a reliable payment processor that enables customers to complete their payments and deposits to your account.
Fortunately, Shopify is compatible with 100+ international and regional payment gateways worldwide. You just need to choose your preferred payment gateways and configure them to receive and process payments.
To configure the payment setting, visit Settings → Payments from the admin panel, and choose your payment providers.
Shopify allows you to add multiple payment methods, including Manual payment methods, such as cash-on-delivery, money orders, and bank transfers. So, take your time and add the payment methods that your customers might prefer.
Further reading –
3. Asses Your Checkout Process
Once you set up your payment processor, you need to ensure that your checkout process is smooth and provides a seamless purchasing journey for customers.
You can view and change your checkout settings, including how you want to collect customer data, from the Settings → Checkout page in your Shopify admin.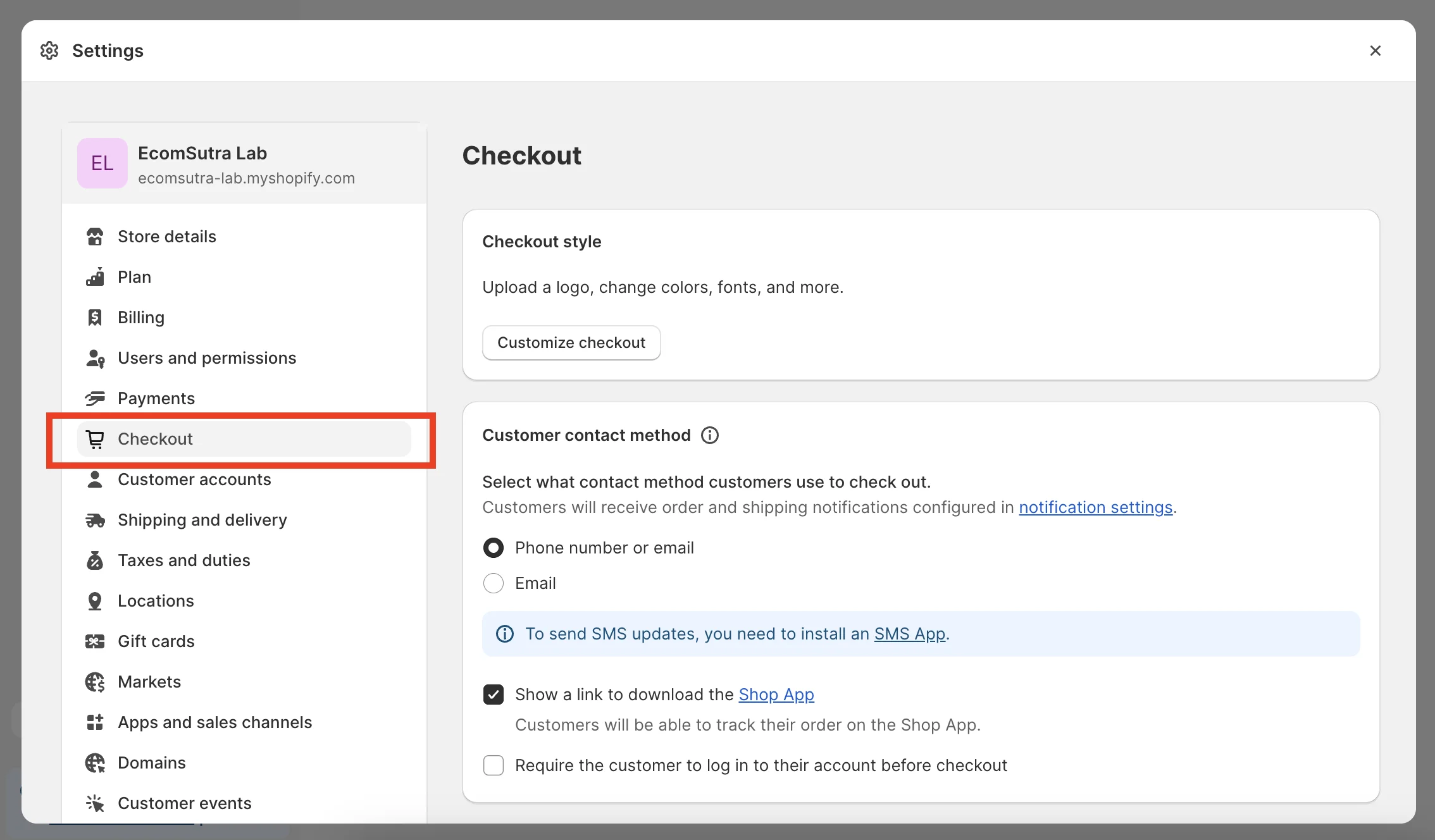 Here are a few things you should cross-check to ensure your checkout process works fine –
Displaying shipping rates during checkout
Discount codes can be applied (and work as they should) in the cart
Shoppers have the option to edit their carts
Familiar (trusted) payment methods are available, and customers can choose the one they want to use
Supports regional language and currency conversion for international customers
Remember, your ultimate goal is to make customers complete their checkout process. So, optimize the process in the best possible way. You can also read our guide on checkout page optimization for more tips and best practices.
5. Cross-check Shipping Rates
Logistics entails a crucial facet of your operations, and even a single miscalculation can incur significant costs for your business. Thus, the configuration of Shopify's shipping options becomes an indispensable task on your pre-launch eCommerce checklist.
Achieving precision in shipping rates involves the following tasks –
Configure rates to comprehensively consider variables like package dimensions, weight, delivery destination, and more.
Ensure that the expected shipping rate is accurately applied during the checkout process.
To adjust shipping rates you've to visit the Settings → Shipping and Delivery page from your admin dashboard.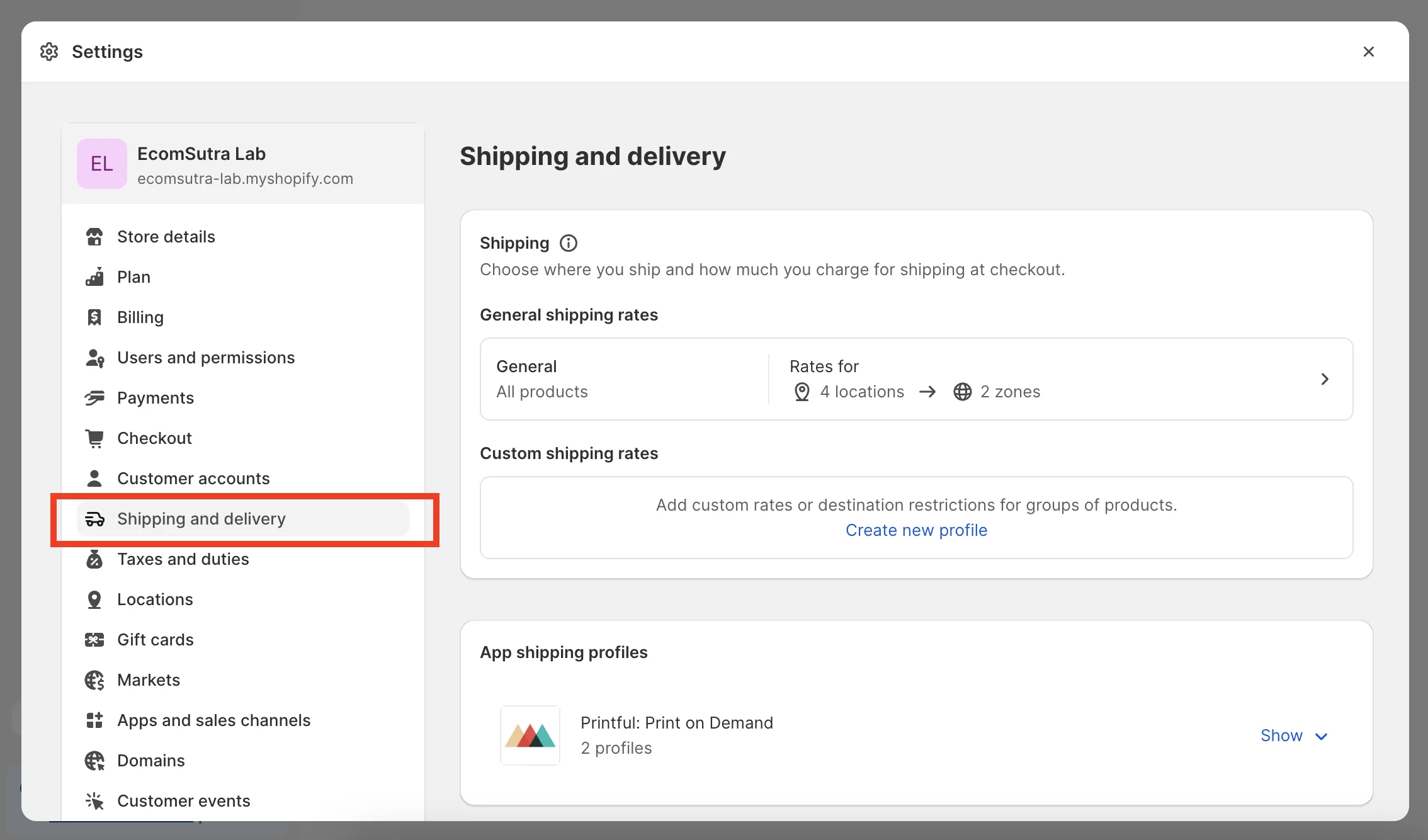 Within the checkout, you can choose free shipping, flat shipping rates, or calculated shipping rates. If you want to set up calculated shipping rates, you may want to be aware of these –
Shipping zones encompass clusters of countries or regions that you formulate for assigning shipping rates.
Shipping profiles empower you to configure shipping rates tailored to specific products and destinations.
However, if you are selling products internationally or nationwide, you may want to use one of the Shopify shipping apps to connect with multiple logistic partners and hassle-free shipping management.
6. Verify Tax Settings
It's crucial to ensure that your tax settings align appropriately with the products you're offering. The geographical location of your store holds substantial influence over your Shopify sales tax.
If you're not sure about taxation, then you should consult with local tax authorities or a tax professional before setting up taxes in your store.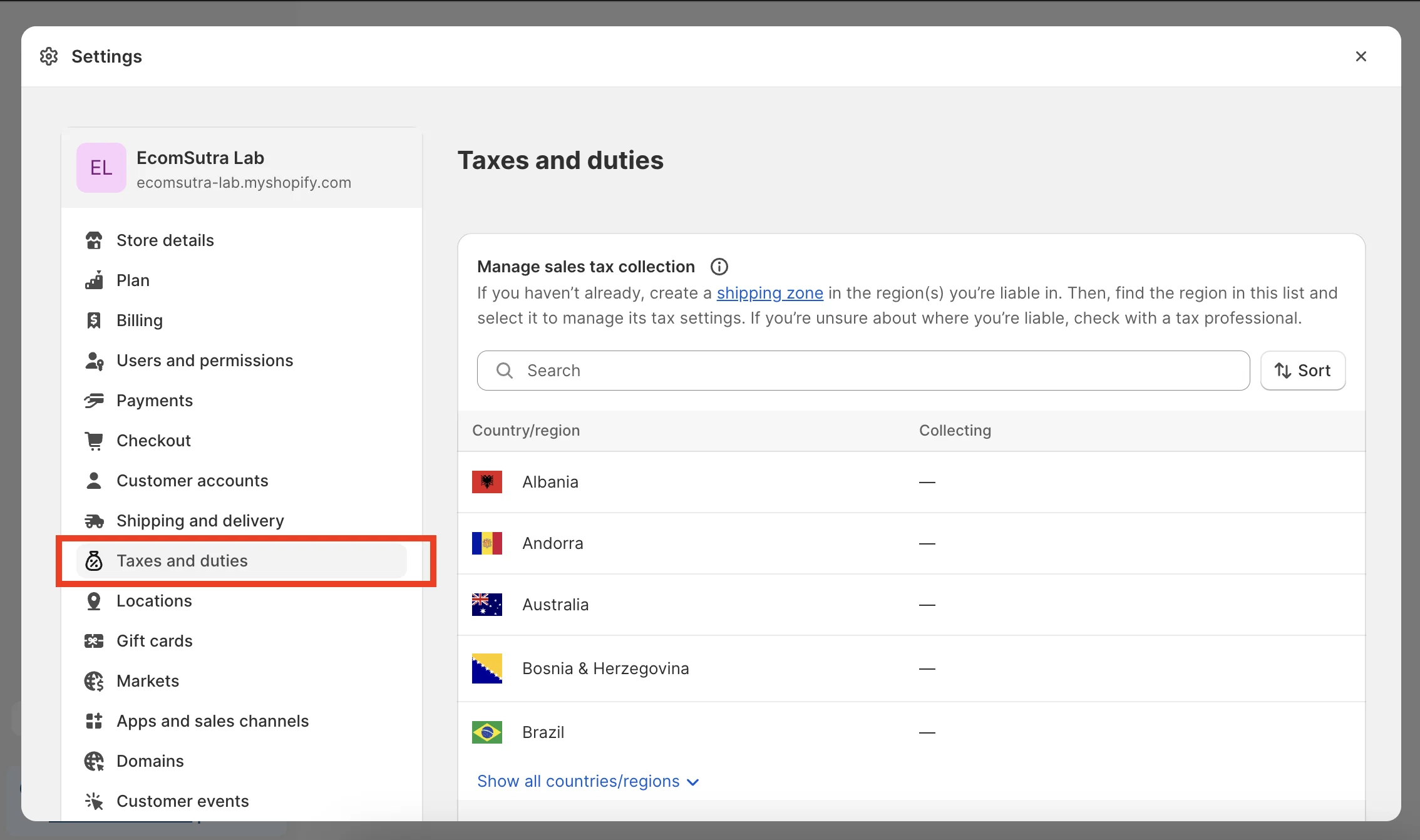 For adjusting your tax rates visit the Setting → Taxes and duties page from your admin panel and perform the following steps –
Within the Manage Sales Tax Collection segment, select your respective country or region.
Click on Collect Sales Tax.
Enter your tax number in the designated field. If you've applied for a tax number but have not yet received it, you can leave this field blank, updating it upon receipt.
Confirm the collection of tax by clicking Collect Tax.
Optional: To incorporate additional regions and account numbers, click Collect Sales Tax.
You can also use Shopify sales tax apps to automate the process and help you comply with taxation and other regulatory requirements. These apps can also help you with tax calculations, filings, and more.
7. Add Inventory Locations
If your business operates from multiple warehouses—say, a primary distribution center in New Jersey alongside another in California—each location's stock is presented on the Inventory page, the inventory bulk editor, the inventory CSV, and the particulars page of individual products.
The quantity of locations you can establish is bounded by your subscription level within Shopify. For instance, on a Shopify Starter plan, you are allowed two locations.
The process of adding a new location to your Shopify setup is very simple. Just head over to Settings → Locations and click on the "Add Location" option.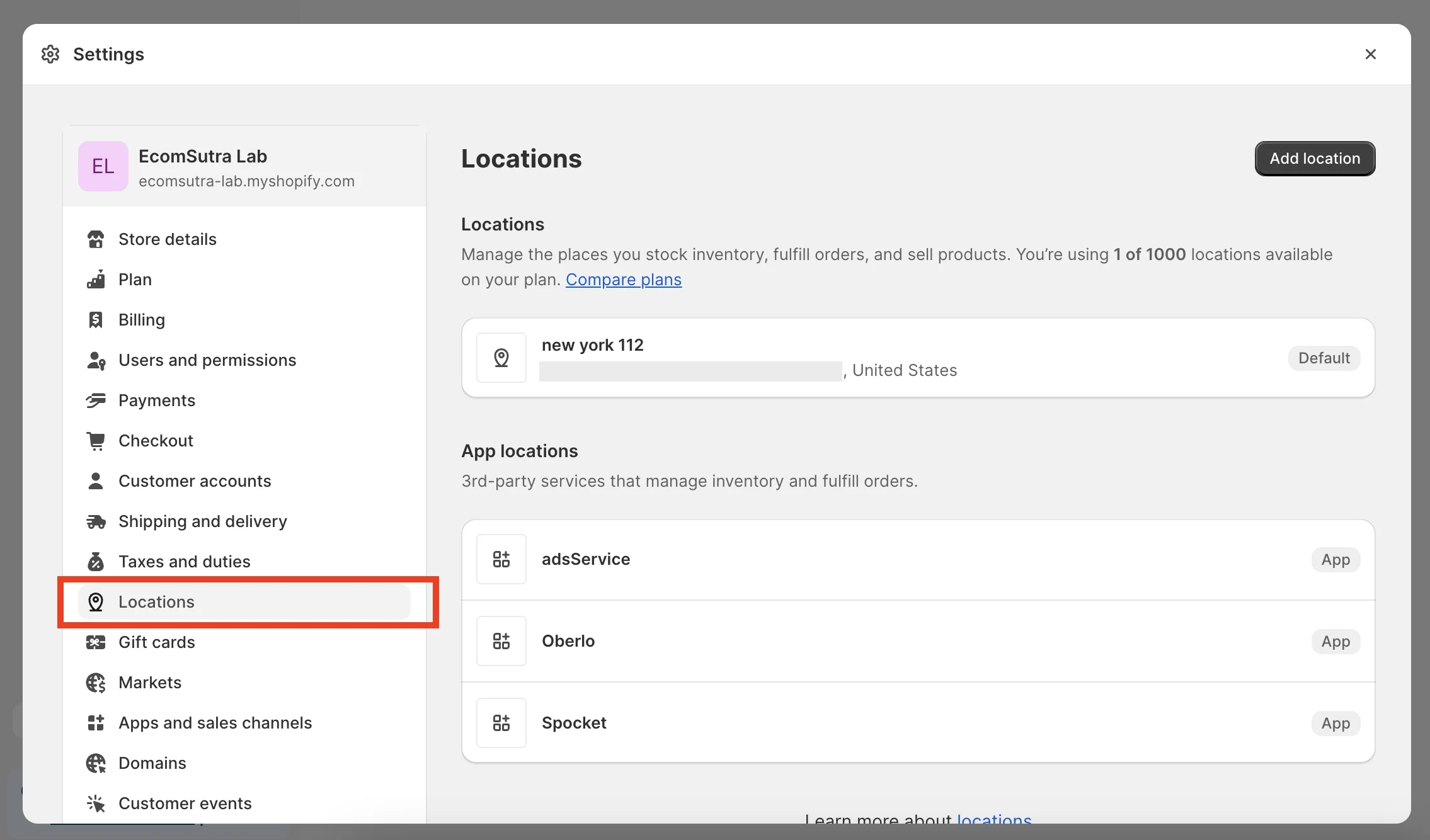 Now, add all your inventory or warehouse locations. To make inventory from a specific site available only for online orders, select "Fulfill Online Orders," to ensure that all the orders from your Shopify store get fulfilled from that specific location(s).
8. Manage International Markets
Shopify empowers merchants to adeptly oversee international sales through its Markets feature. Shopify Markets facilitates the regulation of your brand's representation by applying distinct configurations to various countries and regions.
A market can encompass a single country, region, or an assembly of countries or regions. As an illustration, you can formulate a market named 'North America,' catering to Canada, the United States, and Mexico, unified under one set of parameters.
Upon registering with Shopify, if you gain immediate access to Shopify Markets, you'll find the ensuing markets pre-established for you within the Settings → Markets section:
Primary Market: The principal country or region intended for sales. This is frequently your domicile or local market, determined by your store's location and base currency.
International Market: A thoughtfully curated compilation of popular countries or regions that analogous merchants also target.
Unserved Countries: All other countries or regions that don't fall under a designated market. Customers in these areas cannot complete purchases from your store.
The international market remains dormant by default. Consequently, customers in these regions cannot finalize transactions until the market is activated.
9. Add a Custom Domain
Once you sign up for the Shopify free trial and create a store, you receive a 'myshopify.com' URL for your store.
Technically, you can use this URL to launch your store, but it's significantly more advantageous to link a custom domain to your store – for instance, 'yourbrandname.com' will foster brand recognition among consumers.

To add your custom domain, go to Settings → Domains section from your admin dashboard. There you can choose one of the following methods to connect a domain with your store –
Purchase a Domain via Shopify – Opting to acquire a new domain through Shopify streamlines the setup process. If this domain is the first domain that you add to Shopify, then it's automatically configured to be the web address that's displayed to customers.
Connect Your Domain to Shopify – You can buy a domain from a third-party domain registrar like GoDaddy & Namecheap at a cheaper cost and connect it with your online store. This will require a basic understanding of configuring DNS records.
Transfer Your Domain to Shopify – If you already own a domain from another domain registrar and prefer to manage all domain settings via your Shopify admin, you can transfer domain management to Shopify.
You can choose whichever method suits you the most. However, I recommend buying domains from other platforms at comparatively lower cost and most importantly, you will have the freedom to migrate your store anytime to other platforms.
10. Customize Default Notifications
Email notifications hold a pivotal role in your store's operations – encompassing marketing endeavors and one-on-one interactions with your customers.
Shopify has some default notifications that are sent to customers during their purchase journey. You should take time to customize these notifications per your store branding. To make the changes go to Settings → Notifications from your admin.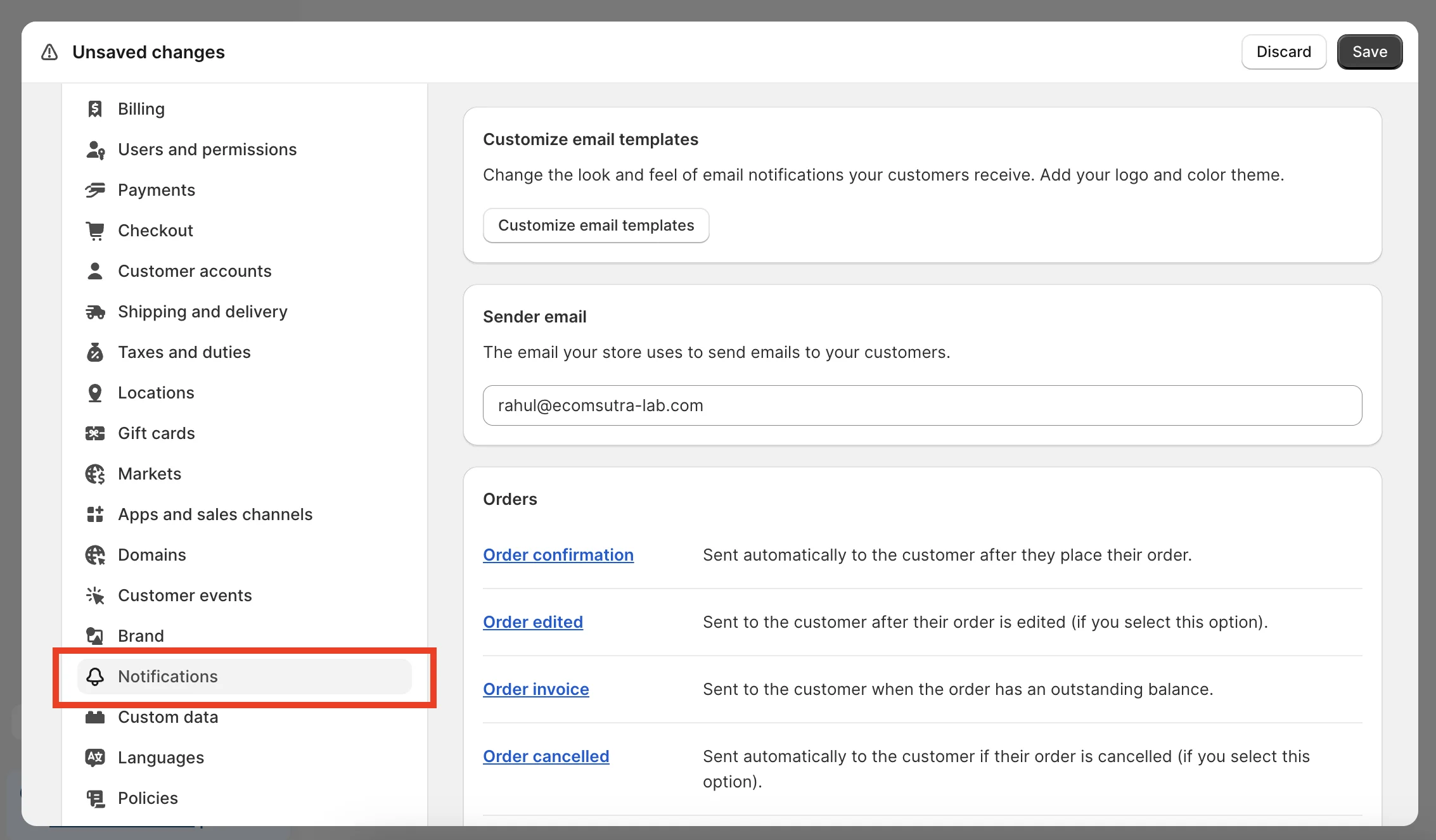 By default, Shopify rolls out the following email notifications to your customers;
Order emails: Confirmation, Edited, Canceled, Refunded, Draft Order Invoice, Email Cart from POS, Abandoned Checkout, POS Exchange Receipt, Gift Card Created, Payment Error
Shipping emails: Confirmation, Update, Out for Delivery, Delivered
Local pickup and delivery emails: Ready for Pickup, Picked Up, Out for Delivery, Delivered, Missed Delivery
Customer emails: Account Information, Account Welcome, Password Reset, Contact Customer
Click on the emails and customize the content per your store branding. For more custom email notifications, you will need an email marketing app that integrates with Shopify.
11. Review Your Store Policies
The realm of eCommerce entails adherence to a multitude of legal responsibilities, and among these, the provision of lucid store policies assumes paramount significance.
To modify your store policies, proceed to the Settings → Policies section within your admin dashboard.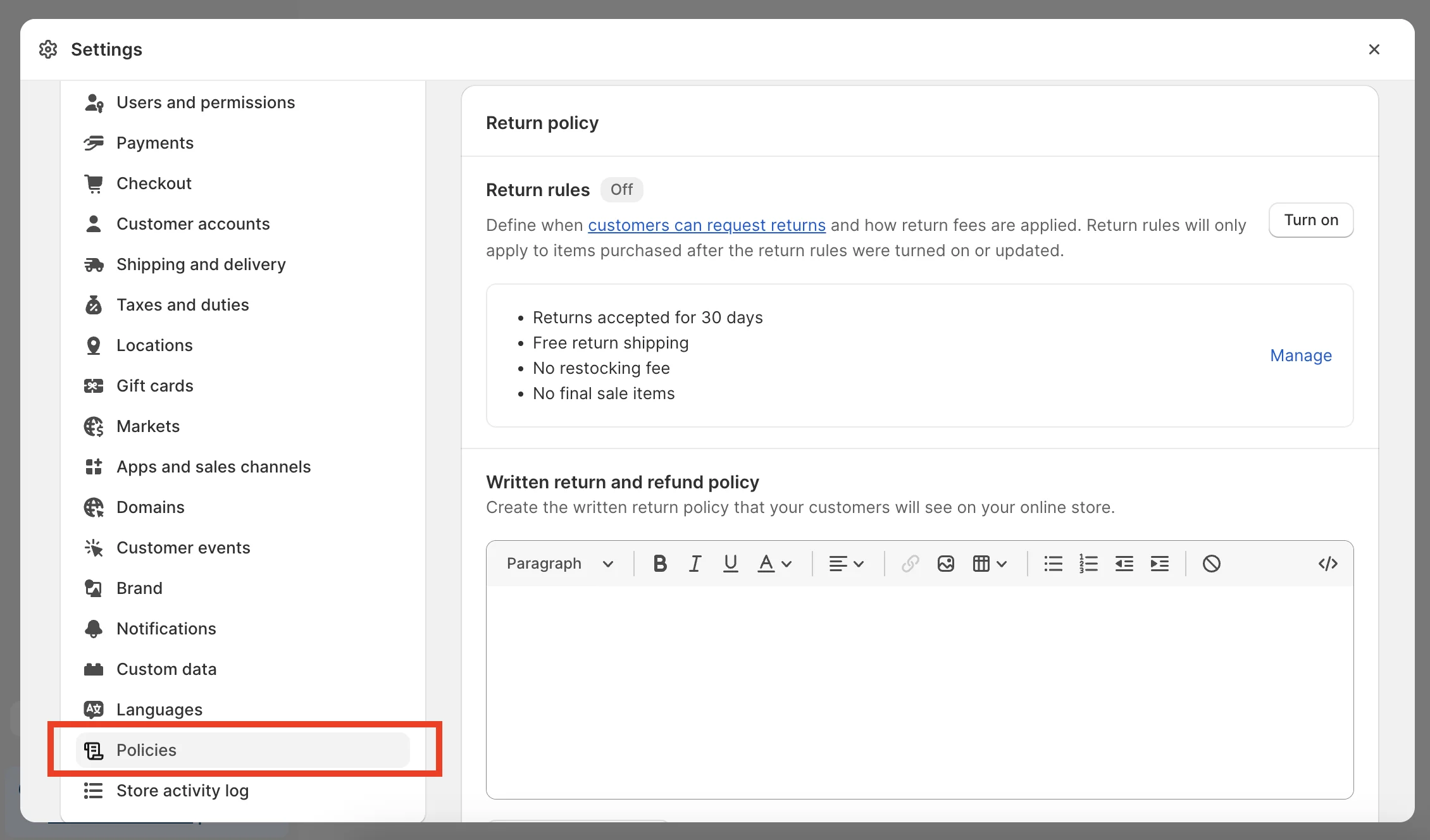 Here, you can structure the subsequent policies for your store:
Return & refund policy
Privacy Policy
Terms of Service
Shipping Policy
Legal Notice
Subscription Policy
To make it easier for you, Shopify provides a template for each policy type. Just click the "Create from template" button below the text field and it will generate a policy for you. However, we recommend consulting a legal expert to ensure the policy aligns with your regulatory policies and helps you avoid any penalties in the future.
Shopify Store Management Checklist
Now that you've successfully addressed all the preliminary settings for your Shopify store, it's time to explore several strategies that facilitate the seamless management of your Shopify store.
1. Optimize Product Details
Commencing a new business entails numerous tasks, and amidst these endeavors, minor errors such as spelling or grammatical slips may surface. Therefore it's important to proofread your store content, especially when we are talking about product pages.
Inaccurate product descriptions or images can potentially lead to dissatisfied customers, necessitating refunds and product returns. So, make sure that your product details are correct and well-optimized for SEO.
To review each product within your Shopify store, access the Products section from your administrative dashboard, as shown below.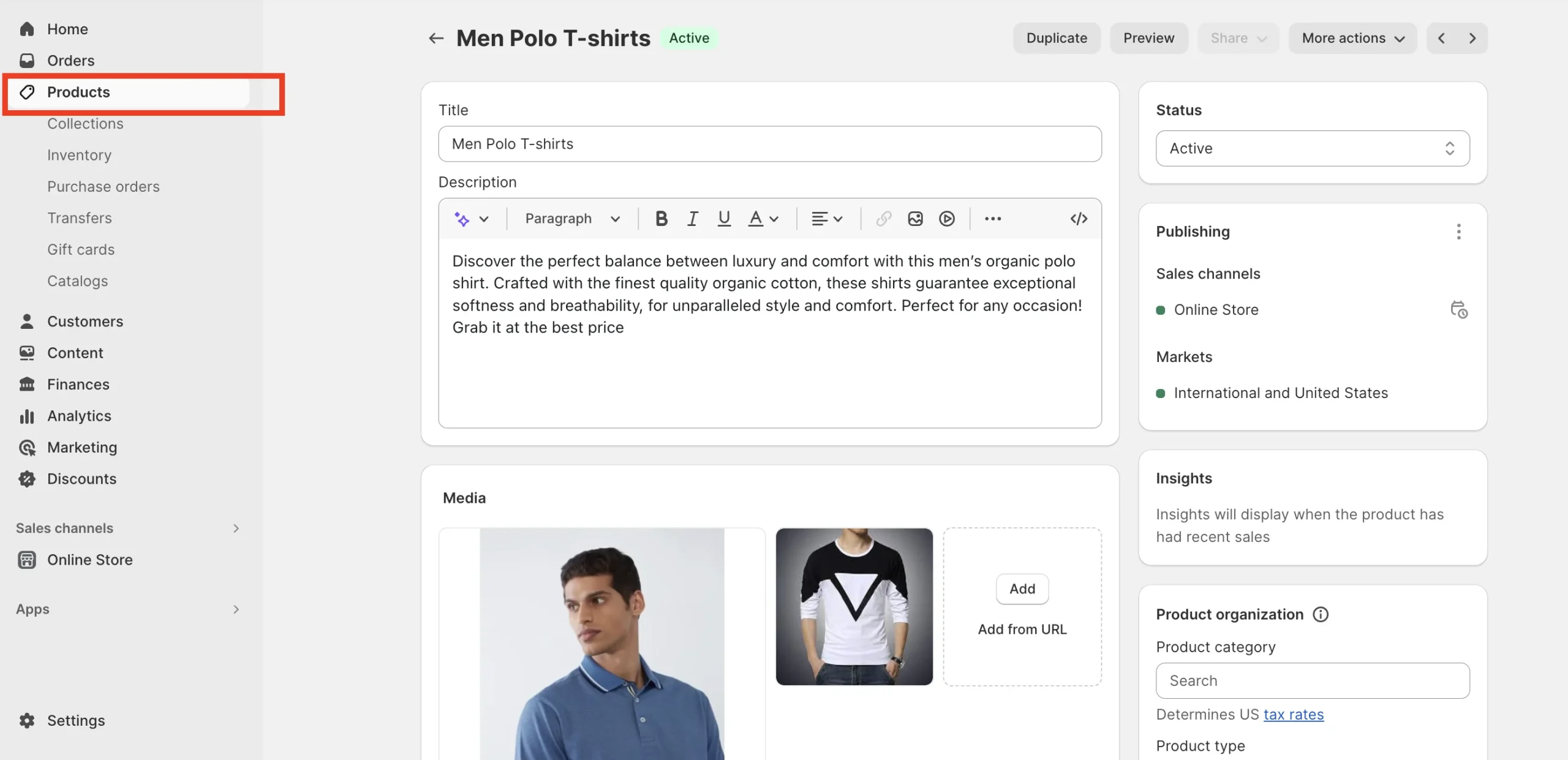 Prior to the launch, meticulously examine every product page to guarantee the accuracy of all associated details — text, product visuals, pricing, tax and shipping configurations, and more.
Also, make sure the product pages are well-designed and are conversion-friendly. You should follow our guide on creating high-converting product pages for more tips.
2. Manage Product Collections/Categories
Product categories play a crucial role in organizing your Shopify store, helping customers navigate and discover your products more easily. By clustering similar items, you curate a seamless browsing experience that simplifies the shopping journey.
Furthermore, product categories yield eCommerce SEO advantages, bolstering your store's search engine rankings, enhancing visibility, and driving organic traffic.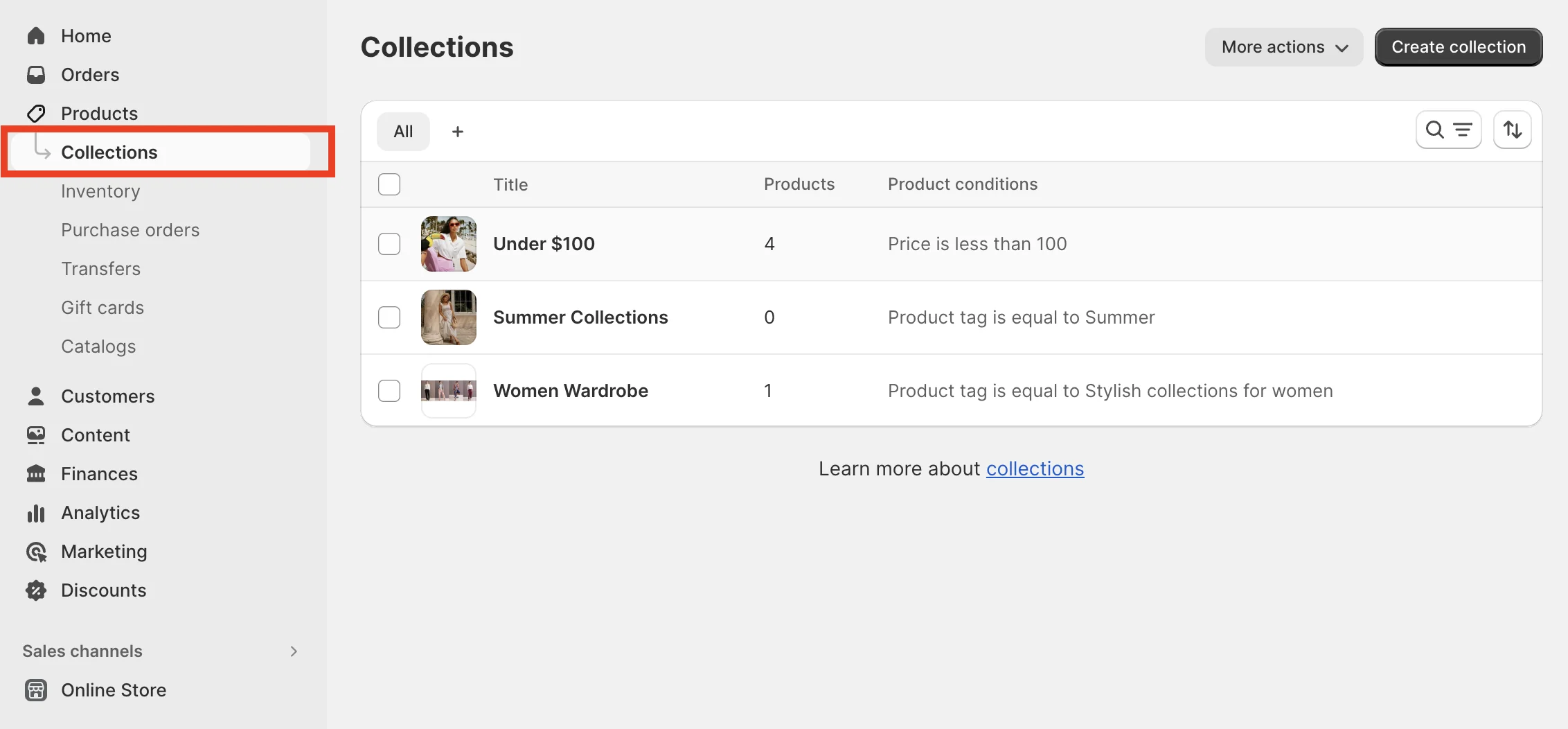 You can create product categories from the Products → Collections page. There, you will be able to create two types of collections –
Automated Collection: This category employs selection criteria to automatically include products that meet specified parameters. Up to 60 selection conditions can be set, with options to require products to satisfy all or any of the conditions for inclusion.
Manual Collection: In contrast, a manual collection contains products manually chosen. This assortment remains constant unless products are intentionally added or removed.
Once you have created collection pages, make sure to optimize their page designs for a smoother user experience. Feel free to use page builder apps to make the pages highly convertible.
3. Check Standard Store Pages
Similar to how brick-and-mortar stores use signage and brand names on their entrances to create distinct recognition, online stores rely on webpages that effectively convey messages to visitors, particularly those new to your store.
To manage pages on your Shopify store navigate to Online Store → Pages within your administrative dashboard. Within this interface, you can either introduce new pages or modify existing ones.
Here are the common standard pages that you must have in your Shopify store –
Homepage: Arguably the most pivotal page on your site, the homepage typically serves as the initial landing point for visitors. Ensure streamlined navigation to your store and other essential static pages listed below.
Contact: Your contact page should offer multiple avenues for shoppers to reach out to you. Consider incorporating a contact form to facilitate messaging without leaving your site.
About: The About page provides insights into your company and brand, offering visitors a deeper understanding. Despite its often-overlooked nature, this page can function as a potent sales tool when approached strategically.
Frequently Asked Questions (FAQs): At launch, predicting customer inquiries might prove challenging. Crafting an effective FAQ page involves anticipating queries and studying competitors to identify questions they address on their own websites.
Store: Last but not least, the focal point is your actual store. Many eCommerce sites feature distinct homepage and store sections, often labeled as "shop" or "store" in the site's menu and navigation.
Apart from these pages, you may also want to look into the registration and login pages to ensure they match your store branding.
4. Test Your Product Suppliers
One of the best things about Shopify is that it provides direct integration with popular product suppliers, or you can use its APIs for custom integration.
Once you connect your product suppliers to your store, you should place an order as a customer to test their product qualities and customer service.
If you run a dropshipping or POD business on Shopify, you can also ask your suppliers to send product samples for evaluation. In fact, for print-on-demand products, you can consider using Printful as your supplier as it allows you to place sample orders at a discounted price.
5. Verify Inventory Availability
If you are managing your own warehouse for your store inventory, you may want to ensure that no products are out of stock before the launch or at any point in time. To avert such situations, it's essential to track your stock levels and stack up the products before going out-of-stock.
To track your product inventory and avoid over-ordering, enable the 'Track quantity' option for every product in your store.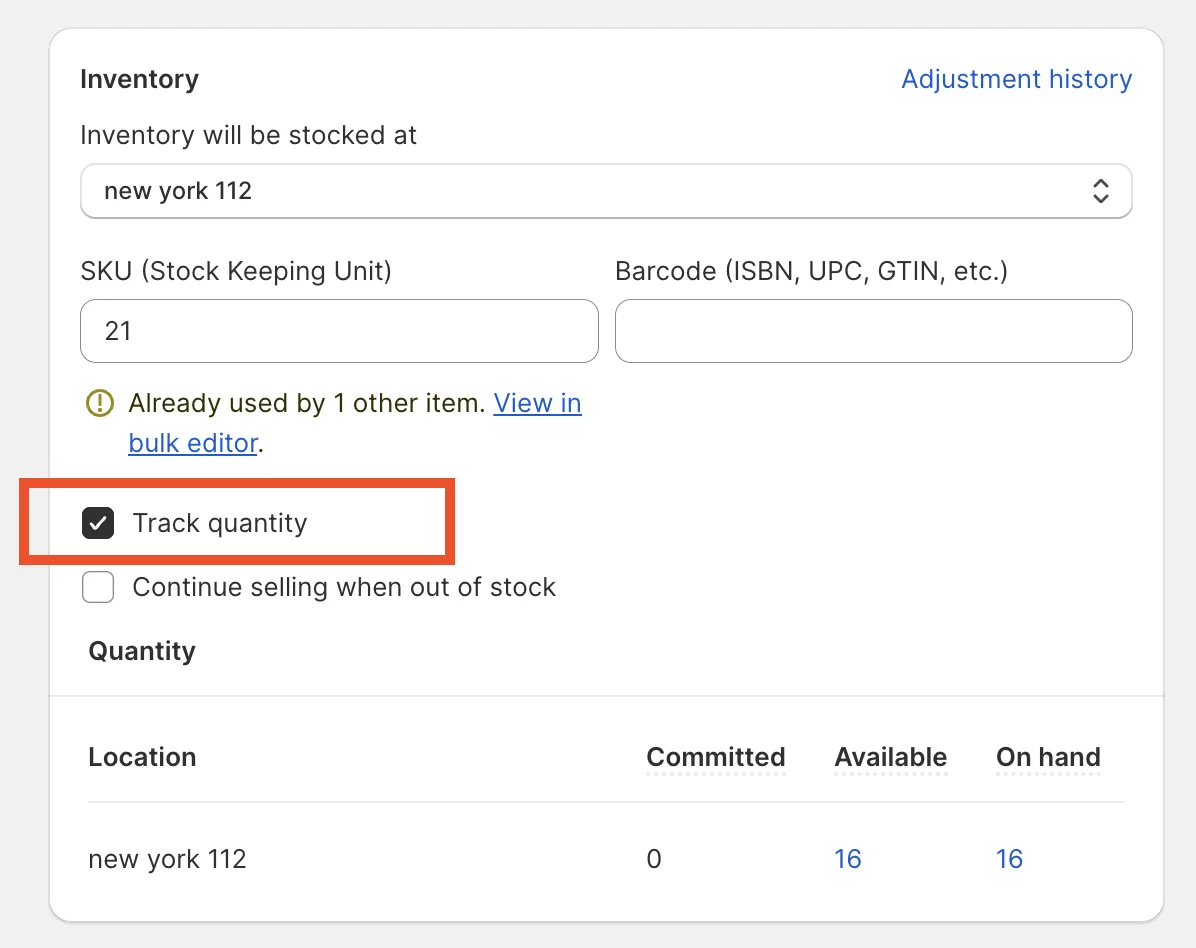 You can also use inventory order management apps to connect your store with the warehouse management system to sync the inventory data in real time and keep you notified about the declining stocks.
6. Check Billing Your Details
Before your Shopify free trial ends, you will need to select a suitable pricing plan to continue using the platform. if you haven't decided about the plan yet, you can read our guide on Shopify pricing plans & fees to choose the right plan for your business.
Once you choose the plan, add your payment details for the monthly or annual subscription fees. The same payment details will also be used for the payment of app subscription fees & other charges.
So, to avoid payment failures for the plan renewal of Shopify and apps, make sure that your payment details are valid and it should supports automated recurring charges. You can check your billing details from the Settings→Billing section.
7. Launch Your Store
We've now arrived at the defining moment – the moment you press the launch button, marking the commencement of your online business venture.
The concluding pre-launch task involves initiating the launch of your Shopify store. This entails removing the default password protection that is applied to all new accounts, conducting a final comprehensive review to eliminate errors, and announcing your store's official opening. Additionally, it's advisable to remove the 'Powered by Shopify' branding from your store footer.
Shopify Sales & Marketing Checklist
Now that you can launch your store, the focus shifts towards captivating your intended audience and driving traffic to your Shopify store to generate sales.
So, in this section, we will look into optimizing your store for sales & marketing.
1. Connect Sales Channels
While Shopify offers an exceptional online sales platform, why limit yourself to a single avenue when you can explore various avenues?
With a multi-channel retailing approach, you will be able to reach a broader customer base and grow your business exponentially.
The best part is that Shopify facilitates direct integration with several sales channels, which are as follows –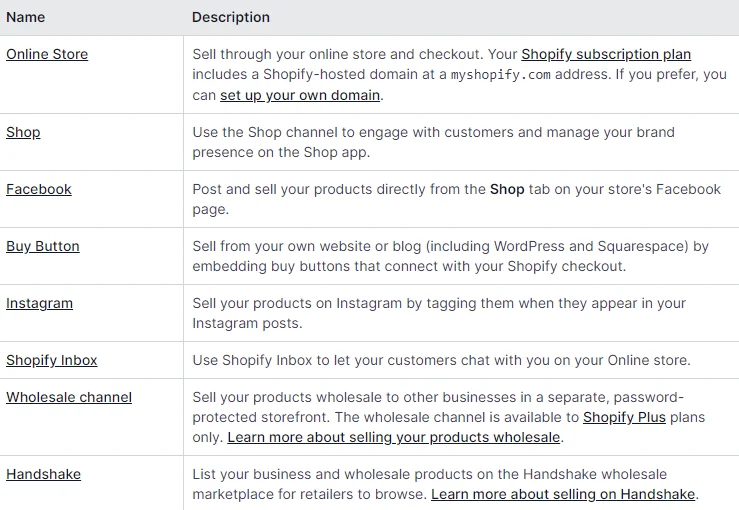 Furthermore, you can use third-party apps to connect your store with Amazon, Walmart, eBay, and other popular sales channels. Most of these apps will enable you to list your products to different platforms without any manual effort and most importantly, sync the product inventory to avoid over-selling of out-of-stock products.
2. Optimize Store Content for SEO
Shopify is an SEO-friendly eCommerce platform. However, to ensure that your pages rank well on search engine result pages, you will need to optimize your store pages and content for SEO.
For every product, category, page, or blog post, Shopify allows you to optimize the SEO title and description. So, make sure you make the best use of it.
You can also use Shopify SEO apps to analyze your store's SEO and rectify the issues for better performance. These apps can help you update SEO titles, meta descriptions, and image alt text for your store from one place.
You can refer to our Shopify SEO checklist to ensure that your store is fully optimized for higher rankings on search engines. Here are a few more SEO guides that you might want to read –
3. Start Blogging
Blogging is still an effective marketing strategy for eCommerce businesses to reach a wider range of audience during the early stage of their purchasing journey. It is in fact a crucial element for an eCommerce conversion funnel.
With a customer-centric blogging strategy, you can establish trust with your target audience and help them with their challenges and shopping ideas, which may encourage them to shop from your store.
Fortunately, Shopify comes equipped with a built-in blogging system that you can use to publish blog posts regularly and drive more sales. To start blogging, go to Online Store → Blog Posts and click the 'Add Blog Post' button to publish your first blog post.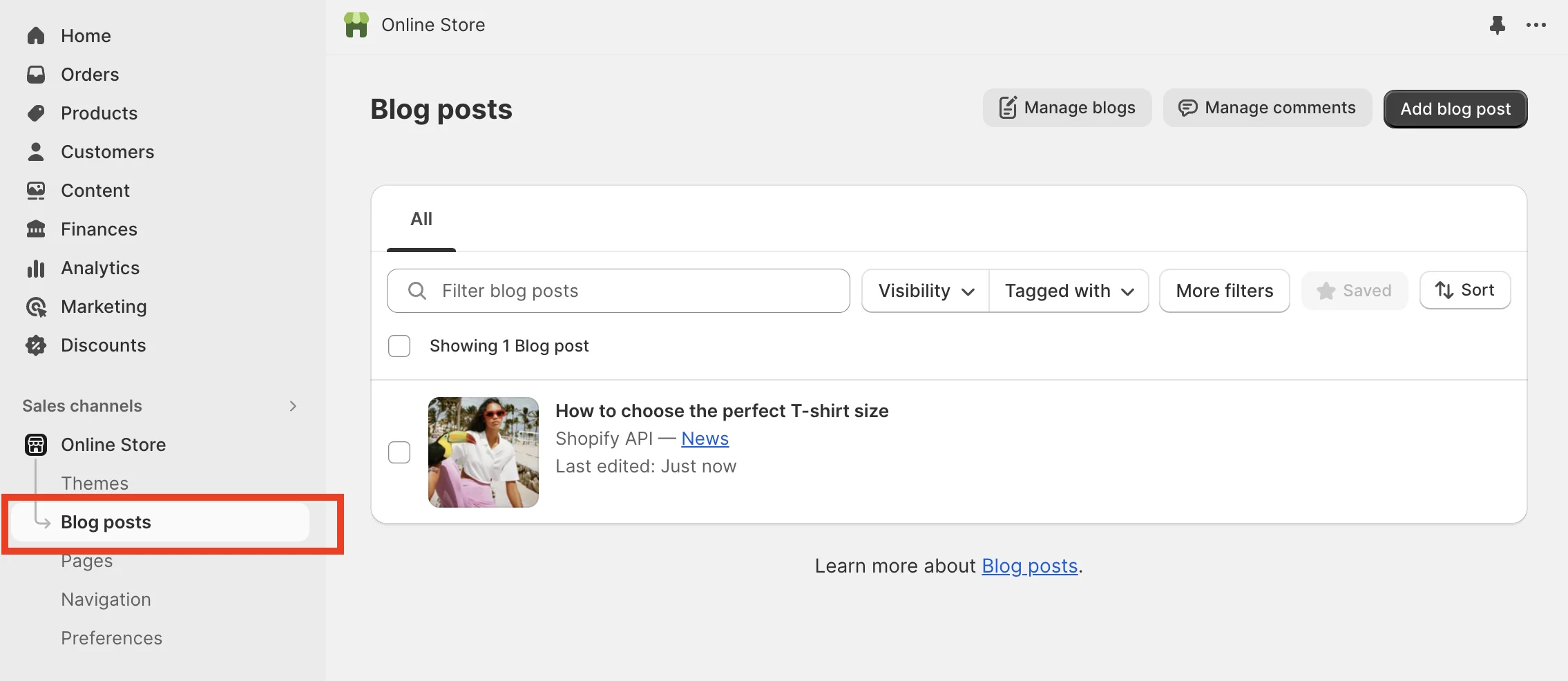 While publishing the blog post, make sure it is SEO-optimized. Also, you may want to update the default design of blog pages for a better user experience. So, take a look at it as well.
Further reading –
4. Configure Analytics Tracking
Shopify comes with a built-in analytics tool that provides you with various reports on sales, conversion rates, and traffic.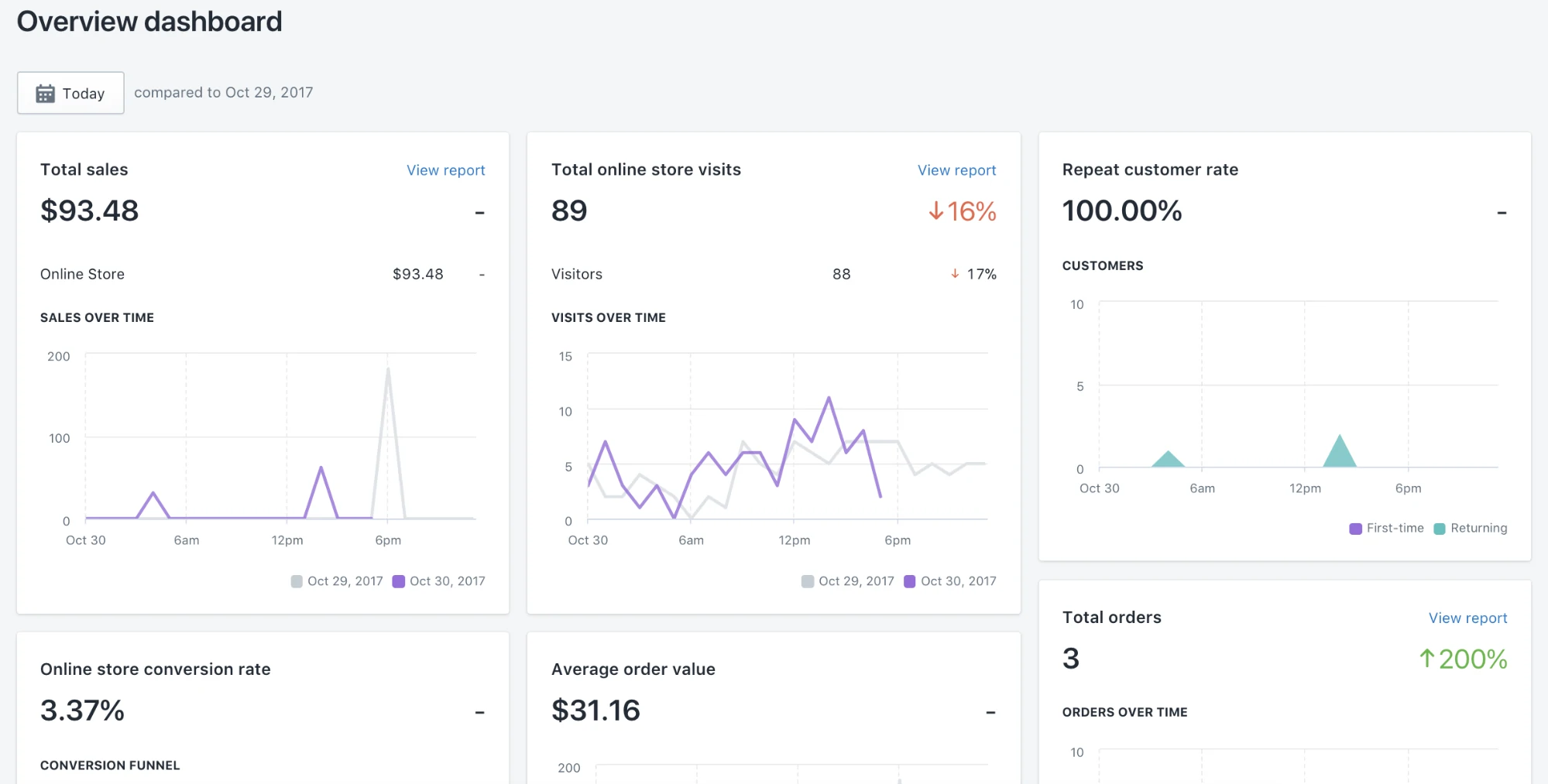 These reports can be useful for analyzing your store's sales, but it doesn't collect data from other advertising and sales channels, which can make it challenging for you to track your business expenses and performance.
To avoid such situations, you can use 3rd-party analytics apps such as TripleWhale to track and collect data from all your sales and marketing channels, which you can use to make informed business decisions to grow further.
5. Setup Marketing Automation
Communication is a core of any business, and SMSs, emails, and push notifications are some of the common tools for communicating with your customers, leads, and prospects.
Nonetheless, the repetitive nature of these tasks can be overwhelming when carried out manually. This is where tailored marketing automation comes into play.
Marketing automation empowers you to automatically dispatch multi-channel communications, spanning email, SMS, and push notifications, to customers. By establishing connections with customers across multiple platforms, you can heighten engagement and drive conversions.
Shopify comes with a built-in marketing automation tool that you can access from the Marketing → Automation of the left sidebar of the admin.
From welcome and win-back automation to the first-purchase upsell, it comes with several templates for every stage of the customer journey. You can easily customize these templates per your needs or create custom ones from scratch.
However, these automation are limited to emails only. If you want to combine SMS and push notifications with email marketing for automation, you can use tools like Klaviyo or Omnisend, which give you more control over personalization and automated communications.
Here are a few more marketing app lists that you might want to consider for marketing automation –
6. Install Essential Apps
Although Shopify provides built-in features or free apps for everything you need to build and run your store, you may need a few additional apps to enhance the user experience for your customers and drive more sales.
There are thousands of apps in the Shopify App Store that you can add to your store with just a single click. However, not all apps are indispensable for a newly established store.
So, before you install any apps, make sure to consider the following factors –
Ratings and Reviews – Once a particular app captures your interest and adds tangible value to your store, scrutinizing the app's ratings and reviews becomes the next step.
Compatibility –Certain apps are meticulously tailored for specific themes. Consequently, it's pivotal to ensure that the apps chosen for integration do not pose compatibility concerns.
Customizability – Can you mold app functionality to suit your e-commerce store's unique requirements? This avenue, reliant on quality coding, can significantly enhance your website's performance.
Cost-Benefit Assessment – Evaluate the potential impact on revenue against the stipulated app cost to gauge its cost-effectiveness.
However, if you want to save your time and effort in trying different apps to find the one for your every requirement, you might want to check these articles –
Ready to Launch Your Shopify Store
And that brings us to the end of this checklist. In this checklist, we have covered everything you need to check before the launch and after that to make it a success.
Here's a quick overview of the Shopify store launch checklist –
Check your store details
Add your staff members
Configure payment settings
Assess your checkout process
Cross-check shipping rates
Verify tax settings
Add inventory locations
Manage international markets
Add your custom domain
Customize email notifications
Review your store policies
Optimize product details
Manage product collections
Check standard store pages
Test your product suppliers
Verify inventory availability
Check your billing details
Launch your store
Connect sales channels
Optimize store content for SEO
Start Blogging
Configure analytics tracking
Set up marketing automation
Install essential apps
Now, carefully follow this checklist and make sure that your Shopify store is ready for a successful launch. Happy selling!