So, you have decided to build an online store on Shopify or might have already built a store and are looking for the best apps to use.
Shopify is our #1 recommendation for anyone to build a store of any kind. Its app store has tons of apps that you can install in your store with just a single click. However, choosing the best apps can be tiring and time-consuming.
At EcomSutra, we are committed to helping you build and grow your eCommerce business irrespective of the platform you choose. So, we did the leg work for you and compiled a list of the essential Shopify apps you must have in your store.
In this article, you will find all the best Shopify apps that you will ever need to design a conversion-friendly online store and generate more sales to grow your business.
Ready? Let's get started.
1. Vitals – Sales & Conversion Boosting App
If you are just getting started with an eCommerce business, you can use Vitals instead of investing in specialized Shopify apps for some of the basic features like collecting customer reviews, currency converting, pop-up notification, and more.
Vitals is one of the most popular Shopify apps in the app store, with a perfect rating of 5.0. It is a budget-friendly app that comes with 40+ apps features at the price of one.
It helps you generate more sales by making your Shopify store conversion-friendly with features like a countdown timer, product recommendations, sales popup, and more.
Vitals Features –
Reduces the page loading speed by replacing 40+ apps with one.
Collect customer reviews and display them across your site.
Add Shoppable Instagram Feed on your site pages.
Display real-time sales notifications to customers
Generate leads with Wheel of Fortune, Pop-Ups, & Email Capture Bar.
Increase average order value by offering volume discounts, BOGO, and more.
Pricing & Plans –
Vitals offers a 30-day free trial, and its paid plan costs only $29/month. It is the most affordable Shopify app you can find on the list.
2. Growave – Loyalty & Referral App
Loyalty and referral programs are the best ways to retain the existing customers and acquire new customers at a low cost. If you have an ambitious growth goal for your store, Growave is a must-have Shopify app for your store.
Growave is an all-in-one marketing app that enables you to start an attractive loyalty and referral program. Over that, you will also get additional features like a wishlist, one-click social login, and customer reviews. Basically, Growave offers the marketing features that Vitals doesn't. You can learn more about this app in our in-depth Growave review.
Growave Features –
Implement point-based and tiered loyalty programs to boost repeat purchases and customer acquisition.
Create a referral program by offering exciting reward options like discounts, gift cards, etc.
Collect customer reviews and display them across your site to build trust.
Excellent customer support via email, in-app, and appointment booking.
Pricing and Plans –
Growave pricing plan is suitable for businesses of all sizes, and all the plans include rewards, reviews, wishlist, social login, and Instagram gallery. The Starter plan costs just $19/mo, which allows upto 100 monthly orders and goes upto $299/mo. The plan automatically upgrades to the higher plan once you reach the order limit of the existing plan.
It offers a 14-day free trial, but you can get a 30-day extended free trial using our Growave Coupon or the button below.
3. PageFly – Landing Page Builder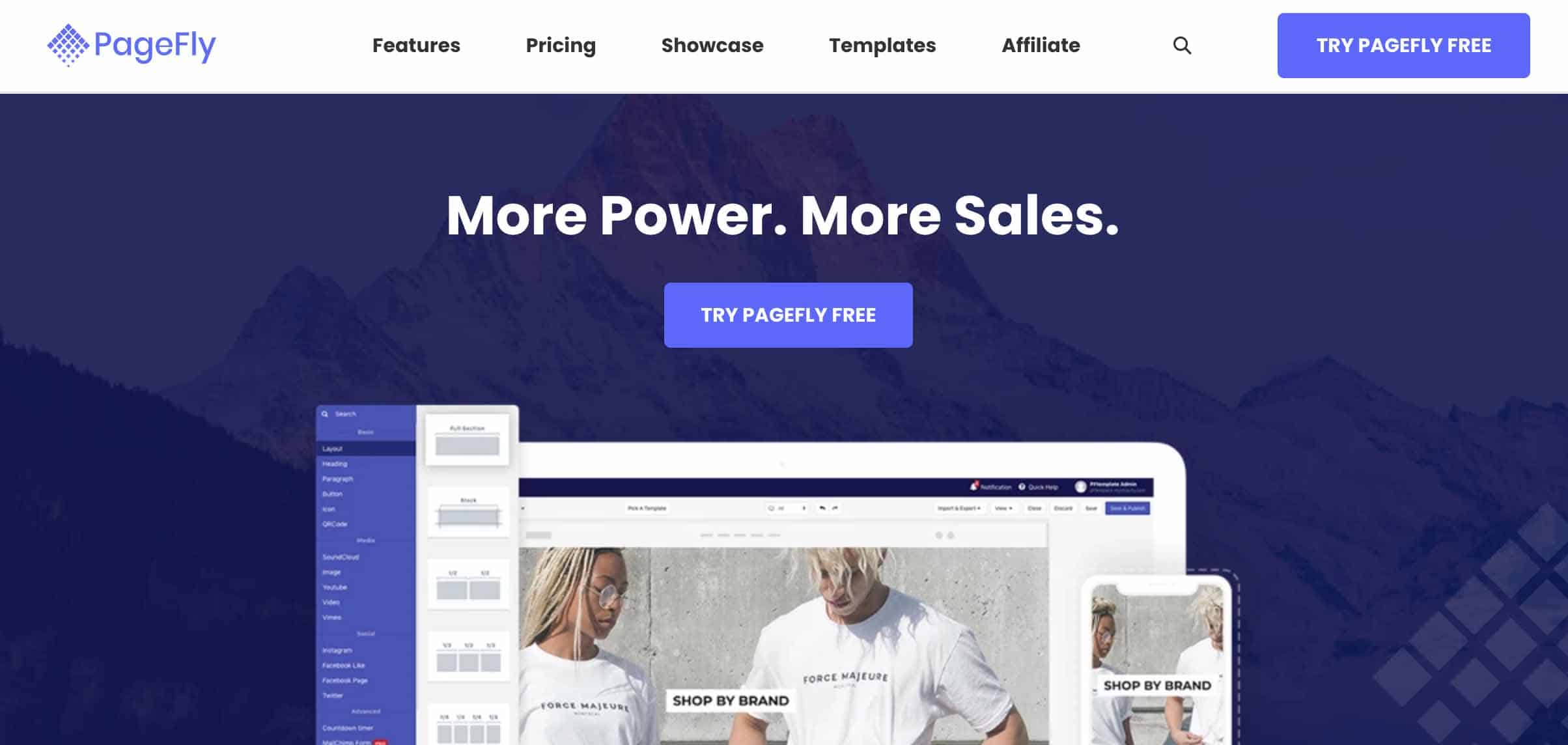 Shopify themes come with limited pages, including product pages, collection pages, blogs, and other essential pages. So, if you want to build landing pages for your marketing campaigns, you need PageFly.
Pagefly is the best Shopify landing page builder app that enables you to design custom pages like coming soon pages, product pages, collection & blog pages, FAQ pages, and more. The best part of PageFly is that it comes with a drag-and-drop page builder with various sections and layout elements to design high-converting pages.
PageFly Features –
Offers 80+ stunning page templates optimized to work well on any device.
Add countdown timers, testimonials, parallax video, and more to create compelling landing pages.
Provides detailed analytics by revenue, add-to-cart stats, product views, time visitors spent, and conversion rate.
SEO friendly and compatible with every Shopify theme.
Pricing and Plans –
PageFly has a free plan which allows you to create one page for each page type. The paid plans are as follows –
Silver plan – $19/mo
Gold plan – $39/mo
Platinum Plan – $99/mo
These plans vary based on the saved sections, history versions, and the number of pages you create for your store. And to get access to unlimited features, you need to opt for the Platinum plan.
4. Gorgias – Customer Support App
Customers are more likely to shop from brands that resolve their issues instantly and provide a positive customer support experience. So, if you aim to provide excellent customer support to your customers, Gorgias would be the best Shopify help desk software you will ever need.
Gorgias is an all-in-one customer support system that streamlines customer conversation across email, live chat, phone, Facebook, Instagram, contact us page in one dashboard.
The best part of Gorgias is that you can start the conversation with website visitors and help them find the right products as per their requirements. This boosts the conversion rates and enables you to build lasting relationships with customers.
Gorgias Features –
Manage conversations from email, live chat, phone, and social in one helpdesk.
See the full customer live chat and message history across different channels in one view.
Create automated responses to common questions like "where is my order?"
Perform actions like awarding loyalty points, cancel, refund, or duplicate orders right from the dashboard.
Pricing and Plans–
Gorgias offers a 7-day free trial, and the pricing is based on the number of tickets. Here are the plans –
Basic plan – $60/month, allowing upto 350 monthly tickets
Pro plan – $300/month, allowing upto 2,000 monthly tickets
All the plans support unlimited users, social media integration, live chat, macros/rules, and upto 150 integrations. To generate unlimited monthly tickets, you will need an enterprise plan with custom pricing.
5. UpPromote – Affiliate Marketing App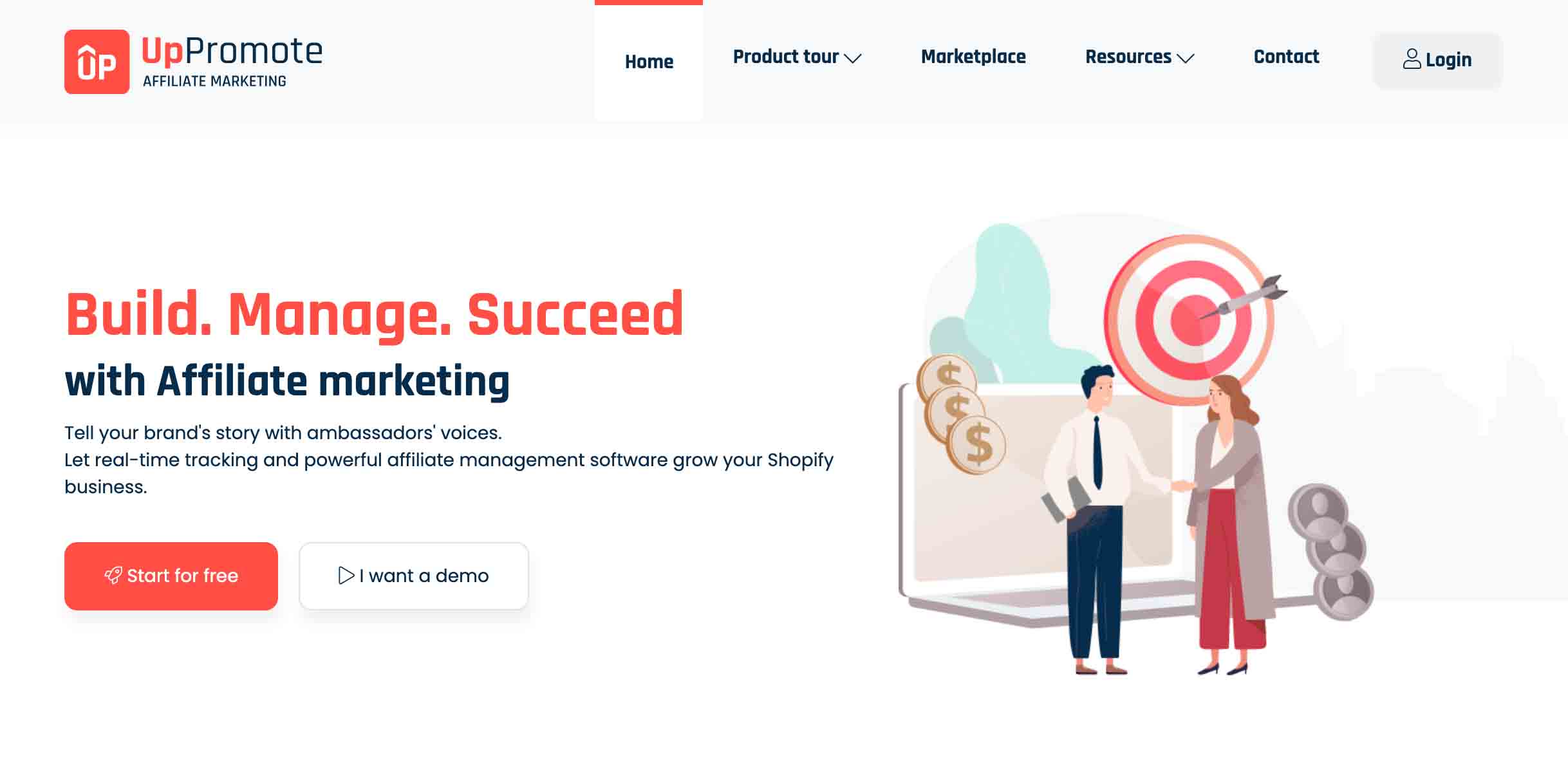 Affiliate marketing is another effective eCommerce marketing strategy that I think every store should adopt. It enables you to attract quality customers through affiliate partners like bloggers & influencers without paying even a dollar upfront.
UpPromote is the #1 Shopify affiliate app that enables you to create effective affiliate programs and invite anyone to join the program. Once a partner registers, they will get a unique affiliate link that can be tracked, and thus the commission is rewarded for each successful sale that happens through the link.
UpPromote Features –
Create unlimited affiliate programs with different commission offers
Offer different commission structures like product commission, auto-tier commission, and commissions on order values
Track every click, order from affiliates with various tracking methods
Get featured on UpPromote Marketplace to attract potential affiliate partners
Provide a dedicated affiliate dashboard to track and monitor their results.
Get a detailed report on your affiliate's performance like clicks, order, sales, etc., and track the best performers.
Pricing and Plans –
UpPromote offers a 14-day free trial and has a free plan which allows unlimited affiliates and up to 200 referral orders/month. The premium plan starts at $19.99/month and goes up to $119.99/month.
6. Loox – Photo & Video Review App
Customer Reviews are the most powerful form of social proof for eCommerce sites to win the trust of their consumers and build a loyal customer base. Over that, photo and video reviews are the best kind of user-generated content that you can use for marketing purposes as well.
Loox is the best Shopify review app, enabling you to collect customer reviews and display them on your store pages to maximize conversion rates. It allows you to send automated review request emails to customers and encourage them to include product photos and videos by offering discounts.
Loox Features –
Display product reviews & ratings on search results with Rich Snippets
Display ratings, reviews & photos on Google Shopping
Eye-catching widgets for showcasing their happy customer content.
Compatible with any theme, mobile-friendly & 100% responsive
Import reviews from any source, including AliExpress reviews.
Create custom & lookalike audiences of happy customers for Facebook Ads
Pricing and Plans –
Loox offers a 14-day free trial but using our coupon, you can get a 30-day extended free trial. The Basic Plan starts at $9.99/month, allowing upto 100 review request emails/month. However, to get access to video reviews and Google shopping integration, the Growth plan would be the ideal choice at just $34.99/mo.
7. Omnisend – Email & SMS Marketing Automation
In eCommerce, email and SMS are essential marketing channels to communicate with consumers through the funnel to generate more sales. And with automation, you can put this on autopilot to nurture the potential customers and engage the existing ones for upselling and cross-selling.
Omnisend is the best email and SMS marketing automation app for Shopify. It is a beginner-friendly platform and the most suitable for anyone new to marketing automation. It provides pre-built automation workflow templates to get you started within minutes. You can learn more about Omnisend in our detailed review.
Omnisend Features-
Build email lists with popups, sign-up boxes, wheel of fortune, and landing pages.
Craft eye-catchy shoppable emails with its drag-and-drop email builder.
Include unique discounts in emails for each customer without a right from the email editor.
Cross-sell & Upsell with dynamic product blocks based on your customers' previous orders.
Run targeted retargeting campaigns by creating custom audiences and segmentation based on customer behavior.
24/7 customer support to help you leverage the power of email and SMS automation.
Pricing and Plans –
Omnisend offers a 14-day free trial and a free plan that allows sending upto 15,000 emails/month. However, for automation and SMS marketing, you will have to opt for one of the paid plans, which are as follows –
Standard Plan starts at $16/month
Pro Plan starts at $99/month
The Pro plan is best for omnichannel marketing with push notifications, custom audience building, and you'll get a dedicated customer success manager.
8. BeProfit – Profit Calculator App
One of the most common challenges of running a profitable Shopify store is calculating accurate profit. You have to track every expense that incurs in managing and selling products, including the advertising costs, shipping, and packaging charges. However, doing this manually cannot be efficient, and you may lose a lot of data in the process.
BeProfit is the best profit tracking app for Shopify stores. Its all-in-one dashboard gives you complete control over your numbers by presenting your data in easy-to-digest charts and graphs. That means no more spreadsheets!
BeProfit Features –
Enter variable and fixed expenses that cannot be pulled automatically.
Schedule your custom reports and have them emailed directly to you.
Auto-sync expenses with top ad platforms (Facebook, Google, Snapchat, TikTok, Pinterest).
Sync AliExpress order data and get up-to-date reports on eCommerce COGS, shipping costs, processing fees, and more.
Get deep-level insights on customer lifetime value (LTV) and marketing performance.
Pricing and plans–
BeProfit has a free plan, providing a profit tracking dashboard, tracks expenses, and allows integration with ad platforms. The paid plan starts at just $20/month, which supports integration with AliExpress and provides features like report scheduling, LTV cohort analysis, and more.
9. AfterShip – Order Tracking App
Keeping track of Shipment delivery and performance is crucial for online stores to optimize the process and improve results. Also, keeping customers notified about their product delivery status adds points to the positive customer experience.
AfterShip is an excellent order tracking app for Shopify stores. It allows you to connect with multiple carriers and track data in one place, which enables you to resolve delivery incidents faster. You can also improve the post-purchase experience for your customers by sending branded delivery updates via email, SMS, and Facebook messenger.
AfterShip Features –
Create automated email delivery update workflows to auto-alert customers when the order status changes.
Trace whether all your shipments are being delivered on time and identify any delays/exceptions.
Supports integration with 800+ carriers worldwide, including UPS, DHL USPS, and others.
Discover your shipments quickly by delivery status, carriers, customer email, and other parameters.
Get powerful insight on shipments, notifications, tracking pages, and customer feedback.
Pricing and Plans –
AfterShip has a free plan that allows tracking upto 50 shipments, a branded tracking page, and access to carriers. The paid plans are based on the number shipment tracking which starts at just $11/month for upto 100 Shipment tracking with a 7-day free trial.
Choose the best Shopify apps for your new store
Shopify App store is what makes Shopify stand out among other eCommerce platforms. It offers basically every type of tool a Shopify store needs at just a click away. Click "Install & it's ready to use".
In this article, I have listed all the essential apps that I think every Shopify store should have to provide an excellent user experience, generate more sales. Now, it's your turn to go to the Shopify store, install the missing apps and configure them in the best possible way for your store.
I hope this article helped you with the selection of the right Shopify apps for your store. For more Shopify tips, Guides & Strategies, check out the Shopify Guides.